The beams of sunlight shining through the patchwork of clouds over UCLA's Sunset Recreation Center set the stage for this year's annual JazzReggae Festival (JRF), a celebration of jazz and reggae culture stretching from Jamaica to Los Angeles. From 11 am to 7 pm, there were hours of live art, performances from both students and visiting headliners, and mouth-watering food from an array of Black-owned eateries in Los Angeles. For 8 hours, the Sunset Recreation Center became a blissful refuge from the haunting deadlines and demands that come along with the end of the quarter. There was not even a drip of bad energy in the air.
Basking in the sun with my giant plate of spicy lentils, plantains, and coconut rice from Flavors of East Africa, a local vendor, I couldn't have asked for a better start to my Memorial Day. First up, student performers Motion Blu, Continuance, and Ryan KJ all took to the stage to set the vibe. Curating a fusion of grooves from R&B to soul to jazz, the student performers then welcomed the Sparker Jazz Band to spend the next hour jamming while we waited in anticipation for the headliners to appear. While the rhythmic pumps and kicks of bass and trumpet danced in the air, there were an array of artists glued to cube canvases. It was incredible to see so many diverse local artists from LA put on a performance of their own, spending the entire day working on their paintings from the ground up.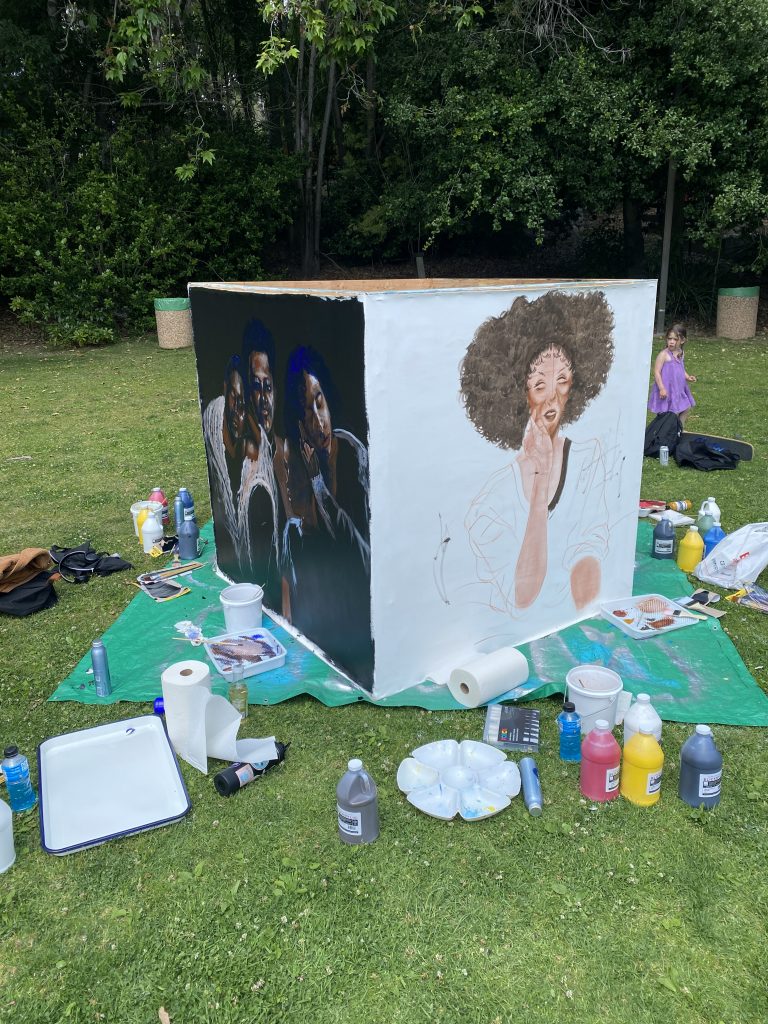 After 3 hours of enjoying food, jazz, and painting, the first headlining artists took to the stage. Your Grandparents is an LA-based self-proclaimed genre-bending rap trio made up of producer ghettoblasterman and vocalists DaCosta and Jean Carter. The trio certainly did not live up to what might have been expected from their name. Having recently released a single, "Somebody Told Me", with 2022 JRF act, Amindi, just last year, the trio was pulsing with energy and ambition. Ghettoblasterman sought refuge in the back of the stage, spinning beats and bumping his head as both DaCosta and Jean Carter rapped and sang back and forth. Almost weaving their voices into the smooth and drawn-out jazz samples and funky dance beats, I couldn't help but give up my comfortable seat on the lawn to join the trio in their performance. The entire field was rocking with boogies and bops.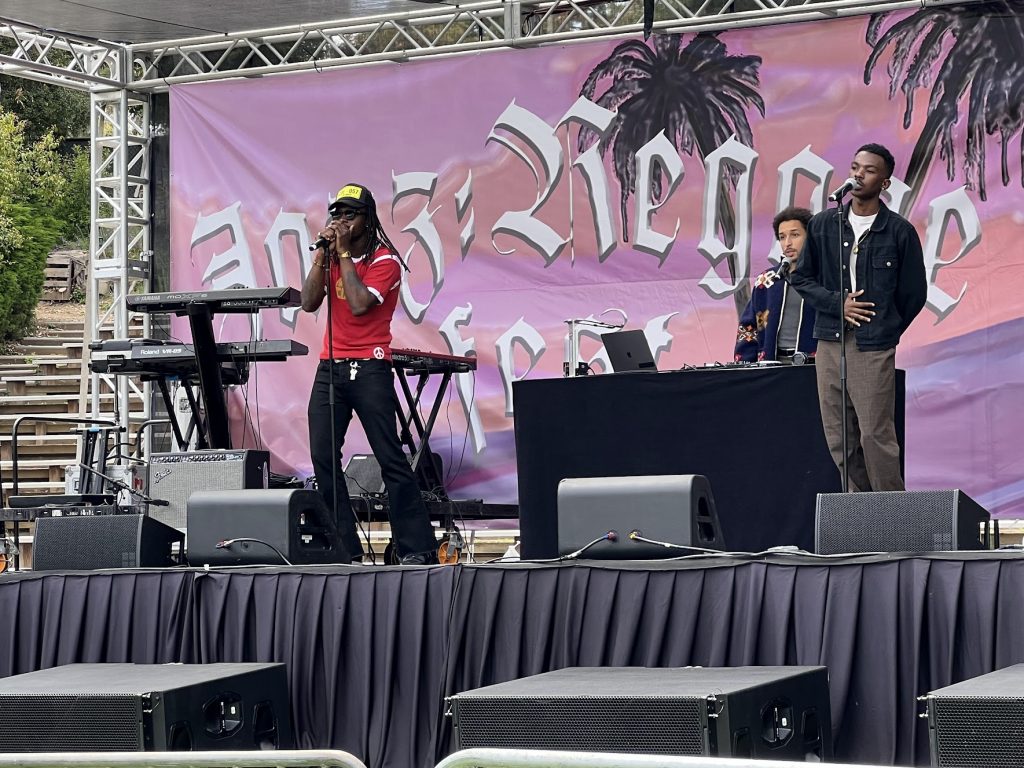 Immersing myself in the sea of dancing for the next 30 minutes, I was ready for a little break. However, at JRF, you shouldn't expect the dancing to end just quite yet. Soon enough, the second act, Jordan Ward, hit the stage with the confidence and charisma of a veteran. The 28-year-old St. Louis artist spent years as a backup dancer for both Justin Beiber and Becky G, surely influencing the dance-centered tone of much of his songwriting. Having recently opened for both JID and Smino during their LuvIs4Ever tour, Jordan Ward is now set to go on his first headlining tour for his album, FORWARD, which was dropped earlier this year, a celebration of modern R&B and old-school dance and funk with production from Lido. With an impressive trajectory of growth standing in front of him, Jordan Ward really became the moment. Having the entire crowd swaying to hits like "FAMJAM4000", "Okok (Hibachi)", and "SIDEKICK", the exhaustion from dancing to the previous set somehow evaporated. Everyone, including Jordan Ward himself, was having a blast. As someone that personally was not familiar with the majority of his discography, he somehow still pulled me into a realm where the rhythm and lyrics flowed through me.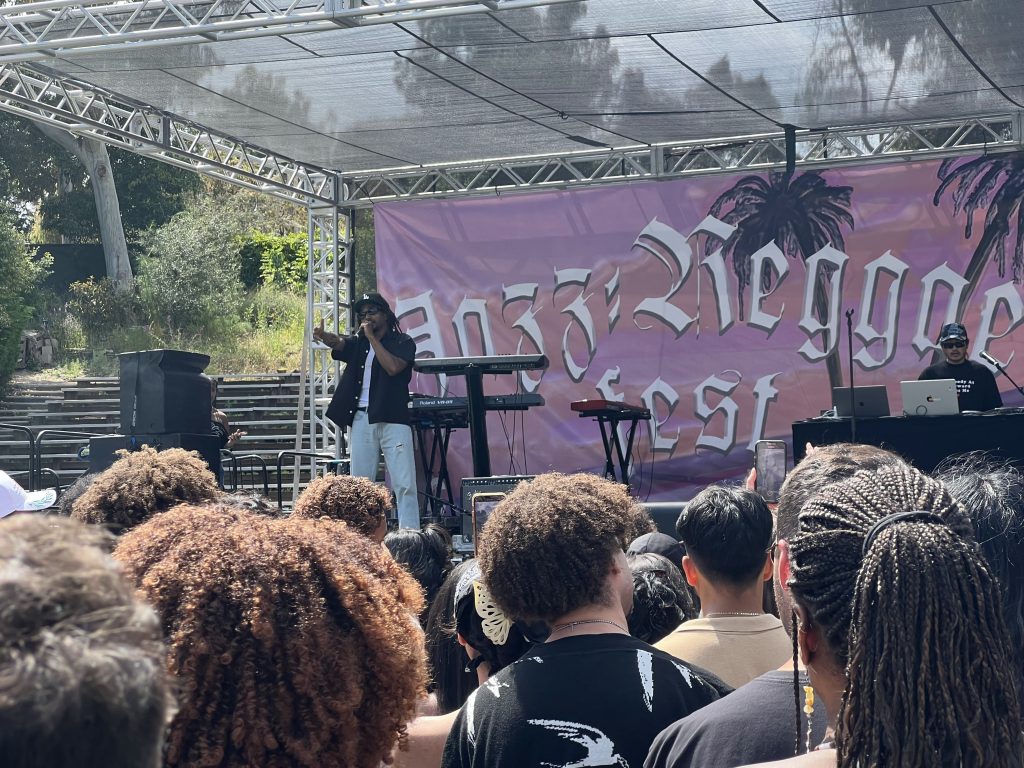 Impressed with Jordan Ward's set, I took a little break to enjoy some of the live painting and some complimentary refreshments provided by the JRF staff. Relaxing on the lawn to sip on my frigid Gold Peak iced tea, it wasn't long before Maxo Kream was welcomed to the stage. The Houston rapper flipped the vibe of the festival as he immediately dove into his dark yet authentic discography. If there is anything you can expect from Maxo Kream, it's that he's gonna be real with you.
Having first blown up after uploading a remix of Kendrick Lamar's "Rigamortus" in 2011, Maxo Kream quickly became a gangster rap sensation, signing with RCA in 2019. Having worked with Tyler, the Creator, A$AP Mob, ScHoolboy Q, Dreamville, Anderson .Paak, Megan Thee Stallion, and Lil Uzi Vert, Kream boasts a deeply diverse array of sounds across his discography. Over bass-heavy boom-bap gangster beats and intermittent synths, he rattled off raps carrying a heavy burden. Pulling in the entire lawn with his vivid storytelling of violence, incarceration, and death, Maxo Kream used his bars as strings to play a tug-of-war with the audience. At the same time, he wasn't afraid to treat the festival with some levity, calling out to the audience and asking:
"I know y'all smoking weed out here, but how many of y'all pop pills?"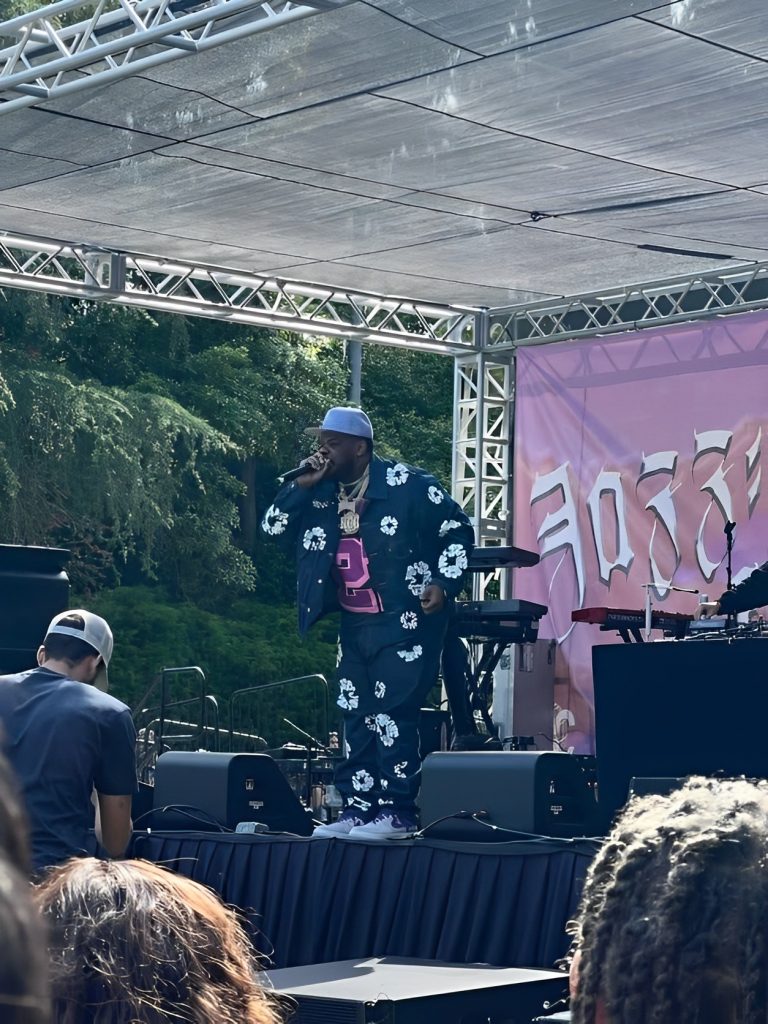 With a captivating performance, I was ready to take one last break before the final act of the evening. I had never heard of Hempress Sativa before this year's JRF, and I was excited to see what she had in store for us. As a reggae singer from Jamaica, her music is the sonic manifestation of the Rastafari tradition she proudly bore on her chest as she walked on stage. Expressing immense gratitude for having the opportunity to show UCLA what real reggae is all about, she immediately jumped into a flurry of groovy, tropical afro beats.
It quickly became clear that Hempress Sativa wasn't a stickler for only the roots reggae tradition. With glimpses of electronic drum and bass amongst a selection of poppy vocal hooks, it didn't seem like she was afraid of experimentation. As the sun descended past the horizon, the twinkling twilight seemed to provide the perfect backdrop for Hempress Sativa's melodic chants.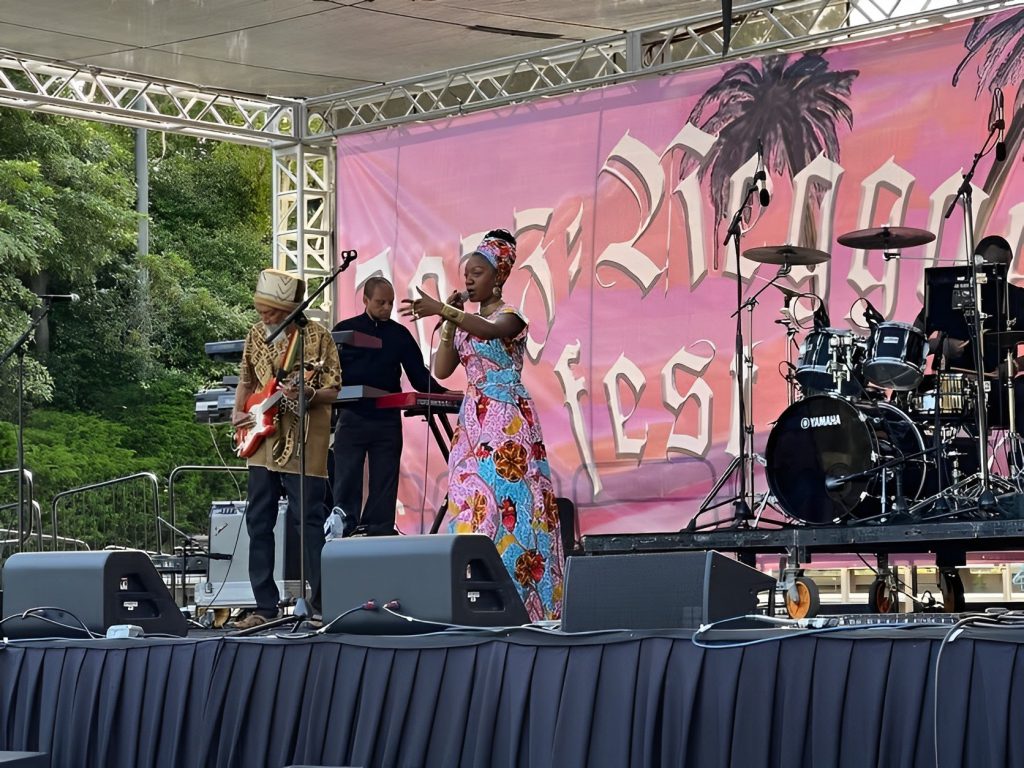 The patchwork of clouds that greeted me at the beginning of the day now coalesced into one giant blob as the night drew to a close. Each year, the JRF staff somehow curates the best show possible. Deeply engaging art from all corners of the world and across mediums, JRF is a catalyst for the immense joy that is human creativity. I'm thankful for all the hard work that everyone put in to make this UCLA tradition a possibility. See you all next year!