Photos by Angela Kan
One of DTLA's oldest bars, the Moroccan Lounge is an unassuming little white building lined with blue tiles and a sea blue dome at top. Tucked away on the outskirts of the Arts District and neighboring Little Tokyo, it is easy to miss. Tonight, I'm glad I didn't miss it. The intimate Bohemian-style bar slash live music venue fits 250 heads, making it the perfect place for smaller artists like Miki Ratsula to perform.
The first time I heard one of Miki Ratsula's songs, I was 15. Their demo "Red (Demo Version)" landed on one of my more trafficked playlists, and it ended up becoming one of my most-played songs, although I remained fairly unaware of the artist behind it. Over the years, I began listening to more of their songs, at first their soft, artistic renditions of well-known songs like "Talking Body" and "Somewhere Only We Know," then delving into more of their original discography. When I saw them listed on the list of Radio press opportunities, I jumped at the chance to cover their show and see the voice I'd unknowingly been listening to for years live.
A Finnish-American singer-songwriter, Ratsula is proudly non-binary and trans, and much of their work centers around that identity and creating a safer space in music for other gender-nonconforming folks to feel more welcomed in traditionally heteronormative spaces. Tonight, the venue felt like a safe haven for all to come as they were. Walking in, my eyes caught the merch stand: a white shirt emblazoned with the handwriting-styled words, "I saw Miki Ratsula and now I'm gay." The bar bathroom's traditionally-gendered signs had even been covered with a white piece of paper with the typeset words, "Gender-Neutral Bathroom (anyone can use any bathroom they'd like to. – Love, Miki)".
Opening for Ratsula was Jules Paymer, an indie-pop artist sporting short pink hair, plaid knee-length shorts, and a black mesh top. Although I'd never heard of them before tonight, Paymer's performance blew me away. Their songs are lyrically-focused and incredibly catchy: Paymer opened with an upbeat, cheeky song about writing "Music to Get Bitches to" that had the whole crowd bopping along, following it with a few more upbeat tunes that exuded confidence, despite their softer, sweetly-harmonious voice. They transitioned into the next song, "Naked," explaining: "Contradictory to what I look like, I'm actually a bit fat simp!", then launching into a soft indie-rock song, whose lyrics, "Tell me all about your first kiss / maybe I could be your last one," had the audience going crazy.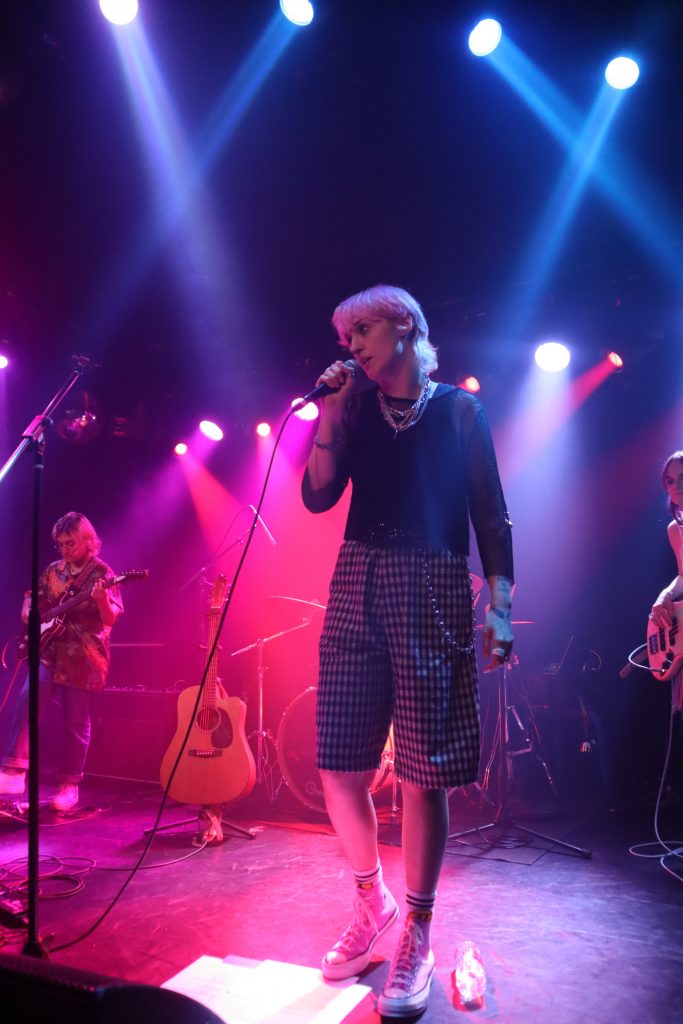 Their range was commendable, showcased as they transitioned into a sad, unreleased song about their childhood, opening "25" with, "I'm not quite sure how to explain this next song…I know there's a lot of gay people in the audience, so some of you might understand. I could never picture my life as an adult when I was a kid; I was just focused on surviving." The lyrics, achingly intimate, tug at your heartstrings: "I don't know how to live now that I want to be alive," and I felt the crowd's energy wrap around them in the air like a tender embrace.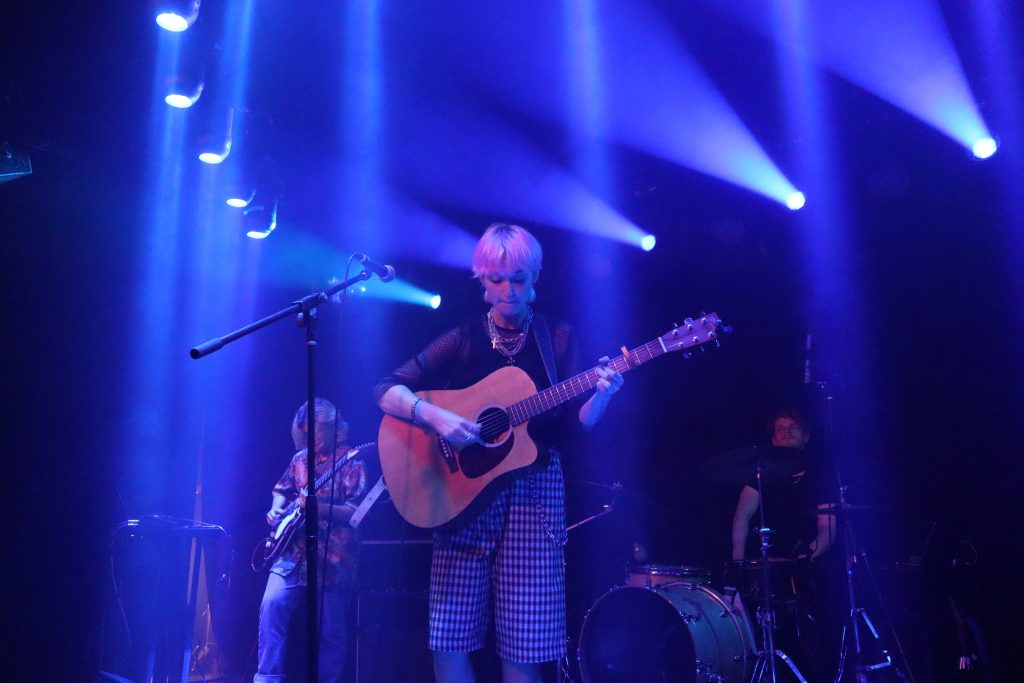 My favorite song of Jules' was an unreleased one, "Cheated on Me," a satisfyingly cocky, catchy song about getting over their first love, who cheated on them, by getting with the girl they cheated with years later. Listening to the unapologetically personal lyrics almost felt like listening to my best friend rant to me, and as Paymer's set wrapped up, I found myself impressed and excited to discover more of their music on my own time.
After a brief 20-minute intermission, Miki Ratsula's set was next: they walked under the ring of softly-lit lights illuminating the 20-ft stage holding an acoustic guitar and rocking a plain white tee with the words "TRANS JOY" written on it. Ratsula, despite their well-deserved popularity, was incredibly humble throughout the set, constantly remarking, "I can't believe you're all here to see me!"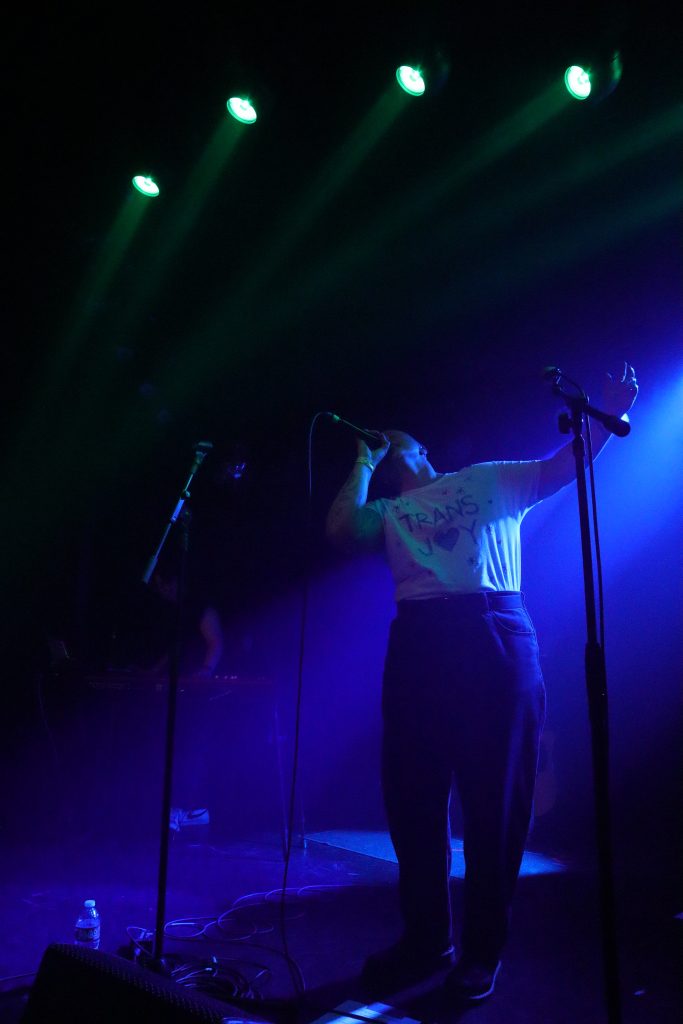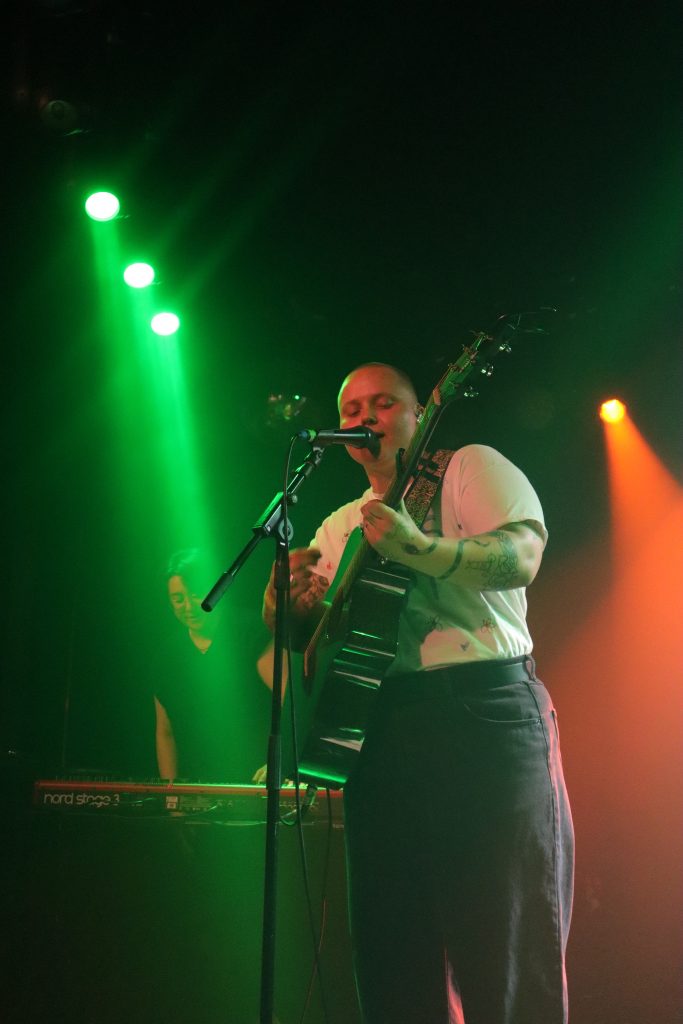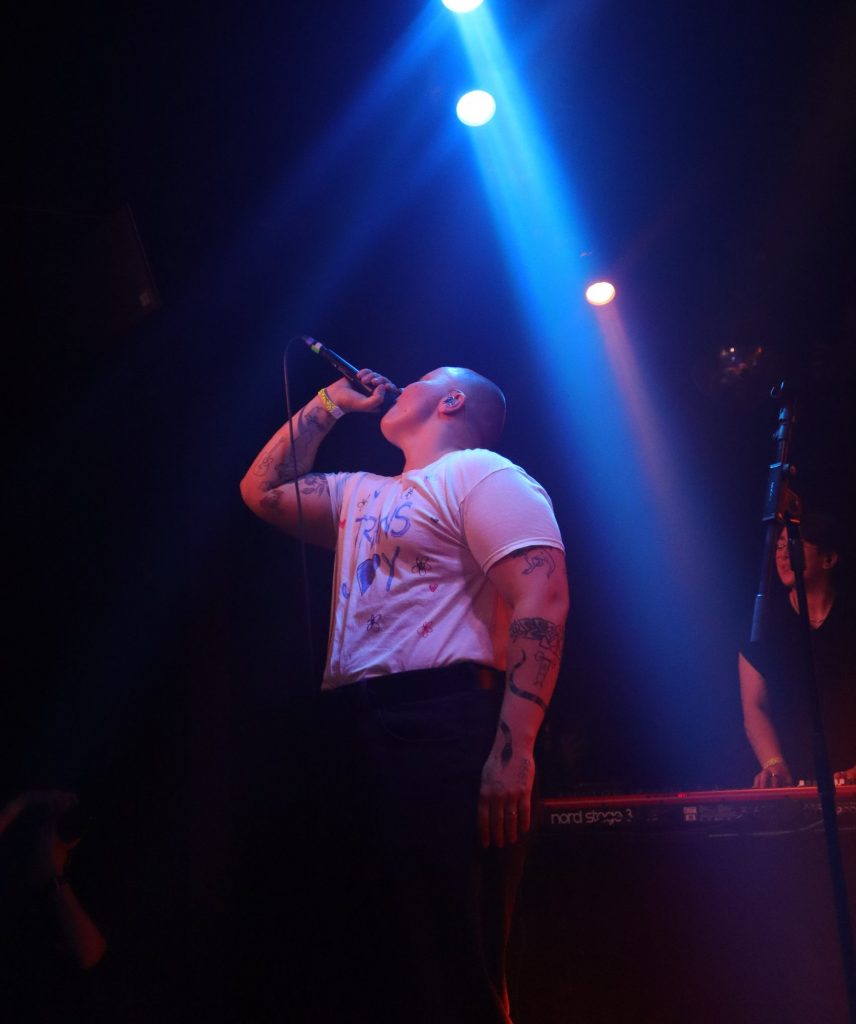 Ratsula prefaced their first song by saying they'd play a lot of newer music tonight, which was quickly greeted by loud cheers from the crowd. Despite this, they opened with their 2020 single, "Missing June," a nostalgic indie-pop track decorated with soft purple lights, before immediately launching into "Grocery Store" right after. 
Between songs, they remained charismatically honest, taking time to exclaim, "I'm not gonna lie, I'm lowkey dissociating up here, but it's alright! It's good energy from the crowd," before jumping into a newer song released this March, "Jealous of My Brother," a track that manages to be both upbeat and sad, admirative and envious, all at the same time.
Staying on a sadder beat, Ratsula opened the next song by explaining, "This next one is a tough one. It's about a lot of family issues growing up," and was one of my favorite songs of theirs: "What Would the Neighbors Think?" Shrouded in blue light and accompanied by Syd Tagle's soft keys, Ratsula's ability to convey vulnerability through their intricate arrangements and poignant lyrics left the audience in awe. As one of Miki's best friends, Grace "Semler" Baldridge, said half-jokingly right after Ratsula brought them out on stage next, "I was crying backstage! That's how you know it's great songwriting."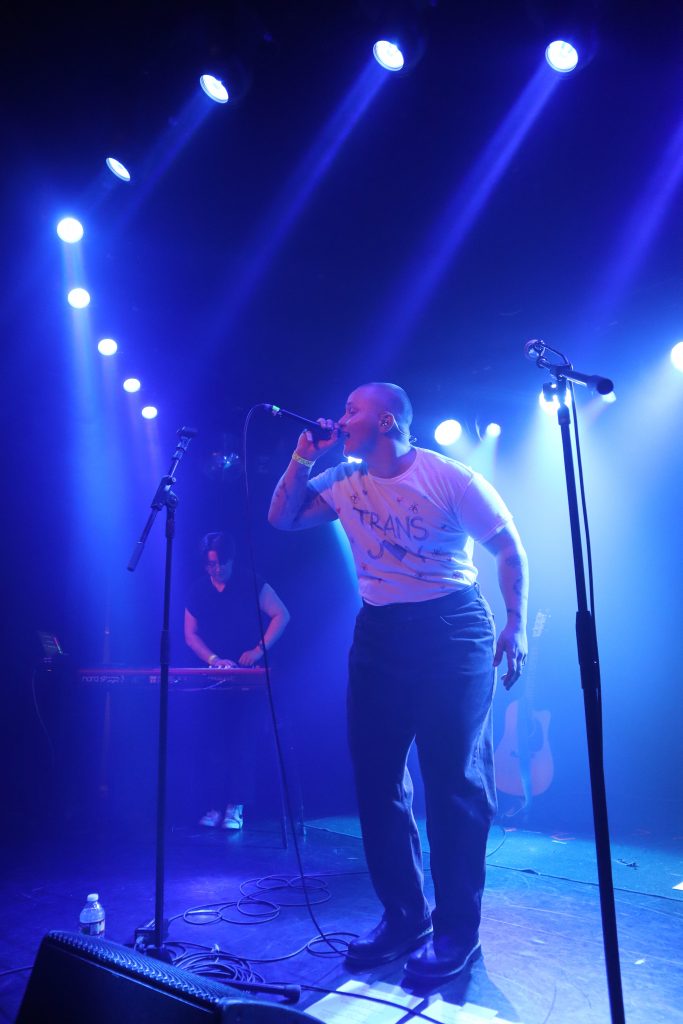 Semler and Ratsula were half-musicians, half-comedians while on stage together. Their closeness was evident in their nonstop, back-and-forth banter, even while on stage in front of dozens of people.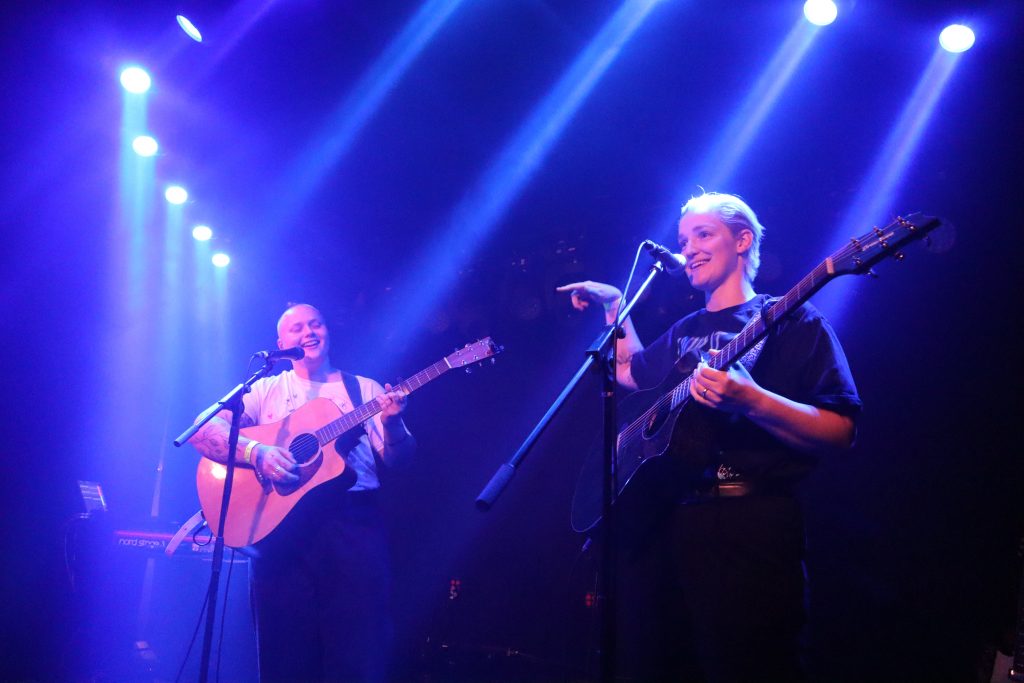 Although technology issues with Ratsula's guitar plagued much of the rest of the show, the pair managed to keep it light, interacting with the audience and cracking jokes to pass the time while technicians raced to the rescue. Finally, they played an acoustic rendition of the unreleased "Blue Balloons," a playful take on something imaginably quite painful: getting misgendered on your own birthday. The connection between audience and artist was undeniable during this performance, with audience members quickly learning the lyrics to the Lesley Gore-inspired chorus, "It's my party / I'll be fine if I want to," and singing along to the duo's beautiful harmonies.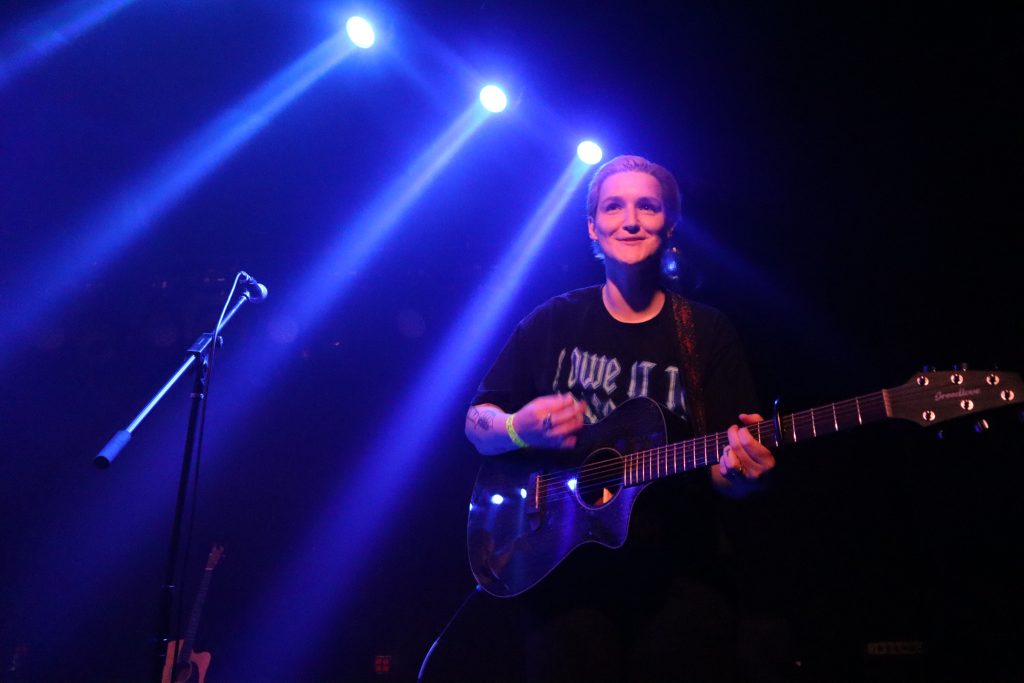 One thing in particular that stood out to me about this set and crowd was how supportive they were of Miki, constantly cheering them on, shouting out positive encouragement, and singing, dancing, and jumping along through every bump in the show, whether it was Ratsula starting to sing the wrong song, starting in the wrong key, or technical difficulties with their guitar / microphone. It was clear that Ratsula's fanbase is die-hard and unconditionally enthusiastic, just happy to be in the presence of such an inspirational artist.
Next, Ratsula brought out Jules Paymer, who came back on stage for a duet of their newly-released single, "The Daughter That My Mother Wanted." It was clear from their heartfelt performance that this song hits home for both Ratsula and Paymer, and the crowd, as well as their supporting electric guitarist, Carlo Giminez, was right there in support, enveloping the venue in an atmosphere of love and unity.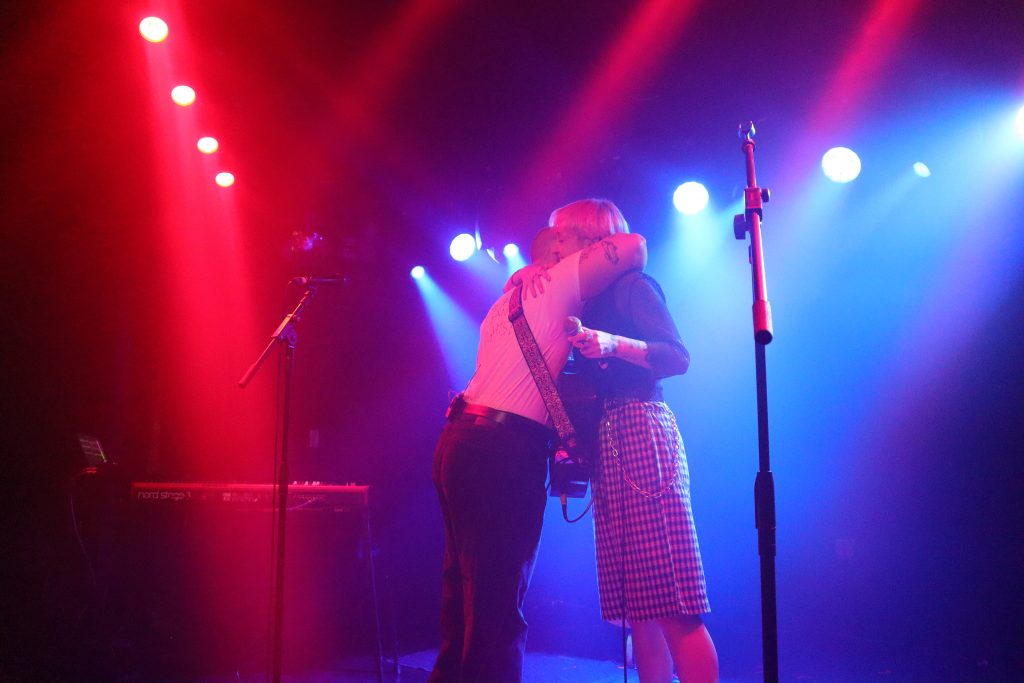 Afterwards, Miki Ratsula continued on with an acoustic rendition of "Second," an upbeat performance of "Sims 3" that had the whole crowd energized and jumping along, and one of Ratsula's own favorite songs of their debut album i owe it to myself, "I Didn't Know Any Better."
Finally, they wrapped up the night with a few songs off their new album that they explained were about a homophobic member of their team, whom they fired immediately prior to releasing the new album, before playing their iconic gender-neutral version of One Direction's "Steal My Girl (Love)", and wrapping up with one of their strongest performances of the set, "Reeboks."
As the night drew to a close, Ratsula took a final bow, expressing genuine gratitude for the overwhelming support they received from the audience, before leaving the stage.
The crowd erupted in applause, shouting endlessly for an encore. After a few moments, in a dramatic return to the stage, Ratsula came back on stage to deliver a heartfelt rendition of their hit, "I Walked a Mile in my Room," leaving everyone with an indelible impression before taking a selfie with the audience and throwing their shirt into the excited crowd to cap off an eventful night.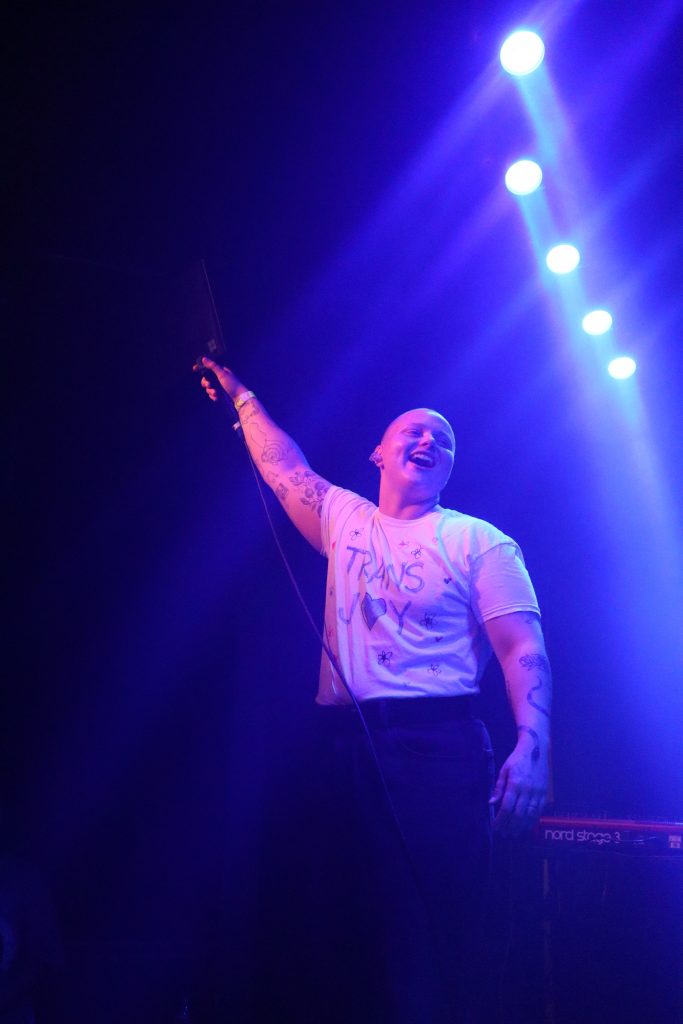 I discovered Miki Ratsula by chance, drawn to their velvety voice and dimensional lyrics. Ratsula's songs are soulfully tender, but they represent so much more. On Spotify, Miki's bio says, "just wanna be the artist i needed when i was growing up. trans non-binary and my pronouns are they/them," and it's clear that their work is a testament to their identity, paving the way for other LGBTQ+ musicians and serving as a guiding light for trans, non-binary community members to enter a safe space. Ratsula is a genuine, talented artist on the rise with an incredible mission, and I hope they disrupt the music industry in the best way possible. Trans joy, indeed.