The lady at the media check-in almost jumped out of her chair with excitement when I told her I drove from LA to cover Outside Lands: "Oh you have to try these brewers when you're in there- all of them are made here in the Bay…" She went on for several minutes describing her favorite food and drink vendors that I HAD to visit at the festival, using this opportunity to enthusiastically invite an outsider into the culture of The Bay, which I intently took mental notes for. I walked out of that interaction with my expectations for the weekend even higher than they were before and the biggest smile on my face.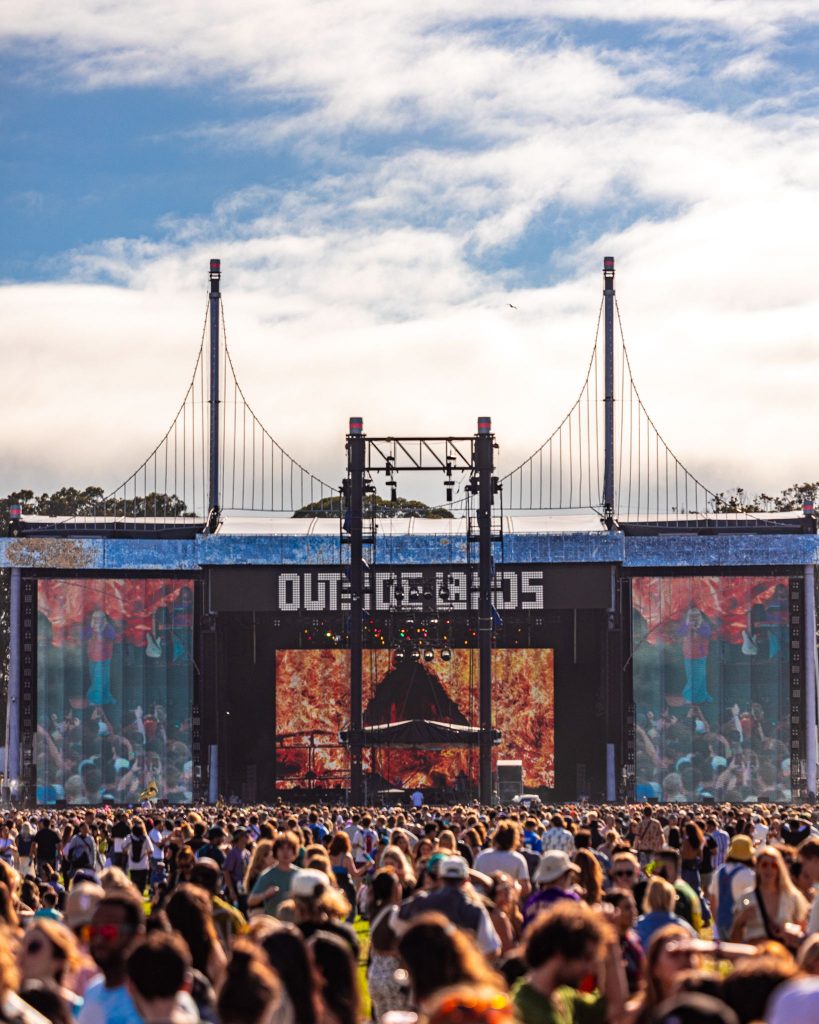 Everything Good About The Bay, and more
Walking past the windmill that serves as a centerpiece of the festival, I was immediately reminded how central San Francisco is to the identity of Outside Lands. A design bearing the iconic towers of the Golden Gate Bridge outlines the main stage, as if to emphasize: "Outside Lands isn't just music, but a celebration of Bay Area Culture." With the amount of attendees in their Giants and Warriors jerseys, eating smash burgers from local vendor Smish Smash, smoking the locally grown joints they'd gotten at Grass Lands, using "hella" in every sentence, it feels like every local was secretly told to never stop talking about what they love about about The Bay.
People weren't in Golden Gate Park that weekend to just see Post Malone smash his guitar after an emotional performance of "Stay" as fire shoots out around him from cannons lining the stage (although it was amazing). Rather, they were there to experience the food, the people, and the culture in a celebration of what makes Northern California such a desirable place.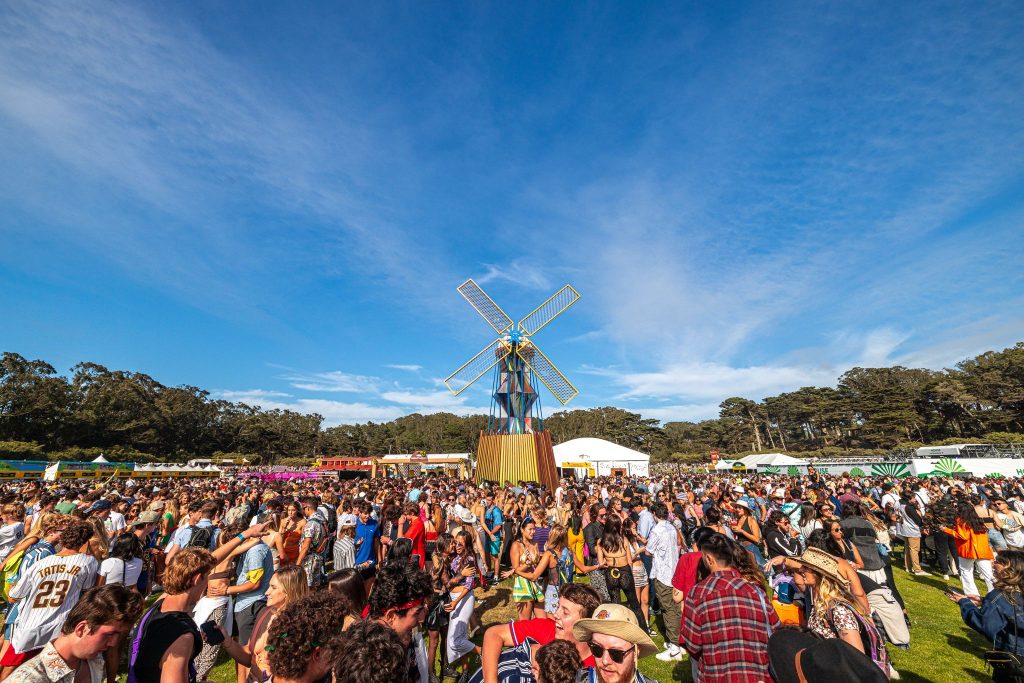 Being held right in the middle of San Francisco's west suburbs, the festival's final headliners usually end before 10pm to appease the city's NIMBY residents. Multiple artists have expressed their frustrations with San Francisco's noise ordinance in the past, most notably the lead singer of The Strokes whose set was affected by various issues last year including Julian Casablancas simply being too drunk. Nonetheless, the lineup on all five of the festival's main stages was packed with incredible artists- so much so that it was impossible to fit seeing everyone on your wishlist because many were scheduled at the same time. I was sad to have missed Mt. Joy, who were playing at the same time as Weezer, and The Marías, who were at the same time as Purple Disco Machine, and Maxo Kream, who was at the same time as Green Day.
A Concert at the Local Park
Hiatus Kaiyote began their set with "Rose Water" as Friday evening hit on the perfectly clear sky (Notably absent this weekend was Karl the Fog who usually joins the audience once the sun goes down). Festival goers who had been seated on tapestries started to rise as lead singer Nai Palm's voice bounced around the trees surrounding Polo Field where the Land's End stage overlooked. The Grammy-nominated jazz and funk band originated in Melbourne, Australia, performing their first gig at the 2011 Masquerade Ball among gypsy deathcore bands.
Hiatus had managed to create that local picnic feeling at Golden Gate Park- just a few times grander.
I observed the amalgamation of the crowd in front of me, consisting of millennials in jeans and t-shirts combined with a mix of college aged kids. It was an interesting contrast to Coachella in Southern California. Where Coachella is known for its influencer culture and grandiose with its global notoriety, Outside Lands embodies and emphasizes the chiller culture of the Bay. Notably missing is the constantly-in-motion culture of Silicon Valley- Seemingly, the tech bros had taken off their Patagonias and unplugged to embrace living in the present.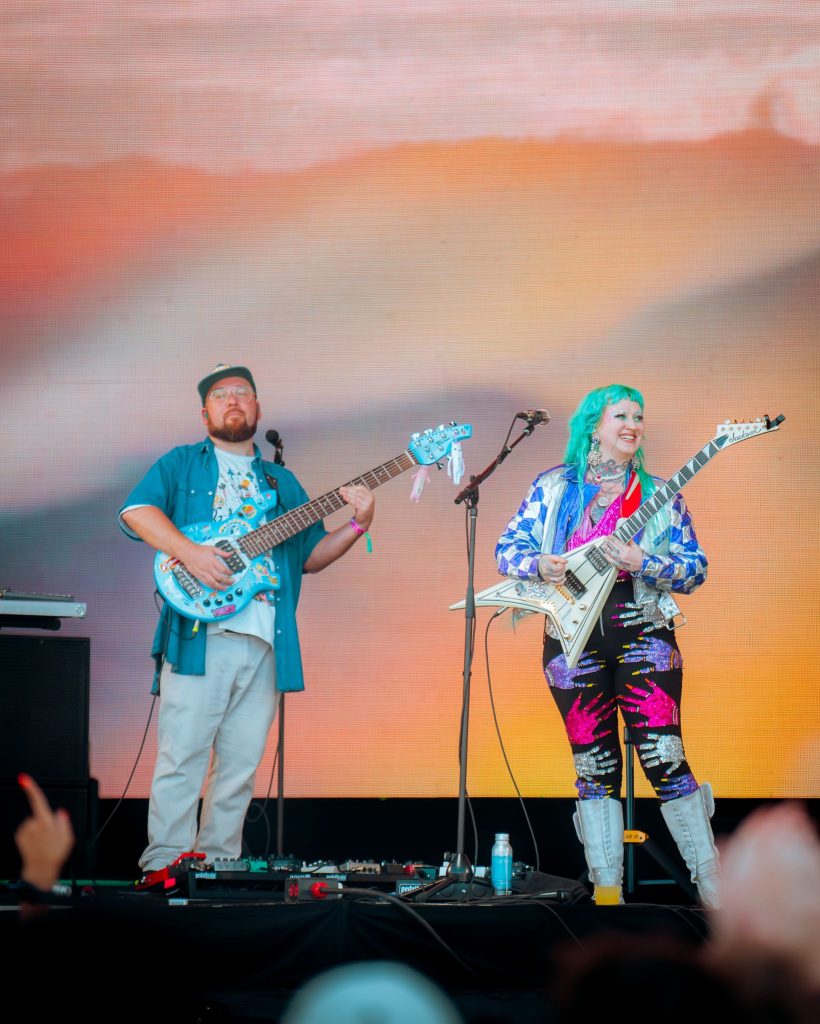 Most of Hiatus Kaiyote's set was from the band's most recent album "Mood Valiant" from last year. The transition from "All The Words We Don't Say" to "Get Sun" was seared in my mind when drummer Perrin Moss did a short drum fill into the bass, played by Paul Bender, kicking in for the latter song. Immediately, audience members who had been seated began to rise as the funk filled the air and a combination of the groovy music and various substances commanded them to sway. The band from down under locked in the crowd with a cover of David Bowie's "Within You." What before had been a trance like jive turned into a karaoke night thousands of people deep.
It felt like just another day at a park, not a music festival. I was reminded of the concerts at parks I'd been to back at home, where local bands full of friends' dads played "Mary Jane's Last Dance" and the spectators sat in camping chairs with wine glasses in hand. Everyone knew each other and consumed the music as a community. Hiatus had managed to create that local picnic feeling at Golden Gate Park- just a few times grander.
One of my biggest takeaways from Outside Lands this year was that we now live in a post-Astroworld society. Whether it was the Local Natives pausing their set to ensure a passed out fan was okay or during Disclosure's set when the audience immediately made a path for first responders to get to a passed out individual, it seemed that people were hyper aware of the events that had unfolded at in Texas last year and made the effort to ensure the safety of those around them. I'm sure there are exceptions, but, to me, Outside Lands exhibited a different mentality in going to concerts than what I was used to. When before concerts would have been about the individual enjoying music, OSL emphasized the community in that experience.
The final two songs of the set were one of my favorite memories from the weekend as Hiatus Kaiyote performed their two most popular songs, "Nakamarra" before closing out with "Red Room." The back of the crowd spread out by arms length but utilizing every free inch. With our $20 beers in hand, the crowd swayed along to keyboardist Simon Mavin's funky chords. Heads bopped and people shouted cheers as Nai Palm's voice hit a high note. While the singer acknowledges that people have their own meanings for the band's song, for her, the song describes "when you close your eyes and you look at the sun and it's red. You feel like you're looking at something, but really it's just your skin." We weren't sitting in a bedroom stained red from the sunlight shining through red windows, but I remember not being able to stop smiling and thinking about how if it was actually inside of a flower, this is exactly how it would feel, as her words "I don't wanna be anywhere but here" resonated throughout Polo Field.
Okay, Larry
In an interview before the festival, Larry June had emphasized that his set would be fun and "very dope," so I made sure to add the rapper to my schedule.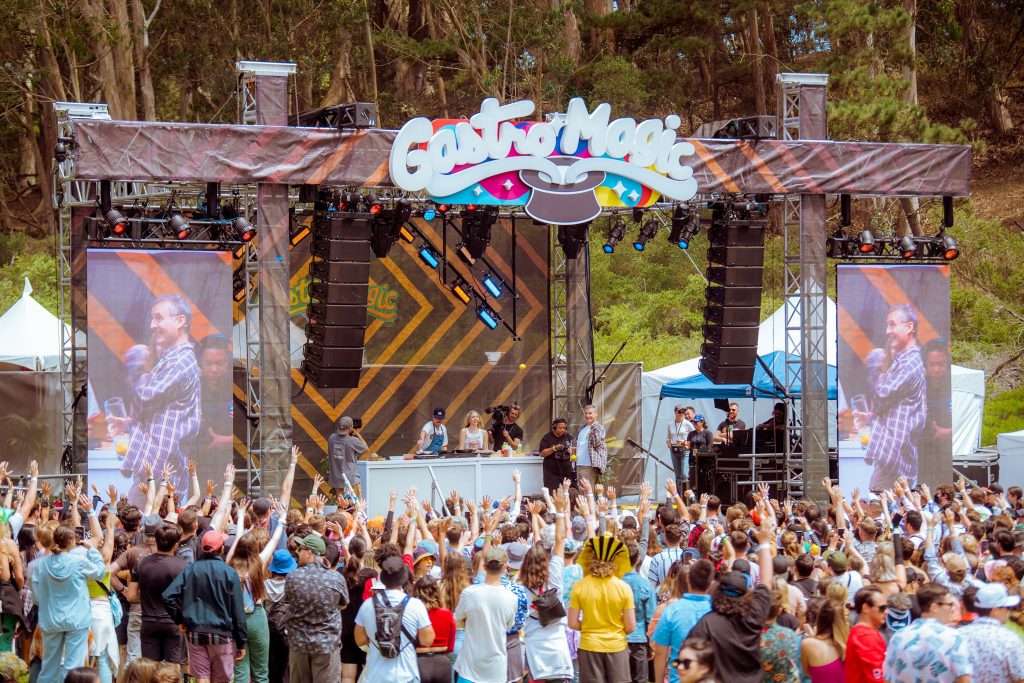 The journey to the Twin Peaks stage where Larry was performing is a treacherous one, as festival goers zoom by going both directions to get to the next artist on their schedule. Nestled in the far eastern part of Golden Gate Park, attendees walk by stages named after iconic San Francisco landmarks like the Sutro Tower. The Sutro stage had a hill on one of its sides which allowed the audience to sit and watch performances from an elevated position while they recharged. The infamous GastroMagic stage (probably not named after a landmark) featured iconic food stars like Binging with Babish cooking with 100 Gecs and Roy Choi making chicken tenders with Dominic Fike. The Soma tent, which had the best stage design with LED cubes that flashed all colors of the rainbow and lit up the dark tent it was located in, had various DJs throughout the day including Tokimonsta and Amémé. The smaller Panhandle stage which was hosting artists on my schedule like Maxo Kream (who I ended up missing) and Unusual Demont.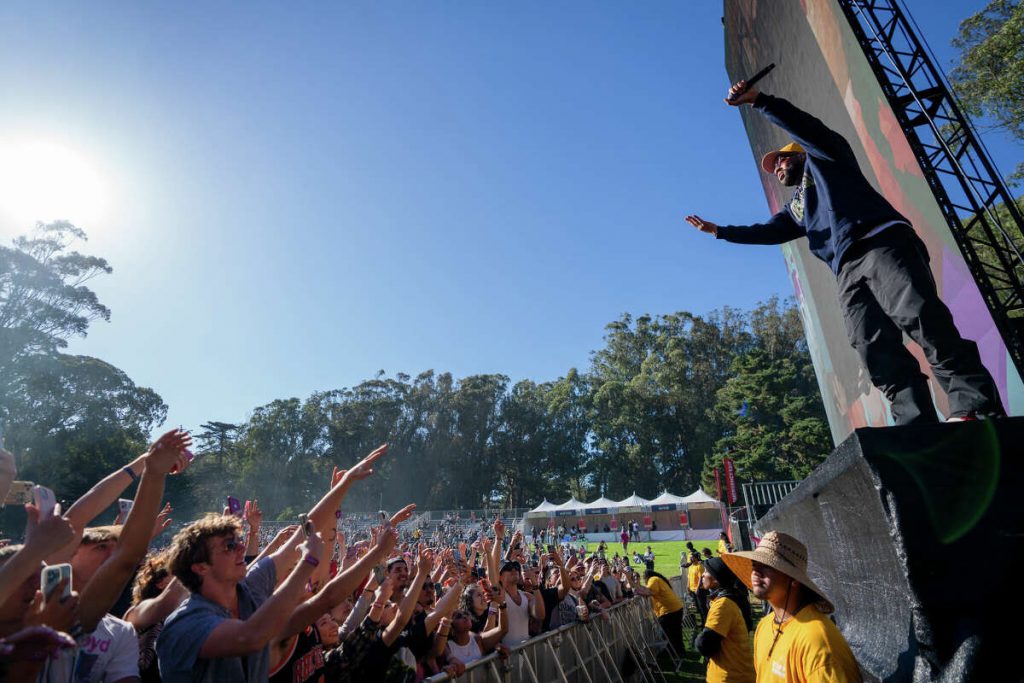 Simply put, Larry June had held true to his promise of guaranteeing an interesting set. Twin Peaks had been decorated with orange trees and fruit stands full of giant oranges. I was expecting an intimate performance but was met with a crowd that had already begun to stretch the length of a football field and a rapper with the ability to activate every single person watching his performance.
June came out to "Private Valet," which doesn't sound like the most performable song on Spotify, but the energy he brought carrying a bottle of orange juice had the entire crowd jumping. Whereas the studio recording emphasizes June's soothing cadence, his performance focused on making sure every single person felt the bass in their bones and were bouncing along. One of the best moments from the set was when Larry had everyone chanting that they were "Feeling Good Today" as he and his friends took the massive oranges from the fruit stands and chucked them into the crowds. Being one of the only rappers at the festival from San Francisco, June made sure to show his love for The Bay throughout his set, continually shouting out the local day ones in the crowd and by, of course, performing "Meet me in Frisco." There were obviously die hard fans of June in the crowd that knew his entire setlist. A good portion of the crowd closest to the stage matched June's energy by rapping every lyric with a level of enthusiasm I had never seen. It was one of the reasons by the end of the set like when Larry performed his most popular song "Smoothies in 1991," people in the audience who may have never heard about Larry June prior to the festival were also chanting one of June's most iconic adlibs: "Good Job, Larry."

Closing It Out with Bay Area Natives
There was no better Bay Area representative to headline Outside Lands other than Green Day. The crowd that had lined up from Oakland filled almost every square inch of open grass in Polo Field. Excitement was in the air as darkness began taking over the San Francisco skyline. Suddenly, the iconic piano chords of Bohemian Rhapsody began to play as the audience, tens of thousands of people deep, all screamed, "MOMMA.. JUST KILLED A MAN." It was karaoke night all over again as every single person standing at Land's End came together to sing the ballad- and there wasn't even anyone on stage yet.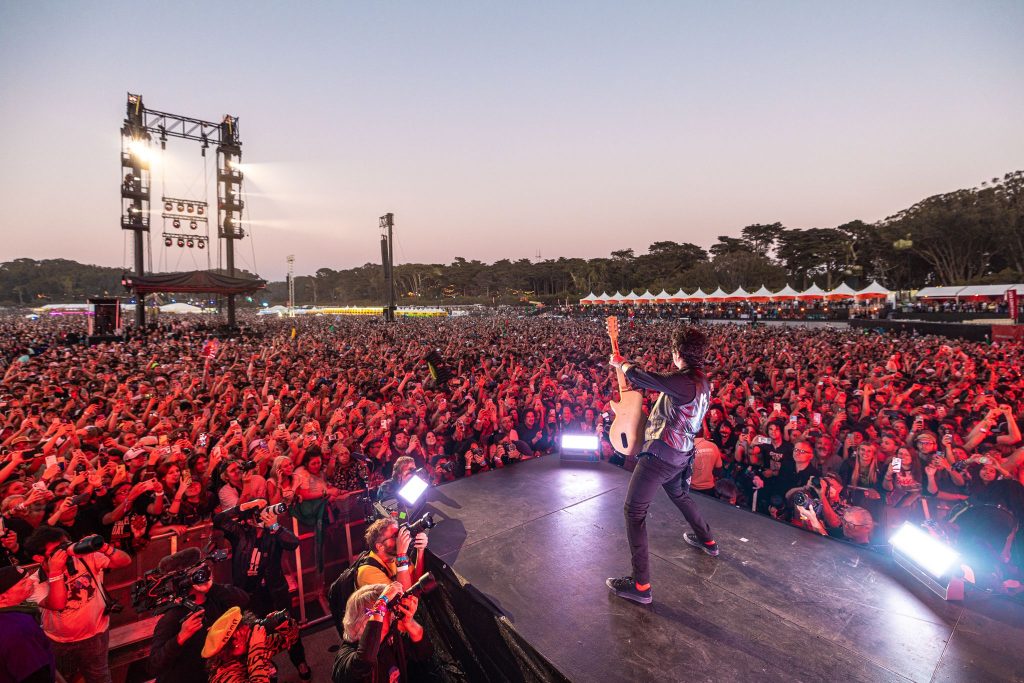 Nonetheless, the crowd was ready. I was standing at least 100 feet away from the stage, but could see the sea of people making waves as they jumped up and down as far as I could see all around me. A mashup of the chords from "Blitzkrieg Bop" looped as someone dressed in bunny costume zoomed out from backstage. He ran all across the platform of Land's End, dancing with the crowd and beer in hand before a stage hand ran on stage and escorted him off.
Green Day's first live performance was in Northern California at a roadside diner where lead singer Billie Armstrong's mom worked. More than three decades later, Green Day had become an intergenerational pillar of childhoods, car rides, and cover bands across the world. That's why when the band came out to the opening riff of "American Idiot," everyone was taken back to the days when teenage rebellion and angst ran through our lives. For that moment, the tens of thousands of people forgot about their roles as tech bros from the Silicon Valley or sorority girls at UC Berkeley and channeled their primal instinct to stick it to the big man.
As I drove home on Monday morning with a hole the size of multiple festival tall boys in my wallet, I reflected on what makes people return to Outside Lands each year. For folks from the Bay or beyond, Outside Lands is an escape. The festival immerses attendees in everything good about the Bay, leaving the fast-paced, tech culture on the streets outside of Golden Gate Park for the close to 12 hours we were allowed in the Park before calls would start flooding the Mayor's phone of loud music disturbing the peace and probably waking their dog up. Nonetheless, there are few things better than fireworks going off over the San Francisco skyline as Karl the Fog rolls in to cool off the attendants of Golden Gate Park.