Photos by Lucas Chen and Primavera Sound Photographers
Day 1
Only a week ago, a heat wave had washed over Los Angeles like warm butter over toast, with all of the grease and none of the satiation. The record-breaking temperatures knocked data centers down and even closed UCLA's campus for a week.
But you could hardly tell that the city had nearly melted by the thousands of loose-limbed people gathered today, a cool 79 degrees, at Los Angeles State Historic Park in Chinatown for Primavera Sound 2022. The festival, which originated in Barcelona in 2001, made a transatlantic journey for its first stateside edition, with "the firm intention of integrating itself into the cultural scene of Los Angeles to provide mutual feedback," stated in an emailed press release.
After a nasty traffic-jammed ride on the 10, my photographer Lucas and I make it to the park, just in time to catch the end of Pink Pantheresess's set. Her synth-like voice imbues the air like pink soap bubbles as she sings "Just for Me," a song about stalking a crush, à la The Police.
Next up is Clairo at the Primavera Stage. We were a bit skeptical about her; though we're fans, we wondered how the lofi sound of her older songs would translate live. However, our doubts are dissolved when things wake up with "4EVER:" her band props up the funky bedroom-pop production, fusing elements of jazz to make it groove extra hard. Steve Brickman and Hailey Niswanger both contribute on the saxophone, and by the time Niswanger finishes her soulful, minute-long solo at the end of "Pretty Girl," I think my brain chemistry has irreversibly shifted, and so has the rest of the audience's, evident in their thunderous applause that refuses to die down.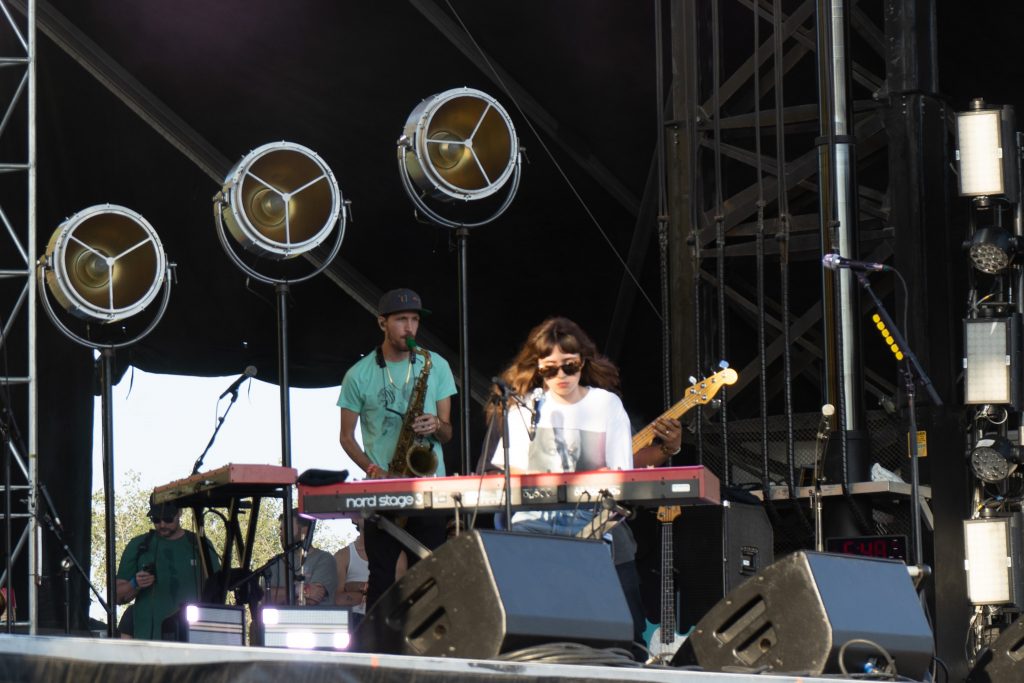 My personal itinerary sends me to avant-pop French band Stereolab at the Tecate Alta Stage, where I run into some viewing complications. Due to laws regarding alcohol service, a large portion of each stage is closed off to those under 21 – This would prove to be an inconvenience throughout the rest of the festival, forcing festivalgoers to snake through pseudo-paths of porta-potties, gates, and vendors like high schoolers in passing period. I end up sitting in the back, relaxing with other picnickers on the grass and listening to "Refractions in the Plastic Pulse," in which traditional instrumentals like bossa-nova guitar fuse with atmospheric synthesizers to soundtrack a space odyssey fitted for only the most sophisticated of cosmonauts.
Afterward, we're hungry for a fix of overpriced festival food, and Primavera Sound has partnered with Smorgasburg, an open-air food market, to feed the people. While we eat chicken teriyaki bowls, Lucas tells me about the market's controversies surrounding Chinatown's concerning gentrification. Though the vendors are independent businesses, their upscale prices and more well-off customers contribute to the displacement of families and businesses that have lived in Chinatown for decades. With all the local restaurants in the area, it would be nice if Primavera made the (admittedly more difficult) organizational effort next year to seek out said restaurants as vendors, not only introducing festivalgoers to authentic Chinatown cuisine, but also uplifting the cultural community and the historic locale that they're borrowing for the weekend.
As the sun sets over Giveon's soulful and romantic R&B set, we're joined by our friends Alik and Emi and head over to see Mitski. With a single prop of a closed door on the stage, Mitski is engrossing as she performs in a silk blouse, shorts, and knee pads. Beyond her soft yet emotive singing, her lyrical choreography and facial expressions encapsulate each song's feeling. From an unconvincing happiness to a festering anxiety to a burrowing longing, Mitski captures these emotions and strains them through a cheesecloth, taking what remains and painting it thick on her face like stage makeup for the world to see.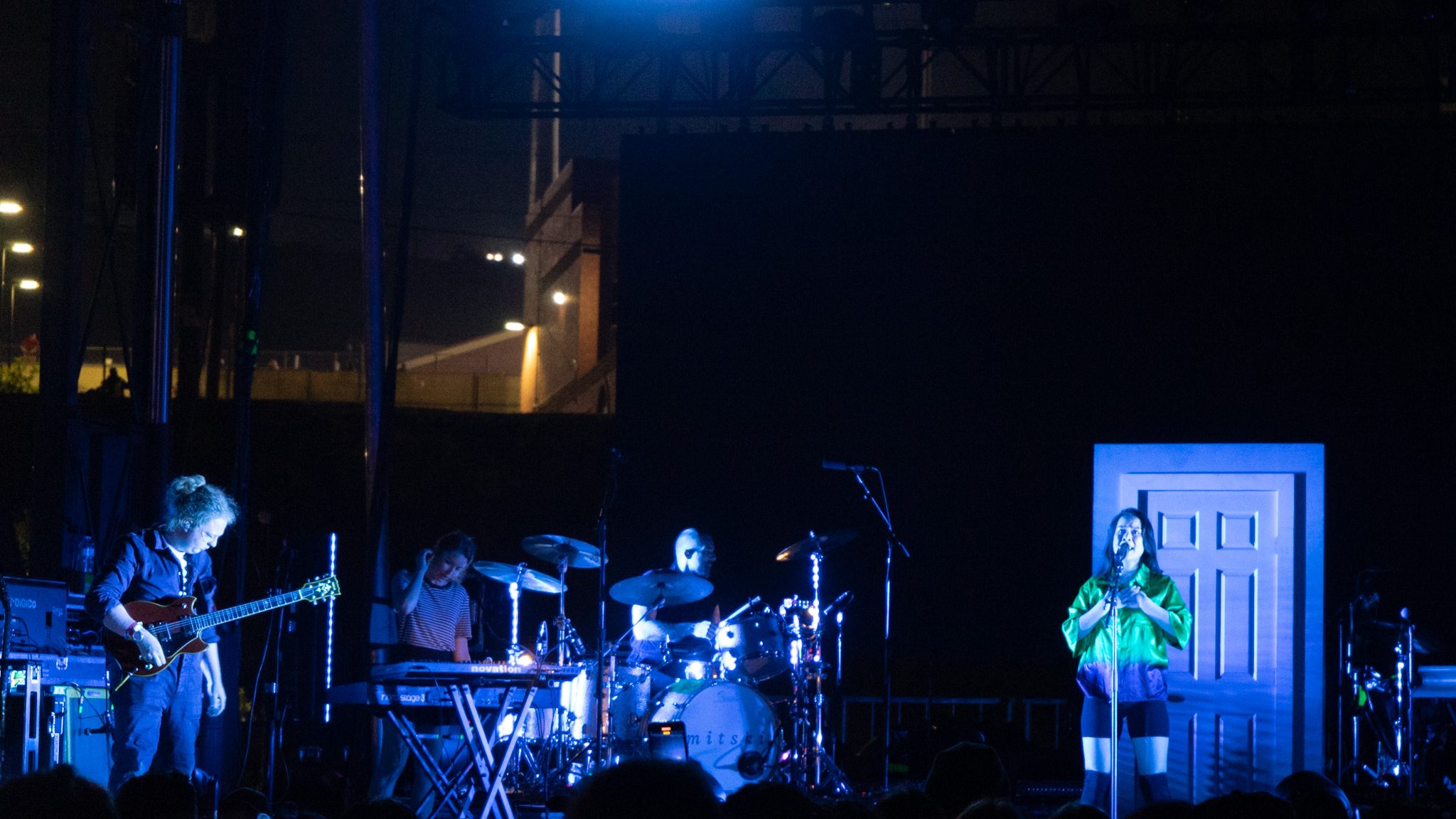 Finally, it's time for Lorde, the night's headliner. Her space-age set is flooded in hues of sepia and tumeric, and her band is decked out in 1960s Laurel Canyon apparel. Lorde is so vibrant she glows, dancing with an infectious zest that permeates through the massive crowd. Staying true to the environment-conscious ideals of her last album, Solar Power, she references previous week's heat wave as she takes a moment to address the pressing climate emergency.
"Please do not forget that this is fucked up… it's the defining crisis of our lives. Try to vote with the climate in mind, and go outside," she urges. "It's the best thing."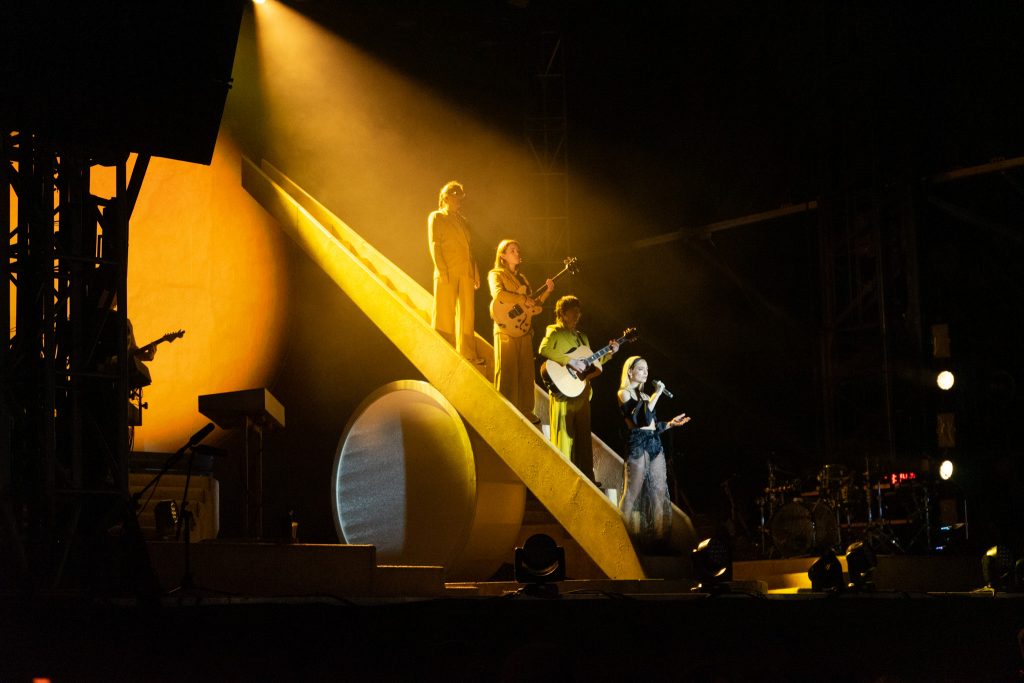 Her performance is pure euphoria as she switches between songs off of the teenage nihilism of Pure Heroine, the hedonistic heartbreak of Melodrama, and the steady sunshine of Solar Power. Obsessively ruminating over past relationships never felt so liberating as it does over the fluorescent synth lines of "Supercut," while the wellness-culture satire of "Mood Ring" is overtly sardonic in a city peppered with Erewhons.
She preludes "Ribs" with a question for us: "Let's dance for our 15-year-old selves, shall we?"
Suddenly I'm 15 again, the crowd is 15 again, and the 15-year-olds here must be living in their own coming-of-age movie as the droning synths of the song shoot into the night like shards of a comet.
"I've never felt so alone/ it drives you crazy getting old," She sings to a crowd of thousands, all beaming, bouncing on the balls of their feet in unabashed naivety, celebrating the spectacular, pretentious, hot-headed, visceral messes that they were, that we all were, at 15.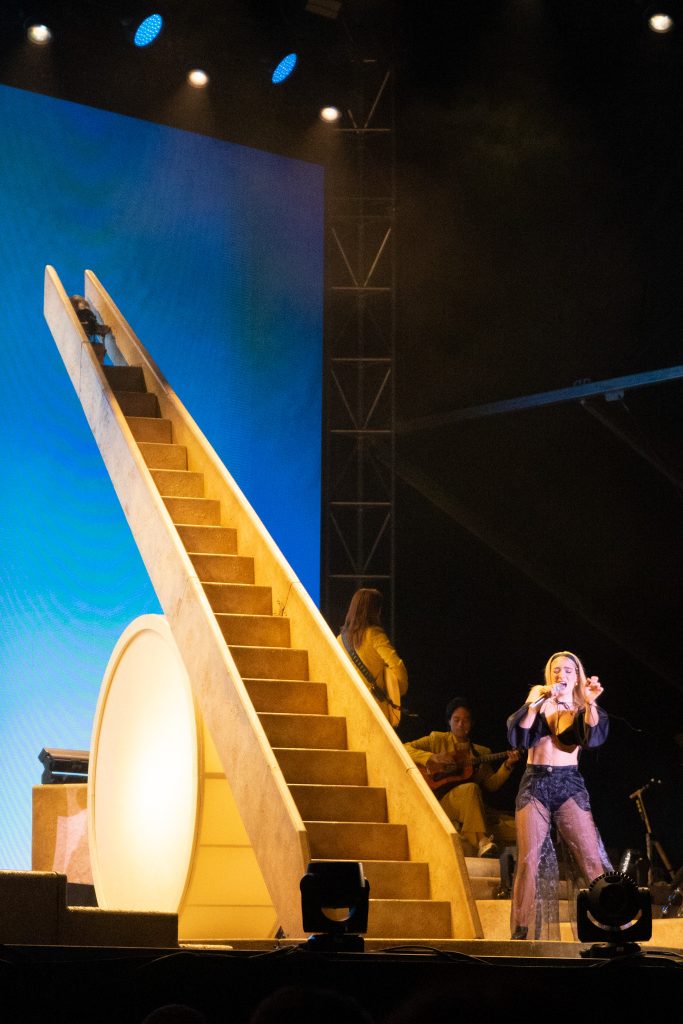 Day 2
A speedy ride on the metro (and only one wrong stop), a quick bite of takeout dim sum at Won Kok Restaurant, and we're off to day two of Primavera Sound.
We're starting with Tierra Whack. She's incredibly fun, and even better live, bringing a snappy bite to her delivery in songs such as "Only Child" and "Fuck Off." The crowd doesn't exactly return her energy, but she does the best with what she has, playfully joking with them; at one point, she asks everyone to put their middle fingers up, even goading the security guards into stick 'em in the air. During the opening melody of "Hungry Hippo," there are some fans next to me who can't contain their excitement, shouting the lyrics before Tierra Whack has the chance to start.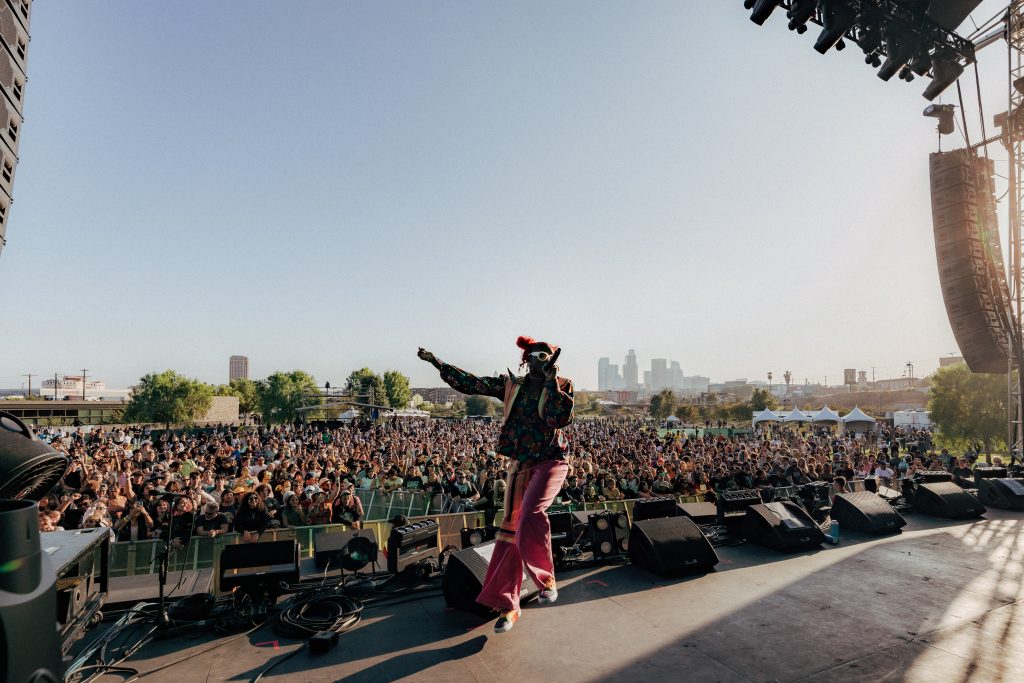 An hour later at the same stage, Khruangbin takes their place on a mirrorball-adorned set, with the two jumbotrons flanking the screen pixelating the band members into abstraction, much like their funk-psychedelic music. Opening with "Lady and Man," Laura Lee grooves along with her bass, using her sharp breath as a percussive element ever so often, while Donald "DJ" Johnson propels out hypnotic rhythms on the drums that have the crowd swaying on autopilot. Throughout the set, Guitarist Mark Speer is a chameleon, making his instrument sound scratchy like velcro one song and then reverberating with all the moody colors of a Wong Kar-wai film the next. Despite not having heard much of their discography beforehand, I know that I'll have Khruangbin on repeat for at least the next month.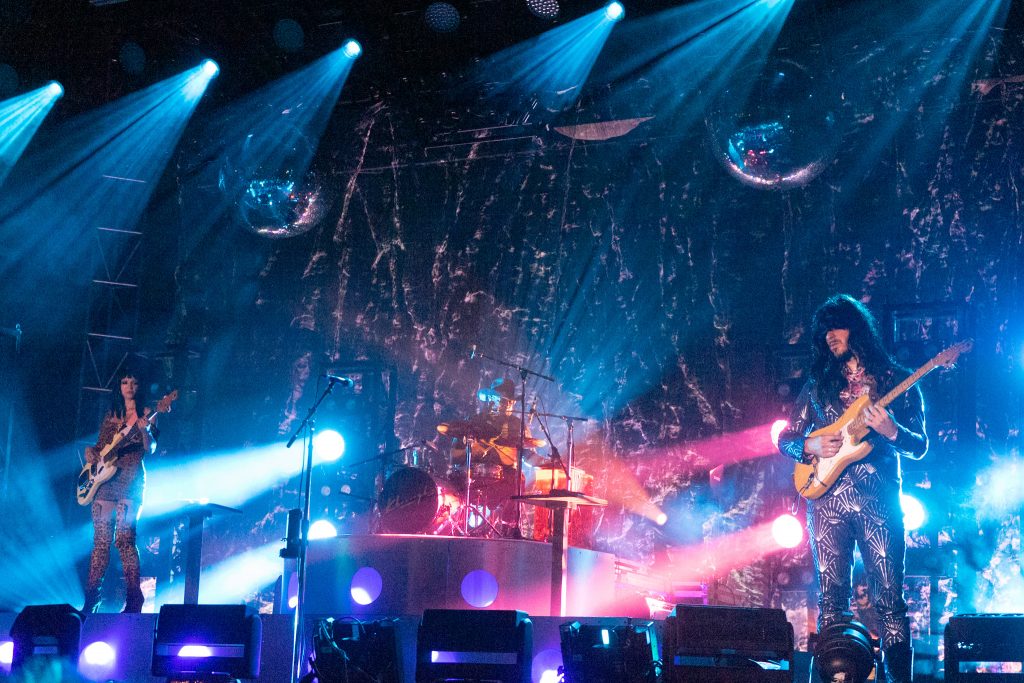 Over at the Tecate Alta stage with Surf Curse, the crowd is much younger, which checks out; their song "Freaks" went viral on Tiktok in 2021, eight years after its release. I meet my friend Jennis within a sea of high schoolers and raspberry-scented vape clouds. The kids around us are eating up Nick Rattigan's fervent, sweaty drumming and bellowing vocals. All hell breaks loose during "Freaks:" the lighting flashing Monster Energy green, the kids crowd surfing, the crowd a-moshing, pushing us straight to the barricade – right in time for "Disco." This time, Jennis and I are the knuckleheads, arms wrapped around each other, screaming the lyrics as Rattigan sprints up and down the barricade, pleading to the subject of his song over a desperate guitar riff.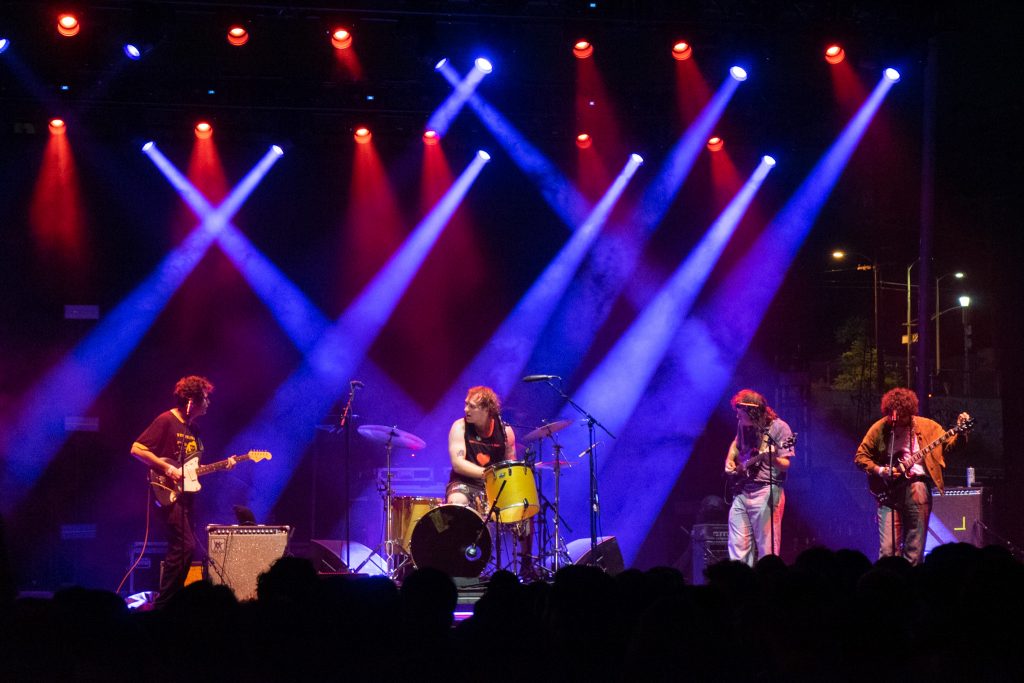 Before heading out for the night, Lucas and I check out house music duo Bicep. The stage's graphics are geometric and the music is electric and I have never felt so wired. I think this is the closest I'll ever get to living inside the world of a coolmathgames.com game: inhabiting an intergalactic dreamscape of floating platforms that orient themselves to my own gravitational pull, my lungs coded with unending stamina, my only purpose to run as fast as Bicep's pulsing beats, racing towards a deep infinity that I'll never reach.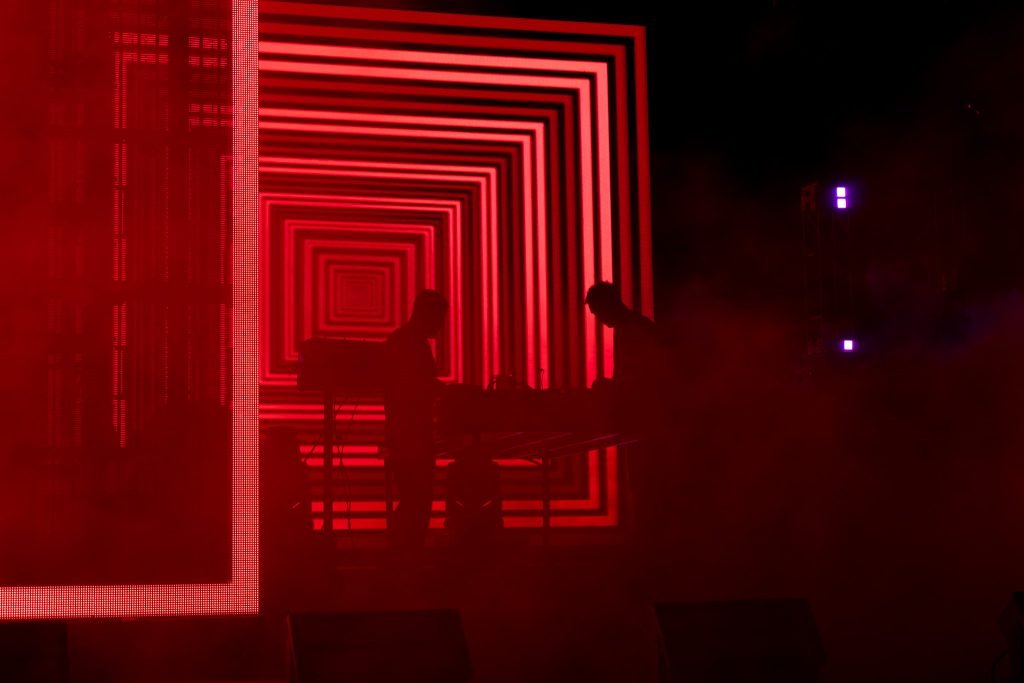 Day 3
Our final ride on the metro brings us to the final day, this time joined by friends Lauren and Sonja. The final first act is Faye Webster: the band's mixing is off at first, but Webster's tender voice eventually breaks through. Yearning slide guitar lines layer atop Webster's own guitar and the rest of the band's lush instrumentals as she performs her set, singing about love and loneliness, in all the various shapes and times they find us in. She closes with her dreamy hit "Kingston," luring us into a silky trance that I'd be fine never waking up from.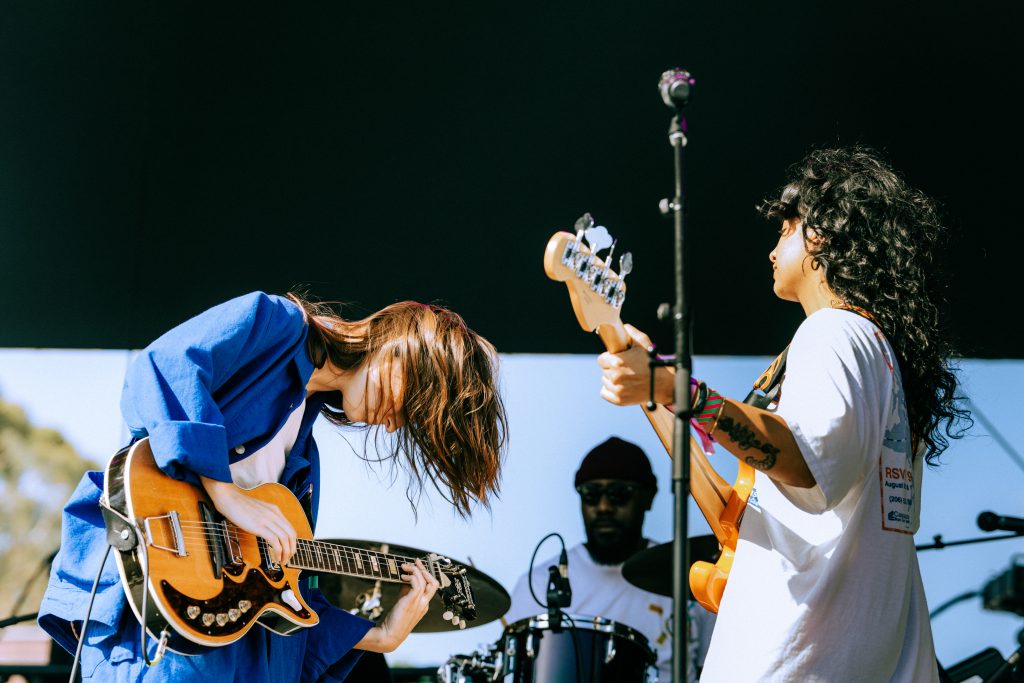 Later at the same stage, King Krule comes on ten minutes late ("I feel like shit," he'd declare later on during his set), opening with the heavy notes of "A Lizard State." While his music stands out with its gritty, trippy sound and experimental textures, his performance personally isn't for me. I move to the back of the crowd to take a breather, sitting cross-legged and pulling out dead grass when I recognize the back of Faye Webster's oversized blue pants. I do my best not to freak out as I approach and tell her how much I loved her set. She's incredibly sweet and lets me take a photo with her. I'm so nervous that I mindlessly hand my phone to the nearest person to take the pic without asking him first (Kerwin Frost, if you're reading this, I'm so sorry).
We have some downtime now, and while sitting on a rock by the porta-potties, Lucas strikes up a conversation with a couple. Jemma and Brian are coming from Rowland Heights today for Arctic Monkeys, the day's headliner. Jemma's been a fan since she was in middle school, circa 2009.
"They haven't toured in America for so long, so we had to go – and he had to come along with me," Jemma shares. Though vaccinated, they recently caught Covid-19 at the Palladium seeing another DJ. "We knew this venue was wide open, so we thought, why not?" I agree with them: outdoor venues of festivals like Primavera Sound allow for more audiences to enjoy live music, especially those that might want to be more conscious of large crowds and illnesses.
Much like Jemma and Brian, I can't wait to see Arctic Monkeys, and neither can anyone else, it seems; an hour before their set, the crowd is already massive. While I head over to their stage to snag a spot, Lucas goes to the Barcelona stage to listen to electronic indie pop artist Arca.
"[Her set] felt like one of the most out of place, and it was an interesting contrast to see who was at [her stage]… definitely a super diverse, yet weirdly intimate set since the venue was small," he tells me the next day. "She was very electrifying, and very into engaging the crowd and making them a part of it."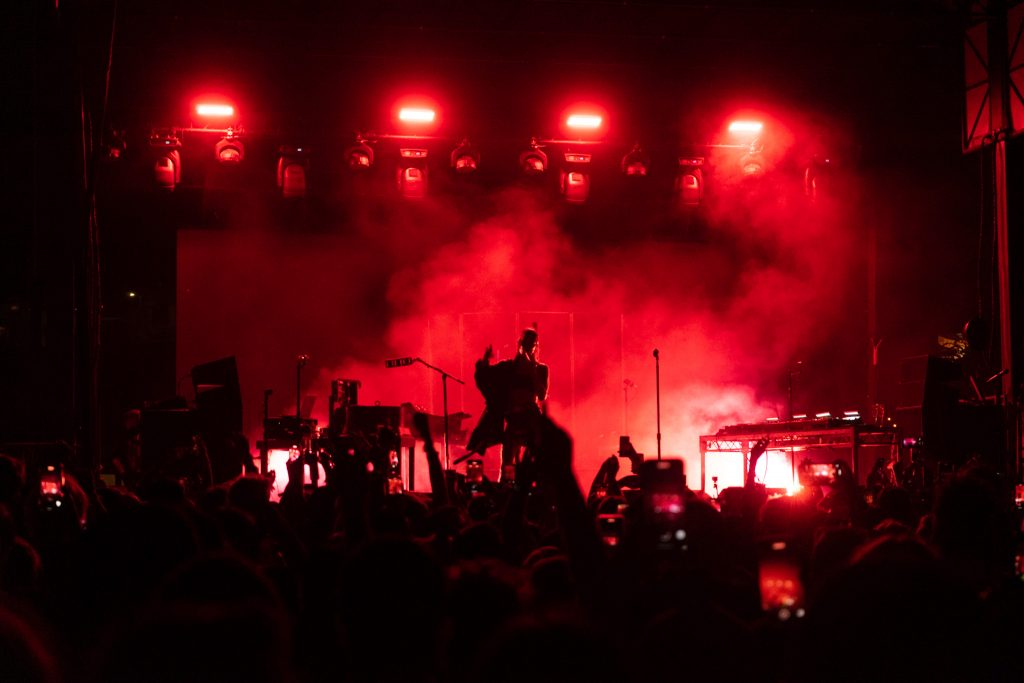 In the meantime, I worm my way through to meet Sonja at the barricade, and we kill time by playing hangman with Arctic Monkeys songs. Finally, at exactly 8:30, the stage dims, only for a sea of iPhone camera flashlights to rise in response. The screaming is thunderous, the loudest I've heard all weekend, as the band takes their place on stage. Lead singer Alex Turner begins playing the edgy, now-iconic guitar riff of "Do I Wanna Know," and somehow the screaming gets even louder, never letting up even once during the rock band's set. Turner is the suavest frontman I've ever seen, acknowledging each section of the audience with small waves and glances throughout the songs, flaring his guitar neck up at the end of riffs, and wrapping his hand around his neck as he croons the lyrics to "505." The band reaches the lull point in the song's structure, quieting down. Turner gestures toward each of his bandmates like a conductor, revving up the tension until the song's climax. The anticipation builds in my chest like a simmering pot of soup, boiling over when Turner and the crowd shout the final chorus in unison, the stage lights flashing and the volume deafening.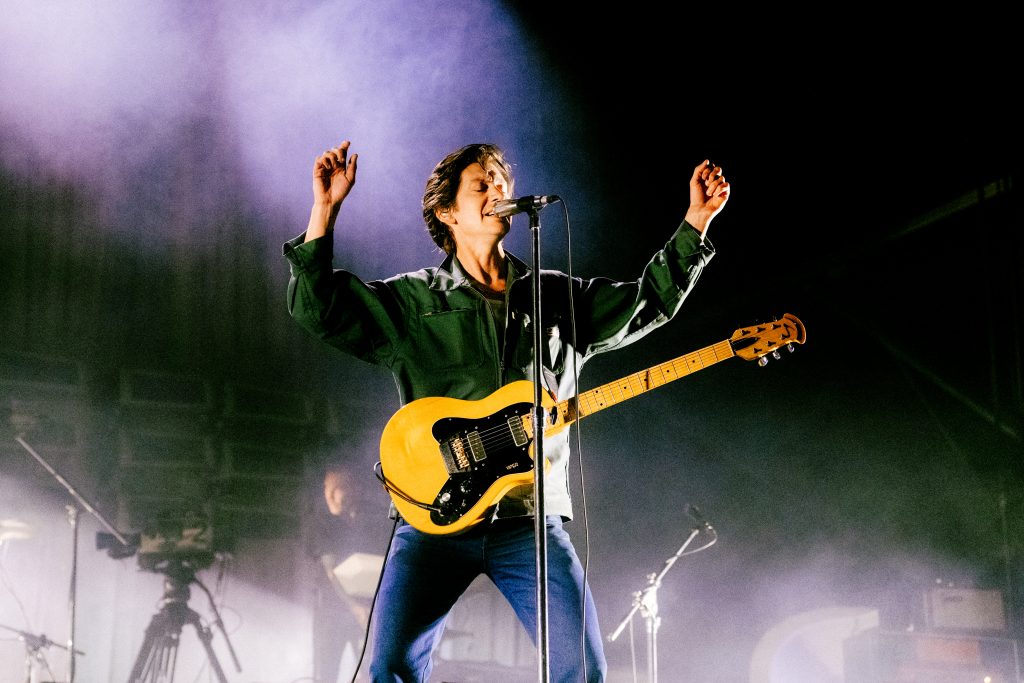 On the way out, Lucas remarks, "I can't remember a time before this weekend," and I concur: for the past three days, we had lived, breathed, danced, drank, ate, and all but died for the insanely fun Primavera Sound Experience: 50,000 festivalgoers, four stages, and many, many talented artists, both familiar and new. But just as the intersection of Alpine and N. Spring Street, where we had waited for our Lyft each night, was starting to feel like home, our driver arrives, breaking the liminal Los Angeles nighttime allure. In the car, he asks us about the festival.
"Are your legs broken? Where I'm from, we called it a break dance: If your legs aren't broken, you didn't dance hard enough."
My feet sore as a hoarse throat, knees rusting over, stomach running on dim sum for the past two days, and enough residual melodies worming in my eardrums to last the next two months – I think I am broken not just in my legs, but the rest of me as well, in the best way possible, and ready to start the school year with this havocked body of mine. So long, Primavera Sound, and with the rest of it, Summer 2022!
Listen to our favorite songs from Primavera Sound LA 2022 here.