Photos by Chloe Gonzales
The first time I had heard of the hip-hop/rock duo Paris Texas was when BROCKHAMPTON had announced they were opening for their later-canceled HERE RIGHT NOW tour. Half a year later in March 2022, someone sent me a playlist with the song "HEAVY METAL" in it. The rough guitar riff and rapping that struck my ears pulled me in, and I scoured Spotify for the rest of their catalog. Paris Texas faded in and out of my life as I maneuvered my way through the rest of my first and second years at UCLA.
Coming a long way from a quiet community college in South Central Los Angeles, Louie Pastel and Felix slid into the public eye with their brainchild Paris Texas. They have been found everywhere from UCLA's campus in early 2022 to Coachella 2023. July of this year saw the release of their debut album Mid-Air, boasting features from rappers Kenny Mason and Teezo Touchdown.
Tonight, Paris Texas was to perform at the Roxy in West Hollywood for the last stop of their North American tour. Entering the venue, I saw Martian rocks, chain link fences, and aviation suits scattered across the stage. The otherworldly decorations already started pulling the audience to barricade in hopes of getting a peep of what was to come. The din filled my ears and compelled me to jump higher to glimpse the crowd behind me. I saw a sea of various black graphic band tee shirts and glittery chains dangling around necks and pockets alike.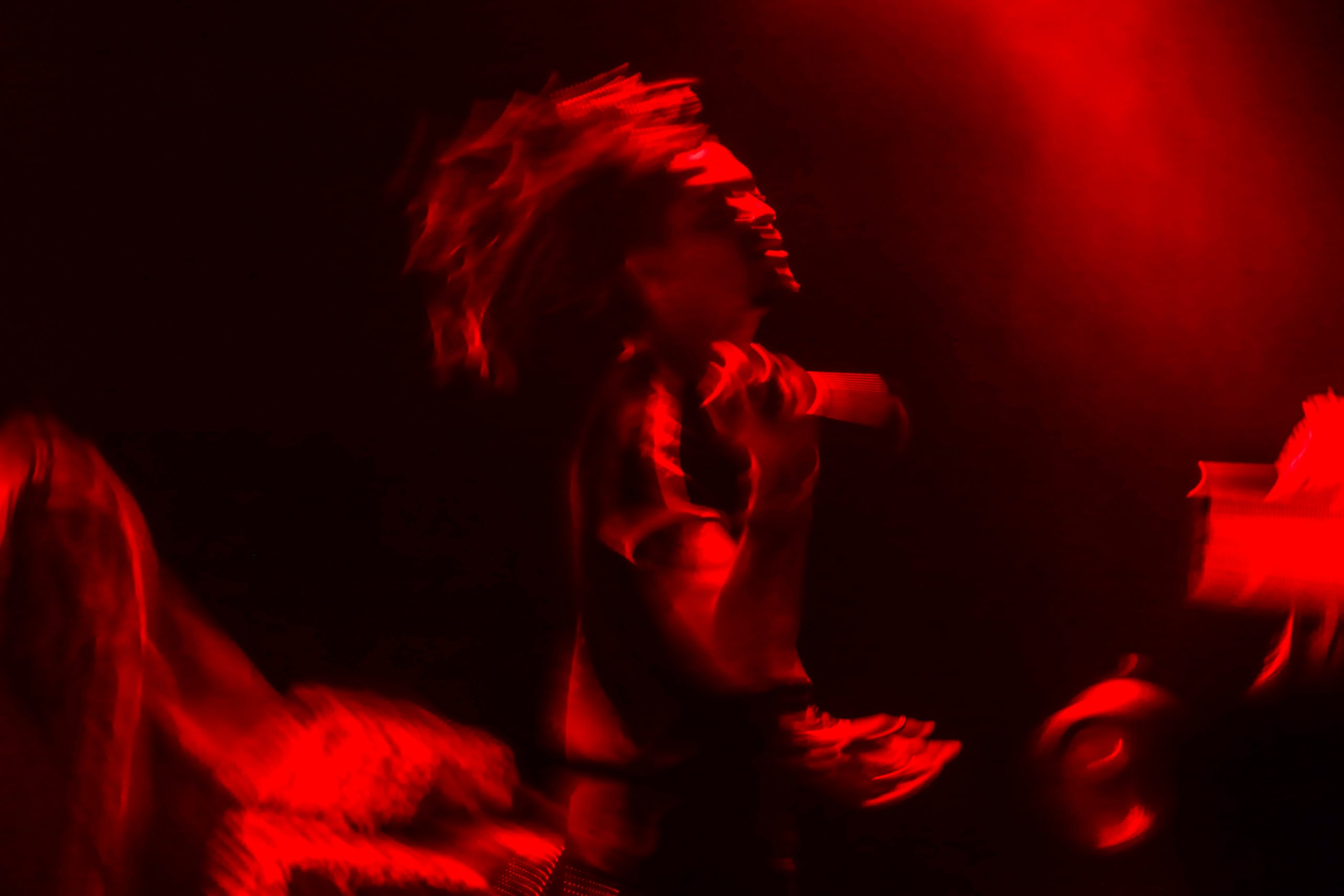 A computerized female voice greeted the audience and introduced us to DJ Ankle Sandwich. He got the crowd moving with fan-favorites like "Sky" by Playboi Carti, "All Star" by Smash Mouth, and "FEIN" by Travis Scott featuring Playboi Carti. At one point, he joined the mosh pit. I dived out of the way lest I be crushed. The crowd's energy swept me off my feet and left me antsy to see what would come next.
Towards the end of his set, DJ Ankle Sandwich called out that he would bring out a skateboarding Los Angeles native, and out came Na'kel Smith. The two of them bounced around the stage to trap beats, with Smith shaking around his Eyedress teddy bear backpack. The tunes stopped, but the anticipation only grew. A young man behind me named Carlos brandished a bouquet of wilted flowers meant for Paris Texas; the bouquet brushed against my forehead as I leaned closer to the barricade. I joked to another man next to me about how I was taking in deep breaths because I knew I wouldn't be able to breathe for the next hour and a half. Teenagers to my right kept calling out names of celebrities to trick others that they were in attendance.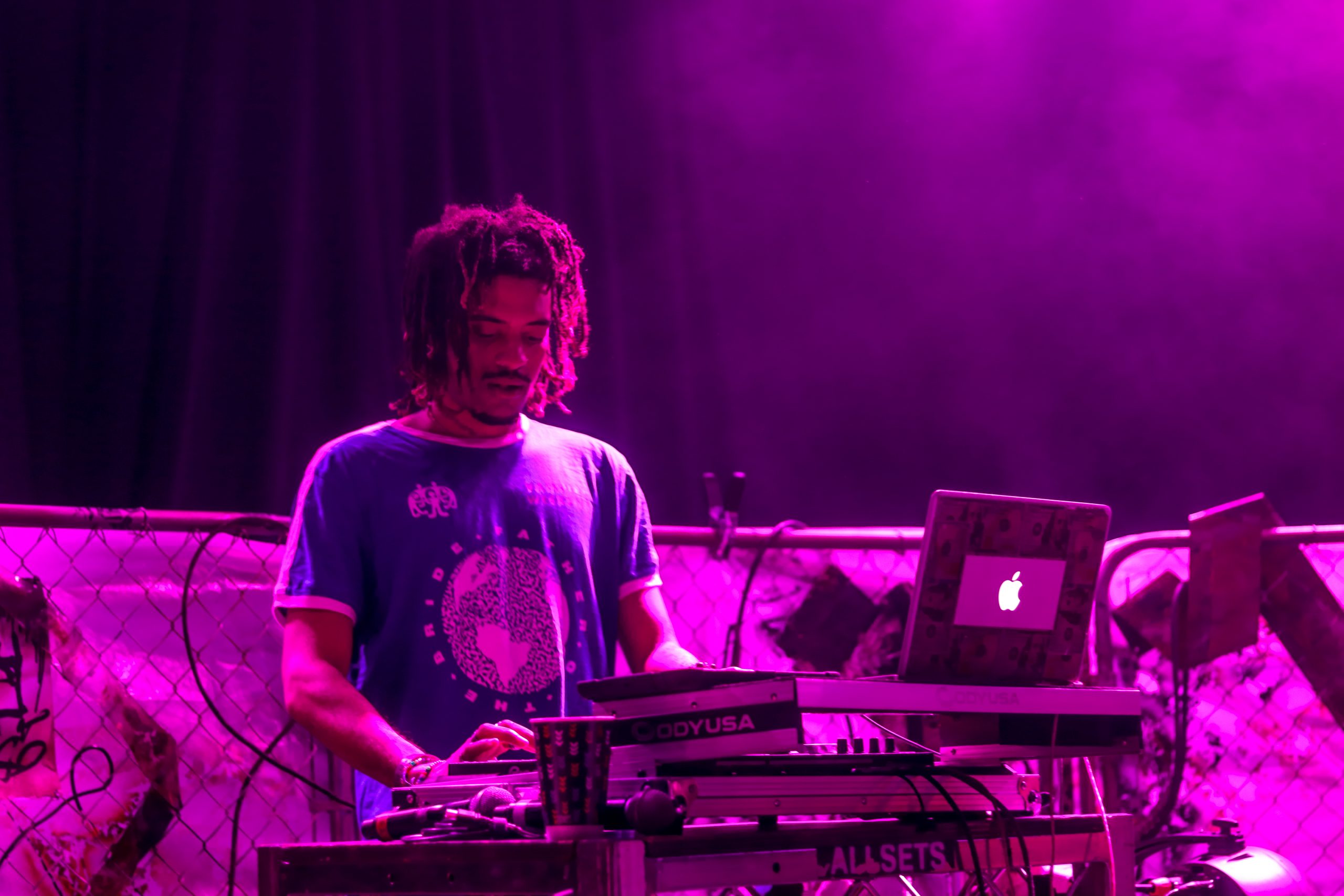 The computerized female voice rang in the crowd's ears again, introducing to us Louie Pastel and Felix. The men leapt onto the stage and started "tenTHIRTYseven" as soon as their feet hit the ground. The crowd amassed into one breathing, raging being. In unison, we chanted back the album opener like a cult. Without wasting a breath, the duo started "Split-Screen" right after, where its groovy synth beat gave me a second to breathe and look around at my surroundings. The barricade became one wave rocking back and forth across the Roxy, keeping Paris Texas afloat.
After a lull in the crowd, Carlos from behind me tossed the wilted bouquet to Louie Pastel. Pastel melodramatically posed onstage with it, basking in the glory of a few hundred sweaty fans screaming at the top of their lungs. The power button tattooed on his chest emphasized his active persona on stage.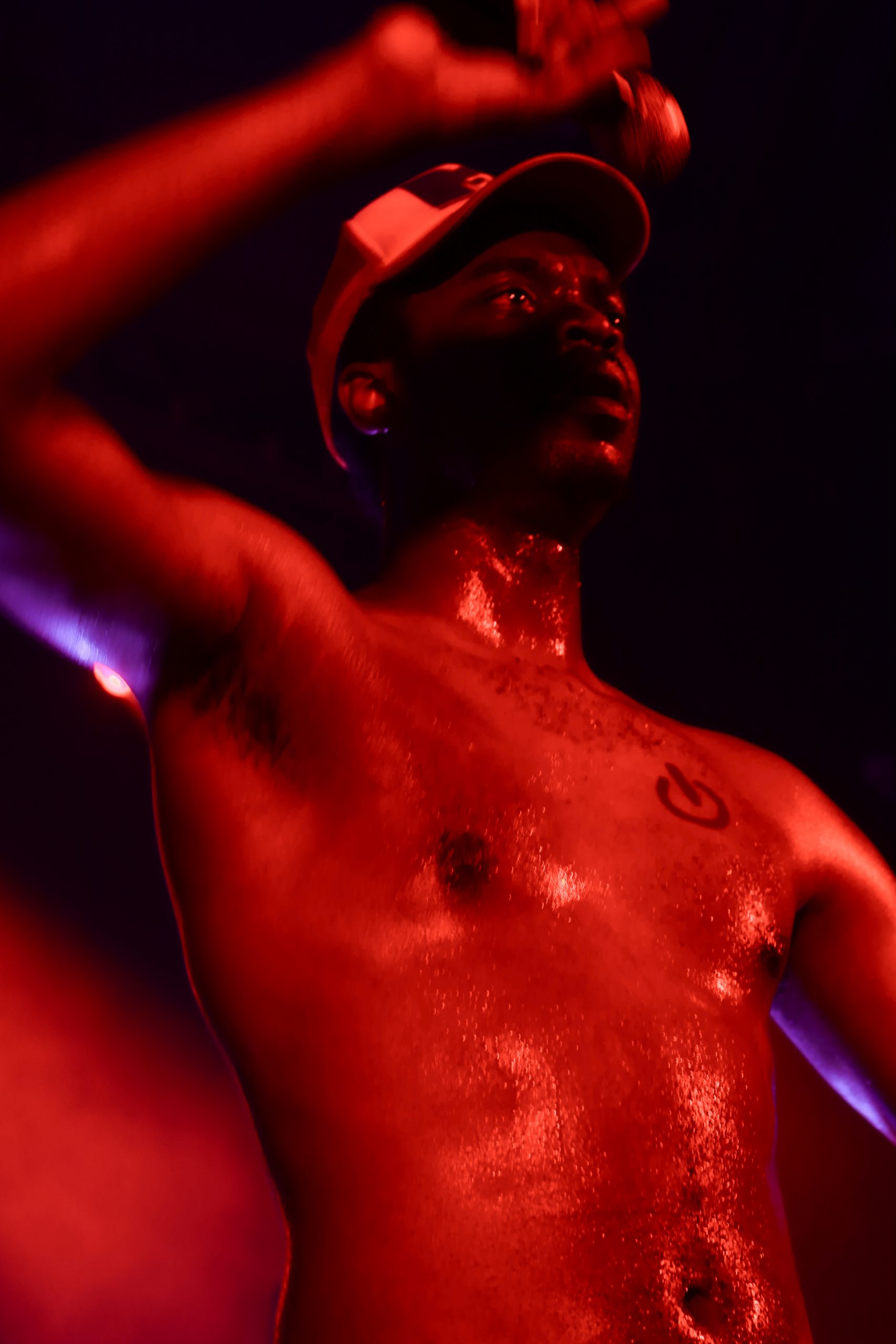 The duo enjoyed themselves amidst the jostling happening at their feet. The song "Sean-Jared" featured an interlude with choppy vocals and plenty of drums; the men shimmied around the stage as the lights switched to pink. This game was theirs, and the crowd had no choice but to play along. Louie Pastel and Felix wove in and out of the vocals gracefully; in the meantime, us barricade folks fought for our lives.
Kenny Mason joined the stage for his verse on "DnD", and the crowd ad libbed along with the duo as they jumped in. At this point, I was sweating buckets. Louie Pastel kept squeezing the bill of his trucker hat, and sweat rained down onto us. It rejuvenated us to keep moshing, keep raging, keep fighting. Bathed in blood-red lights, the strobes flashed so fast that it appeared as though Paris Texas was a choppy cartoon playing in front of me. Louie Pastel and Felix confirmed the cartoony aesthetic by recreating the choreography of a Dragon Ball Z transformation onstage, receiving roaring applause.
By the time "PANIC!!!" started, Paris Texas teased us by asking if we were tired. A resounding 'no!' struck my eardrums, and then came their famed single. I caught my breath and headbanged as hard as I could to the outro: pure roaring electric guitar. After the song, they shouted out the infamous "Internet's busiest music nerd," Youtuber and music critic Anthony Fantano. The crowd began cursing him out for rating Mid-Air a 3, but the duo quelled the boos by promising that their next album would be so extraordinary that Fantano would have no choice but to give it a 10.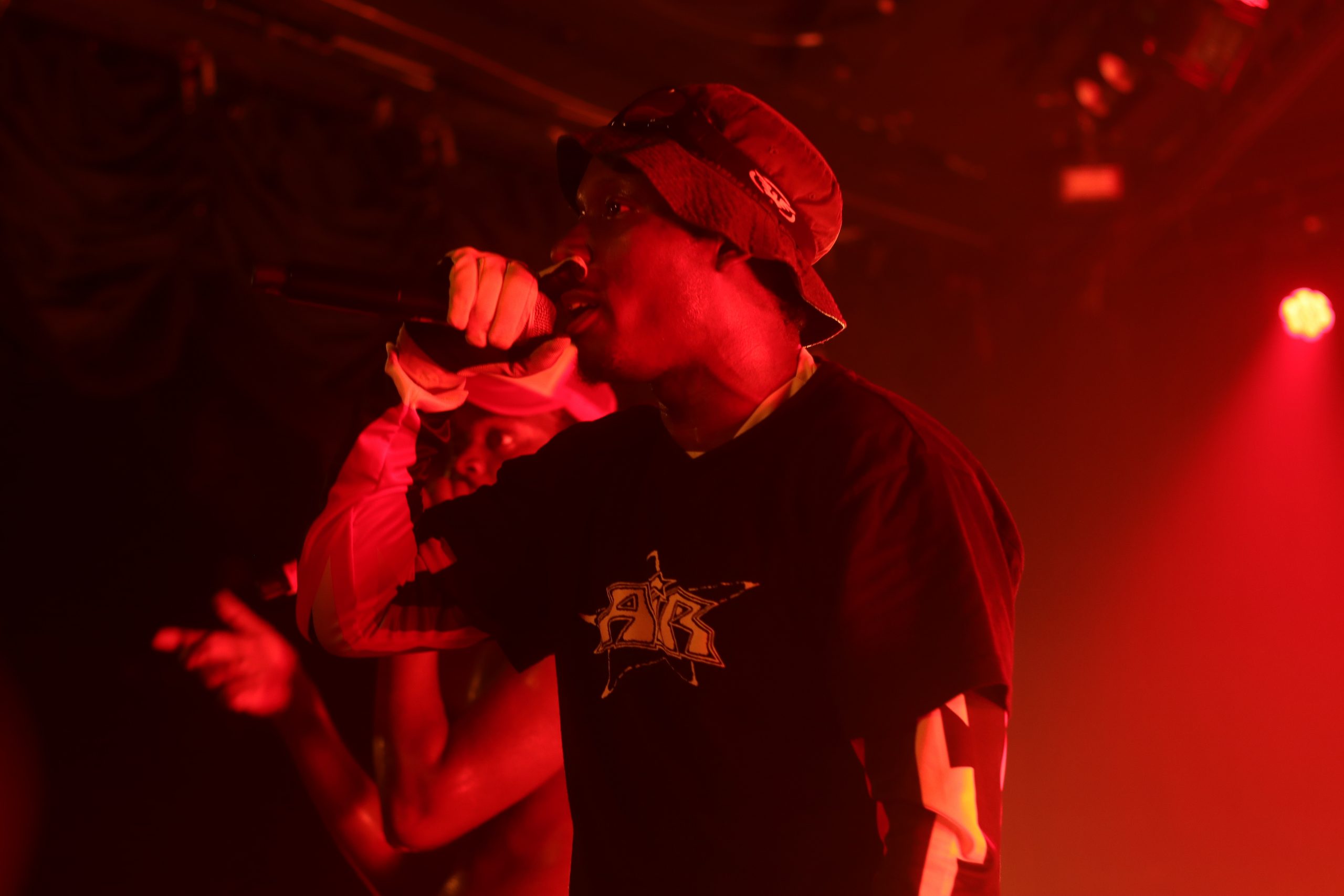 Louie Pastel and Felix finished the night off with "HEAVY METAL", their first ever single. In the midst of the crowd's last burst of energy, I took a minute to reflect while staying afloat in the mosh pit. Hip-hop and rock's renaissance provided the turmoil and catharsis young people need. In an age of recording concerts just for the fifteen second clout, there should be more spaces where musicians rile up the crowd so much where they aren't able to hold up their phones, allowing them to simply enjoy the music in the moment.
I exited the mosh pit in a stupor, unable to form words at the phenomenon I just witnessed. Paris Texas paved the way for two bored kids in a classroom to become rockstars. And with just a dream, talent, and plenty of Martian rocks, they've proven that you don't need that much to be one.
Listen to Mid Air here: