Phoenix @ the Youtube Theater (10/06/22)
By Harry Frahn
"Thank you! Thank you all! I love you!" cries the black-clad man while he rises, slowly lifted by countless hands, onto the shoulders of the crowd. As he reaches his zenith, he falls silent, lacking the words to properly describe the gratitude he's feeling. At this cue, the crowd roars, while the music throbbing through the hall grows ever more frantic and intense. Are we witnessing an impassioned political rally gone too far, or maybe a star athlete returning triumphant to a city of adoring fans? Perhaps a cult induction ceremony? None of the above, actually; what we're watching are the final seconds of a concert, and the black-clad man in question is Thomas Mars, lead singer of French indie-pop stalwarts Phoenix. But how did we get here?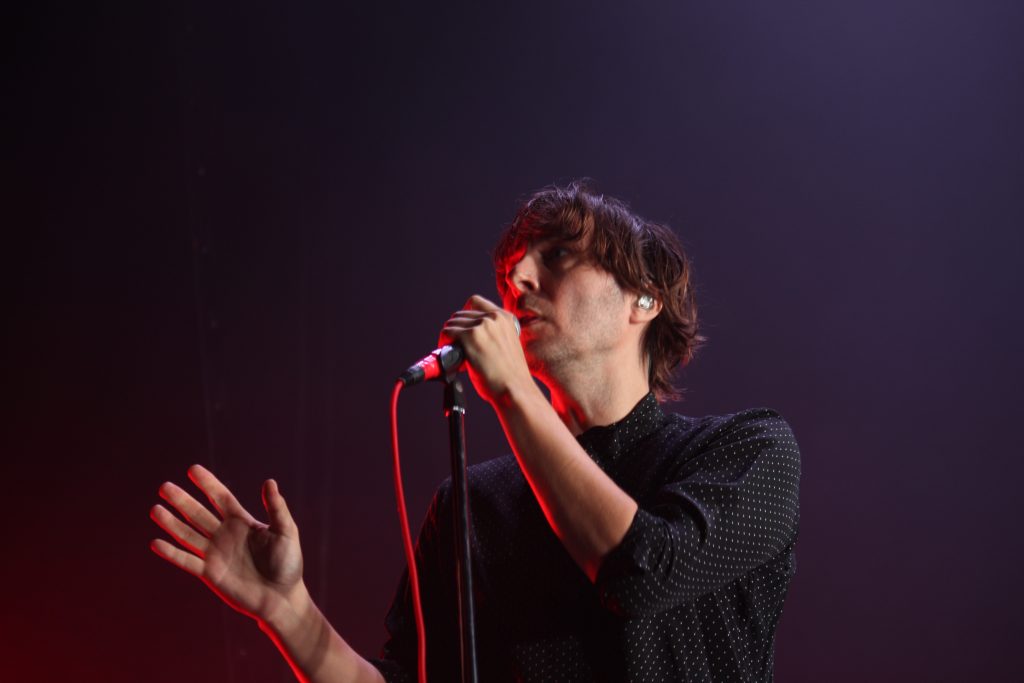 To answer that, we'll have to jump back a few hours to around 7:35, when I (a bit late, as usual) first walked into the venue and found it, at a generous estimate, around 20% full. Not exactly a great sign when the show starts in 25 minutes, is it? The obvious lack of a crowd, coupled with the almost unnerving newness and subtly corporate vibe of the YouTubeTM Theater, combine to give the unknowing onlooker a sense that they're about to watch a series of TED talks instead of a concert. Yet it is indeed a concert that I'm here for, so I make my way to the photo pit and do my best to remember how to use my borrowed digital camera before the opener starts at 8:00.
A few songs into the opening set, I start to worry that all of my fears about the lack of an audience and the mood of the venue might have been well-founded, as the place still doesn't seem to be more than a quarter full. This isn't for lack of effort from the openers, NYC-based bedroom pop trio Porches, who bring the energy to every song they play. Lead singer/rhythm guitarist Aaron Maine jumps and swings his guitar around in a valiant effort to entice what crowd there is into dancing, with mixed success. Porches make the somewhat unconventional decision to limit their live instrumentation to two guitars and a drum set (no bass). The drummer activates some pads and synths to fill out the sound, but they still bring a much rawer and more straightforward rock sound to their live show than on their synth-heavy records. Despite Porches' best efforts, the audience's indifference only becomes more obvious as the set goes on, and the lead singer seems a bit sulky about it when he notes how "nice and quiet it is in here" before they start their last song. Sitting at the back of the house with the other press, I exchange glances with another reviewer, and I can tell that we're both hoping for better things during Phoenix's set.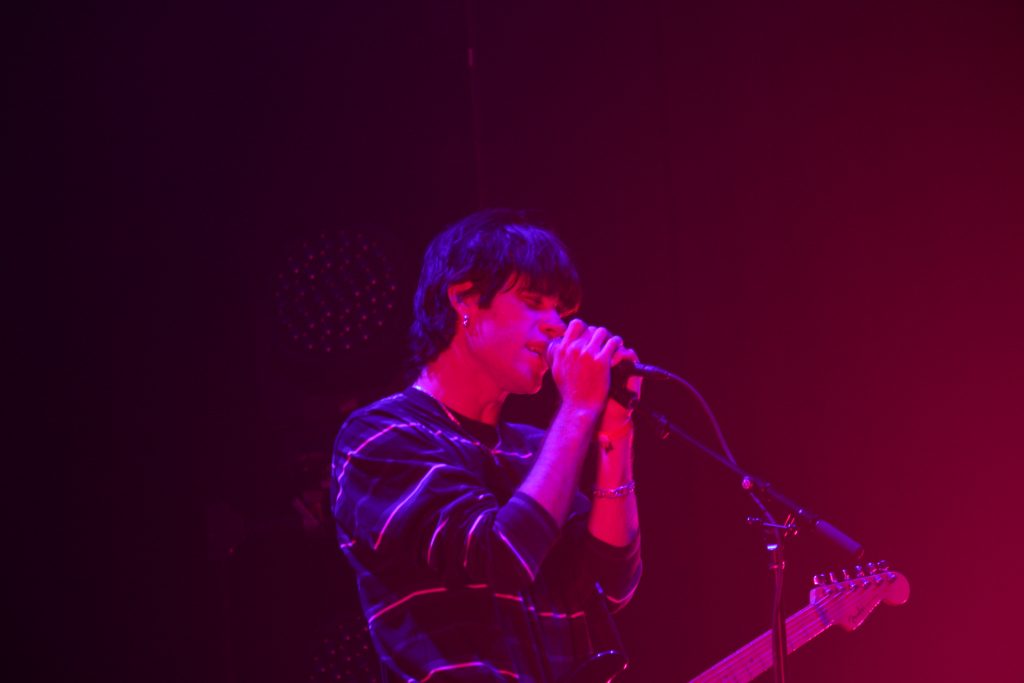 Standing back down in the photo pit ("first three, no flash", as the venue rep aggressively reminded us), I glance over my shoulder at the crowd, and am refreshingly surprised to see that the place has nearly filled up. As I wait for the set break to end, I talk to a fellow photographer, and we do our best to guess the upcoming setlist: will they lean more into their older hits or shy away from those and try to promote some of their newer music off their album coming out next month? Finally, the house lights finally start to dim, and a palpable buzz starts to build as the crowd realizes that the real show is about to begin.
Without warning, the curtain rises. At first, everything is black, then slowly, the multi-layered screen behind the stage lights up with an idyllic landscape scene. The six bandmembers are revealed in two rows, silhouetted against the bright backdrop with their faces in shadow. A cheer starts to rise from the crowd, but it's nothing compared to the roar a few seconds later when the lead guitarist starts the riff from "Lisztomania", one of their all-time greatest hits off of 2009's Wolfgang Amadeus Phoenix. The drums kick in, and the singer strikes a pose; it's obvious that this set-piece intro has been staged to a tee, looking almost more like a Wes Anderson movie than a stereotypical indie rock show, but it doesn't seem to faze the crowd at all. In fact, the song is an instant crowd-pleaser, with the audience surging forward as the drums crash in at the end of the chorus. After just this one song, I'm out of breath (and I haven't even been dancing, just scrambling to take photos), and I can tell that a great show is coming our way.
And thankfully, I'm not wrong. With every song Phoenix plays, a glorious wall of sound washes over the audience as the combined sonic attacks of the band's instrumentalists somehow merges into a cohesive whole. Song after song, I'm struck by the rhythmic intensity of the band, led by drummer Thomas Hedland's furiously syncopated backbeats. They really don't have any "lead" instruments in the traditional sense, instead opting for a twin rhythm guitar/synth attack. It can sometimes be hard to even tell which instrument is doing what, but goddamntt if it doesn't work. They also make an insanely good use of the stage, moving around effortlessly during songs. At one point, the synth players push their instruments to the front of the stage on wheels during a chorus, bringing the intensity up yet another notch. At another, the curtain descends mid-song, leaving only the singer Mars at the front of the stage during the bridge to work the crowd while the band plays on behind him, sight unseen. Mars also uses possibly the longest mic cable I've ever seen to roam wildly around the stage at will. He seems to especially enjoy playing off of guitarist Christian Mazzalai, who keeps his instrument nearly parallel to the ground as he plays, holding it like a machine gun that he's about to open fire on you with.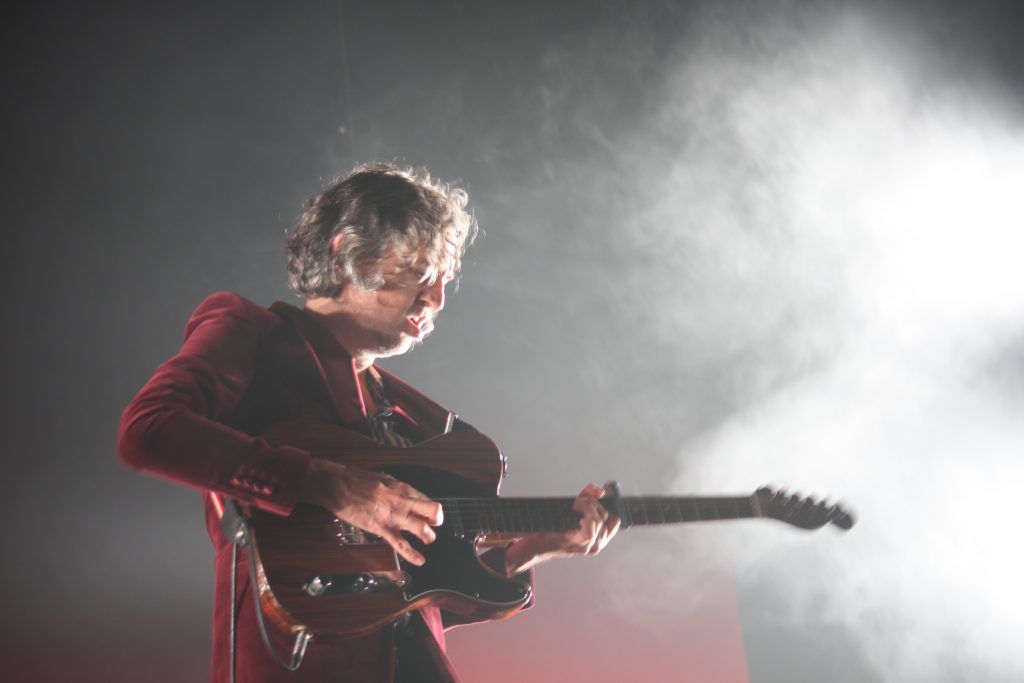 These stunts might seem gimmicky if they weren't so well-executed. As it is, they work nearly perfectly, and the crowd is delighted. They seem to opt for more of their older late-2000s classics than newer material; "Lasso" gets the entire crowd singing along to its infectious chorus hooks, while "Armistice" features the synth player taking a beautiful harpsichord-y sounding solo which somehow doesn't feel out of place. They make sure to shout out a new song called "After Midnight" on an album they have coming out next month. It plays well with the crowd, and features a neat little chromatic walk-up middle eight, but the 80s-era synth-heavy sound is definitely a departure from the more guitar-based indie that they're mostly known for. Nonetheless, every song in the first half of the set brings an incredible amount of energy, and squashes any remaining fears I had of a lackluster show after the early signs of a potentially rough night.
As the band moves into an instrumental interlude in the middle of the set ("Love Like A Sunset"), the multilayered visuals on the screens behind and in front of them start to be used to the greatest effect yet. The song is synchronized to a short film ("Powers of Ten") that slowly zooms out from the scale of a picnic lunch in a Chicago park to the Milky Way and entire universe, before zooming back into the original picnickers and even further down to the scale of atoms and beyond. It feels like an episode of Cosmos, but with an ever-intensifying groove building all the while; a part of me can't help but wish that I was in a somewhat altered state of mind, if only for that one song. At the end of the interlude, they lean into the theatrics by flashing up a message that simply reads: "END OF ACT I".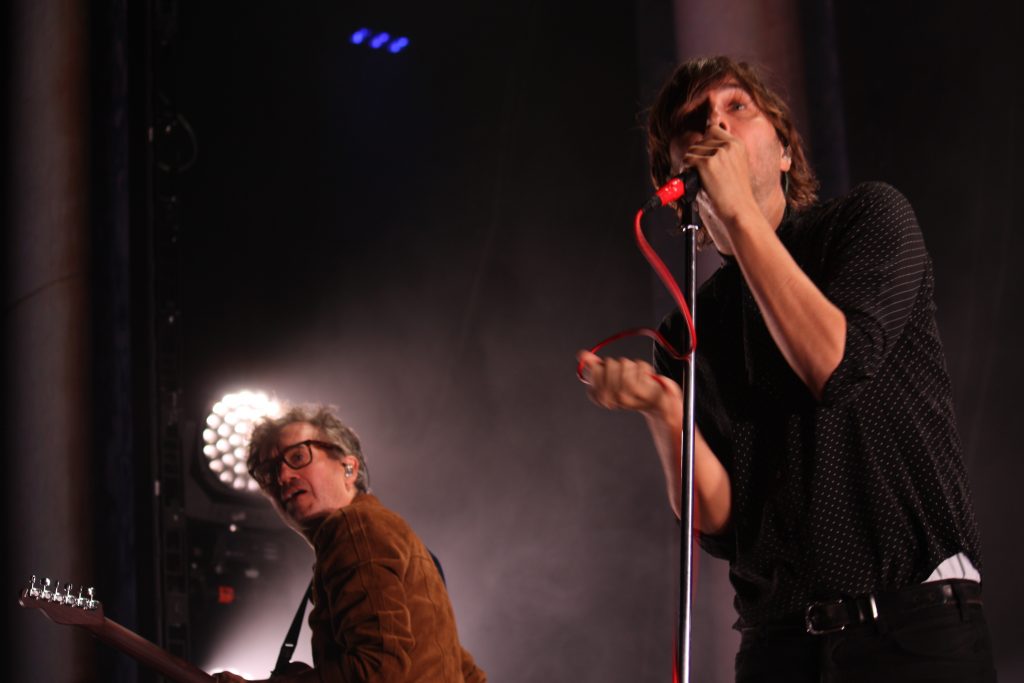 Thankfully, we only have to wait about 30 seconds before "ACT II" begins — however, it does begin with a bit of a mishap as Mars seemingly forgets the lyrics to "Love Life" and has to restart the song, confessing that he's "not 100% sure" what happened. This is the only real miscue of the whole show, but the second set does bring the energy down a bit and I can tell that Mars, at least, is getting a bit tired. Hedland, on the other hand, seems tireless, and pounds out rhythms all show long without any hint of weariness. A standout from the second act is "Long Distance Call", from their third album It's Never Been Like That. The song's abrupt intensity changes between the chorus and verse really let the band show off their decade-plus of experience playing together, as they turn on a dime from a raucous guitar-heavy singalong to a stripped-down drum and keys duet in the verse.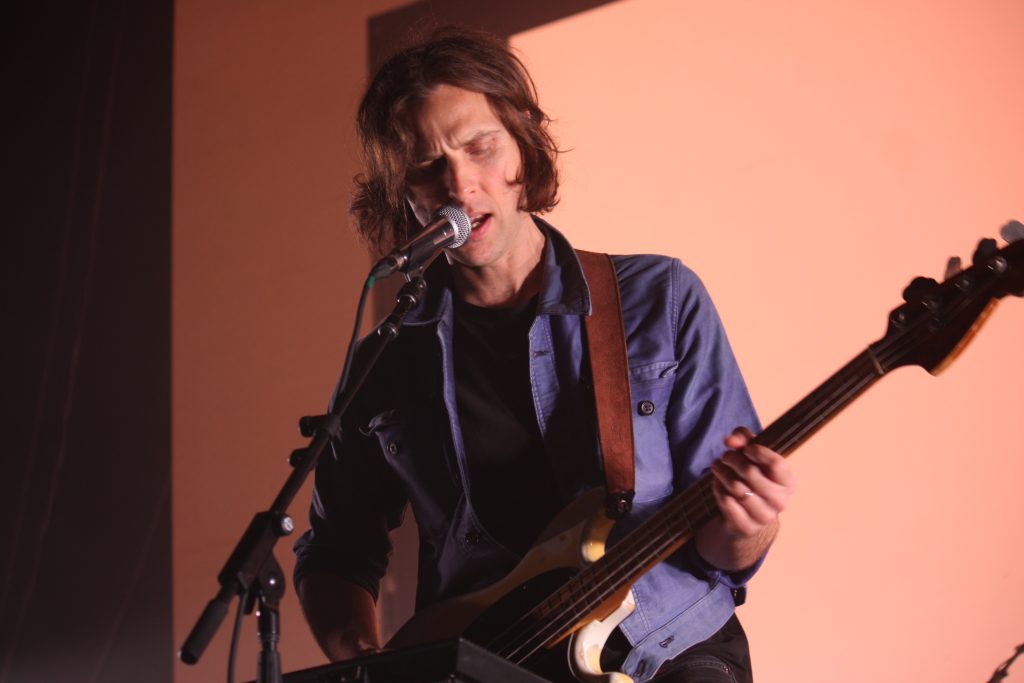 A few charming interludes come next: one featuring a real harpsichord wheeled onto the stage and played while Mars stands on top of it; the other ("Fior di Latte") highlighting Mars' skills at singing in Italian while he gallivants across the stage. Then, finally, the real encore: "1901", just like everyone knew it would be. And how could it be anything else? It's their biggest hit from their biggest album (Wolfgang Amadeus Phoenix again), and we knew we'd hear it at some point. Thankfully, though, the song doesn't feel forced at all, and they seem to have just as much fun playing it on this Thursday night in 2022 as they did when it came out over a decade ago. At the end of the final chorus, Mars collapses dramatically on stage as the band cuts off.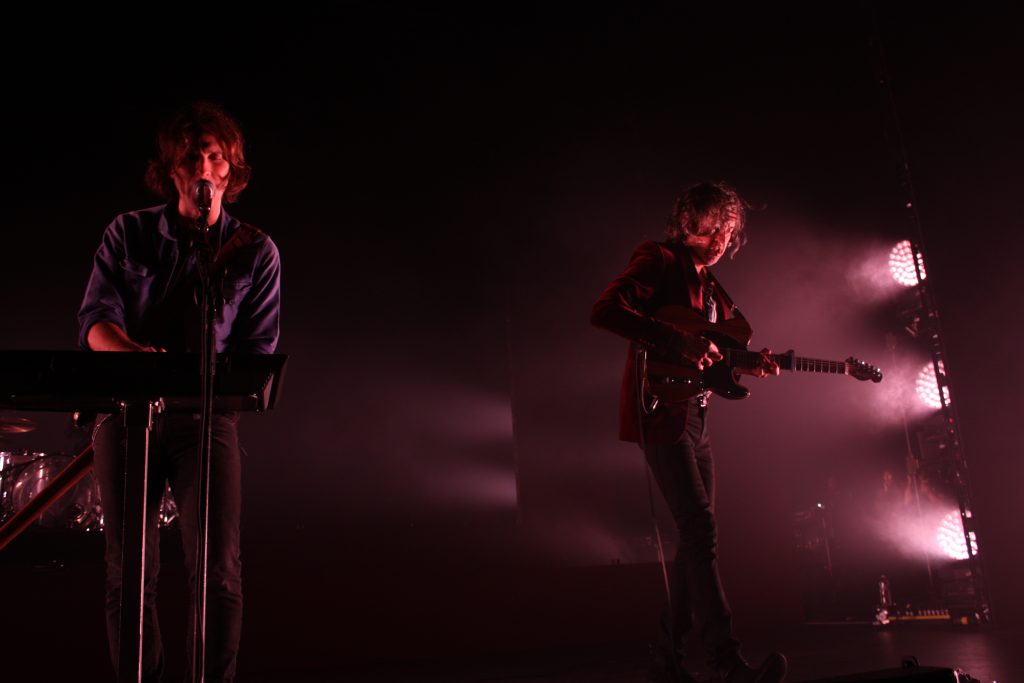 Getting up, he begins to walk, still holding the microphone, towards the side of the stage. At first it seems like he's leaving, but instead he turns into the crowd. Again making use of his honestly ridiculously long mic cable, he slowly makes his way through the audience, shaking hands and thanking everyone for coming. In the end, he returns to the crowd right in front of the stage, where they lift him onto their shoulders in triumphant adulation, bringing us back to the striking scene at which we started. It's a fitting end to an amazing show; fitting because Phoenix showed that they realize how important their fans are to them, not just by literally thanking them, but by playing their hearts out and making sure to include the songs that the audience wanted to hear in the setlist. By doing this while also showing that they can stay relevant with new releases when they want to, Phoenix proves that they're a mature band and not just a has-been indie group with some catchy songs from a decade ago. That, to me at least, is what makes them great.