The Breeders @ The Wiltern [10/19/23]
Photos by Abigail Tran
---
"Breeders" is a tongue-in-cheek term used by the gay community to describe straight individuals. The name that Kim Deal chose for her band pokes fun at heterosexual relationships, reducing them to their primitive purpose of breeding. A return to our origins, of sorts. In a parallel manner, I got to witness the Breeders' return to each other at the Wiltern as they joined hands once again for the 30th anniversary of their most popular album,"Last Splash." The 90s alternative rock band's reunion nodded to the bittersweet marriage of old roots and new beginnings.
Some people squander their free time by seeking employment or investing in stocks, however, I have found the activity with the highest return to be stalking other people's Spotify profiles. Without this pastime, I wouldn't have been able to discover songs like "Drivin' on 9" which, in my opinion, are more valuable than any "job" or "property." Having first heard this ballad in high school, the word that immediately sprung to mind was "sweet." The band mesmerized me with Kim Deal's' dreamy vocals and Carrie Bradley's upbeat violin, almost compelling me to go frolicking in the nearest wildflower meadow. With a closer listen, though, I picked up on lyrics such as "Looking out my windowsill / Wondering if I want you still / Wondering what's mine," which portray a sense of longing, uncertainty, and unfulfillment. This bittersweet undertone echoed not only in the entirety of the 'Last Splash' album, but also in the broader narrative of the band.
Kim Deal and Tanya Donelley began the Breeders in 1989 and recruited Kim's twin Kelly Deal, Josephine Wiggs, and Jim Macpherson. After great success following their 1993 album "Last Splash," drug and alcohol abuse drove the band apart into a hiatus. Tanya Donelly had left to focus on her own band Belly. In a wistful and nostalgic full circle moment, this very band would be the opener for the Breeders at the Wiltern during their 30th Anniversary Tour. Belly's song "Feed the Tree" stood out most to me with a saccharine sound reminiscent of the Breeders, but with a stronger vocal emphasis uncharacteristic of the main act. It was clear to see where the Breeders' influence left off and former member Tanya Donelley's own creative direction picked up. To me, this served as a tribute to staying true to one's roots while paving one's own path. Unfamiliar with Belly at first, I was bobbing my head all the same towards the end of their performance.
---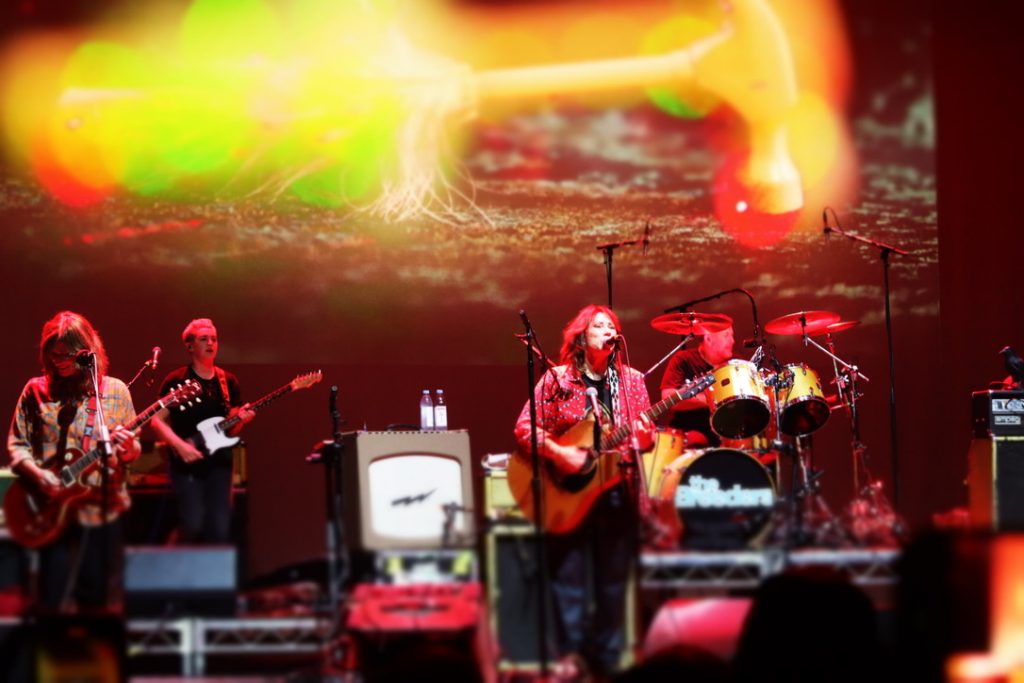 ---
"Kimmm!" "Kelly, you're hot!" "Ayayayayayyy!"
Cries from the crowd emulating playful familiarity signaled the Breeders' entrance onto the stage. If not for the clear distinction between the stage and the audience, I could have easily mistaken the Breeders and certain spectators to be old friends, particularly the middle-aged fans who had been supporting them since the nineties. My friend Lauren, with whom I attended the concert, noted that "it felt like we were stepping in on one big inside joke." I agreed that it looked like audience members held themselves with a sense of closeness to the band that could only be forged through years of keeping up with Breeders lore. I found it beautiful that people could maintain such a strong connection to an artist, even during times when the Breeders themselves may not have felt as connected to their own creations, leading to periods of disbandment.
It was also beautiful that audience members varied from stylish men in their 50s to almost equally as fashionable girls in their teens. Regardless of age, all fans gushed with excitement upon learning that the Breeders would be performing "Last Splash" in its entirety. With lively, percussion-driven tracks like "Cannonball," the Breeders allowed their older fans to revisit their teenage dirtbag nineties, while captivating newer fans with their boundary-pushing, experimental sound. I personally couldn't stop smiling even if I tried when Kim Deal crooned, "If I saw you now, would I look in your eyes?" It was as if "Do You Love me Now" launched me into some sick and twisted giddy trance. Visuals of bananas and bare monkey bottoms in the backdrop of the performance alluded to the "return to monke" meme, representing a return to human's archaic beginnings and perhaps a resurgence of the seasoned band's prime. These comical and cheerful monkey graphics infused a youthful element that resonated with younger fans like myself. The Breeders are set to continue enchanting young fans as they open for pop sensation Olivia Rodrigo next year. This unlikely collaboration seamlessly bridges their cherished musical legacy with an exciting trajectory into the future.
---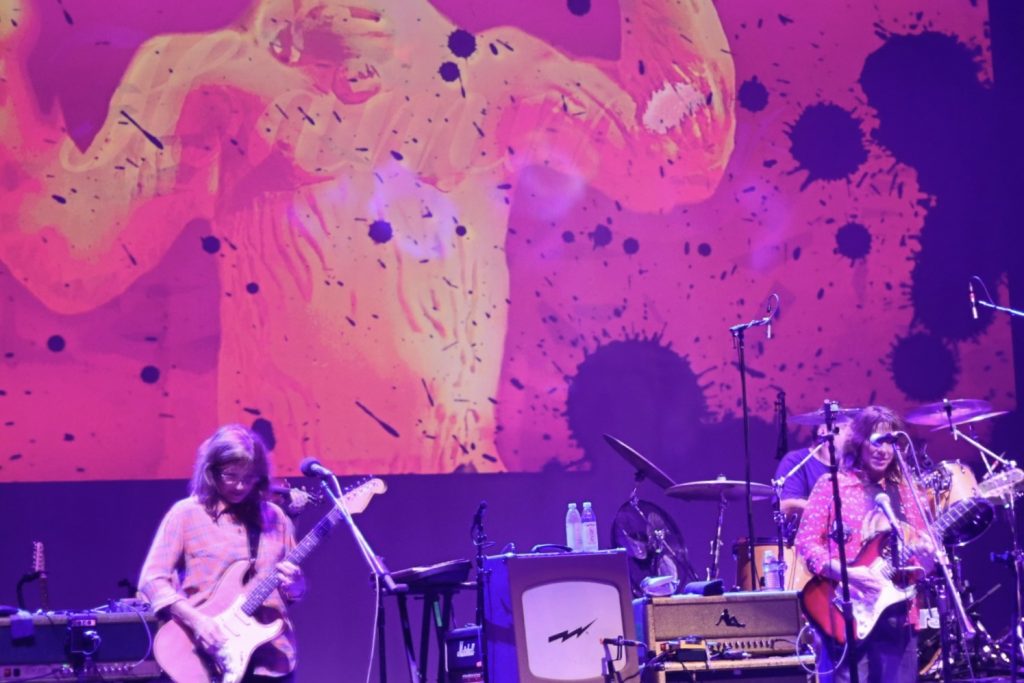 ---
When I look at the setlist that I begged for from the sound guy after the concert, I am not only reminded of a night of great music and abundant head bobbing, but I am also reminded of the Breeders' tenacity. Their resolve to embrace their roots in the face of adversity in order to blaze a path into the future is akin to the spirited determination of a monkey swinging through the jungle, inspired by the boundless possibilities ahead.