In an era of Instagram micro-trends and disposable fashion, UCLA student and Bay Area based designer Lauryn Ilasco is creating an online presence with her distinctive, sustainable designs. Full of asymmetric knits, chunky rings, and mixed fabrics, Lauryn's brand love, laur (lovelaur.com) showcases her creativity through a number of collections, either archived or for sale. Before sitting down with Lauryn to learn more about her art and her business, I was already a fan of her work. Her most recent collection, Made 4 U, made headway on Instagram (@i.lovelaur), as people clambered to get their hands on tote bags and knits. After seeing everything Lauryn has done over the past couple years online, I was intrigued to get to know her on a more personal level, and to understand where she draws her inspiration.
Upon only talking to Lauryn for a couple minutes, I got to understand where her passion for design stems. Talking about her inspirations for her collections, Lauryn's eyes light up – she has much to say about every choice she's made while curating love, laur. Lauryn explains to me how she started designing as a child, as she "had always been really good using (her) hands". As she got a little older, Lauryn started learning how to finger knit. At the early age of nine, Lauryn was already selling finger knitted necklaces at a sizable craft fair in San Francisco – and she was selling out. From there, Lauryn taught herself to sew, and started making her own clothes. In 2017 when she started love, laur, she was using pattern pieces she found online and modifying them to fit her tastes. By 2018, though, she was making her own designs and branching out creatively to fully embody what love, laur is now.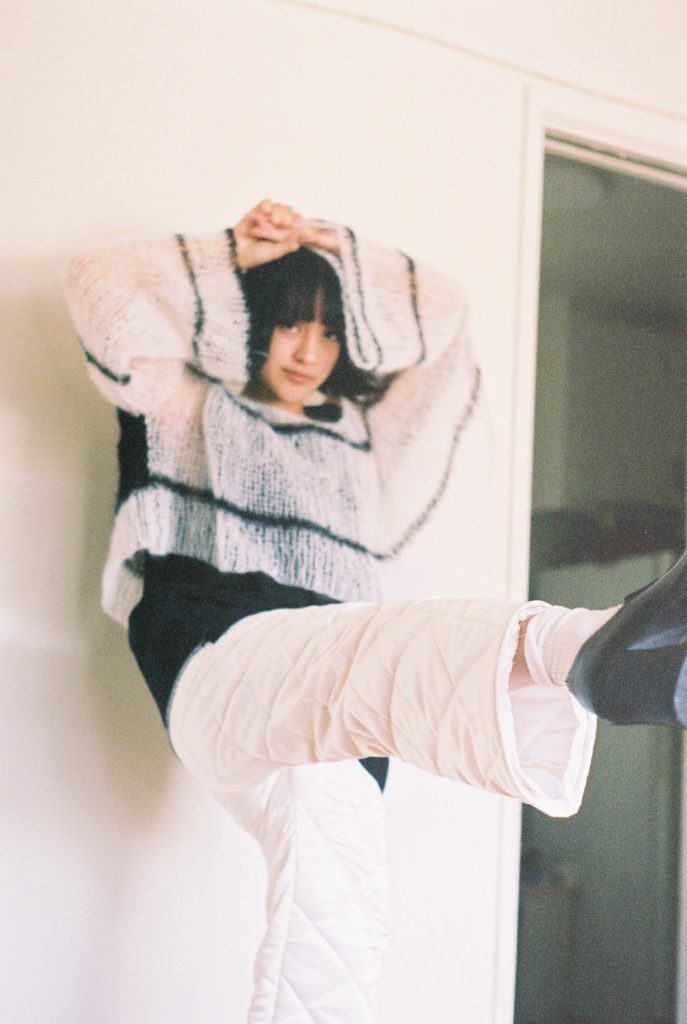 Lauryn explains to me that she initially found it difficult to draw inspiration until she started self-reflecting more, which is when "(she) found her image – all of (her) inspiration comes from self-reflection". She explains that this has not been a quick process as "it took (her) three years to find what (she) really wanted her designs to look like". As a young designer on social media, Lauryn is exposed to a plethora of opinions from other people about what they want her art to be. She describes how people have asked her "have you thought of making this?", to which she simply responds: "no, or else I would have made it". It's hard to come from a place of creativity when a sea of ideas are constantly being shared, but when trying to market yourself online, one is immediately subject to it. Lauryn has done a good job separating herself from this though, as her designs are "not for the masses" – she wants to make things that make her happy.
"If I continue to do fashion, it can't be making clothes for other people. It's not gonna be sustainable for me." – Lauryn Ilasco
Lauryn explains to me how all of her collections are connected, including the drop she's currently working on. Her collections are all tied together as "all of (her) thoughts are improving and feelings are shifting, but it all comes down to the same thing – (her) own anxieties and insecurities. It's cool to watch them morph". So as Lauryn is growing up, so is her art. Her SS21 collection, Playing Dress Up, was primarily inspired by "(her) insecurities and anxieties as (she) gets older, and how (she) turns to things (she) liked as a kid to comfort her".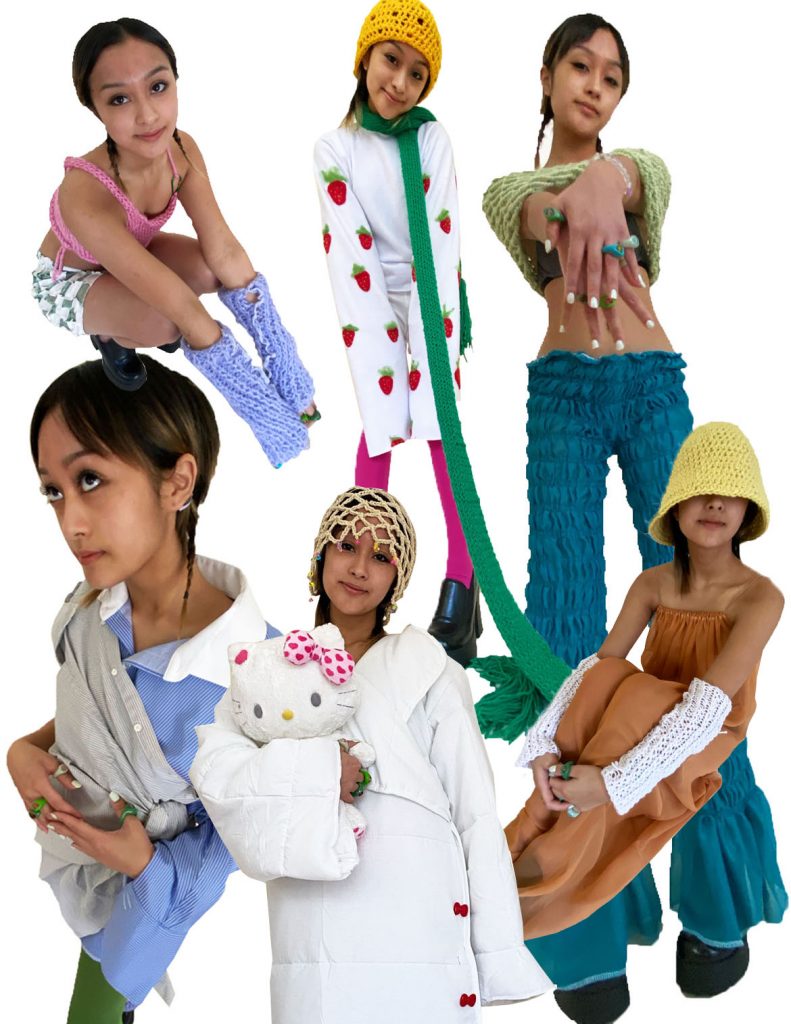 This includes sentimental memorabilia such as Hello Kitty – and "not because it's trendy, but because it was comforting for (her)". Circling back to Lauryn's initial love of finger knitting, Playing Dress Up incorporated a lot of open-weave knits as well, bringing the whole collection full circle to Lauryn's roots of finger knitting. Stemming from Playing Dress Up was A Hug From Me to Me (FW21), which Lauryn describes as "the grownup version of Playing Dress Up". A Hug From Me to Me features a lot of knits like those in Playing Dress Up, but the colors are subdued which creates a more mature tone. Lauryn describes this collection as being "about finding comfort in yourself and being comfortable with all your changes," which is something that is an integral part of growing up. Lauryn started creating at such an early age; it makes sense that she considers themes of adolescence while creating her designs.
Slightly different from these two collections is Lauryn's most recent drop, Made 4 U. Made 4 U is a collection of more everyday items that Lauryn wanted to make for herself, that she thought others would enjoy as well. This collection includes three tote bags, arm sleeves, a wrap skirt, and a knit tube top – all of which were made to order.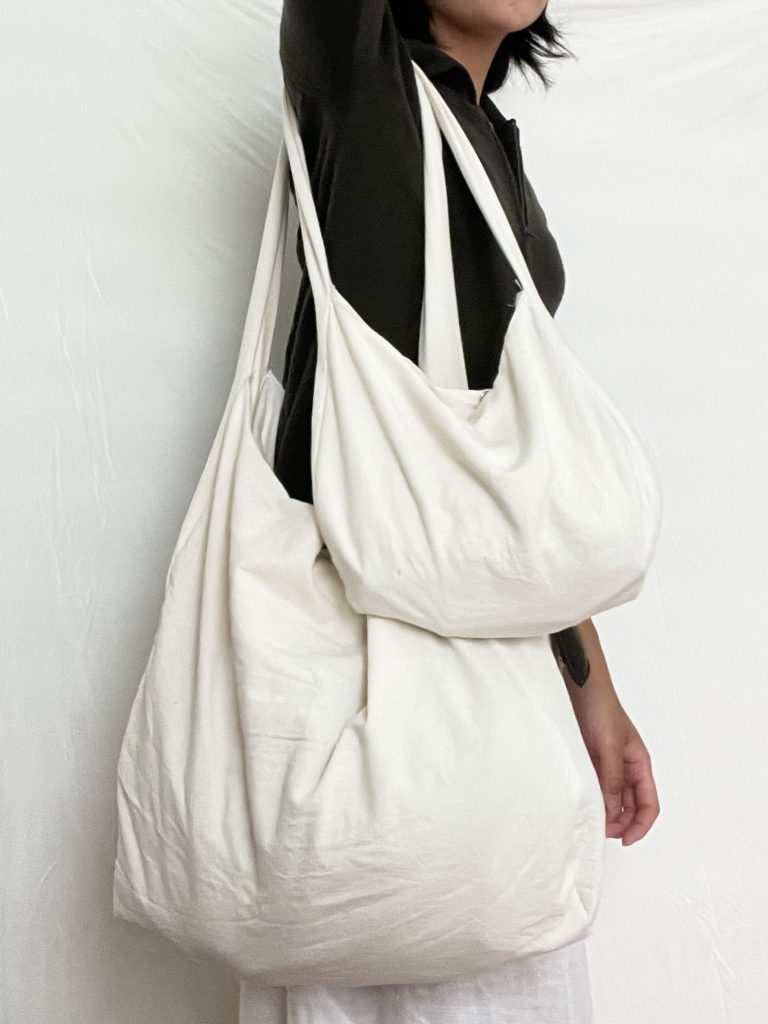 Focusing primarily on the tote bags, Lauryn wanted to make something that would be a staple bag – you simply wouldn't need another one. Every stylistic choice made for this bag was fully thought through. A metal clasp instead of a fiddly zipper makes the bag easily accessible, and the inner pocket is a convenient place to hold smaller items like a phone and wallet. This collection had especially caught my eye over the summer as Lauryn marketed it on her Instagram. Unlike many other small businesses who endlessly promote their products with a sea of content, I found Lauryn's less-frequent promo for her drop more tasteful; she opted to promote the collection with a singular post in which she models the collection, and then re-posted customers wearing her items. When thinking about other people wearing her pieces, Lauryn tells me that it is a reward. She elaborates that "(she) never thought (she) would be selling clothes…(she) just thought that (she) was making them for herself and posting them on this website". But it is clear that Lauryn has found her audience, especially at UCLA, and is making a name for herself online.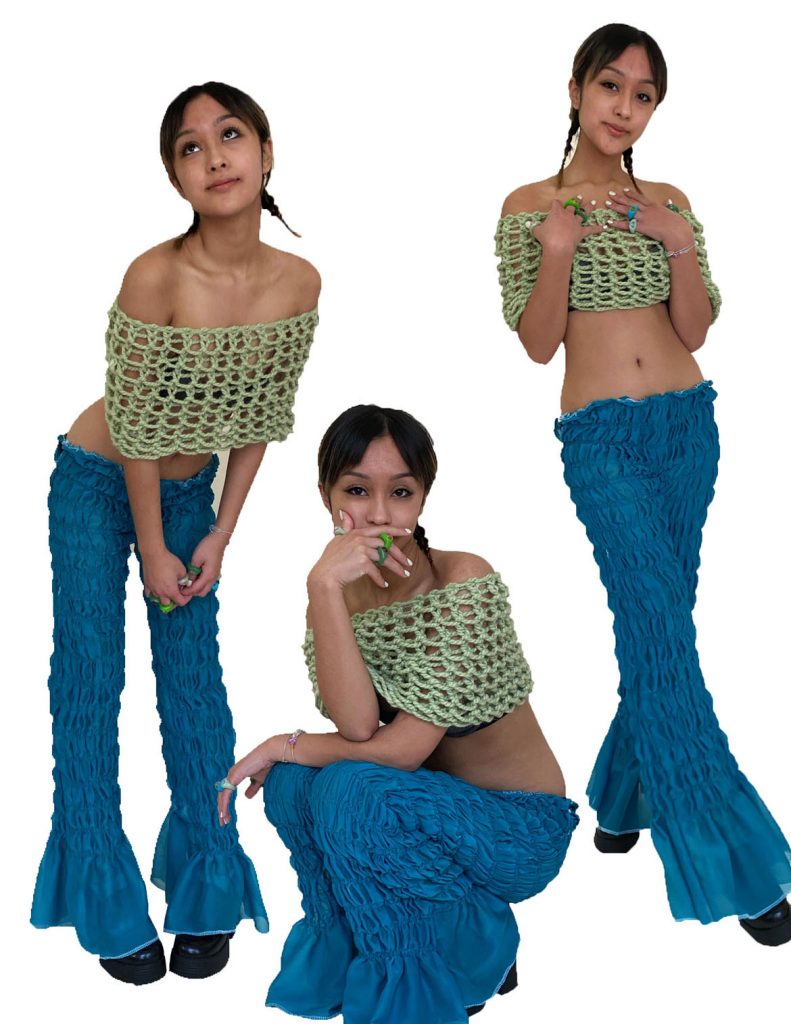 Apart from designing, Lauryn has also started working as a stylist. Back in early 2020, Lauryn's friend put together a small artist collective entitled "Film, Fashion, and Friends". While at that event, Lauryn met recording artist BxRod,who expressed interest in a collaboration, which didn't come to fruition that year due to the pandemic. In January of 2021, though, BxRod reached out to Lauryn, asking if she would be interested in styling for her music video "Play!" Although Lauryn had never styled before, the two closely collaborated to curate a set of looks for the video. Lauryn has since styled BxRod for a promo shoot for her upcoming single, and I'm sure will go on to style more and more during her time at UCLA.
Looking into the future, Lauryn is already working on her next collection, which she is crafting from her dorm. This collection will be debuted in the FAST (Fashion and Student Trends) at UCLA show during spring quarter, and I'm confident her featured pieces will be seen around campus. Lauryn's attention to detail and her ability to put her heart into her craft makes her a truly special designer, and I'm excited to see how her art evolves and further impacts those who are lucky enough to experience it.