[Lucy Dacus @ the Wilten 11/18/22]
Photos by Emily Chang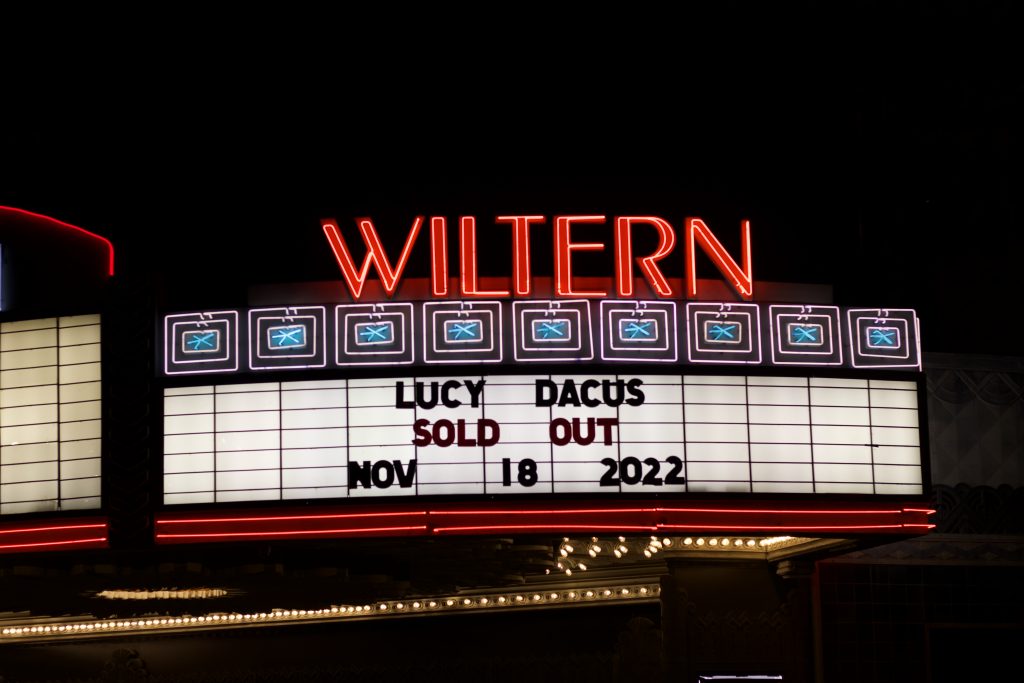 Tonight in LA, tomorrow in San Diego, then it's over.
Lucy Dacus' Home Video Tour has been around the world in a dogged march since the summer of 2021. The Commonwealth hailing musician delves into the cleavages of strict faith, a nostalgia for home, and a queer upbringing in the confines of intolerance. It's been more than a year, but the tour clambers full steam ahead towards the sold out show at the Wiltern.
Home Video brought Lucy to the top of my 2021 spotify charts. I remember the first time I listened to the full thing it was August, and I was sweating in the kitchen laundry room of my summer camp job. It was so catchy I struggled to comprehend what I was singing along to. I shook my hips to a songs I later realized to be about statutory rape ("Partner in Crime"), suffocating prejudice of conservative religious spheres ("VBS"), and forbidden love (who doesn't love a choking dose of forbidden love?). It's an album, neatly tied together, that's worth many listens. It's a piece of art that reveals new corners and dimensions each time it's consumed, whether it's slowly savored or desperately devoured.
Entering the Art Deco venue perched on Wilshire and Western, I can't help but feel a little smug. I had covered Phoebe Bridgers and Julian Baker last fall for Radio, and it felt satisfying to complete the Boy Genius trio with Lucy Dacus (Day-kiss not Daw-cuss). Gotta Ketchum all haha.
Haley Heynderickx, bandless but aptly equipped with her guitar, opens the show. She keeps it casual, chatting with us between songs from her 2018 album I Need to Start a Garden, and a few newer folkier pieces yet to be released on Spotify. I miss the substance provided by her trombone player, but Heynderickx's silly "LA I Love You but You're Bringing me Down" rendition (in Portland I'm a six /in LA I'm a three) and the oily licks of her glass slide solo on "Untitled God Song" keep fans singing in murmurs and hollers depending on the mood.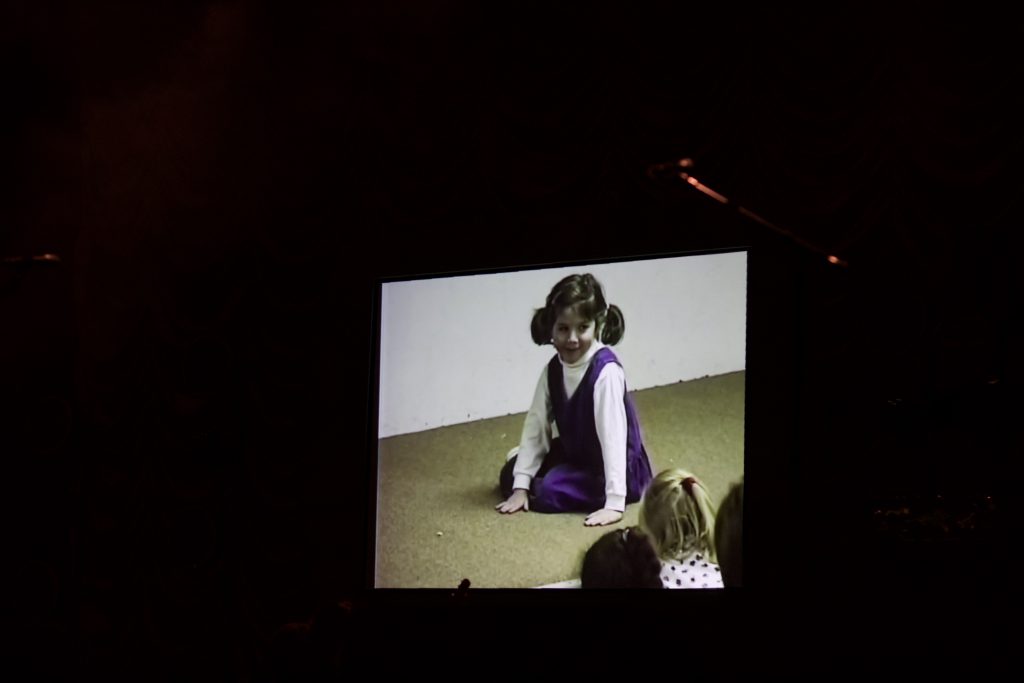 Waiting for Lucy, her home videos greet us. Projected in the center of a lush curtain gathered to create scaly ripples, we watch her grow. We watch a baby Lucy grow pigtails and lose teeth. We watch her in feather trimmed dresses, and turtleneck-and-jumper combos. We watch her sing in front of her tyke peers, her siblings, and alone. We see the beginnings of her signature side part and cool-toned red lipstick on a girl we know has some painful growing up to do. Like the album, her clips are something we watch in a loop, finding something new each time, reveling in its grainy profoundness, projecting our own experiences onto them.
"She looks just like her mother," I hear someone say, as the footage recycles Dacus back into baby form, in the arms of a dark haired woman.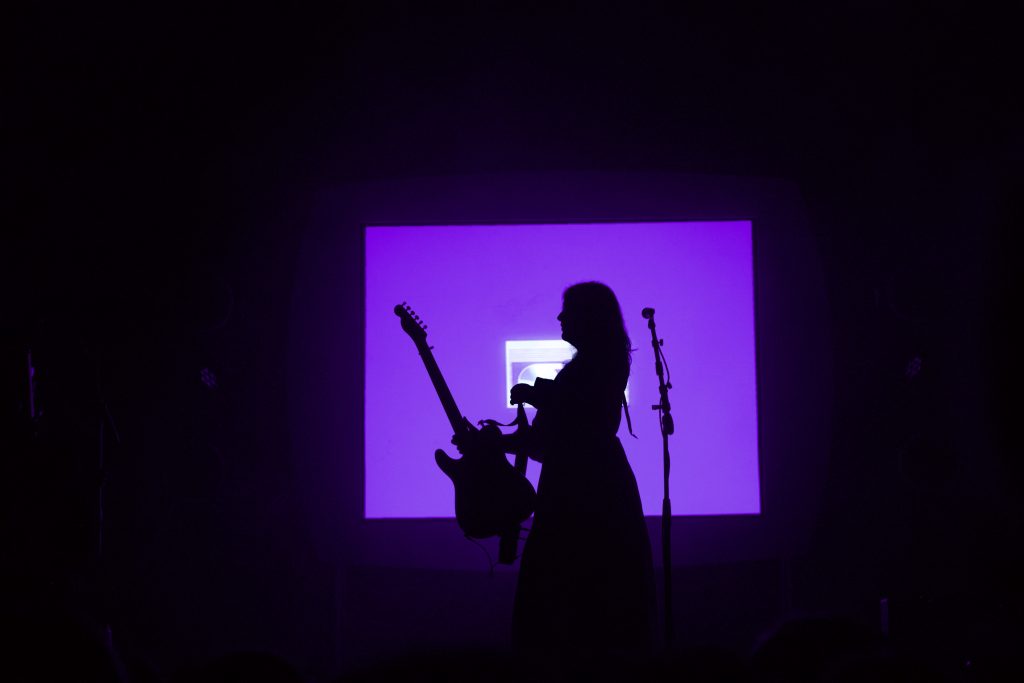 We know it's time when the screen changes to the neon blue of the album cover, a little VCR aged graphic of the pulley of film between two wheels. Dressed in white pants, white button up shirts, and white tank tops, the band is followed by Dacus in a prairie-inspired white dress, with puffy sleeves and embroidered flower detailing. They look like they could exist in a hip alternate universe/version of Midsommar.
"Triple Dog Dare" sets the scene, a slow, knife-twisting torch song. She's calm delivering lines of a childhood love challenged by the suspicion of queerness by parents, the consequence of sin, and the longing to escape a life as an outcast while Dacus struggled to comprehend why she held that label. The audio levels are murky, making Lucy's voice compete with her band as opposed to floating atop their sound, but we know the lyrics enough to pull them out of the muddle.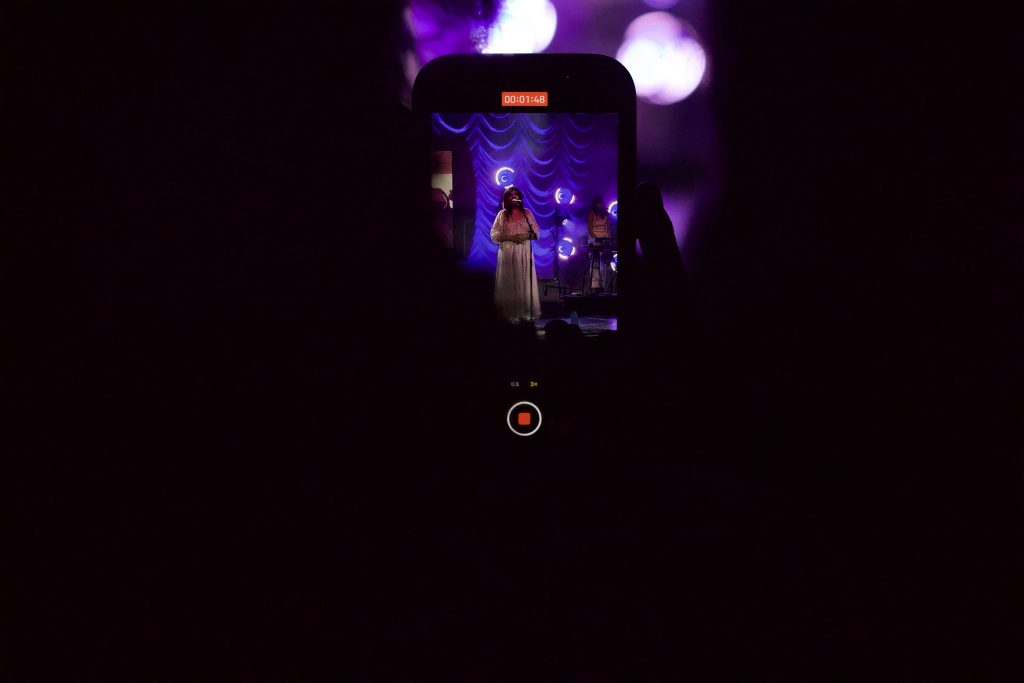 I'm staring at my hands/ Red, ruddy skin, I don't understand/ How did they betray me? What did I do?/I never touched you how I wanted to/What can I say to your mom to let you come outside?
Her voice and her lyrics carry the melancholy sweetness of a Littmus Lozenge, recollecting a time of love and sorrow with a more sophisticated view of her younger self and her community. She continues this tone into the blue-lit and mournful "Christine" and "Cartwheel", but waking the audience from our depression nap (affectionate) with the indie pop "Hot and Heavy" and the moodier maroon sounds of "Addictions" from Historian.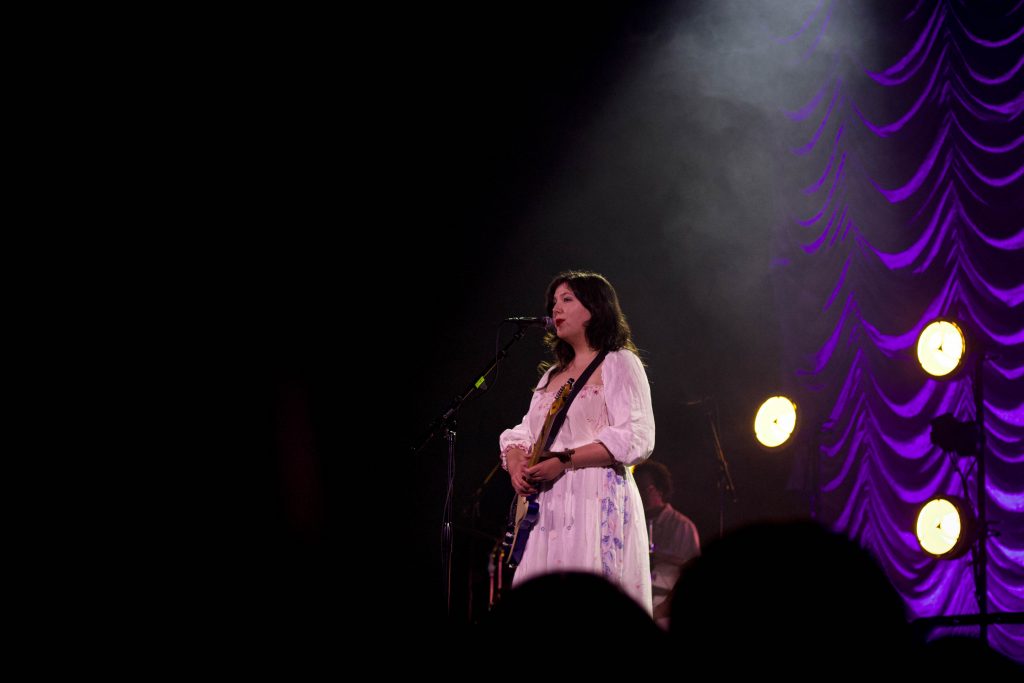 "This is our penultimate show and the last tour we have on the books so I'm really happy y'all are here."
Lucy says to us after the first acknowledgment of "thank you".
"The one after is the bonus gig so this technically is the last show".
We cheer and scream, as one easy-to-please organism. Don't we feel special?
"I always ask this: who here has been to vacation bible school?" I reflexively raise my hand and squeal. The watered down, progressive version I attended in my youth could never compare to Dacus' experience that included the recommendation to delete all secular music from her dinky IPod. Still, the megachurches, and the weaponization of god gave me enough understanding to know how hard it would be to truly understand her experience with queerness and Southern Baptists. Who knew religious trauma could be so catchy?
The details of her stage presence make each song come alive. I wondered as she sang the lyrics, the same ones from last night and the night before, if they meant anything to her anymore, lost in the swampy waters of semantic satiation, but if so, her quips convinced us otherwise. Dacus lassos the mic over her head at the last chords of "Partner in Crime", a gruesome song saturated in bubble gummy autotune, and drinks tea between lines of her recently released Carol King covers. After "Thumbs," a song that, over a year ago, made me stop folding tablecloths to sit stunned on a washer for the four minutes, and caused a flood of muffled sniffles throughout the audience, Lucy brought us out of our trance, embellished by a static drumroll that forced us to sit in a delicious catharsis, contemplating gouging out eyes among other crimes.
"Oh hi! Bummer!"
She lets us in on the joke and out of our feels.
"That was so pretty!"
She remarks after bubbles reflect pink light during a cover of Cher's "Believe?", perfectly suitable for a campy prom slow dance.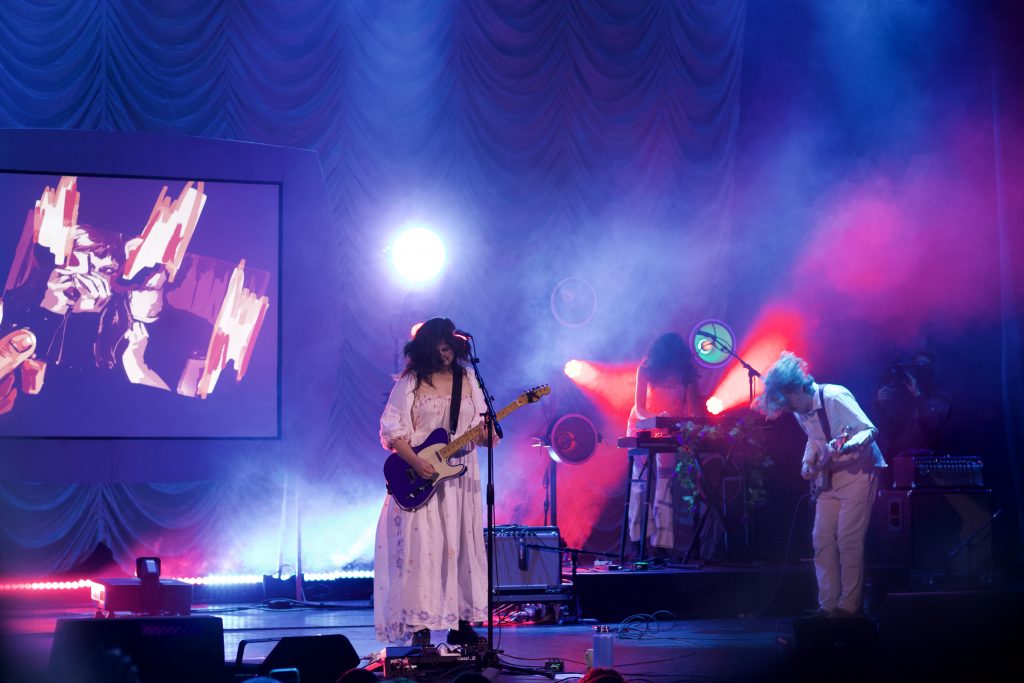 "Nightshift" is the obvious finale. The break-up dirge is sung with a smile, more bubbles released on the curse "And I'll never see you again, if I can help it." Lucy returns with an acoustic encore of an unreleased song. Taking her heed to not record, we listened quietly, not yet knowing the lyrics, waiting for the next tour to have them memorized.