Herbie Hancock @ Walt Disney Concert Hall [2/27/22]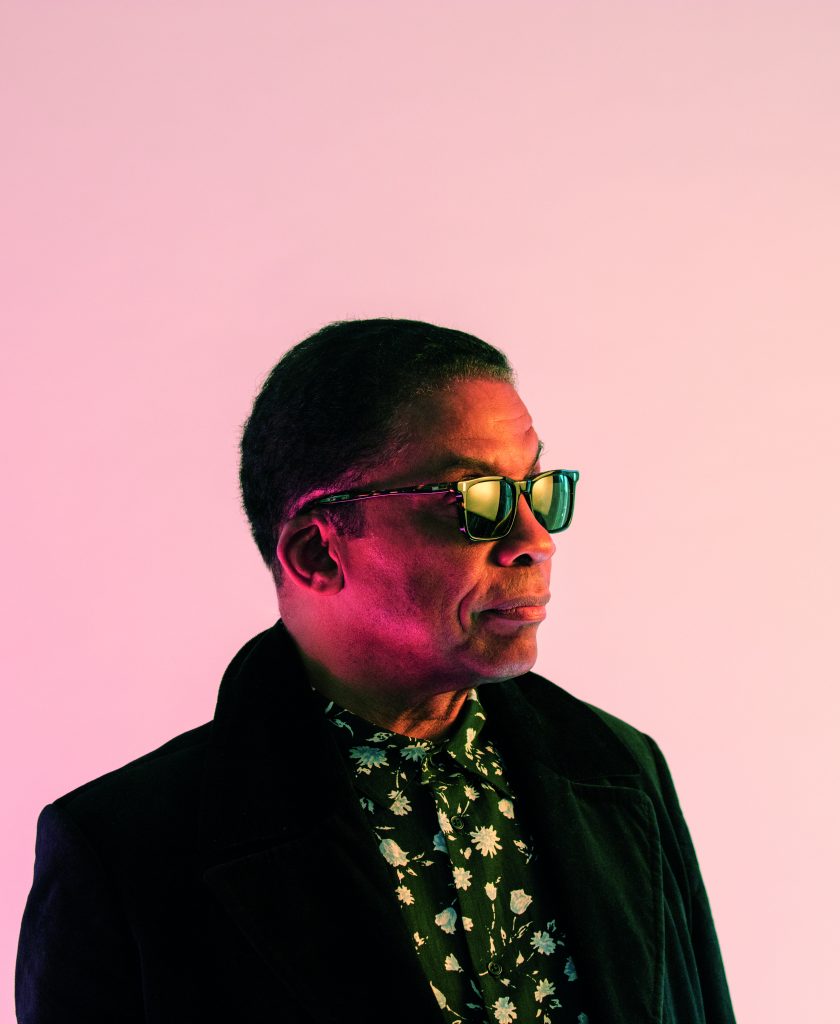 Jazz first confronted me in the halls of Welsh Valley Middle School, my alma mater (which, fascinatingly, boasts a California-style open campus, despite being in Pennsylvania, where seasons occur).
I wish I could say that my introduction to the music was fated, but, if I'm being honest with you, I had a crush on the jazz band's bassist and thought learning about jazz would impress them. As it turns out, that method was ineffective, but I did gain an appreciation for the genre and found (at long last) musical common ground with my parents.
Yet, I had never experienced jazz the way I did Sunday, seeing Herbie Hancock at the Walt Disney Concert Hall.
Following a chaotic trip circumnavigating the strange network of semi-underground streets surrounding Grand Avenue in Downtown LA, we arrived at the imposing structure designed by Frank Gehry, made up of massive curved stainless steel panels reminiscent of sails. The box office line stretched around the block, full of people dressed to the nines and abuzz with expectation to see the jazz legend.
Even after taking our seats, 2 of 2,265 in the warm, Douglas-fir lined interior making up the concert hall, we could feel the exhilaration from Hancock's fans from the six year old I stood behind in line to the elderly couple a few places behind me. The latter had been following Hancock's work for the last six decades, since Herbie joined Miles Davis' band in 1963, when he was only 23.
Throughout his career, Hancock has been transcending musical boundaries and he did not stop the push Sunday night. Seamlessly navigating between the Fazioli grand piano, a Korg electric keyboard, and a keytar, Herbie played a mix of his classics and new pieces, juxtaposing jazz with elements of funk, pop, and rock. Seeing Herbie live made it clear why he has been a fixture in music for so many decades—beyond playing with expertise and fluency, he balances a sense of fun and mischievousness that makes you feel like you're in on the joke; breaking a smile before poking fun at the audience or his band member, kicking out his leg while sitting at the piano, constantly reveling in performing.
Hancock was surrounded by his outstanding touring band—featuring Lionel Loueke (guitar), James Genus (bass), Elena Pinderhughes (flute, vocals), Trevor Lawrence Jr. (drums) and Terrace Martin (saxophone, clarinet, keyboard, vocoder).
When introducing Loueke, Hancock commented on his ability to make "a guitar sound like anything else" — a claim Loueke soon proved true, evoking a percussion section consisting of his guitar, mouth clicking, and generous use of a synthesizer pedal. Loueke hails from Benin, he was able to showcase some of his West African-influenced solo work on the song Phoelnix, providing for a diverse and interesting experience.
Genus on bass was also terrific, playing solos throughout with a compelling contribution to Actual Proof, from the Headhunters, one of Hancock's earlier bands. Trevor Lawrence Jr. on drums played his part perfectly, supporting and complementing the rest of the band.
Particularly interesting were the last two members of Hancock's band, Elena Pinderhughes and Terrance Martin. Pinderhughes, an incredible flautist who came out with her first album, Catch 22, at age 11 (yep, 11, the same age where I decided to learn about jazz for love), was a privilege to watch. Her agile flute playing sang above and cut through the rest of the band, and her silky, honeyed vocals on "R.I.P." made for one of the best songs of the night.
Herbie is known for constantly evolving and reaching out to a younger generation of musicians; in a 2016 interview with KPCC, he remarked that "one of the great simulations, for me, is hanging out with young people and paying attention to what they're doing… we all have something to bring to the table no matter what our age." His collaboration with Pinderhughes makes it clear that those interactions have paid off.
Martin, multi-instrumentalist and producer on a number of prominent albums, including Damn and To Pimp a Butterfly by Kendrick Lamar was equally a delight. Surrounded by at least five instruments (arguably more, if you include the water bottle that on Hancock's prompt he made sing) brought a freshness to Hancock's discography, and his mastery on vocoder was clear.
The crowd made it clear that they were ready for community after months of lockdown and coronavirus. A cheer filled the auditorium when Hancock played the opening notes of one of his jazz standards, "Cantaloupe Island." As it devolved into an abstract free jazz rendition of the song, the interplay between Pinderhughes, Hancock, and Loueke shone bright, as each member traded bars and challenged one another.
From the opening eclectic medley of snippets from past songs that Hancock calls "Overture", to the captivating, keytar-centric encore of "Chameleon", which earned a second standing ovation from the crowd, this concert was a masterclass in jazz. It showed that at 81, Herbie Hancock is still at the top of the game. The program promised that Hancock was working on an album, his first since 2010, and if this concert is any indication, I can't wait to listen to it.