Mitski @ Shrine Expo Hall [3/2/2022]
Photos by Jennifer Uskolovsky
Three days after the concert, I still find myself back at that night. Mitski and her performance was one that I can't quite shake from my head, no matter how hard I may try to focus on something else.
Upon approaching the venue, an hour before the concert was supposed to begin, the line had already begun to wrap around the building and trailed off into the distance so that I could no longer see the concert goers. As the fans began to file into the concert hall, I took in the Shrine Expo, a venue resembling that of a school gymnasium. Laid out in front of me was one large, vast room with a raised stage that Mitski would be performing on that night.
As I took in the space around me, the lights dimmed and the opener, CHAI took the stage. CHAI, a four person Japanese rock band hailing from Nagoya, came out with matching outfits. In their funky outfits, CHAI filled up every inch of the stage with their presence. Their voices cut through the room, bouncing off the walls, and laced the dancing audience with an energy that rivaled their own. With a distinct sound, well-meticulated choreography, and a high energy set that touched on genres that were poles apart: EDM, Rock, RnB, and Heavy Metal, the crowd was left in awe. CHAI had truly started the night.
With the energy from CHAI still buzzing through the audience, Mitski' set was highly anticipated. As the stage crew starts to set up, they place a simple, white door in the middle of the stage. Smoke starts to billow out from behind the frame. Out from the haze, Mitski steps out and opens with "Love Me More" an upbeat song with longing lyrics, all about begging to be loved correctly, from her new album Laurel Hell. The crowd drowns out my thoughts as the first few cadences play. She faces the door and I can't help but appreciate the beauty of the picture. Her back turned to us, she mimes knocking, facing her own shadow.
Each song is paired with its own choreography, its own movement. For "Love Me More", she scrubs at her skin, as if to get some damning thing off. For "Once More to See You", she bounds around the stage reminiscent of a little girl running through flower fields. Mitski's hands reach out, she throws her arms back, she embraces herself. Her entire self becomes part of this performance. Every emotion felt is seen in her face, in the tension and angles of her body. Even as she performs, her facial expressions shift alongside, faking smiles one moment and distorting into desperation the next. All the while, what stands out is that she isn't looking at us. Every glance, every glare, every gesture is pointed at something in the distance. She's performing, in character. This was theater to her. This idea confirms itself when she addresses the audience for the first time during the set, sparing a fleeting "thank you" and announces that she's going "back into character". We're merely part of the audience, but it feels like she could have done this without us. As Mitski stares into the distance and grabs at something that we cannot see, we can tell she is not here for us, she's here for herself.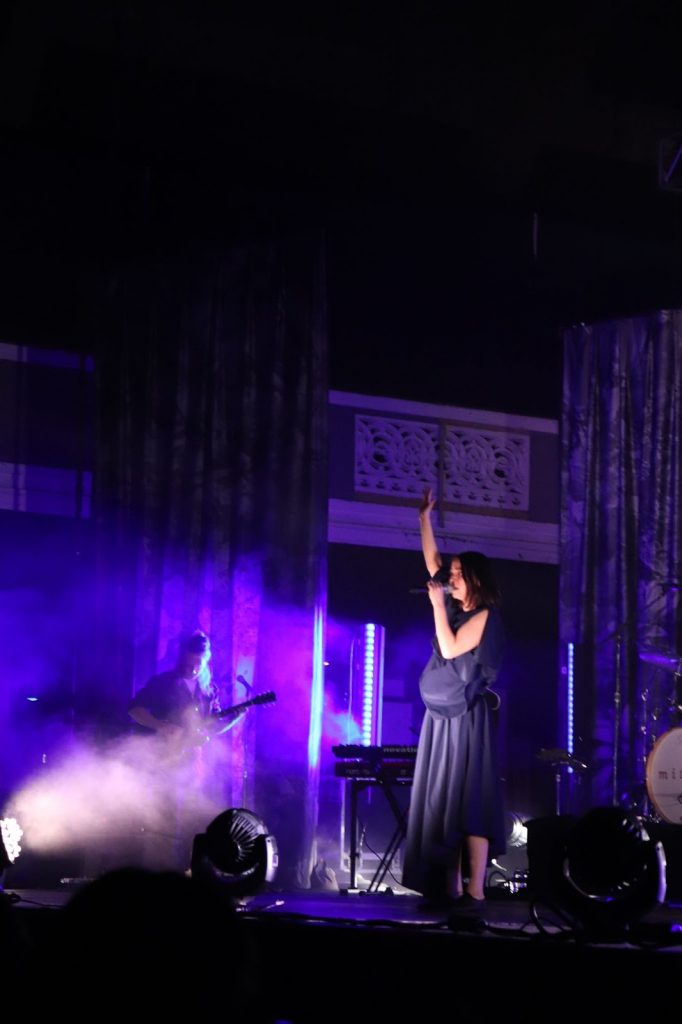 There's a duality to her movements, to her music, and it's one that I don't fully understand. But I try. I try to listen to her as she's soft and pleading one moment, then consumed and enraged in the next. The audience is captured by her presence and does not cease to yell, even for one moment. All eyes are on her and the cheers of the crowd intertwine with her voice to fill up the entirety of the venue. Every emotion she spills out, ones that can only be described as monstrous and absurd, are reminiscent of the anguish and angst that comes with entering your teenage years. However, there is another level of frustration Mitski offers that is only understood by the growing pains of realizing that these feelings don't go away even as you approach adulthood.
For the entirety of her performance Mitski begs, pleads. Every want is written on her face and you see what it is like to truly give everything that you have, and still not have it be enough. She pours herself into her performance and spills out on the stage. As Mitski croons through one of her barest songs, "Your Best American Girl" the words "I'm not even a star" stick in my head. As I listen, I remember back to her interview in 2019 with Billboard. When asked about what the song represents, she sets the record straight that "[she] wasn't trying to send a message. I was in love. I loved somebody so much, but I also realized I can never be what would fit into their life." That in its essence is where I feel the radicalness in Mitski's music lies. She isn't trying to make a big statement or be at the forefront of a movement with her music, and she isn't trying to be THE Asian-American face of indie-rock. Instead she is just there to sing about what she wants to sing, to just be. We get a glimpse into her life, like when she acknowledges that her lover's "mother wouldn't approve of how [her] mother raised me" and punctuates that thought with "I do, I finally do," allowing us to understand her final feeling of acceptance. It is through her music that Mitski consolidates the discomfort, the aching, the desperation of wanting to be enough for someone else into something that is so entirely, distinctly her. After all, the character Mitski is but a culmination of her experiences.
Mitski's performance will read differently to each person there. Young listeners will not quite yet understand the frustrations of having lost their early years. Older listeners will forget what it felt like to only worry about the smaller things. Even as I saw myself in her music, there was a part of it, a specific longing and loss, that I still could not fully understand. That is because Mitski bares herself to her audience, opening every part of herself out there to be known. To know her in this light means an understanding that there are parts of myself that aren't like her because after all, no one will understand her better than herself. However, in the way that Mitski performs, eyes looking in the distance and hands reaching beyond the crowd, I realize that she isn't trying to appeal to an audience. Her music, her performance is for her. And because she is so genuine and true to her performance and has left everything she feels out on the stage, all there is now is a teary-eyed, sweaty audience left grasping desperately to understand their heartache, rage, consuming love, identity crises, and need for acceptance.
As Mitski descended into her encore, "Two Slow Dancers", she softly asks, "Does it smell like a school gymnasium in here?"
Yes, it does.