Photos by Evan Ibarra
Dorian Electra is one of the most exciting acts to emerge from the hyperpop sphere. In addition to their blend of hyperpop, electropop, and goth industrial musical inspirations, Electra uses hyper-flamboyant energy to create a space no other artist could possibly occupy. Electra's powerful presence and aesthetic poses the question of whether they would be able to translate this energy into a live performance. And Electra did not just match this energy, but took it and transformed it into the one of the loudest, queerest, and most extravagant showings.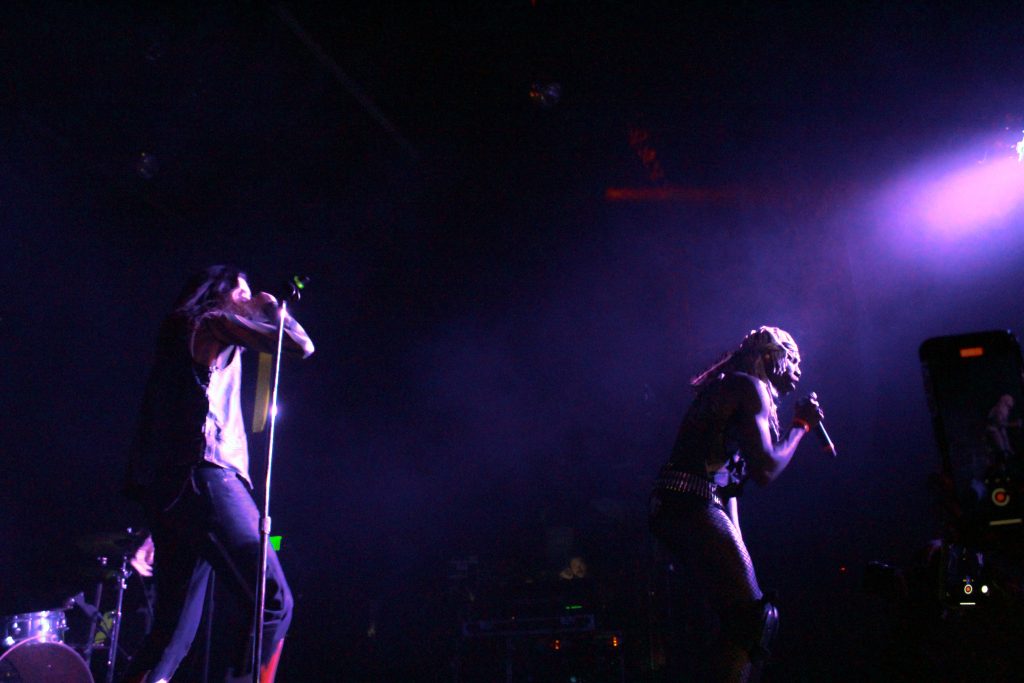 Dorian did not attract this successful of a showing on their own– they were accompanied by the Death Tour, a punk-hyperpop band whose music almost blew my eardrums, as well as Lil Mariko, a bubbly screamo musician who had everyone enthralled with her energy. The trio helped create a magnificent show and quite frankly, a safe space for queer expression and existence. Death Tour began their set with their rowdy punk energy, but the audience did not match their vigor. Leaning into the disparity, Demi Yoko, one of the lead singers, stopped the music and lectured the crowd, arguing that if they continued with the low energy, this concert would be the worst stop on the tour. Yoko screamed at the crowd, attributing their blandness to the stereotypical LA "bougie" energy that is too afraid to get a little filthy and raw. "All that shit stays outside," Yoko snarled, "I don't give a fuck who is looking at you, turn the fuck up!" This message surely drove a chill down the audiences' spine and pushed them to express their unapologetic queer angst. Death Tour's set, which included some of their bombastic songs such as "Porn!," laid a perfect foundation for the hectic queer energy that would follow.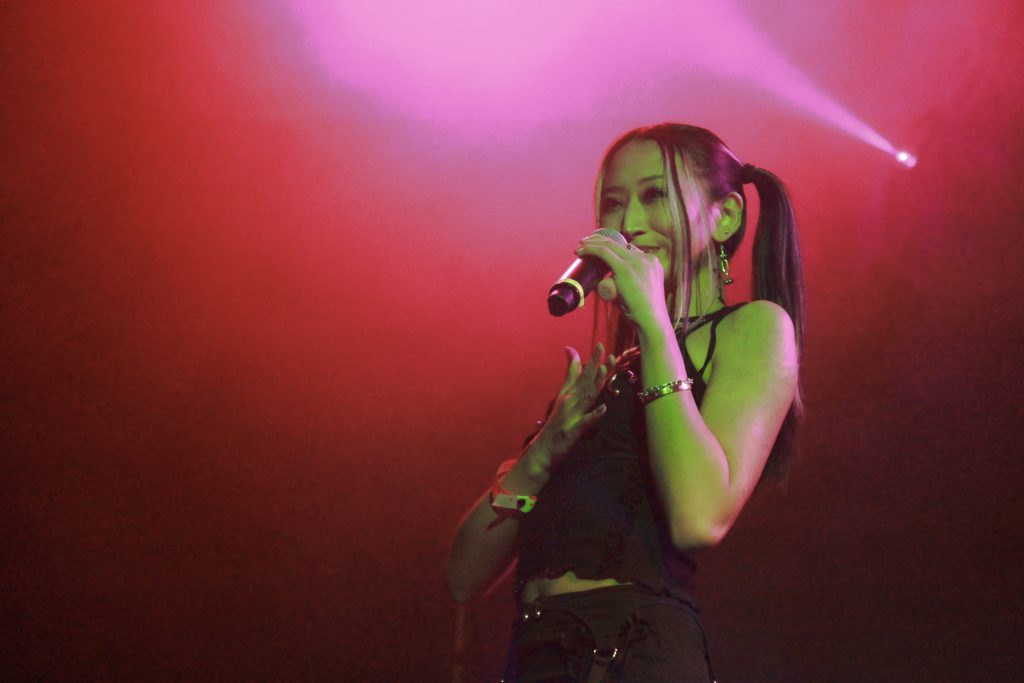 Once Death Tour finished their zestful set, Lil Mariko's DJ/Producer, Full Tac, appeared on stage and began to get the crowd excited for Lil Mariko. Mariko walked on stage, and her bubbly and cutesy persona filled up the room, quickly contrasting it with her screamo aggressiveness in the opening song "Don't Touch". Full Tac led the crowd to sing happy birthday for Lil Mariko in between songs, and the crowd proceeded to toss her dollar bills per her request. This off-the-wall but also quirky element of Lil Mariko's set fits perfectly with the rest of the songs that she performed. One of the highlights was "Shiny" where she talk-sings "I'm so shiny, you can see me from fucking space" but then in the chorus, she proceeds to scream the words "I'm a shiny bitch, I got lots of shiny shit!"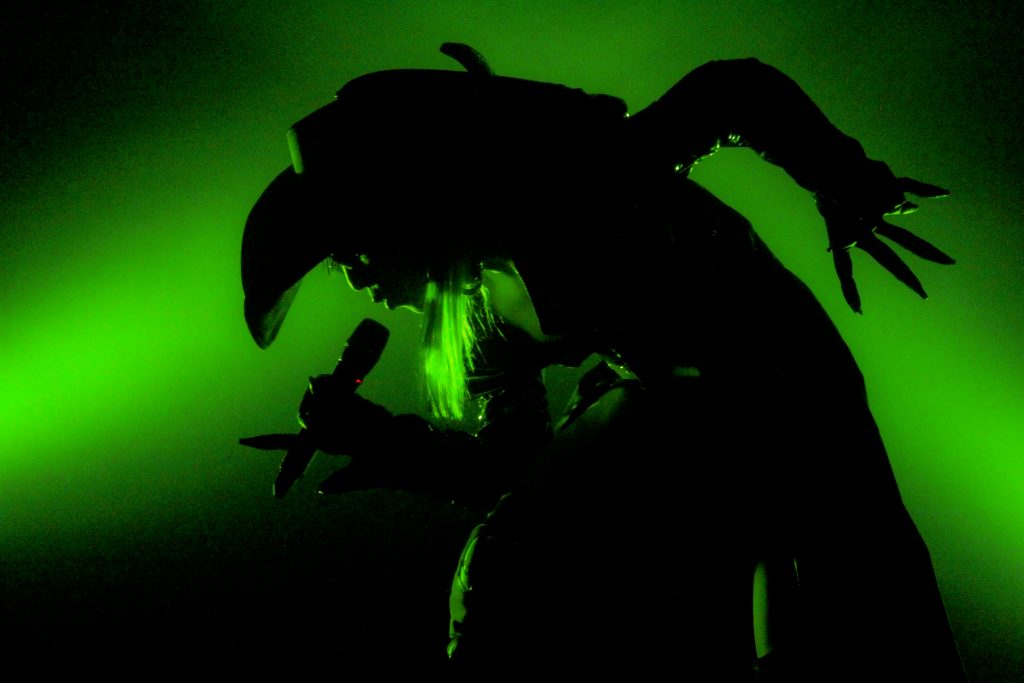 Dorian Electra entered with a long black coat and matching black hat, giving them a mysterious allure that captured everyone's eyes. Electra opened their set with "F The World", the opener to their album My Agenda, which, as the lyrics suggest, is a big "fuck you" to the world that surrounds them. Electra's attitude made it clear that their set would be a rejection of any boundaries around music and live performance.
After a few songs, Dorian removed their coat and it revealed a black sports bra and underwear set as well a big shoulder piece paired with a black captain hat. It worked perfectly with their dancers, who delivered some swift and electric choreography. Dorian then transitioned into performing songs from their previous album, Flamboyant. The audience was screaming energetically and chanting along to the lyrics, demonstrating their excitement to hear their favorites from the album.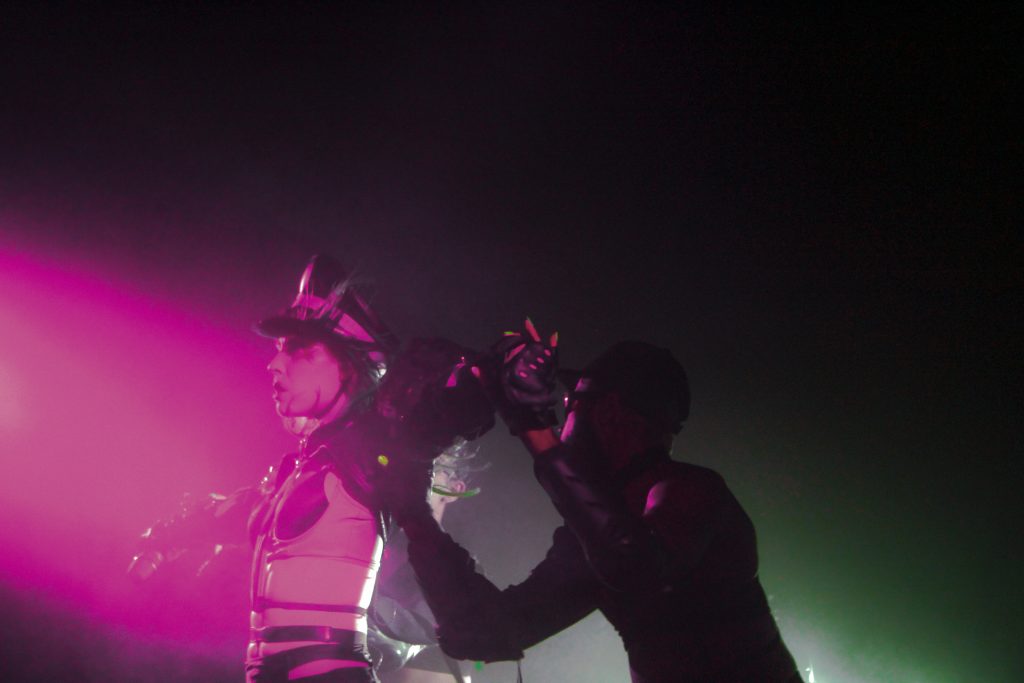 Finally, Dorian had one last outfit change into a stunning all-white bra and pants set. They topped off their outfit with an over-the-top, cartoonish shoulder piece, accessories, and a matching white captain hat. Dorian's set got more thunderous and booming as they performed more songs from their current album My Agenda. At one point, they brought back Lil Mariko for their song "Ram It Down," an electronic banger with elements of heavy metal. They ended the show with their animated hit "Man to Man" but had an encore of their remix of Lady Gaga's "Replay" and their experimental fan-favorite "Career Boy".
Overall, Dorian throughout the years has culminated a distinct musical identity, and truly flourished and thrived in a live performance setting. One notion that made Dorian Electra's show so exciting was how much of a queer safe space it was. However, the show being a queer safe space would have not been possible without the atmosphere and environment that Dorian creates with their music as a whole. This show was a celebration of queer expression and identity. As Dorian sings in their song "My Agenda," "My agenda, Might offend ya" and if their music and live shows are part of the agenda that they want to spread, you can gladly call me a proud follower.