The premiere screening of "Goes by So Fast: a MAHAL Film" starring Chaz Bear and Eric Andre at Brain Dead Studios on 4/22/2022. Cover Image by Philips Shum.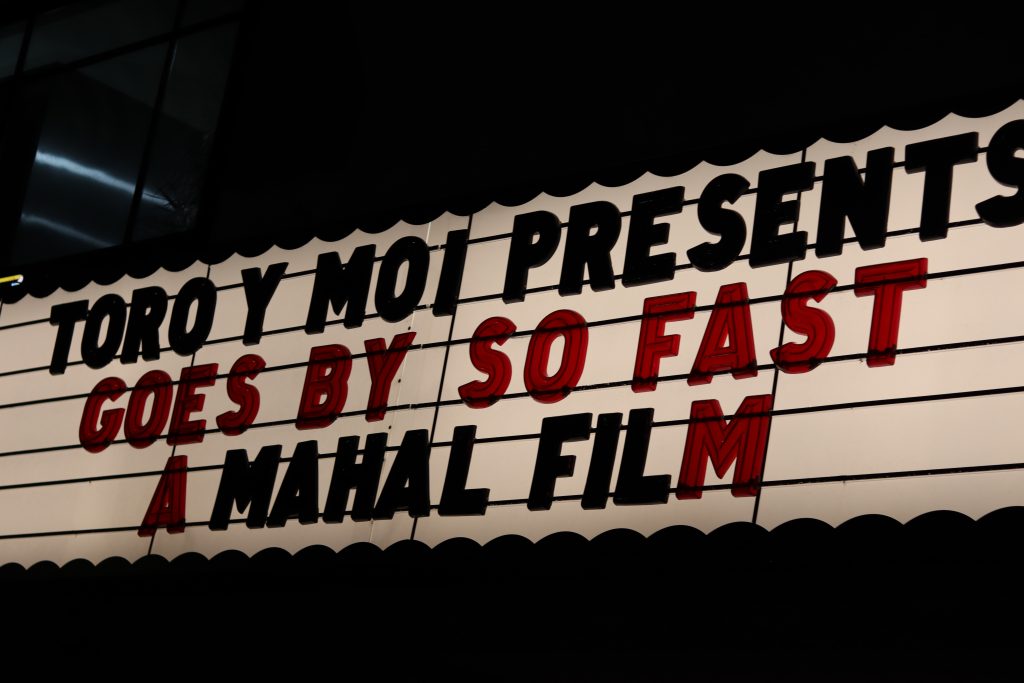 I knew "MAHAL" was going to be special the minute I saw the promotional posters. On Friday, April 22, Brain Dead Studios hosted the world premiere screening of Toro y Moi's new short film "Goes by So Fast: A Mahal Film" starring Chaz Bear and Eric Andre. The film's poster features the two looking directly into the camera while sitting in a decked out blue and purple Jeep with a slightly fish-eyed lens focus that can't help but make everything look cooler. For those unaware, Toro y Moi is the 12+ year musical project of Bay Area based, South Carolina reared artist Chaz Bear. The "MAHAL" extended universe is the most we've seen the line between Bear and Toro y Moi blurred, all in support of his seventh studio album "MAHAL" released Friday, April 29.
When I arrived at Brain Dead Studios on Fairfax, the line for the screening wrapped around the block. Fairfax as both a street and a neighborhood is renowned for its hypebeast and fashion centric culture that tends to the trendier of the melding Gen Z and millennial adult demographic. I couldn't help but take note of the large crowd of fashionable alternative folks. Both inside Brain Dead and in the line wrapping around its surrounding block, there were 20 and 30-somethings decked out in layered outfits, heads of dyed hair and eyebrows spanning colors across the rainbow, and mops of curly hair styled into wolf cuts and mullets or tucked under beanies and bucket hats. It was as much a film screening as it was an alt fashion show. (I have blue hair and 3 metal piercings on my face, so naturally I was prepared.)
Inside the packed lobby at Brain Dead, people and their friends flooded the concession stand, which was less popcorn-before-a-movie and more beers-while-the-speakers-play-house-DJ sets. The beginning of the screening felt like the "Toro y Moi" portion of the event –opposed to the Chaz Bear credited short film appearance– as the already-released music videos to Mahal's singles played on the theatre in widescreen. It was our own version of an opening act. In "MAHAL" Toro y Moi explores psychedelic rock and funk with wah-wah pedal heavy distorted guitar and rhythmic bass lines. "Magazine" featuring Salami Rose Joe Louis best exemplifies this theme, with 60s style fuzzy film and colored geometric transitions reminiscent of a 1960s cartoon supporting their vocals and wah-wah-ed guitar. "Postman", a funkier, bass heavy tune introduces the character of the blue and purple decked out Jeep from the poster as we watch Toro y Moi drive it around San Francisco. Personal cultural motifs splatter across the "MAHAL" videos: hands clasped in prayer around a rosary, a Blessed Mother Grotto statue in a yard, Black and Brown hands passing mail addressed to the Philippines, and Toro y Moi washing up on a shore with the Bay Bridge in view. Toro y Moi's Bay Area home and his Filipino heritage – where over 80 percent of residents are Roman Catholic – are obviously important to him.
Once the collection of music videos ended and the credits rolled, a Brain Dead Studios employee rushed up to the projector to adjust the aspect ratio from widescreen to standard for the short film. Excited gasps came in waves. In the film, Toro y Moi – now being referred to as Chaz – drives around the San Francisco Bay Area as a fictionalized version of himself. His probably-maybe product placed Tesla stalls while he's on his way to perform as Toro y Moi for a San Francisco show. This is where Eric Andre appears as a hippie inspired character driving the same decked out blue and purple Jeep that appeared in other "MAHAL" visuals with a slicked back bun and odd adages that remind you of all your eccentric Uber Drivers. He talks a lot about a missing dog, comically texts and drives, and keeps a large tub of *spiked* Horchata for both him and Chaz as he drives them to the Toro y Moi show. It's all silly – and maybe a little corny – but that's half the appeal.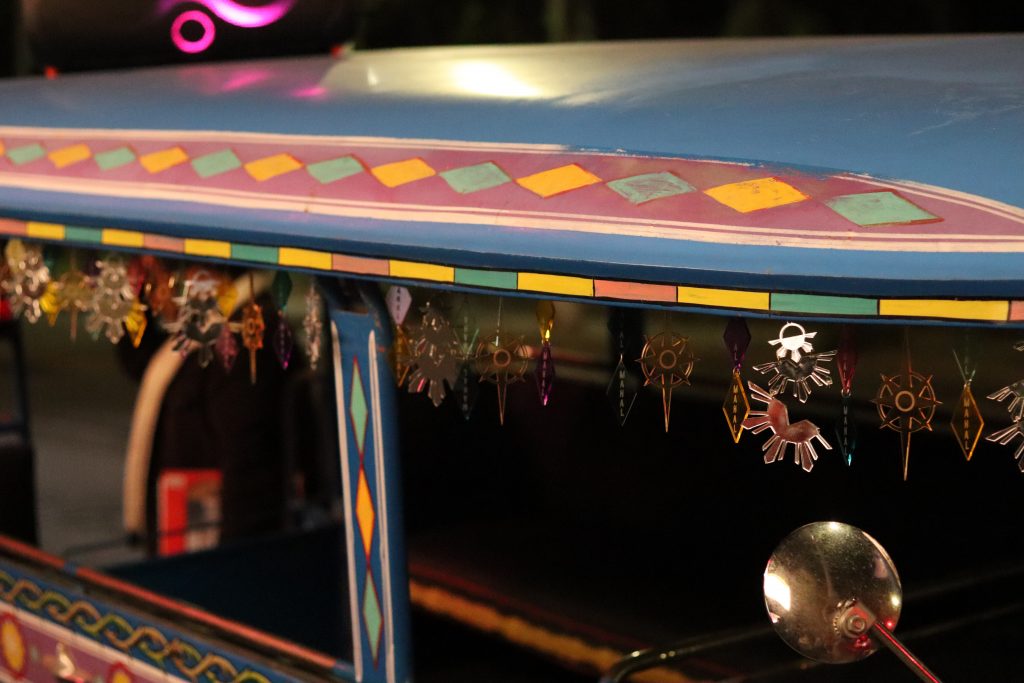 Narratively the short blends between road trip buddy comedy with Andre's character rushing Bear's Chaz to his Toro y Moi show and a Bear focused documentary. In the documentary portion, Bear (or is it Bear's Chaz character? It's hard to tell) explains that the blue and purple Jeep is a "Jeepney", a cornerstone of Filipino culture with origins dating back to World War II. After American troops left the Philippines at the end of WWII they left a surplus of US Military Jeeps behind, explained Bear. These Jeeps were reclaimed by Filipinos, who then flamboyantly decorated them and coined them "Jeepneys" as means of staking cultural claim. The conceptualized "MAHAL" universe is the most in a project fans have seen from the "Chaz" behind Toro y Moi. Watching the earnesty and tact that was put into the "MAHAL" universe was heartwarming. I felt like I had earned a peek at the Wizard behind the curtain. Backed with footage of other Jeepneys driving in the Philippines and followed with Bear explaining that "MAHAL" is Tagalog for "love", this project is obviously Toro y Moi showing what makes the Chaz Bear behind it all.
"MAHAL" and its accompanying short film "Goes by So Fast" are a love letter from Chaz Bear / Toro y Moi to his Filipino heritage scored to funky psych-rock. It is deeply personal, ladened with references to Bear's Bay Area home and Pinoy culture, which he splits with his African American heritage. While some parts of the film felt more like scene filler than stylistic choices by director and longtime Toro y Moi collaborator Harry Israelson, it was still clearly something special. The self indulgence didn't take away from the sincerity. When the credits of the film rolled, there were separate credits for Chaz Bear as the actor and "Toro y Moi" as the artist behind the music. Toro y Moi and Chaz Bear seem to exist in separate realms for the artist. The auto tuned vocals and distorted guitar are more indicative of Toro y Moi than the earnest I'm-playing-myself-but-I'm-obviously-not-an-actor performance of Chaz from Bear. 
At the end of the screening there was raucous applause and mumblings of both "so cool" and "kinda weird" from patrons as they shuffled out of the theatre."Goes by So Fast" and its preceding videos were an experience. Daniel, a late 20s curly-mulleted man working at Brain Dead Studios that night, said "It's been a really wild night and it's awesome to see everyone come out and be really excited to celebrate the new album and everything. That Jeepney thing was a really lovely touch… It's a super buzzy event for [Brain Dead Studios] and we're always super happy to host." Who couldn't enjoy a film that includes Eric Andre in character drinking Horchata and ranting about the radioactive evils of 5G technology?