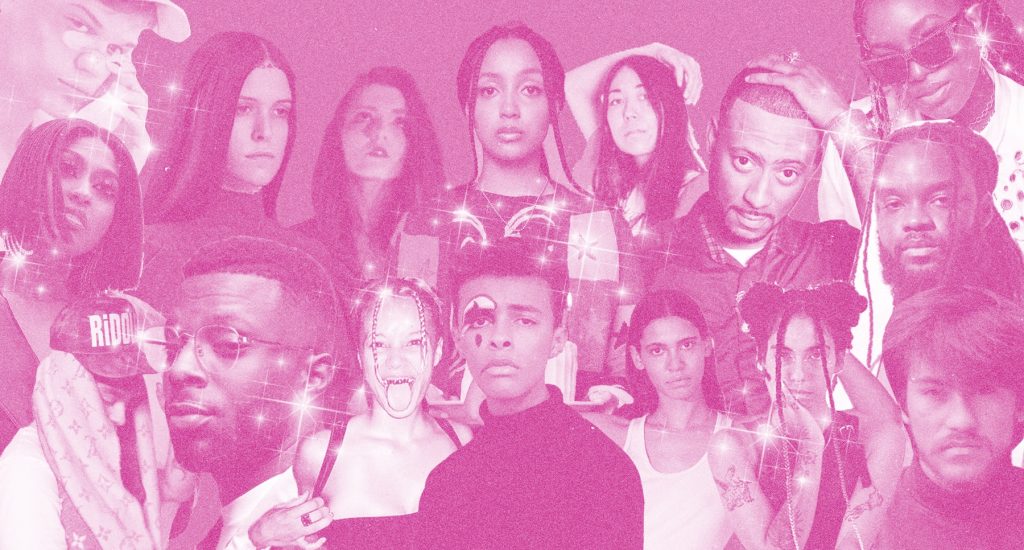 Graphic by Fabian
Artist: Genesis Owusu
Album/Project: Smiling with No Teeth
By Max Dallas
Genesis Owusu's smashing debut oozes with eccentricity and affirms his status as a powerhouse within Australia's new generation of hip-hop artists. As a part of a slapped-together five-piece band, Owusu jammed for over sixty hours in one week to form the foundation of his 2021 album, Smiling with No Teeth. Mixing high-octane industrial grooves, moments of falsetto, and even a touch of Springsteen-esque rock into his sound, Owusu sports captivating plumage as he twists hip-hop conventions askew. However, as the title's grotesque imagery evokes, Owusu leans into the fractures in his soul to spotlight the hideousness of ignorance. Black dogs, Owusu's characterizations of depression and racism, chase him down the track list. His avoidance intermittently yields to confrontation and understanding, producing trenchant commentary and impassioned delivery in its best moments. In "On the Move!" he shouts from his chest and in "A Song About Fishing" he balladeers over piano flourishes, gradually piecing together a nuanced image of struggle. Owusu's unabashed expression shakes up hip-hop yet stays true to its spiritual roots, making for a refreshing, must-listen debut.
Artist: Okay Kaya
Album/Project: The Incompatible Okay Kaya
By Sophia Russo
Kaya Wilkins consistently interweaves witty, tongue-in-cheek narratives with polished melodies, situating herself perfectly within Gen-Z culture. In her previous works, Wilkins made production the central focus, hiding her intimate lyrics under groovy synths, electronic beats, and layered vocal tracks. However, in The Incompatible Okay Kaya, the Norwegian-American artist lets her guard down and delivers an acoustic album. With minimal production throughout, Wilkins' raw vocals have nowhere to hide. While the album introduces four new tracks, including "If I Can Help Somebody" and "Without Her," a majority of the album consists of covers of her older songs. She dives into uncharted territory and it pays off. Her characteristically witty lyrics are present, but so is something new: vulnerability. In her covers of "Zero Interaction Ramen Bar" and "Fake It," her voice is full of yearning, and unlike the originals, her desires are fully exposed. Wilkins' songs voice experiences that young women and queer people today relate to, but The Incompatible Okay Kaya gives newfound emotional depth to these experiences. Although Okay Kaya is clever and quirky, her true power lies in her ability to voice the unspoken challenges and emotions present in many minds today, with a level of candor and catharsis no other artist has shown before.
Artist: BigKlit
Album/Project: Fatality
By Jen Uskolovsky
Spitting provocative bars about slurping semen and dismembering men over abrasive beats and moans can only be attributed to underground rap sensation, BigKlit. Her raunchy, rambunctious, and occasionally rancid imagery sets the Brooklyn-born, LA-based rapper apart from her contemporaries. Her 2021 record, Fatality, incorporates elements of punk rock and thrash metal to her newly developed sound, taking her already present roughness one step further. BigKlit focuses on creating catchy and short bangers, resulting in a 45 minute album with 22 songs that leaves you on your knees begging for more. Standout tracks like "Grown," "Get That Bitch," and "Fukked Up " possess harsh guitars, raspy screams, and taunting moans layered on aggressive instrumentals that grit on the ears like a scratch being satisfyingly itched. An artist misrepresented at times, BigKlit's music shines light on female sexual liberation and empowerment by being candidly uncensored, unapologetic, and unconstrained. After being in a toxic relationship, she was done with being passive and never speaking up for herself. "I will never, ever silence my voice and that's kind of where the yelling came from… I was tired of being a woman, constantly being told to, talk like this, act like this." BigKlit is pioneering women's sexual liberation in a captivating way, encouraging listeners to have their own voice and be hot while doing it.
Artist: Indigo De Souza
Album/Project: Any Shape You Take
By Nate Price

Any Shape You Take is the second studio album from Asheville-based indie rock artist Indigo De Souza. Following the release of her debut studio album, De Souza ended a long relationship that catapulted her into a new world of emotional turmoil. However, De Souza differentiates herself from the typical breakup record via her unique vocal delivery and unconventional song structures, tackling classic indie rock, grunge, indie-pop and even screamo at times. Album highlight "Real Pain" has an unconventional approach that features a minute-long section of screaming that climaxes into a powerful pop chorus reminiscent of late '90s rock acts. Notably throughout the record, the contrast between drum machine beats and noisy guitar lines produces a new feel that De Souza has not yet ventured into previously— seen in tracks like "Hold U" and "Pretty Pictures". De Souza also ventures into more electronic production in a few tracks, notably the opener "17". This track begins with an electronic drum beat and De Souza's dreamy vocals warped by a Charli XCX adjacent auto-tune. The album closer, the lead single "Kill Me" features the classic De Souza melodic and unpredictable vocals, but as the track progresses her soft vocals become harsh screams. She screams "kill me" repeatedly as distorted guitars envelop the track. Any Shape You Take has all the elements of a classic indie rock record combined with experimental sensibilities leading to a quite enjoyable and replayable listening experience.
Artist: Isaac Dunbar
Album/Project: evil twin
By Charlotte Wren
Eighteen year old Isaac Dunbar's third EP, evil twin, is his most ambitious piece of work yet. Its exhilarating genre fluidity sets him apart from other teenagers pushing into the music industry while allowing Dunbar to keep true to his pop roots. Throughout his career Dunbar has explored his identity as a queer teen of color, and evil twin establishes Dunbar as his most assured self yet – a result of the passionate journey that his discography has taken his listeners on for the past two years as he navigates mental illness and newfound public perception. Dunbar describes this piece of work as a blend of his two selves – his evil twin is present in the first half of this six-track EP, bringing darker EDM and punk influences to tracks like "pink party," while his internal self returns to his singer-songwriter origins for lyrically rich ballads such as "the world & all her pearls." Despite the juxtaposition of styles, both halves of the project showcase the emotive lyrical delivery that lets Dunbar flourish beyond his electropop peers. His unique ability to express himself as assertive yet emotionally vulnerable is rare, and is no doubt significant for Dunbar's Gen-Z listeners who find themselves more mentally susceptible than ever as they grow up alongside the Internet.
Artist: Gameboi
Album: 6262694448
By Garrett Ferguson
Gameboi is a pop duo composed of artists Kent Jacobs and Euvn, producing music in the boundary-pushing hyperpop genre. Their newest album, 6262694448, is a culmination of the mastery the two have achieved in telling stories through a queer lens in the often difficult medium that hyperpop presents. It opens with a marked shift from their earlier self-titled album with the tracks "anymore" and "love me", which are much darker pop tracks with heavier bass, whereas in the past they experimented with higher pitch with more bubbly undertones. Their past style is echoed in their next two tracks on the album, "luvin' u" and "sexxx", the latter of which has a feature from Jack $waggot, another underrated queer artist. A similar upbeat style continues through the next three tracks, but the lyrics become much darker again throughout "suicide", "h8 u 4vr", and "devil". The three songs emphasize the importance of sex in the relationship this album explores while still retaining that more upbeat background that may represent an internal battle between happiness and security that the relationship provides. The final track, "chicago" featuring Holliday Howe, is a ballad that laments the end of a relationship, differing in style from previous tracks' experimental soundscapes. Gameboi's 6262694448 is a project that really explores the triumphs and challenges that the LGBTQ+ community, particularly gay men, experience with over-sexualization in our community and how that contributes to how our relationships can be so drastically different from heterosexual relationships, all wrapped up in a pretty pop package.
Artist: UNIIQU3
Album/Project: Heartbeats
By Charlotte Isidore
In terms of the global dance scene, Jersey Club is on the rise. UNIIQU3, a vibrant Newark native, is a Jersey Cclub DJ whose raw talent and technical skills are undeniable. In classic Jersey girl spirit, her outspoken nature translates into hard hitting lyrics and hypnotic beats, thus making her 2021 EP, Heartbeats, ooze with sensual energy and feminine power."Microdosing," her infectious hit single and Heartbeats' centerpiece, has garnered global attention for UNIIQU3. Her breathy vocals and trance-like production elements accentuate each track's danceability, ultimately displaying expertise and unique flair as a DJ. UNIIQU3 has been in the Jersey club scene for years, so she knows the power her beats have over people's bodies, thus, this EP feels like a musical affirmation of the importance UNIIQU3's presence has in the global club scene. If 2021 taught me anything, it is that UNIIQU3 is here, and here to stay.
Artist: Sasami
Album/Project: Squeeze
By Sonja Stott
Los Angeles-Based Sasami (Sasami Ashworth) has conquered all corners of the music industry. Her contributions range from classical string and brass, supporting bands like Cherry Glazerr with guitar and keyboard, to scoring arrangements for film and television. Sasami is coming into her own with the release of her Sophomore album, Squeeze, in February 2022 and finally touring as a headliner. Hooking fans with a dynamic combination of synths, traditional indie rock, and clever, softer reimaginings of 90's metal (check out her cover of "Toxcity"), Sasami's musical evolution through Squeeze is both an exploration and exercise of rage. Aiming to provide marginalized groups a soundtrack to "find catharsis from the oppression and violence they experience", the songs already released feature heavy metal influence and anti-establishment rhetoric; "Slow climb up the mediocre ranks / When pigs die an angel gets its wings" (Sasami). It's exciting to see her avoid falling into the indie-girl industrial complex-the conglomerate of predominantly white indie acts producing cliche and unprofound sad music, usually only exploring beige love stories- and seeing the ways Squeeze will connect and build off of Sasami's earlier work.
Artist: Ethel Cain
Album/Project: Inbred
By Charlie Whitcomb
Hailing from Perry, Florida, singer-songwriter Hayden Silas Anhedönia has developed a style of ethereal lo-fi indie that echoes themes of despair, longing and religious disenchantment, the latter a sentiment stemming from her experience as an LGBTQIA+ person brought up in an evangelical Christian household. Her mesmerizing instrumentals both transcend and give tribute to the influences by which she is informed, often featuring a blend of minimalist and maximalist production intertwining throughout each of her tracks. In late April, Anhedönia released her third EP under the moniker, Ethel Cain, entitled, Inbred. The highlight of this album comes as its opening track, "Michelle Pfeiffer," which features emo-rap icon, Lil Aaron. With opulent, semi-distorted guitar lines, a haunting story of yearning and a powerful vocal performance eliciting the hopelessness and desperation of loss, the song acts as a powerful microcosm of the EP as well as Anhedönia's music as a whole. The remainder of the tracklist is spent exploring genre and thematic space from the pop-influenced banger, "Crush" to the title track, "Inbred," a showpiece culminating in Anhëdonia's most compelling display of vocal prowess to date. This project allows a window into Anhëdonia's development as Ethel Cain, but moreover, it illustrates overwhelming promise for her future directions.
Artist: PinkPanthress
Album/Project: to hell with it
By Sydney Carlson
20-year old London university student PinkPanthress first gained momentum as a regular TikTok creator. She posted original song snippets daily, marked by their seamless melodic structure and breathy vocals, and fans paired them perfectly with an aesthetic timelapse or sentimental video. She takes inspiration from '90s and '00s pop music, lauding its ability to stay "unpolished and cool" while taking experimental risks. "I feel like people weren't afraid of being cringe," she told i-D. Her music style turns nostalgia into a fast-paced musical experience that remains reflective in its lyrical core. Her sound is reminiscent of a demo played at a house party for its groove and ease of listening, yet together her singles come off as a polished package in her first full length release, to hell with it. The 10-song mixtape captures the emotional turmoil of teenage life, deta snapshots of her life experiences. She pinpoints the confusion and uncertainty of lost love and relays her moments of hopelessness, offering a glance at her internal tug-of-war in just nineteen minutes. If you zone out for even a minute, you might miss a moment of mastery.
Artist: Los Retros
Album/Project: Looking Back
By Adrian Tapia
What makes Los Retros a burgeoning LA icon is his ability to remain grounded amidst the fame and acclaim- he is, and always will be, a regular Angeleno paying tribute to the culture of his city. Los Retros, AKA Mauri Tapia, is a first generation Mexican-American whose entire studio is located in his parents' home in Oxnard. It's a small place—housing more people than it should—but somehow guitars, a piano, a drum set, a mixer, and various other instruments all fit in the living room. With no extra space and no fancy recording equipment, Los Retros has managed to release some of the best music coming out of LA. His latest EP Looking Back is a collection of Mauri's old Soundcloud singles influenced by the funk and R&B samples found in 90's LA hip hop. Released under the alias Retrospect, Los Retros mastered the singles and compiled them into a collection that hits the serotonin button in anyone's brain every listen-through. Although it diverges from his 1970's Spanish influenced music, Looking Back is still a memorable daydream waiting to be explored. Los Retros displays his genre diversity and the emerging skills of a young producer who has now gone on to perform to sold-out audiences of young Mexican-Americans and native Angelenos. He has already done so much to inspire Mexican-Americans and his continued influence is something UCLA Radio is excited to see.
Artist: Vince Staples
Album/Project: Vince Staples
By Sydney Carlson
Hailing from Long Beach, CA, west-coast rapper Vince Staples has already made a name for himself in his previous three-album run. In this self-titled surprise drop, Staples walks the line between embracing mainstream fame and coming to terms with his darker personal life. This album steps in a quieter direction from his prior bold persona usually present in his music and takes a more reflective and somber approach. He comments that "It really gives much more information about me that wasn't out there before. That's why I went with that title. I feel like I've been trying to tell the same story." His storytelling is vulnerable, the production immersing the listener into snapshots of formative memories that have shaped and hardened him into the man he is today. Throughout these explorations, Staples always ends each track definitively, establishing that he is a force to be reckoned with, both as a rapper and a better man.
Artist: Isaiah Rashad
Album/Project: The House is Burning
By Sydney Carlson
No one can transform self-loathing into a hypnotic flow quite like Isaiah Rashad. Since his last release, The Sun's Tirade, the rapper has dealt with financial ruin and rehab over the last five years. In his third release, The House is Burning, Rashad returns with hard-hitting lyricism, but approaches his issues from a new angle. Rather than playing into his audience's expectations, his versatility shines as he saunters towards trap production, maintaining a contrast between his proud delivery and lonely disposition. He admits that this album is by far his most honest, in that he was sober making most of it. In an interview with Rolling Stone, Rashad explains how in rap culture, being under the influence is normalized as part of the songwriting process. For him, to defy the norm "was the confidence challenge I needed to believe in myself." What he earns from his creative labor he returns in self-help advice given to the listener "If you don't ever get yourself straight/who the fuck is you gon' help, mane?" (from "HB2U"). Rashad recenters his talent on hope, avoiding a linear autobiographical narrative. By unmasking his "cool" front, he grapples with the burning of bridges he faced within his own healing: "Southside say you ain't got nothing to live for/So you ain't got nothing to lose, but don't shoot" (from "Don't Shoot"). Rashad's change in sound mirrors his personal drive for redemption, his notes-to-self manifesting as encouragement to his listeners to face their own burning houses.
Artist: Sloppy Jane
Album: Madison
By Jackie Pierce
Sloppy Jane's second album, Madison, made headlines for the location of its recording: a cave, specifically the Lost World Caverns in West Virginia, but the chamber pop album's unique setting serves as much more than just a publicity gimmick. Madison's gorgeous sweeping orchestrations are given a deeply complex sound, and the cave creates the perfect ambiance for the auditory and visual concepts created by the songs and music videos. With its unnerving strings compositions and mentions of death in nearly every track, Madison feels at times more like a horror film score than a rock album. The rock orchestra of Sloppy Jane is led and conducted by Haley Dahl, who serves as both band frontwoman and creative director. While often leaning on complex and dark imagery, Madison remains rooted in Dahl's story of heartbreak. Its dramatic orchestra and Dahl's striking, yet ethereal vocal performances work to convey the album's theme of personal horror stories like unrequited love, death of loved ones, trauma, and abuse. As Sloppy Jane moves away from its punk roots into a more avant-garde orchestral style, they have created an album that truly sounds like no other this year.
Artist: Jazmine Sullivan
Album/Project: Heaux Tales
By Sydney Carlson
Feminist musicians have historically redefined music's male-dominated spheres by empowering themselves and womankind through their art. This year, none have done it as unapologetically as Jasmine Sullivan. In her fourth album, Heaux Tales (yes, pronounced, "hoe"), she provides multidimensional insight into the female struggle of framing sex and love around her own worth. Sullivan has been in the game since 2008, and has taken on bolder styles of dance and hip hop to reach the right audience. But in her latest album, she opts for a simpler sound atmosphere to not distract from–but rather contrast–the raunchy and unfiltered lyrical content. With personal anecdotes from several women, she paints a picture of the thrills and disasters that accompany the temptations of lust. The baggage is beautifully executed from start to finish, with emphasis on the unified experience of womanhood. Sullivan says the album's purpose is to "give a voice to every woman. We're deserving of respect whether we work as a CEO of a company or we stripping. It's about unity." Thus, she takes up the big sister role many turn to for encouragement and relief, and also offers a bigger movement of support amongst young women to own their sexuality as a part of their identity.
Artist: Yeat
Album/Project: Up 2 Me
By Sydney Carlson
Yet another generation of so-called "Soundcloud Rappers," attempting to follow the footsteps of the trap game's top leaders has taken charge of the industry. 21-year-old rapper Yeat has stood above them for his stronghold on the new wave of "rage" rap that has gained popularity on social media platforms. The Romanian rapper's harsh beats carry with them a sense of determination to harness angst within the listener, a message that has captured the attention of Drake and other rappers alike, who have been caught reciting one of his catchy lines: "This song was already turnt but here's a bell." These bells are one of the notable qualities of the production he completed independently, paying akin to similar raw techno-trap that has been embraced by teen audiences. Yeat battles the tendency for this type of rap to have more songs as fillers for an album. In his vocal inflection, he dodges the corniness of other rappers who usually hit a wall with a lack of energy. Today, rage rap has repackaged teen rebellion into a shiny new parcel for listeners to chaotically enjoy. With each song, Yeat utilizes his production to entice a moment of euphoria that is anything but soulless.
Artist: Madlib
Album/Project: Sound Ancestors
By Evan Holter
Madlib can't help but make good beats. The hip-hop beat master graced January 2021 with the release of Sound Ancestors, an unconventional collaboration between himself and UK electronic producer Four Tet. Despite their very different backgrounds, the pair crossed paths before when Four Tet remixed Madvillainy in 2005. Sound Ancestors sees the duo reuniting 15 years later, following the formula of Madlib's Beat Konducta series by delivering an instrumental album themed around a certain sonic palette. The album is filled with bite-sized soundscapes and eclectic sample juggles on tracks that never retread ideas. Tracks like "Loose Goose" demonstrate their chemistry, as the pair trade eerie synths and chunky rhythms. At times it's hard to decipher whose contributions are whose, as the album leans decidedly more to Madlib's wheelhouse. The quick 41 minute runtime is stacked with Madlib's signature dusty drums, off-kilter swing, and a wide range of sampled textures. From the dreamy kalimbas of "Hopprock" to the pan flutes of the title track, the album is transfixed on non-western instrumentation. Madlib and Four Tet's brave explorations of unconventional sample material and rhythms make it a captivating listen from front to back and a testament to both veteran producers' drive to innovate in a year where the sound of hip hop beats was anything but stagnant.
Artist: Priya Ragu
Album/Project: damnshestamil
By Tavish Mohanti
Priya Ragu, along with her brother and producer Japhna Gold, invents an entirely new sound in her debut album, damnshestamil, blending soulful R&B with Tamilian folk instrumentals. This distinct mix of South Asian and Western music, dubbed "raguwavy", undermines expectations and reflects a cultural struggle that Ragu, like many first-generation immigrants, faced in her childhood. Ragu was born in Switzerland to refugees of the Sri Lankan civil war. As the only brown kid in her school, she found it difficult to connect with her heritage, but through music, she found the perfect way to marry the Swiss and Sri Lankan parts of her identity. In songs like "Good Love 2.0," she fuses electro-pop synths with tablas, a North Indian drum, and the Sri Lankan flute. In others, like "Kamali", she samples from Tamil-language "Kollywood " films and traditional Tamilian folk songs. In the closing track of the album, "Santhosam", she sings entirely in Tamil. She weaves a piece of her Sri Lankan roots into each of her songs, and her cultural appreciation drips from every beat and melody. This refreshing re-imagining of R&B, coupled with her silky voice, intoxicating instrumentals, and unapologetic lyricism, make Priya Ragu one of the most promising break-out musicians of 2021.