TV Girl @ The Roxy [12/17/21]
Photos by Mia Lin
"He's older than I expected," I said in Mia's ear over the opening chords of "Pantyhose," the first song on Indie Pop band TV Girl's debut album French Exit. They were playing the final show of a tongue-in-cheek "6 and a half year anniversary tour" celebrating the album's release in 2014. They had begun very suddenly, without fanfare, featuring 19-year-old Jordana Nye on the bass and electric guitar, Wyatt Harmon on piano, Jason Wyman on drums and the inimitable Brad Petering on lead guitar and vocals. The band's signature techno beats, jangling tambourine, heavenly harmonies and kitschy samples bounced the room. Even the disco ball, spinning cynically from the Roxy's low hanging ceiling, couldn't help bobbing its head in time. In the crowd, the hatted heads of hipsters also bobbed. Despite the music's fast pace and infectious beat, the crowd was relatively muted, most people standing idly, tapping their feet and nodding their heads. Men swayed back and forth with their arms clasped peacefully around their girlfriends' waists.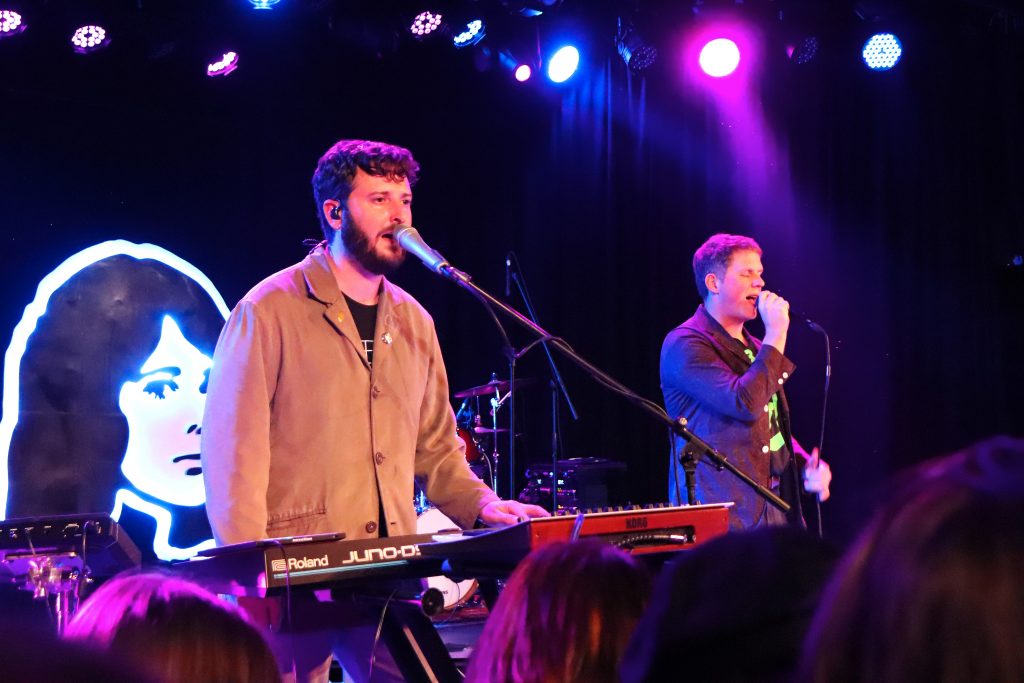 "That's what happens when you make music for sad people," Mia told me, "They don't dance at your shows." But we danced anyway, it was impossible not to as the synthesizers shook out our shoulders and tingled our toes. Behind us, a trio of bearded twenty year olds breathed down our necks, saying things like, "wow!" and "woah!" every time a new song started. The band played the full album top to bottom, with no skips and a few spoken interludes, during which Brad spoke in a monotone about the perils of love and success. He made some self-deprecating allusions to his many viral TikTok hits, and repeatedly mentioned his contractual obligation to play French Exit in its entirety. He seemed as disinterested as the crowd, reciting banter he had clearly used to charm audiences a thousand times before. "It's true, every word of that song is true," he told us sarcastically, repeating it like a refrain, "I haven't lied to you, I wouldn't do that, never have, never will." But rather than a cool subversion of artists' tendency to pander to and flatter their audience, Brad's cynical remarks came across as bored and disdainful; instead of letting us in on the joke, it felt like the joke was on us.
The overhead lights danced from blue to pink to orange and back again. A huge cardboard cutout of the band's iconic image, the black and white face of a young woman, smiled her Mona Lisa smile at the band's backs. She was turned three quarters toward the onlooker, her eyebrows slightly drawn, as if she had just turned around upon hearing someone shout her name. Brad nodded at her over his shoulder, describing her as "another dream girl," to me a representation of the ever-present TV girl woman-as-object, woman-as-image, a perpetual figure of bitchy sexual liberation and emotional callousness that always struck me as a bitter but pervasively tender amalgamation of all the lovers who had ever hurt Brad's feelings.
The titular TV Girl "girl" does not reference the band itself, as she existed before the band expanded to include its sole teenage female guitarist. She instead represents the object of Brad's affection, the "you" he sings to, sometimes named as "Louise," "Anjela," "the Daughter of a Cop," or "the Blonde," and sometimes formless, nameless, sleeping with men out of self disgust ("Hate Yourself"), idleness ("Talk to Strangers") or vengeance ("Her and Her Friend"). Before playing "Louise," Brad described a French foreign exchange student and model who became involved in a love triangle with several photographers, his tone all at once pejorative, sympathetic and loving. As he sang about the women who had used and abused him, the cardboard cutout watched his back, beautiful and demure.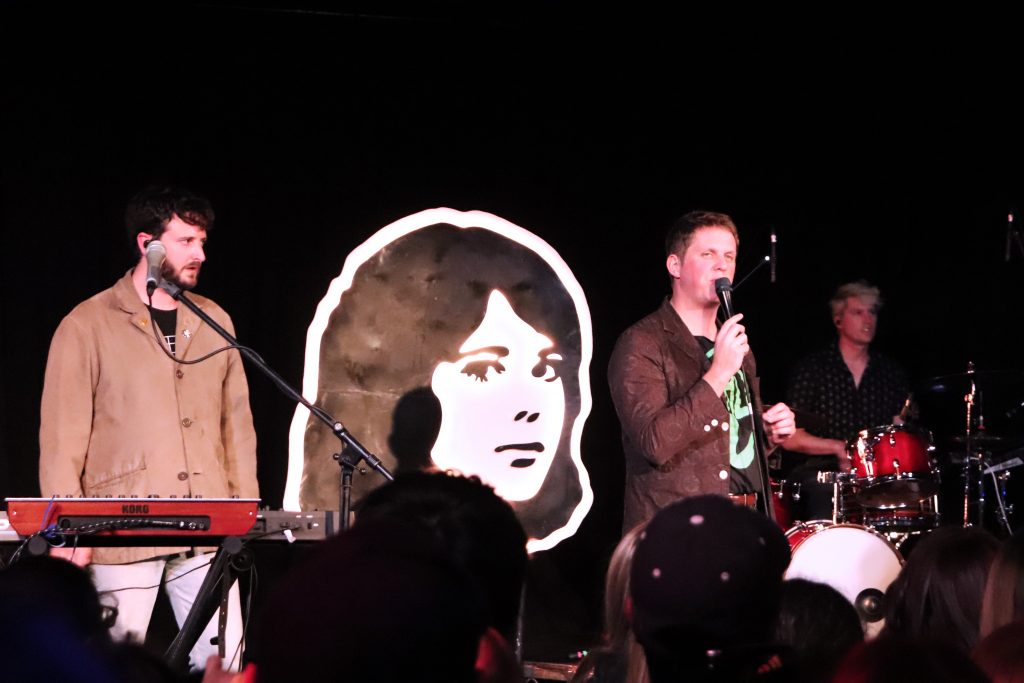 Devorah Levy-Pearlman discusses TV Girl's undercurrent of misogyny and female objectification in her brilliant article "TV Girl has a Problem With Women," published on My Spilt Milk in 2019; I recommend reading her article for an elaboration on why Brad Petering's use of female symbols and characters bothered me. A welcome counterpoint to Brad's jaded and world-weary performance, however, was his guitarist Jordana Nye, who was open and energetic to the point of stumbling over her words when Brad asked her to introduce a song ("I literally can't talk right now," she said, blushing).
Maybe I mistook her nervousness for authenticity, since she is much younger and less experienced than Brad and his band. But where Brad went through the motions of banter, she played up her interactions with the audience, slouching and dragging her feet when the band pretended to leave the stage before the encore. When she cupped her hand around her ear to make us beg, the audience screamed louder than they had the whole set. Wyatt Harmon was also a joy to watch perform. His right hand played frantically while his body turned away from the piano to dance with his eyes shut and his hair stuck to his forehead. Jordana and Wyatt's harmonies elevated Brad's voice from the trendy male voice crack singing style (in the same vein as Alex G or Will Toledo, straining endearingly from the top back of their throats) into a heavenly and enveloping choir. When Jordana played a song off her 2021 album with TV Girl "Summer's Over," her voice was clear and beautiful, and Brad stepped back to allow her center stage.
TV Girl was technically lovely, accomplishing the challenging feat of incorporating samples and audio clips seamlessly into live music. While I personally found Brad Petering flat and easy to dislike, the rest of the band buoyed the show into a frenetic and joyful performance. Despite the subtle misogyny of the lyrics and imagery, the songs were full of warmth and energy, with Brad's irritation at his female subjects balanced by a simultaneous sense of adoration and yearning. "In all seriousness, in all earnestness," Brad told us, looking down at the stage in front of him, "I just want to say, giving you guys a tiny thrill in your otherwise miserable lives has been a pleasure." But really, Brad, the pleasure was mine.