Written by Lucas Chen
Photos by Chloe Gonzales
It's a Friday night in Los Angeles, spring has sprung, and Wednesday's sold-out show at the Teragram Ballroom is teeming with restless energy, camouflage clothing, and people who definitely order alternative milks in their coffee. Wednesday, signed to the independent label Dead Oceans (Japanese Breakfast, Phoebe Bridgers, Mitski), is here tonight for their sold-out, second-ever show in L.A. They're on tour for their fifth studio album, Rat Saw God, a little piece of "bootgaze," Appalachian magic released in April of this year. The intimate venue pulses with a pre-show playlist of alt-rock, country classics, and throwbacks, and the audience (mostly 20-somethings) chat patiently and settle in with each other before the band comes on.
The 5-piece band was formed by Karly Hartzman while she studied photography at UNC Asheville in 2017, and is now made up of guitarist MJ Lenderman, drummer Alan Miller, and lap/pedal steel player Xandy Chelmis. Their recording bassist, Margo Schultz, is absent tonight, and the group is instead accompanied by Ethan Baechtold (who is also a former collaborator of the fellow Asheville-based, existentially-challenged Indigo de Souza). The group's sound reflects a new era and emerging alternative genre gaining traction in the South and frequently draws upon their experiences as kids growing up in 21st-century North Carolina. This is especially true of Rat Saw God, which is named after an episode of Veronica Mars, and tells the stories of Hartzman's childhood while drawing sonic inspiration from country-rock, emo, and shoegaze.
The group opens with "Hot Rotten Grass Smell," before playing a few tracks off Twin Plagues, their 2021 breakout album. It's a reminder that this group – which has released five studio albums in five years, mostly amid the pandemic – has a lot of content to cover on this tour. While Rat Saw God leans slightly toward country and pop, Twin Plagues is heavier and full of raw guitar that easily fills the room and explodes out onto the street. Still, I hear the person next to me say to their partner "Everybody's happy!" which is a surprising but accurate observation of both the audience and the band. While Wednesday's lyrical content and tone are devastating, there's communalism among everyone in the room that tempers more challenging emotions with joy and celebration.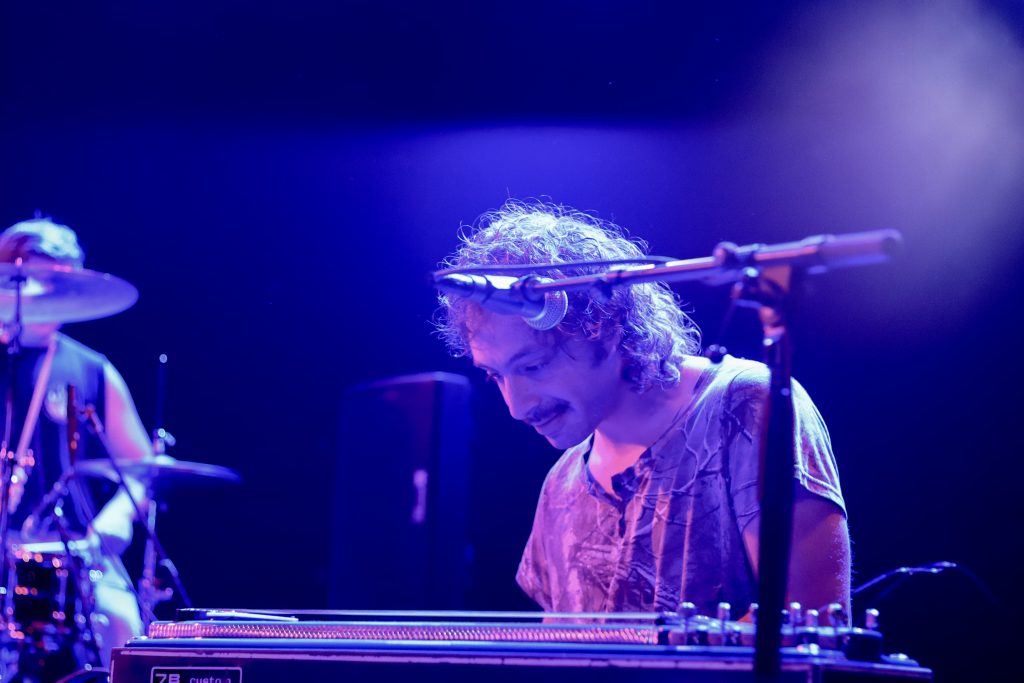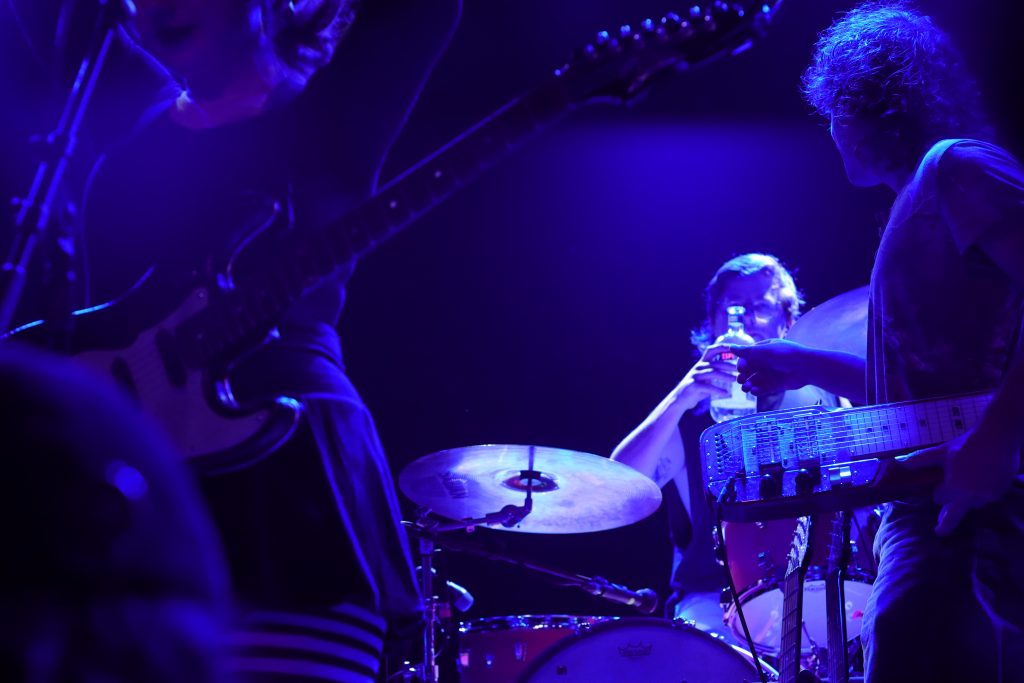 Hartzman, as the band's main conduit with the audience, does not attempt to maintain a fourth wall. Throughout the concert, she tries out a few jokes that fall flat, organizes the mosh to one side of the room, and relates to us many of the stories that inspired her lyrics. At one point, she looked out into the audience and says "Is my friend Shawn here? She's supposed to sing the next song with me." The Shawn in question is Shawn Maron of Cryogeyser, who are touring with Wednesday and opening for the majority of their shows. The crowd parts as Shawn makes her way to the stage from the back of the room, is hoisted on stage by a burly audience member in the front row, and joins the band for "The Burned Down Dairy Queen." The song begins with a long, drawn out dissonant harmony, for which Hartzman and Maron's similarly emotional and explosive voices are perfectly suited. There's a vulnerability and unpretentious nature to Wednesday's music that translates exceptionally well from album to stage, because it's built into the bones of the members.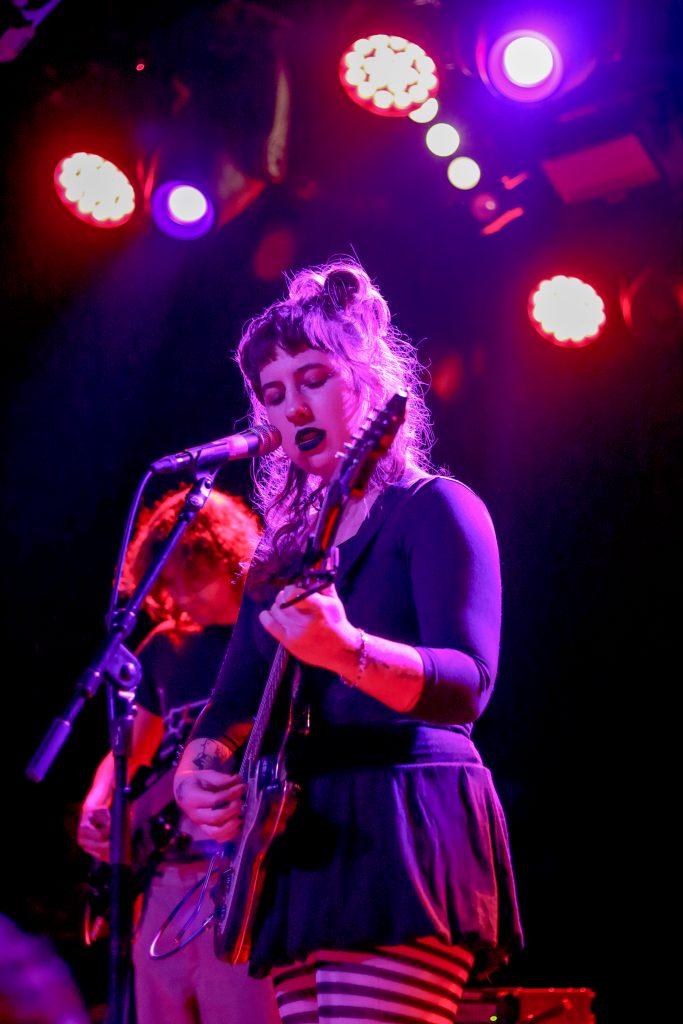 Throughout the set, Hartzman displays her knack for country-style storytelling ("Chosen to Deserve," "Gary's," "Bath County"), while the band transitions seamlessly between Wednesday's many genres that range from tasteful classic rock to twangy punk country. We're taken on a journey through the characters in Hartzman's life, where we meet the kid who took so much Benadryl he had to get his stomach pumped, the hypocritical neighbor who gave out full-sized candy bars on Halloween, and a string of missed connections who all live in the same pallid and listless backdrop. Hartzman's wisdom and keen perspective on life, seeing beauty among the detritus of Americana, breathes life into the bands music and creates a lasting sense of wonderment.
A peek behind the scenes at the band's Instagram, Tumblr, and YouTube reveals that their on-stage friendship transcends into something that resembles more of a family. Before "Quarry," the band passes around a bottle of tequila; they have a strong start, and maybe it's the drink or the nerves, but Hartzman forgets a few verses. "Hope this isn't anyone's favorite song" she jokes after missing a chorus, before the band loops back around to repeat some of Wednesday's best and most miserable lines of the night:
Georgie set fire to acres of cotton settin' off model rockets
The kid from the Jewish family got the preacher's kid pregnant
They sent her off and we never heard too much more about it
The sweet talk never lasts, and you learn to go on without it.
Rat Saw God, in the words of the band, is "about riding a bike down a suburban stretch in Greensboro while listening to My Bloody Valentine for the first time on an iPod Nano, past a creek that runs through the neighborhood riddled with broken glass bottles and condoms, a front yard filled with broken and rusted car parts, a lonely and dilapidated house reclaimed by kudzu." In the outro of "Bull Believer," the band's epic 8-minute Homeric closer, Hartzman screams out the last of her voice ("FINIIIIIIIISH HIIIIIM," she belts in reference to the video game, Mortal Kombat). Their vision for the album rings true and that's exactly where I am, at least mentally: riding my bike down a street I've never driven on, feeling a sense of nostalgia for memories that aren't mine but might as well be.
More: www.wednesday.band