To me, Coachella has always been an extravagant, elites-only experience that I never imagined I would participate in. Let alone the financial cost of the tickets, food, and lodging, the distance and desert heat were enough for me to rule it out indefinitely. The legendary festival, consequently, was not on my radar when my old boss texted me asking if I'd be interested in working for her partner's restaurant, a food vendor at the event, in exchange for a camping and festival pass. Free labor and free Coachella? I didn't hesitate.
While I could run down a list of the mind-blowing performances and moving artistry of nearly every set I saw (after I got off from work at 3, of course), I'm sure you've already seen most performances in clips on Tik Tok and Instagram and gotten your fill of the setlists, background visuals, and surprise guest artists. Having attended for only the second weekend, I, too, have watched the Weekend 1 Frank Ocean videos in vain. Instead, I've tried to piece together some memories and reflections on the wild, sweltering, star-studded festival, in hopes to offer some insight into the enigma that is Coachella. (Spoiler alert: it was awesome, AND, I will never pay my own money to attend it.)
The Pyramid
What became apparent shortly after my friend and I obtained our wristbands from Willcall were the ways in which different tiers of festival-goers were treated at each stage of the process. Anyone will tell you that Coachella is much more than just the musical performances inside the festival gates; Indio in April evolves into a bursting web of parking lots, information booths, police barricades, and tent camps with no end in sight. Yet at each and every stop along the way to arriving at the festival, there are designations for GA, staff, Security, VIP, and Artist pass holders. At every corner, you're reminded of just where you stand in the ranking of how many hundreds (or thousands) of dollars you've put into the weekend.
As an unpaid staff member "hired" on short notice, my friend and I did not sport a parking pass as we pulled up to the presumed "Staff Parking Lot". We were turned away at the gate with the threat of our car being towed, and sent to another lot to park our car for the weekend… still with no parking pass. "If anyone asks you," our supervisor advised us over the phone, "you tell them oh no my parking pass must have fallen off my dashboard, please let me in!" which was somehow reassuring enough when mixed with our exhaustion post-LA traffic, and our anticipation for the days to come. A 20 minute drive later, we unloaded our car onto our backs and joined other staffers in a line to board a shuttle that would take us to our campground adjacent to the festival grounds. The tents were packed in like sardines, crawling with people playing music and dancing, among other questionable activities at the time of our 1am arrival.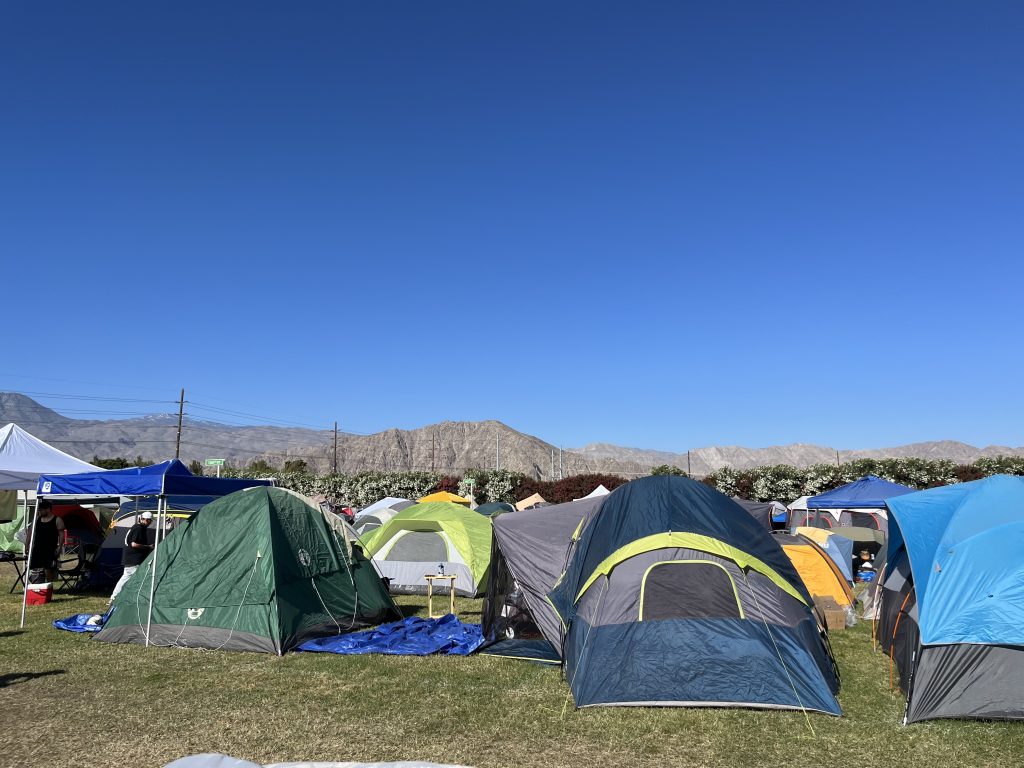 With that being said, the scene at the GA car and tent camping lot was nothing short of chaos. I was grateful to be in my peaceful grid of staff campers, many who were multi-year Coachella veterans with impressive glamping setups, instead of packed in with the thousands of people at the larger sites. Though the festival does an impressive job of providing infrastructure to campers like phone-charging stations, portable showers, and even a General Store, it's clear that the more relaxing and luxurious setup is at the nearby rentals and hotels.
Inside the festival, the same pyramid structure exists in terms of who can go where, and the amenities you are awarded. The backstage artist-pass areas were stacked with free beers, sodas, and shade, while the rest of the attendees suffered 97 degree heat under the sun, having already spent $40 on breakfast. Sporting my Staff Camping wristband, I thought I might get special access to these shady oases, but security was usually tight if you tried to pass from the staff area into a VIP zone. My friend and I soon found, however, that throwing your left hand (where your wristband is) in your pocket and walking briskly and coolly past the security guard at the gate was a pretty smooth way to get where you shouldn't be. After one of these sneaky deviations, I stood 5 feet away from Alex G backstage before his set, and security didn't even raise an eyebrow. Confidence was key.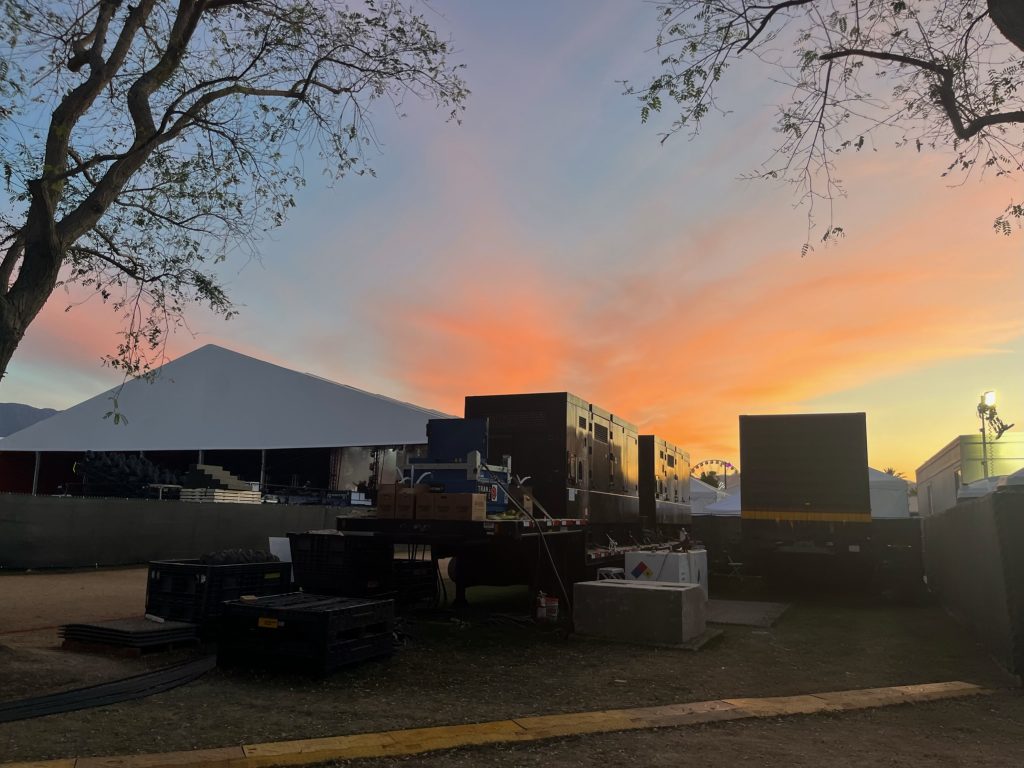 Close Quarters made for Close Friends
Taking it back to our shuttle ride to the campsite late Thursday night, my friend and I were struck by the touching motivational speech our bus driver offered us before hitting the road. After warning us against pick-pocketers and heat exhaustion, he told us, "you people are what keep this festival going, and we wouldn't be able to do any of this without your hard work." While I'm not sure that my selling vegan burritos for $20 a piece was single-handedly holding up Coachella, his words were meaningful, and reminded all of us crammed into the bus with our sleeping bags and duffels that we were in it together.
Through the incessant melting heat and dragged-out days emerged a surprising sense of solidarity among not only my fellow staffers, but every festival worker and attendee. People in the crowds donning paper fans generously shared the luxury of a breeze with those standing nearby, and security walked the lengths of the barricades with huge misting hoses, spraying the crowd. Seeing one of those machines come out in the front of a crowd had me pushing for the barricade like Beyonce was on stage.
At our campsite, we made friends with the vendors next to us, who flexed a multi-tent colony with foldable chairs and umbrellas. After watching me and my friend huddle in the remaining sliver of shade next to our tent as we got ready the first morning (the inside of our tent becoming a sauna after it hit 8:30am), they offered their covered area to us, along with cold beers and advice for the days to come. They told us which entrances we could slip through, the best vendors to trade food with, and how to become friends with a golf cart driver to get rides back to the campsite at the end of the night (this was key). While it felt a bit early to start drinking, we basked in the comradery and generosity of our neighbors, who saved us from our ill-planned camping arrangement.
Later that day, other friends came by our vendor's stand at the festival, offering five popsicles in exchange for a burrito. The trade was swift, and the kitchen staff rejoiced at the dribbling watermelon mess. After our supervisor helped another vendor fix their refrigerator, two heaping plates of miso mushroom noodles were gifted to our stand, sprinkled with crunchy shallots and fresh green onion. Helping one another out amidst the pandemonium of music, heat, and crowds was evidently more valuable than money.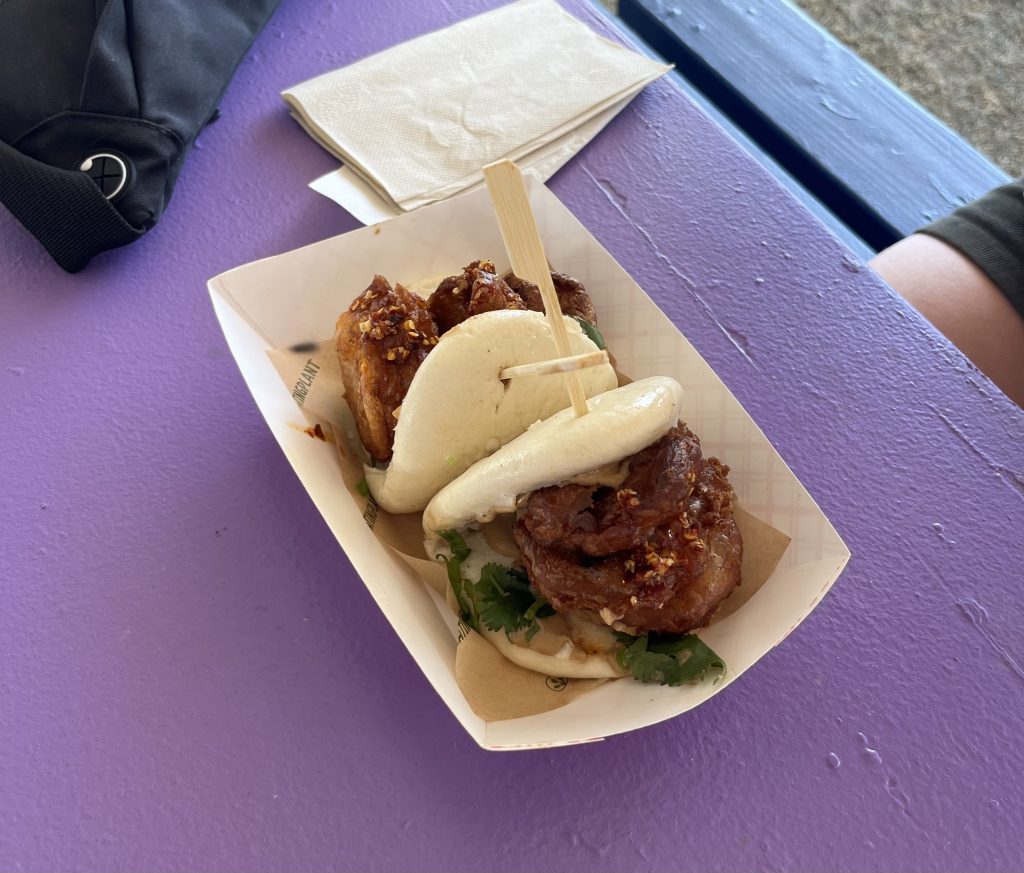 Some of the Worst Concert Photography Imaginable
I'll end my journal here with some sub-par documentation of the incredible sets I had the privilege of watching last weekend. Whether it was 070 Shake crowd surfing as she sang her and Kanye West's hit, "Violent Crimes," or Remi Wolf's passionate acoustic version of "Cake," I couldn't help but continuously feel awe at what I was experiencing. At times I felt so close to the performer that I could make eye contact with them, while at others, the vast expanse of people between myself and the stage were a reminder of how insignificant I was as a spectator, just another ant in the seething mass before Bad Bunny or the Gorillaz. Regardless of where I stood in the crowd, I could feel the meticulous care put into each set, and the months that went into preparing for a performance as big as Coachella. My awe joined my sense of gratitude for having the privilege to experience such mastery of music, and in such a vast quantity. While I never imagined I would end up there, in a sea of exhausted, sweaty bodies, listening and swaying with the masses, I surprisingly felt like I belonged.