Photos by Hope Phahla and Isabella Appell
In a world often overshadowed by complexity and chaos, there are moments when music has the power to transport us back to a realm of childlike wonder. Allow me to immerse you in an unforgettable concert experience, one brimming with ethereal melodies, the celebration of simplicity, and the enchanting magic of Yoke Lore.
In a stage illuminated by both his radiant talent and undeniable love for his craft, Yoke Lore, known to the world as Adrian Galvin, is embarking on a journey that traces back to his roots in the performing arts. Raised within the vibrant tapestry of the artistic world, Yoke Lore's story starts with a deep-seated passion for percussion, ultimately leading him to experiment with singing. He has recently unveiled his debut album, 'Toward A Never Ending New Beginning', mere weeks before embarking on his much anticipated "Holy Havoc" US tour. In this new chapter of his musical embarkment, Yoke Lore has embraced change with open arms, taking his audience with him on this voyage through his evolving artistry.
As I step into The Fonda, I feel as if I am stepping into a haven of creativity and warmth. The stage is adorned with a quilted backdrop, lined with the words "YOKE LORE", a beacon of unity throughout himself, his music and his fans. Overhead, a dazzling array of colored light bulbs shoot through the floor as if they are floating, casting a kaleidoscope of hues across the stage. This is more than a music hall, I begin to think; it is a safe space, a sanctuary for those longing for a sense of comfort.
In the heart of the concert crowd, it is impossible to ignore the sheer exuberance radiating from the multitude of girls who are gathered, their enthusiasm palpable in every giggle and shimmering eye.
The night begins with the indie rock charms of girlhouse. With their genuine passion for music on full display, they take the stage, embracing the acoustic elements that generate an atmosphere of heartfelt authenticity. The leader, Lauren Luiz, infuses every note with emotion. Her infectious laughter in between songs resonates with the crowd, a genuine testament to her gratitude for the journey that brought her to this point. Luiz's vocals reveal her raw, visceral essence as she sings "the fatalist" and girlhouse, as a collective, leaves fans feeling deeply moved as the audience becomes enveloped in a cocoon of vulnerability with the conclusion of "concussion".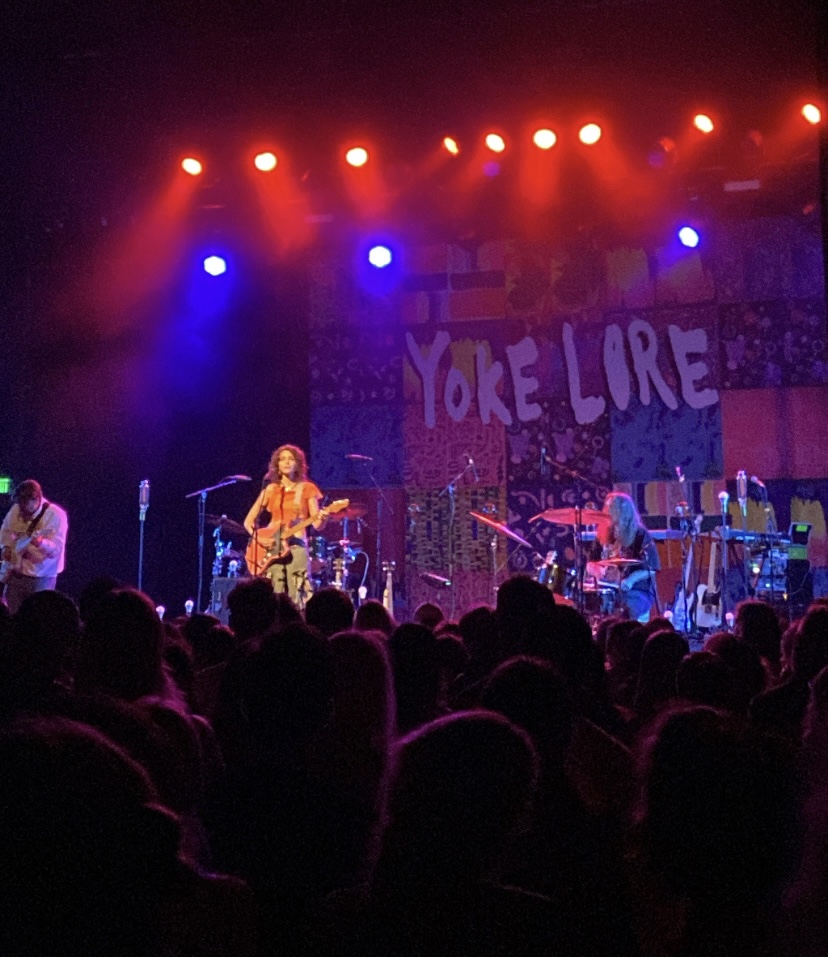 As Girlhouse exits the stage, ethereal music washes over The Fonda, setting the stage for the much-anticipated arrival of Yoke Lore. As a hushed excitement envelops the venue, Yoke Lore bursts onto the stage, an endearing touch of awkwardness in his entrance. Pausing for a brief moment, he gazes out at the expectant crowd, a genuine smile breaking across his face, as if in that very moment he fully comprehends the magnitude of his success. In a snapshot of pure, unadulterated joy, he grabs his banjo and seamlessly transitions into "Fake You". 
The atmosphere becomes electric as the anticipation reaches its peak. Bathed in a soft spotlight and with a beguiling smile, Yoke Lore begins to sing a mesmerizing cover of "Truly Madly Deeply". As the night unfolds, he surprises the audience by debuting an unreleased song, "Enough", from his upcoming album. As the rhythm of the music takes hold, the energy in the room intensifies. Yoke Lore's feet begin to stomp intensely, reverberating through the floor, while his hips sway with a raw, visceral power. He flies across the room, lifting up his shirt, igniting a chorus of exhilarated girl screams, a testament to his magnetic stage presence.
In an electrifying twist, Yoke Lore decides to unveil another gem from his treasure trove of unreleased songs. With no instruments in sight, he weaves a tapestry of sound using only electronic elements. The crowd watches in awe as he seamlessly merges the world of music and technology. Segueing into his song "Shake", the music reaches a halt as Yoke Lore incorporates a spiritual chant into his stage presence. Reading a hymn, a common theme within his "Holy Havoc" tour, he says to "shake yourself or you're never getting a new beginning". Then, in a moment of whimsical connection, he crumbles up the piece of paper, a symbol of the ephemeral nature of music, and sends it sailing into the crowd.
Adding to the concert experience, Yoke Lore weaves ethereal tunes in between tracks, momentarily suspending time as he transitions to an acoustic guitar. This delicate interlude gives way to his heart wrenching song "Winona", where frantic banjo strums and the thunderous incorporation of big drums convey a poignant message of self-sabotage. Yoke Lore's ability to juxtapose moments of delicate intimacy with overwhelming power is nothing short of captivating.
In a heartwarming and unexpected moment, Yoke Lore makes a touching announcement, calling out to the audience that he has a special guest in the house. To the crowd's astonishment, his brother Noah Galvin, known for his role in Dear Evan Hansen, steps onto the stage. Together, they share an intimate rendition of a Cyndy Lauper cover, "Time After Time", and in a heartfelt display of brotherly affection, the two artists share an embrace and shed light on the depth of their bond.
In a moment of electric anticipation, Galvin exits the stage and the concert reaches a thrilling crescendo as Yoke Lore performs the song that catapulted him to fame- "Beige". As he incorporates his unique blend of self-created electronic beats, The Fonda explodes as they sing along with him in unison. Just as the euphoria peaks, he sprints off the stage, leaving me with the understanding that he would soon be on the cusp of immense stardom.
As the night draws to a close, Yoke Lore leaves an indelible mark on the hearts of the crowd. He unveils a special treat for his devoted fans, a song he only performs live, inspired by the enigmatic pages of Still Life with the Woodpecker. With passionate intensity, he confesses that the book has a constant theme of unanswerable questions that he will "never fucking be able to answer" and so his song dares to do the same thing.
As the final notes of the concert come to an end, Yoke Lore leaves the crowd in a state of blissful reflection and with a living testament to music's extraordinary capacity to ignite boundless emotions.