Denzel Curry @ The Novo [4/13/22]
Photos by Cuautemoc Sandoval
Figueroa Street. Chatter, smoke, and the occasional burst of lyrics fill the air above and around those in line. The eclectic crowd is eagerly awaiting the doors of The Novo opening, in preparation for Miami-Dade's own Denzel Curry's headlining show.
The Novo's location in the heart of LA's urban core, just steps away from the stadium formerly known as STAPLES Center, attracts a diverse range of music fans. Mohawks, afros, emo bangs, mullets, taper fades, baggy pants, skinny jeans, dyed hair, and fitted hats are just a few of the standout looks from the group. From punk rockers to hip hop heads, and a bit of everything in between, the weirdos and outcasts of LA are showing out for Curry's MELT MY EYEZ TOUR.
Across the weeks leading up to both Coachella weekends, Goldenvoice, in collaboration with Microsoft's The Novo theater, hosts an exciting lineup of artists that will also be performing at the festival. Most touring artists playing Coachella typically schedule LA tour dates on or around the weeks leading up, as it's the closest major city to the Indio festival grounds. Despite the near cultural ubiquity of the impending festival weekend, the topic of conversation and focus for this crowd of music lovers is squarely on the night ahead.
Fresh off the release of his fifth studio album, Melt My Eyez See Your Future, Denzel Curry has been headlining sold out shows across America. Tonight is no different and Denzel is being assisted by his two openers: AG Club and Jean Dawson. Both of the two young supporting artists' die hard fans dot the venue, decked out head to toe in their respective merch.
After about a little over an hour of bodies flooding into the building, the house lights cut off as a single spotlight illuminates a DJ on the far right of stage. He begins to chant,

"A-G! A-G! A-G!"
Bobbing up and down behind the DJ booth with a primal energy, he incites the crowd to chant and scream along with him. Eight hooded figures emerge from the shadows, four sit on the darkened stage just in front of the DJ table. Stage techs fiddle with a large table at center stage, the other four figures take a seat in silence. All the while, Ornella Vanoni's hypnotic "Io Ti Darò Di Più" fills the venue like incense smoke.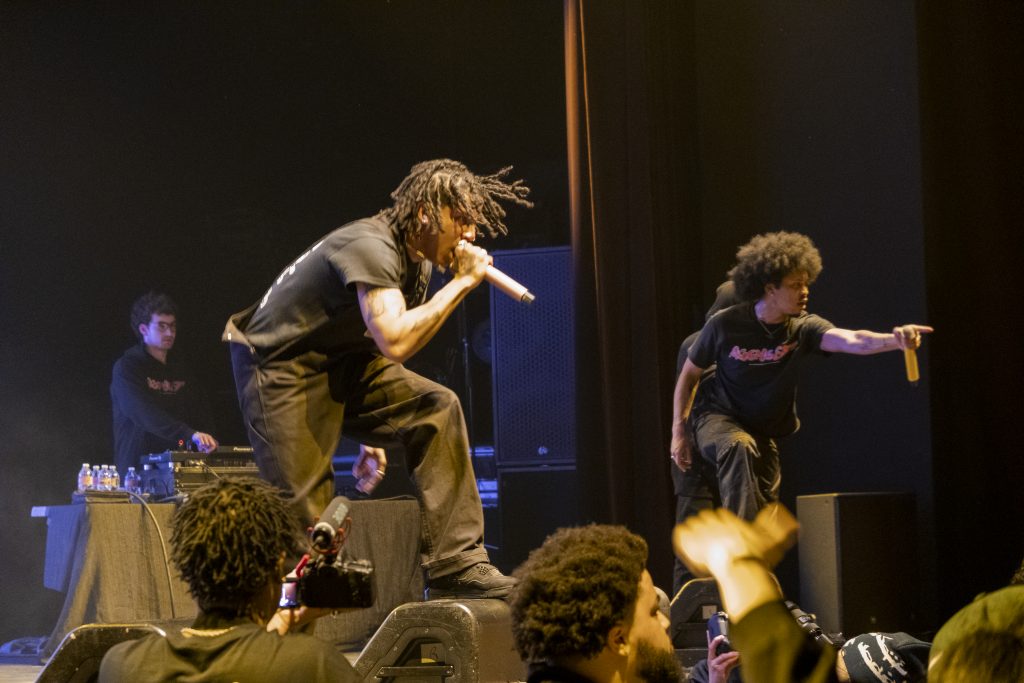 Suddenly, the atmospheric song is distorted and fades out to silence. The iconic trumpeting horn of AG Club's "COLUMBIA" blares over the speakers. De facto frontman Jody Fontaine reveals himself as one of the hooded figures at the table, climbing on top for an impassioned delivery of his first verse.
These raucous disciples of Odd Future (grandchildren of Wu Tang) rock the crowd, maintaining an intensity of energy only possible with the youth that they have in abundance.
This youthful and bombastic energy is carried over with the next opener, Jean Dawson, who from overheard murmurs has quite a few super fans in attendance tonight. Before Dawson's backing band can even finish setting up their plethora of distortion pedals, the crowd impatiently and excitedly begins to chant his name.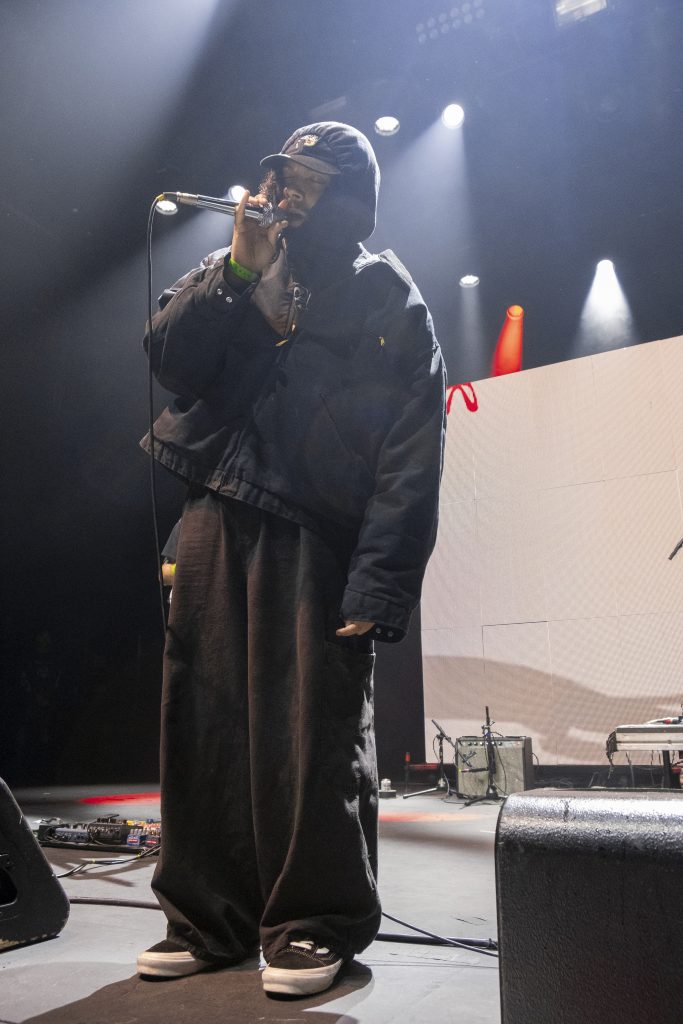 The audience doesn't have to wait long for gratification. Dawson steps out from the side stage with his characteristic cheeky vulnerability.
Big doe eyes peek out from his cinched closed hoodie, a couple tendrils of dreads dangle from beneath his baseball cap. His black hat and hoodie paired with a black oversized work jacket and similarly spacious black baker pants, creating a comically exaggerated silhouette like Roblox Kanye.
He begins his set by belting his latest single, "Porn Acting*", a song only a month old and yet a vocal contingent of the crowd already knows the song word for word. In between bouts of impassioned singing and shouting, a gracious glimmer can be seen in Dawson's eyes, paired with a subtle smirk of satisfaction.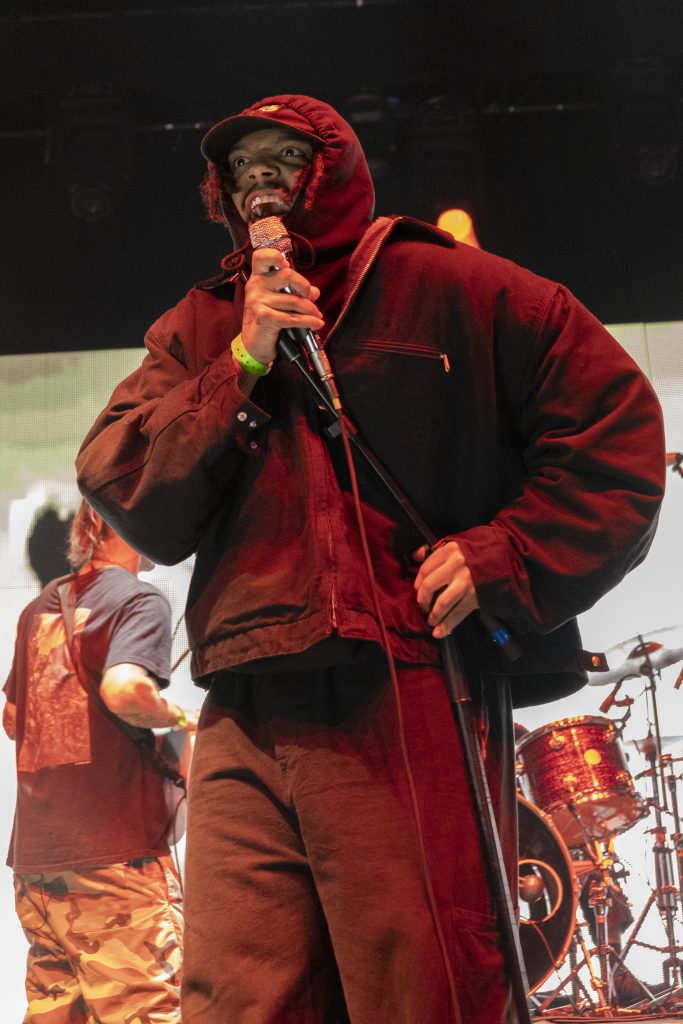 The 26 year old genre bending superstar in the making doesn't let his gratitude go unspoken, taking the time to reflect on the improbability of his situation and how far he's made it,
"I'm from Tijuana, Mexico. I'm a Blaxican! I used to go back and forth to San Diego for school. Then I moved to LA almost 10 years ago. Now I'm up here with y'all."
This introspective perspective turns out to be the perfect tone setter to tee up the main event, Denzel Curry's 'melt session.'
The stage is stripped down from the band set up, replaced with a DJ booth at the far right and a huge wall of screens at center. The house lights suddenly turn purple as the intro to Curry's "Melt Session #1" begins.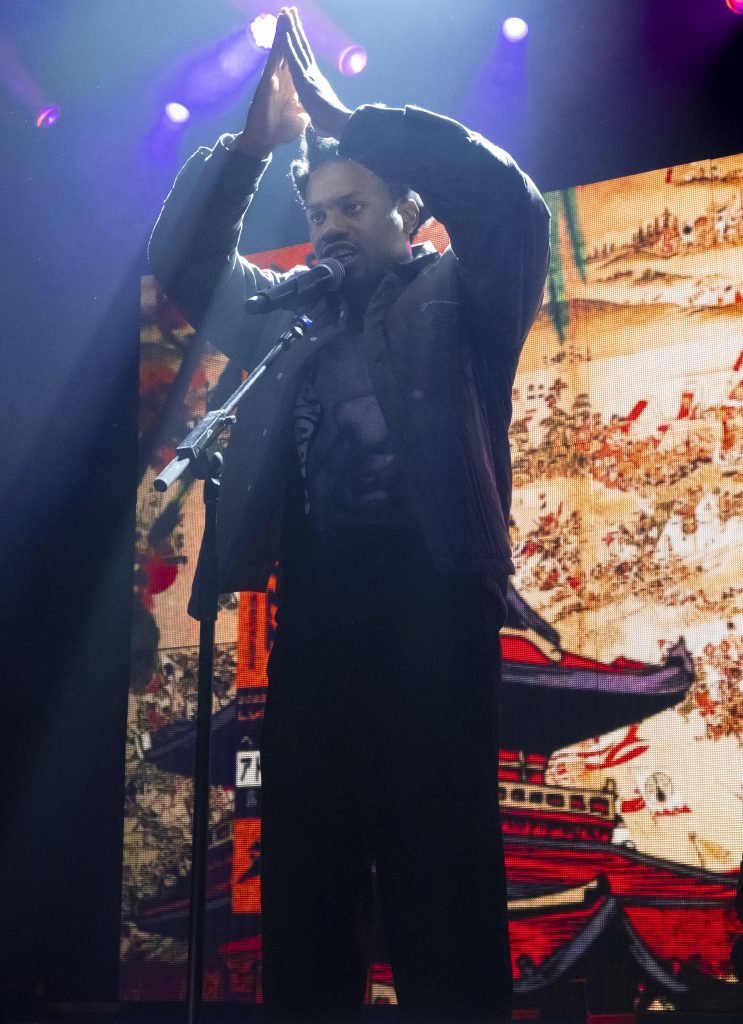 Denzel steps out from behind the DJ table right up to the microphone. He acknowledges the audience with a brief, "Yo!," before getting down to the work at hand. Launching into the track's first verse with such a cool demeanor and mastery of delivery you'd be forgiven for forgetting this is the same guy that made agro-banger "Ultimate."
With the next track on the set list, "Walkin'," Curry makes it known that his journey of maturation will only serve to amplify his ability to go hard; not hinder.
"Ain't no stoppin' in this dirty, filthy, rotten, nasty, little world we call our home! They get blickies poppin', ain't no option for my partners so they resort to scams and robbin'. Take away stress, we ganja-coppin', blow it all out, it's all forgotten!"
Denzel spits with serpentine precision, perfectly in pocket post beat switch. His hands flow out from him in a flurry, and yet he seems so in control, like a martial arts master shadowboxing.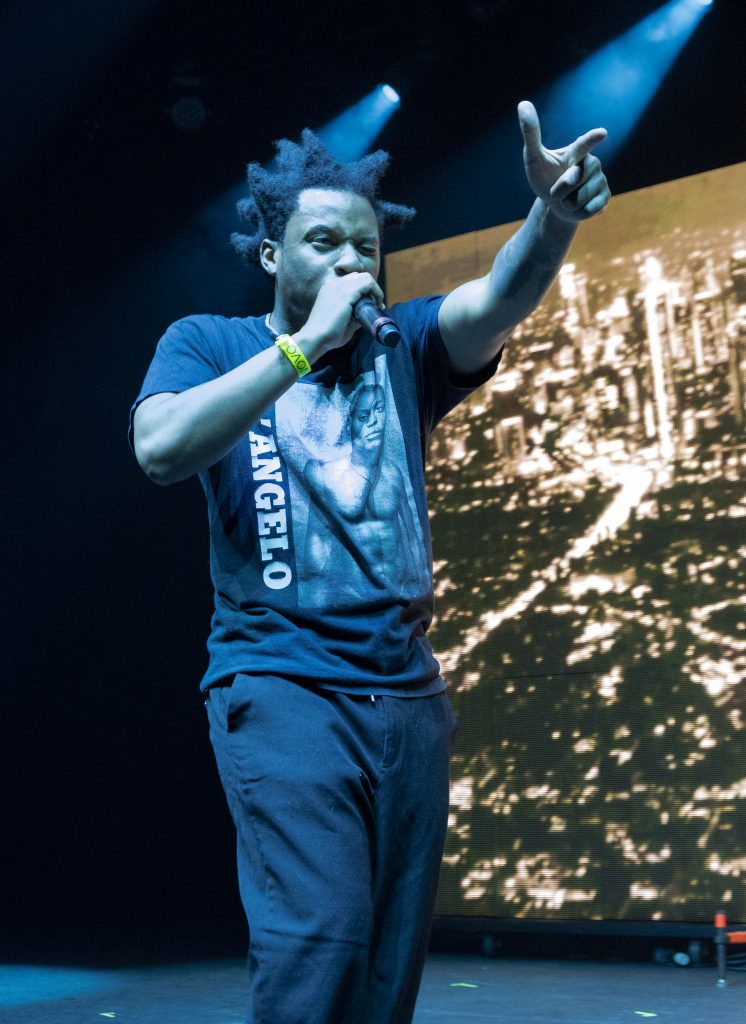 "John Wayne" starts a run of songs on the setlist that illustrate what a potent one two punch Denzel can be when paired up with a producer in his weight class; rapper/singer/producer JPEGMAFIA.
TDE producer and frequent Isaiah Rashad collaborator, Kal Banx, looks on from the photo pit grinning ear to ear as Denzel commands the chaotic crowd to their track, "Worst Comes to Worst."
Perhaps THE Denzel Curry production collaborator, Kenny Beats, gets a much earned shout out as the crowd croons along with T-Pain's hook on the trio's song, "Troubles."
Curry delivers a live rendition of his long time collaborator Powers Pleasant's producer tag before the crowd erupts with the beat drop on album posse cut, "Ain't No Way."
After running through many of the new album tracks, there's a palpable new energy in the crowd, demanding to be taken to the next level. Denzel has always been one to deliver.
He instructs every member of the audience to raise their cell phone light up in the air. This sea of people, both down in the standing area and up in the balcony seats, twinkles with dazzling white light in the inky black of the venue; a cluster of stars in deep space.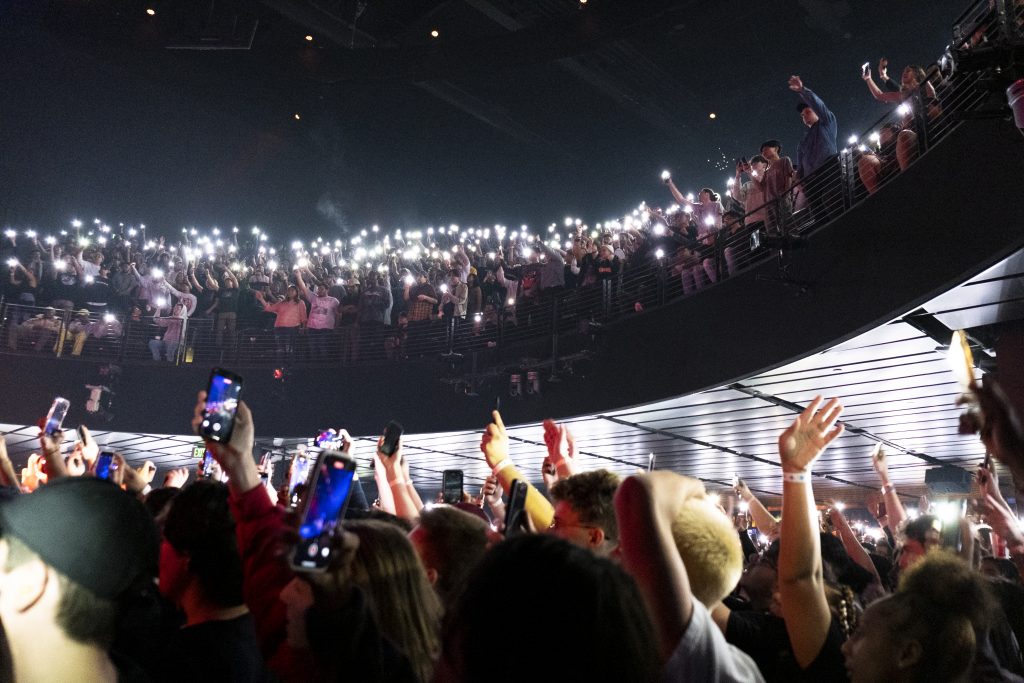 "SIRENS | Z1RENZ" off of Curry's critically acclaimed album TA13OO, suddenly booms over the speakers, sending the sea of lights into a rippling wave. In this moment, the crowd seems the most in tune with Denzel, and themselves, that they've been all night.
Never one to let things end on a down note, Denzel ratchets back up the tension, barking at the crowd to raise their hands in a 'U' shape. The instrumental to "Ult," off of Curry's 2016 sophomore album, Imperial, begins like a lingering threat.
Denzel follows through with a bombastic vocal performance, a rapid fire submachine gun flow, attacking the microphone. He's within inches of going full Super Saiyan.
The MELT MY EYEZ TOUR offers audiences an evening with a maturing, yet young veteran of the underground rap scene, a meditation on what he's accomplished, our collective memories associated with his formative work, and the promise of how much further he can evolve on this trajectory.