King Gizzard and the Lizard Wizard @ The Fox Theater Pomona [4/12/2022]
Photos by Anna Worgall
It begins with the bang of a gong.
It's 9:45 PM on a Tuesday night, and the crowd and I are starting to go more than a little bit crazy. Stu Mackenzie, the lead vocalist of the band jumps around stage with his bass guitar, screaming the lyrics of "I'm In Your Mind" from the 2014 album of the same name. During one of the instrumental pauses of the song Mackenzie takes a big gulp out of the cup in front of him and sprays it out onto the crowd. People are screaming. Within the first five minutes of their set, six people have crowd surfed their way to the front, only to be dragged into the photo pit by security guards who fist bump them as they run back into the frenetic horde. This is King Gizzard and the Lizard Wizard, Melbourne's mouthful of a rock band.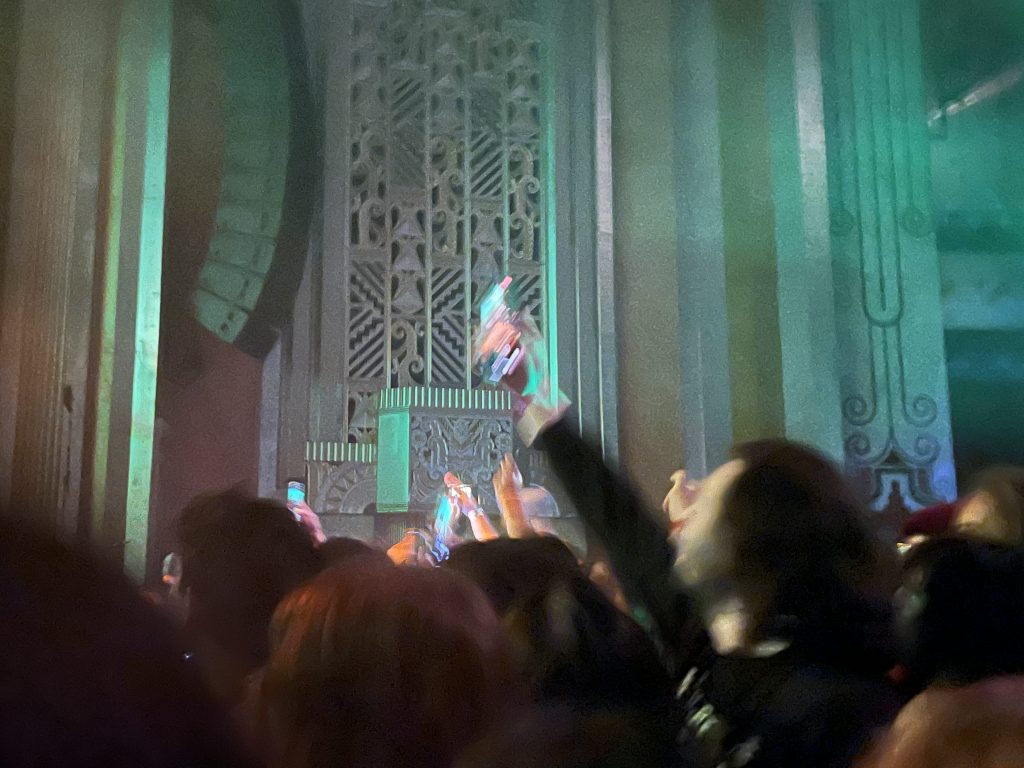 The six genre-bending rock stars that make up this energetic powerhouse have an eclectic look about them. I'm envious of keyboardist/vocalist/harmonicist Ambrose Kenny-Smith's fitted striped bootcut pants, guitarist/bassist/vocalist Joey Walker's luscious curly mullet, and the band's overall air of joyous intensity. These guys are happy to be here, and so am I. After their second song, Mackenzie speaks to the crowd earnestly, saying "It's very surreal being here. Very grateful I'm playing to such a sick room." 
The room is grateful too.
As I waited in the pit for the night's opener Mildlife to come on, I listened in on the conversations of the people of all ages around me. Some words I kept hearing repeated: psychedelic, podcast, dreamscape, work. They floated around me as the bass thumped through the speakers, making it difficult to tell what song was playing or what anyone was really trying to say. The crowd seemed tame then, I remember wondering how crazy they would get. Would they rage? I wasn't sure. I tried striking up a conversation with two high schoolers beside me, but they were more interested in snapchatting each other than chatting with me. A girl behind me complained about the poop already on the bathroom floor: it wasn't even 8:30 yet! Nonstop vape clouds were being blown in my direction, the air thick and hazy from fog machines and synthetic weed. 
Mildlife is a psychedelic jazz fusion band that also hails Melbourne, and while their grooves are a bit more chilled than King Gizz's, their look is just as funky. The bald-headed bassist didn't take off his aviator sunglasses once, not even when he whipped out a flute to serenade the swaying crowd. Heads bobbed up and down, side to side, all to different parts of the music. There was something about the competing mind-bending components that made it hard to choose what to shake your body to: the riffs on the guitar, the beat of the drums, the wiggling of the synth. There was simply a need to move!!
At some points it felt like the music was cutting through a canyon, reverberating around the historic concert hall– like voices blaring over the PA system into a giant cafeteria. Loud, echoey. Mildlife ended by telling the crowd: "you don't know how great it feels to be live." I Felt Alive.
As they stepped off stage, packing up their instruments to make way for that of the headliner's, the crowd was noticeably more abuzz than before. People behind me were discussing whether Mildlife had more of a Tame Impala or Daft Punk feel to them. Someone in the middle of the pit pulled out a book. Huh? Why would you want to transport yourself into a reality other than this one?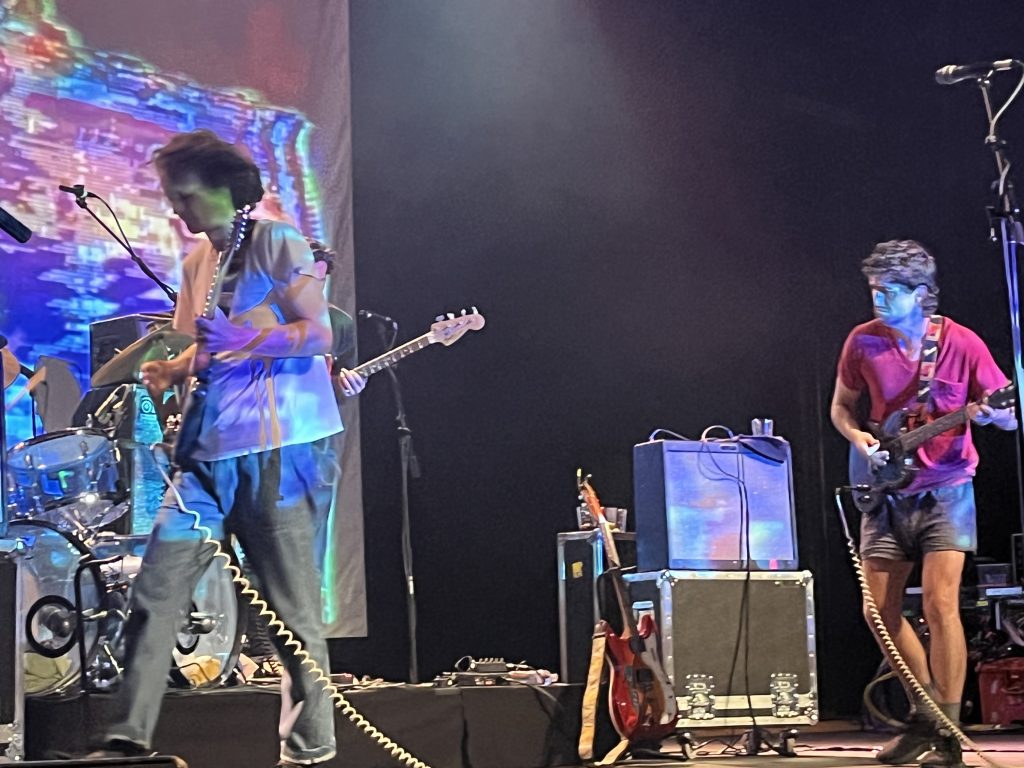 While Midlife performed with lights that changed color as they moved from song to song, King Gizz's stage presence was amplified by flashing images projected onto them. Hard red lines and greenish-yellow swirls, twinkling stars and trippy pulses. As their almost two-hour long set raged on, they became increasingly inebriated, off both the beers they chugged and the way the excitement of their music created a feedback loop with the energy of the crowd. They switched seamlessly from more intense heavy metal songs like Planet B to their more dreamy, synth-based hits like Work This Time. Regardless of the genre of song they played, the guy next to me could not stop head banging. While I appreciated his dedication to fully immersing himself in the music, his long hair kept flying into my mouth and eyes. Rough split ends interacting with my watery eyes, I wanted to be grossed out (and to be honest, I sort of was), but it was a night of rock and roll, and I wasn't here to yuck anyone's yum. I dealt with it by moving my body in opposite sync with him, by shaking my own head, letting my hair land where it may.
Mackenzie was prone to sticking his tongue out at the crowd, hiding behind his guitar, holding it like a gun he was threatening to shoot us with. One of the crowd surfers, after being pulled down the hands of the masses by the security guards, sprinted onto stage before he could be stopped and lunged back on top of the cheering crowd. At one point Kenny-Smith jumped onto a box on the left hand side of the stage and egged on the audience to scream along to the lyrics he crooned at us. Everything so exciting you worried something might collapse.
There was no encore after they played Rattlesnake, their final song of the night, but I'm okay with that. The performance was robust, exciting, and a little exhausting. I felt like they'd led me down a winding, electronic, rainbow road. I wanted to keep screaming but my throat was ragged. As I left, I thought about the extended drum solo from Michael Cavanagh during Gaia, the way the whole band stepped to the side of the stage to make us appreciate the sheer force being hammered into our ears. I thought about how before Work this Time Joey Walker had his special lady Edith prance on stage so he could show her off and give her a kiss. I thought about all the little moments in the middle of that raucous show that were so sweet they made my heart feel like it might burst, made me grin so hard it felt like my smile might extend out farther than the sides of my face allowed, might try and devour me whole. King Gizzard and the Lizard Wizard could've swallowed me up in one whole gulp and still, when asked about the show, I would say: I had so much fun!