Rina Sawayama @ The Fonda [4/9/22]
Photos by Emily Chang
"Is it on?" Rina Sawayama's disembodied voice croons from the speakers of the Fonda Theater.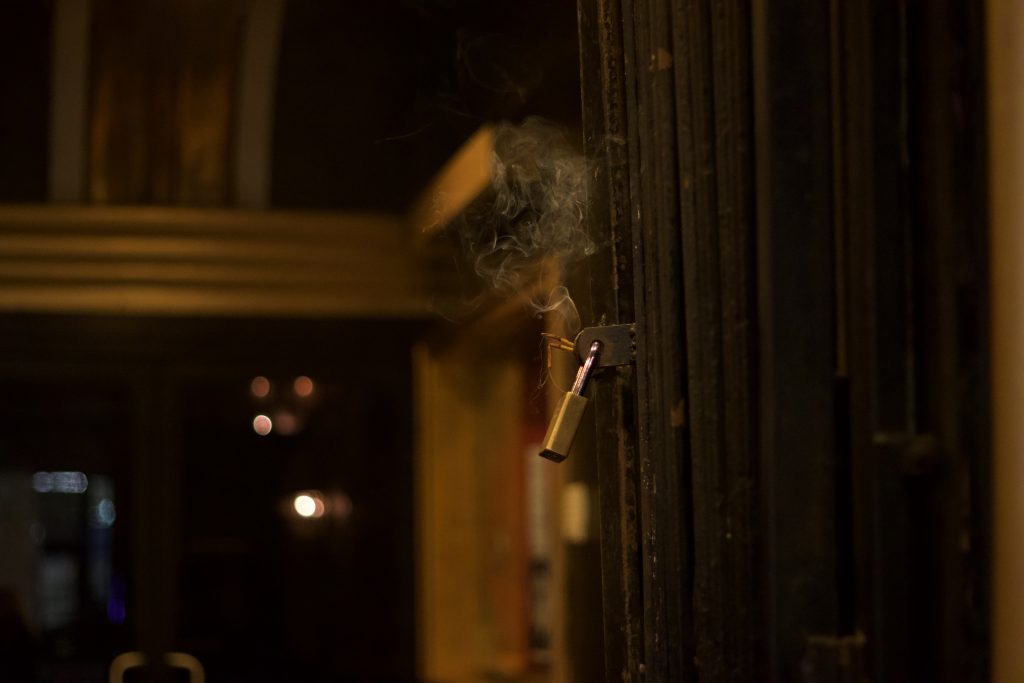 A few hours earlier, the answer would have been a resolute no. Hollywood Boulevard was unusually sleepy for a Saturday evening, with little street traffic. The heavy air of the Los Angeles heatwave ("It's giving global warming!" Sawayama would later comment) was enough to subdue the long line of twenty-somethings wrapping around the block, here for the first North American show of Sawayama's sold-out Dynasty Tour. Despite their excitement for Sawayama, displayed outwardly in their meticulously layered, metal-chain-heavy Y2K-inspired outfits (I spotted more than a few Avril Lavigne shirts), there was a mellowness to the crowd. Perhaps the moon being in Cancer had something to do with it.
Waiting outside the Fonda Theater's entrance, I picked up notes of incense wafting out from a stand mounted to the nearby wall, as if the inside held something sacred. At 8PM, the crowd began to shuffle into the glamorous Old-Hollywood interior. The line for merch quickly grew up the stairs to the balcony level. Everyone wants a piece of Sawayama.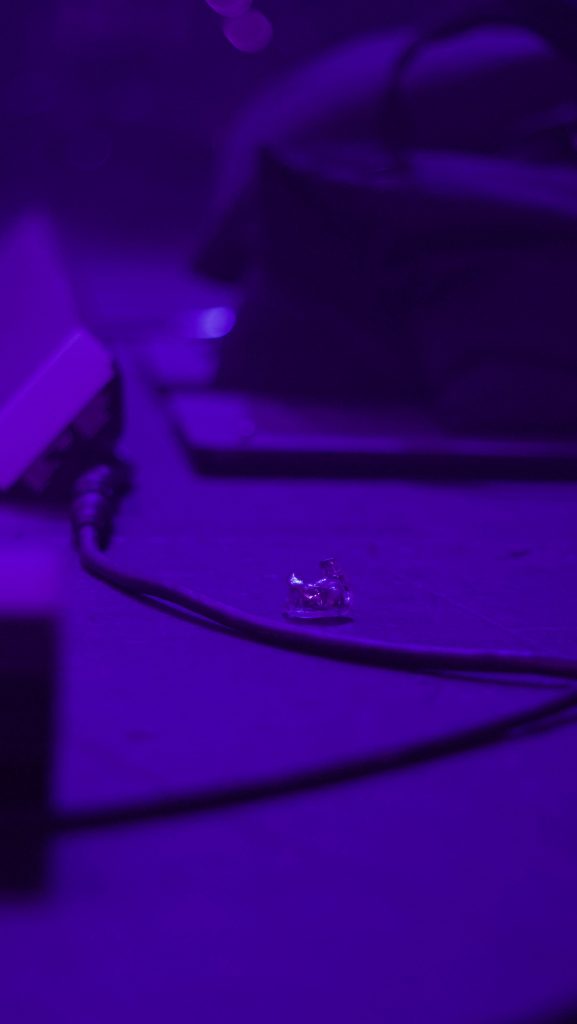 At exactly 9, HANA, the opener, seemingly floats onto the stage with the grace and allure of a siren. Her ethereal vocals, combined with stage lights coalescing behind her like light reflecting off water, had me convinced that she might've actually emerged from the depths of an ancient sea. A frequent backing vocalist and bandmate for Grimes, HANA entrances the crowd with atmospheric synths, a dream-like delivery of lyrics, and airy movements. Lifting her hands while hitting a high note, a resin ring falls off her finger and lands amongst the wires. As she thanks the crowd and vanishes, the ring remains on the stage, a token proving it wasn't just a dream.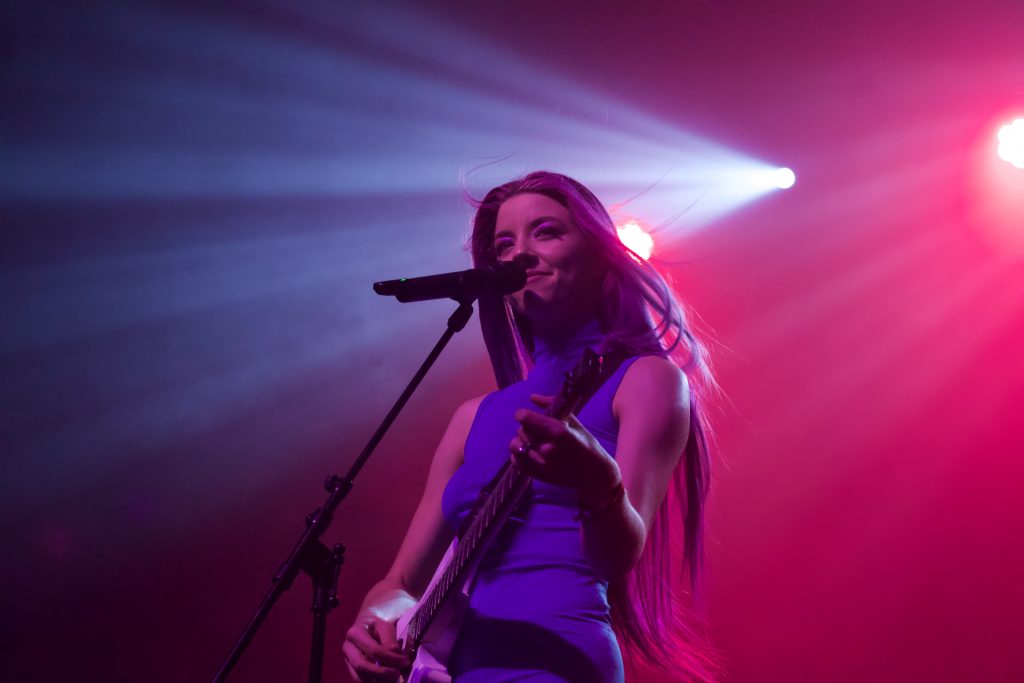 The lights grow and dim once again in an inconceivable time span.
"Is it on?"
The previous calm of the audience melts away to reveal a tense, anticipated group.
Sawayama, clad in crimson red, emerges center-stage from a thick mist. "Sawayama slay!" an audience member shouts. The crowd swells with excitement, matching the intensity of the sound waves emitting from the Fonda's speakers.
It's on.
Opening with "Dynasty," the first song off her 2020 album Sawayama, Sawayama's presence is confident and cool, embodying her song "Comme Des Garçons (Like the Boys)." With each song, she's as poised and perfect as the android she plays in the music video for "XS," her vocal stamina never faltering, all the while hitting every beat to her choreography on time. But unlike the mechanical slave-to-capitalism, her movements are entirely of her own volition; she's reveling in the performance.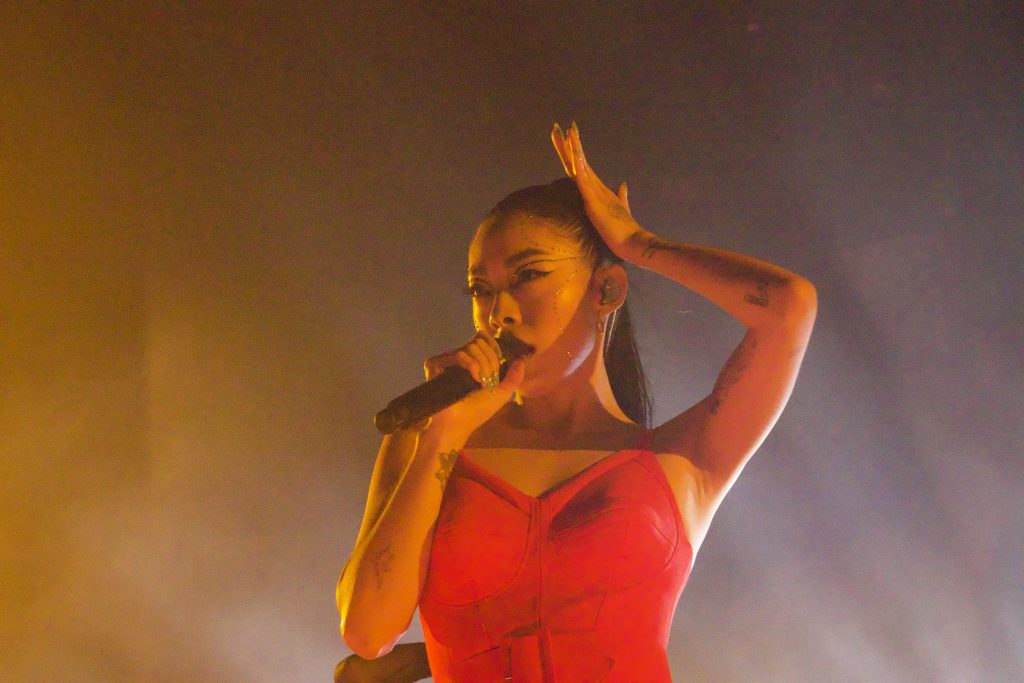 "Asshole…" a photographer mutters at another photographer blocking his shot of her. Everyone wants a piece of Sawayama.
Sawayama is part of a unique class of pop stars — picture the likes of Charlie XCX and Caroline Polachek — who are deconstructing and redefining what pop music should sound like. While the genre has grown a negative reputation of being generic and manufactured, her music is anything but that. In Sawayama, she explores themes of identity and familial grief, packaging deeply personal experiences into production-heavy, maximalist songs. The Japanese-born, London-raised artist has openly spoken about her struggles with cultural identity — in 2020, her critically-acclaimed album didn't qualify for major British awards such as the Mercury Prize because she didn't have British citizenship, which she described as "othering." The city-pop song "Tokyo Love Hotel," which receives a new funk-heavy arrangement in the live performance, deals with the cultural appropriation and fetishization of her Japanese roots. "Akasaka Sad" dives into generational trauma over homelands and displacement, wrapped in a 90's clubbing beat that gets the crowd jumping in time with the flashing strobe lights. Sawayama turns her most vulnerable self into the grandiose, baring it all for the show.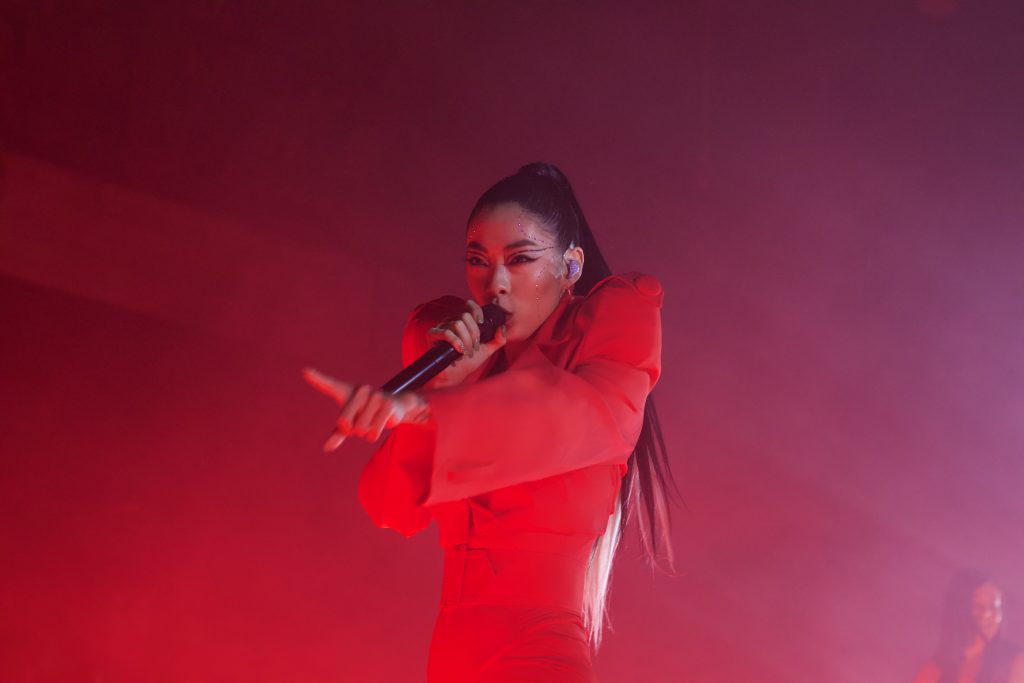 Sawayama also identifies as pansexual, reflecting this part of herself in songs such as "Chosen Family" and "Cherry." "I was feeling a bit of queer energy," she says to the crowd. "Does anyone here have queer energy?" The crowd goes ballistic. During the acoustic "Chosen Family," the stage lights bathe Sawayama and her band in a golden aura. One of the slower-tempo songs, couples and friends within the audience hold hands and stare into one another's eyes, smiling at something only they know. Beyond the hardships they've faced or currently struggle with, right now, in this theater, all that comes to the surface is the love they've found and the warmth that radiates from it. It's the rarest of moments when the entirety of the crowd forgets about the artist they came here for, instead focusing on the person they came here with. Sawayama knows this, and it feels intentional on her part, to have provided a sacred space for her fans to not only be comfortable in who they are, but to celebrate it and appreciate how far they've come in their own journeys.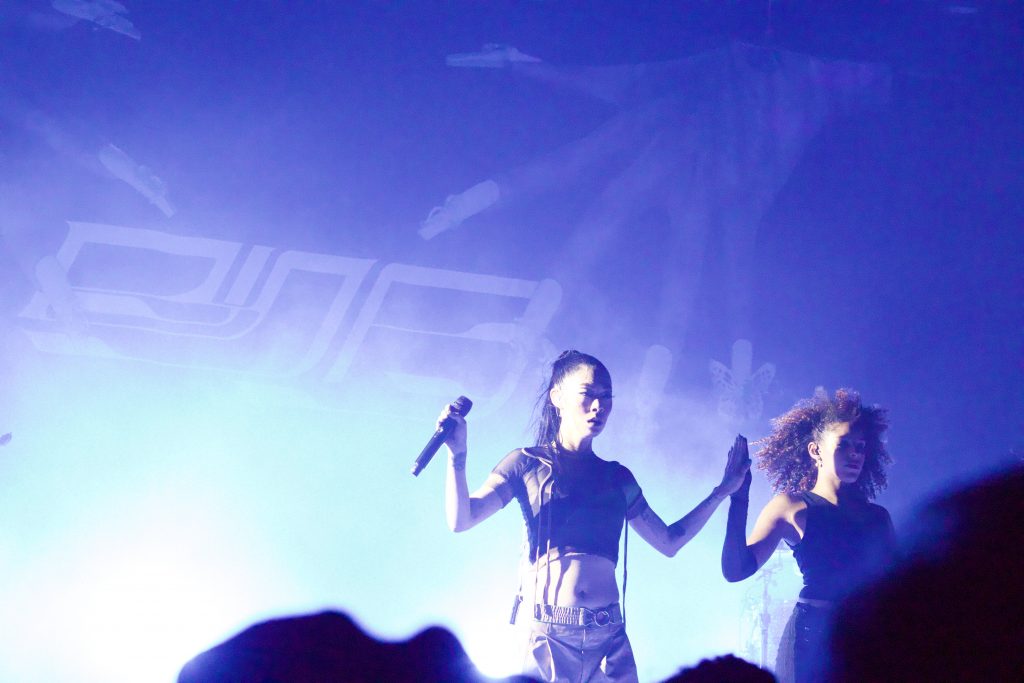 The entire night, in between the moshing and singing and cheering, an unspoken thought lingers amongst the crowd. To experience a performer of Sawayama's talent at such an intimate venue, as spectacular as it is, feels out of place. In the two years between the release of Sawayama and tonight, Sawayama has blown up in popularity, outgrowing her previous space in the pop music ecosystem and on the track to bonafide pop stardom. It's unlikely that she'll be on a stage as small as this one next time around. With the title comes a blurring of the lines between artist and product; as she becomes a greater part of an industry known for treating its artists as commodities, she must face all the challenges that follow. Sawayama seems self-aware, yet she displays no indignation towards it, posing for the cameras, beaming at the audience, and maintaining a flawless facade throughout it all.
Everyone wants a piece of Sawayama – and she knows it. With a sly smile, she quotes "XS" before launching into her encore: "I know you wanted just a little more." Sawayama's right about that; we'll never stop wanting just a little bit more.