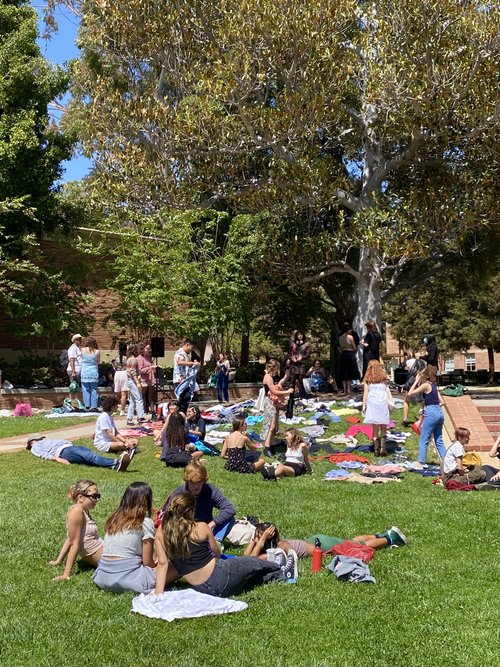 On a warm Sunday afternoon, clothing swap organization, Worn Not Torn, made their way to UCLA's campus, bringing students together for live performances, a large array of clothes to pick from, and dare I say, good vibes. The event, in conjunction with UCLA Radio, was an ongoing effort by the exterior department to expand the scope beyond house shows and concerts. While students could sift through the donated clothing selections, they were wooed by the mellow tunes from performances by Innuendo and Jordan Patterson. This blissful weekend event was a unique way for UCLA Radio to gather a community on campus while honoring Worn Not Torn.
From enthusiastically planning outfits the night before school to accompanying her mom to the iconic Jet-Rag bin sales on ​​La Brea, Worn Not Torn co-founder Daisy has felt connected with fashion since day one. While she's always been passionate about ethical clothing consumption and the environment, when Daisy's freshman year English teacher introduced her to a poem about the terrors of a warehouse fire, she became determined to reform how we acquire our clothes. 
Fifteen-year old Daisy decided to take a stand in our consumption habits and co-founded Worn Not Torn, a community oriented clothing swap organization where individuals can come to donate and trade pieces. Rather than paying outlandish prices for second hand goods, individuals have the option to choose new items for free that are no longer needed in the closets of others. Through the Worn Not Torn Instagram account, they post clothing exchanges within LA where those fatigued by fast fashion can ethically add to their wardrobes.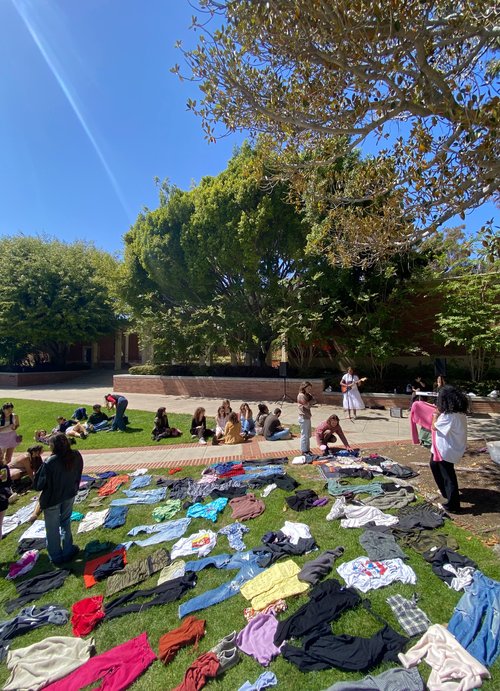 Worn Not Torn preaches the values of community and inclusivity and embraces the mindset of "give clothes, take clothes, it doesn't really matter". All of this in mind, Daisy firmly believes in hosting their pop-ups in welcoming spaces, such as parks, where individuals of all walks of life come and engage with the organization. Worn Not Torn events have appeared in various parts of Los Angeles in an effort to expand to a diverse variety of communities. Often accompanied by a live band, tarot, or groups of friends hanging out, these clothing swaps reject the feelings of overwhelmingness and anxiety that accompanies shopping in overpriced, curated thrift stops.
Worn Not Torn had made an impact on the LA scene when a like minded fan and now partner of the organization, Lilah, had big ideas of expanding to New York City. Similar to Daisy, Lilah grew up with an infatuation towards fashion. During the pandemic, Lilah was eager to get involved with something just like Worn Not Torn. The two described their partnership as "fate," as Lilah's partnership in New York City would set the scene for Daisy's move to The New School post pandemic. On the flip side, Lilah was ready to take over the LA spaces when they made their way back for an in-person year at UCLA.
This year, Daisy has been hosting events in New York, while Lilah in LA. The two have been zealously looking to expand their network and are currently seeking dedicated students, photographers, artists, and fashionistas alike to join their team. If you'd like to get involved, reach out to both Daisy and Lilah @wornnottornexchange on Instagram and keep an eye out for pop-ups in both LA and New York City!