Hovvdy @ The Lodge Room [6/3/2022]
Texas generally gets a bad rap, often deservedly. From rampant, unconcealed racism to anti-choice and anti-LGBT laws, the state has a lot to be criticized for. However, there is another side to Texas, one that isn't as visible from the outside. For anyone who's experienced it, it's simple, yet impossible to explain. It's the feeling of meeting several different sects of your extended family at a barbecue spot off the 10, cramming all of your brothers and sisters into the back of a minivan to drive to Galveston, stopping off on your way to Austin to visit your aunt's ranch to see her newly-born calfs, half-drunk crying into your cousin's arms at a relative's backyard wake and driving out a hundred miles just to get some fresh air. It seems so simple, but feels so intimate, so special. There is a warmth so non-existent outside of Texas, a rose-colored lens that colors each day. This warmth is the essence of Austin-based Hovvdy and pervades through every song they play.
The Lodge Room in Highland Park occupies the second story of a couple small businesses and a café. The entrance to the venue sits in a small alleyway behind the building, often populated by cigarette-smokers and ID-checkers. On account of being a former Freemason Lodge, the interior has a somewhat spooky feeling, dark and mysterious. The main room consists of a stage, bathed in fog-machined smoke and harsh colorful lighting as well as a centerpiece five-pointed star on the ceiling surrounded by several chandeliers, likely a relic of the building's masonry roots.
As the opening band cleared the stage and the members of Hovvdy began tuning their guitars and last-minute sound checking microphones, it became clear that there was something different about them. Rather than attempting to feign cultural prowess through a trendy thrifted tee or silently sulking on the dimly-lit stage, as is typical in the scene, they instead had a rather positive affect, donned in baseball caps, plain shirts, jeans, and, quite interestingly, running shoes.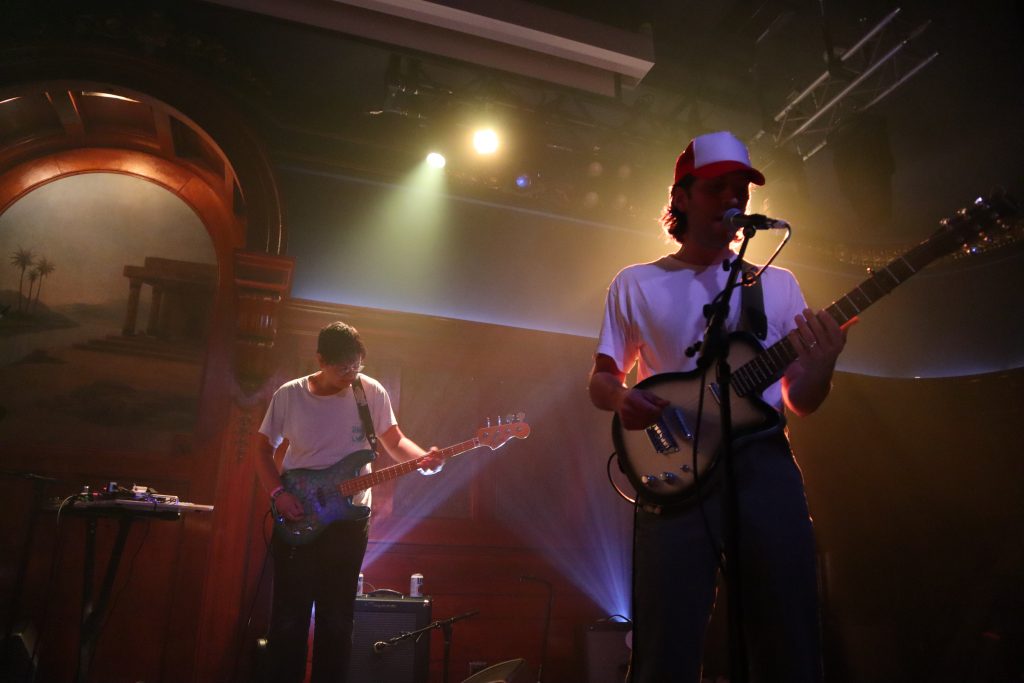 As their set began with "Town," a track off their latest EP billboard for my feelings, it was immediately clear that the tranquil, slowcore-inspired indie rock aesthetic of their records was not really present in their live act. Rather, the audience was greeted with a heavier, more guitar-driven feel, defined by the interplay between Will Taylor's work on guitar, Charlie Martin's shifting sounds on electric, acoustic and keys, and their touring rhythm section's groove. The result is a musical environment unlike most concerts in Hovvdy's scene. Opting for atmosphere and feel rather than a fully accurate representation of their records, the band delivered their songs in a more energetic, communal light, reminiscent of some aspects of country music and R&B, while still displaying the songwriting prowess that characterizes their work.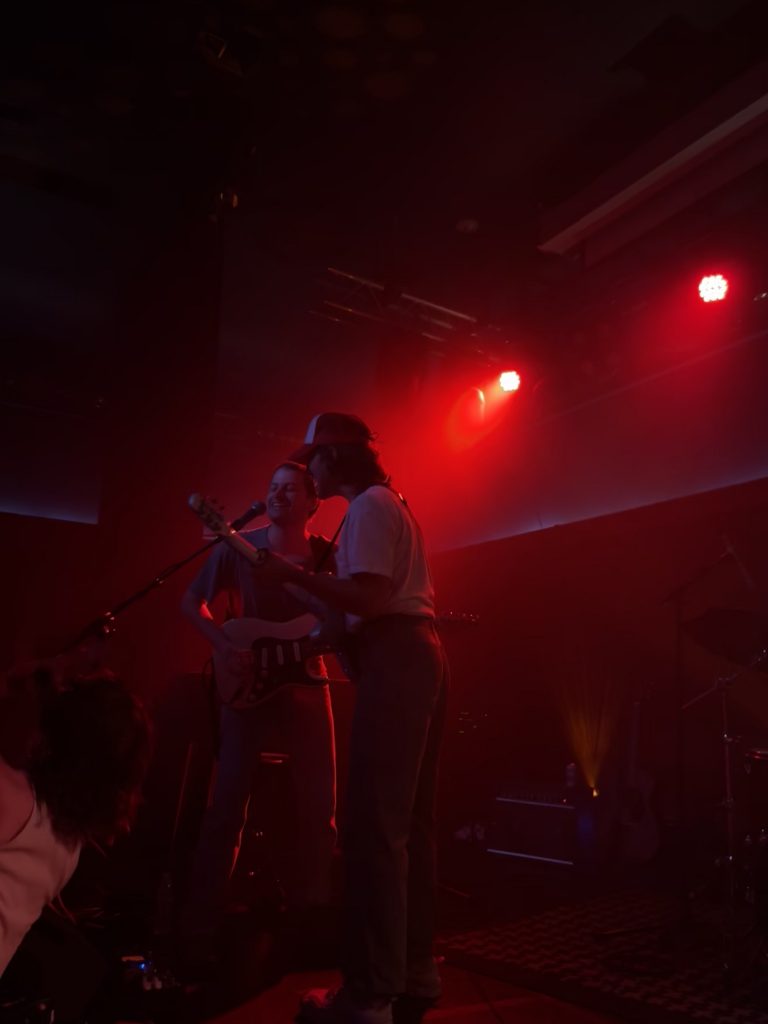 As the show continued, Hovvdy played a set that both highlighted more current tracks, such as off of their 2021 album, "True Love," while also giving long-time fans something to hold onto with older tunes such as, "Pretend," off of their debut and "Petal," from their sophomore record. Interspersed throughout their setlist was Taylor's delightful introduction of the band as well as a bit of banter when he remarked, "Welcome back to his feet… Charlie," after a run of Martin playing keys. The performance itself exuded an energy of musical passion and humility, contrasted with a nonchalant, happy demeanor by the members themselves, giving the impression that the band was not only enjoying what they were doing but that they were actually having fun.
As Hovvdy left the stage preceding their encore, fans were immediately ravenous for the band to come back, prompting them to return after no more than a minute or so. They finished out their set with two tracks from their last album, the second of which was the title track, "True Love." Spending whatever was left of their energy, the final track exemplified all that came before it: a solid feel, powerful dual vocals and excellent guitar work; all before culminating in the final mantra of the song and arguably the band itself, "Do you believe what I said, that I am the man I say I am?," repeated incessantly as a chorus of both the band and audience.
Hovvdy's performance at the Lodge Room was not only a lesson in artistry and aesthetic but in capturing an atmosphere. It changed a relatively small upstairs venue in Highland Park into a diner in Dallas, a family reunion in Corpus Christi, a gas station seven hundred miles into West Texas; for a couple hours, the warmth of Texas was felt by a few hundred concertgoers in California. As a band from Texas, the name Hovvdy seems to be somewhat of a novelty but for those who have truly experienced what the Lone Star State is really about, it's fitting.