Rex Orange County @ Hollywood Bowl [6/4/2022]
Photos by Jen Uskolovsky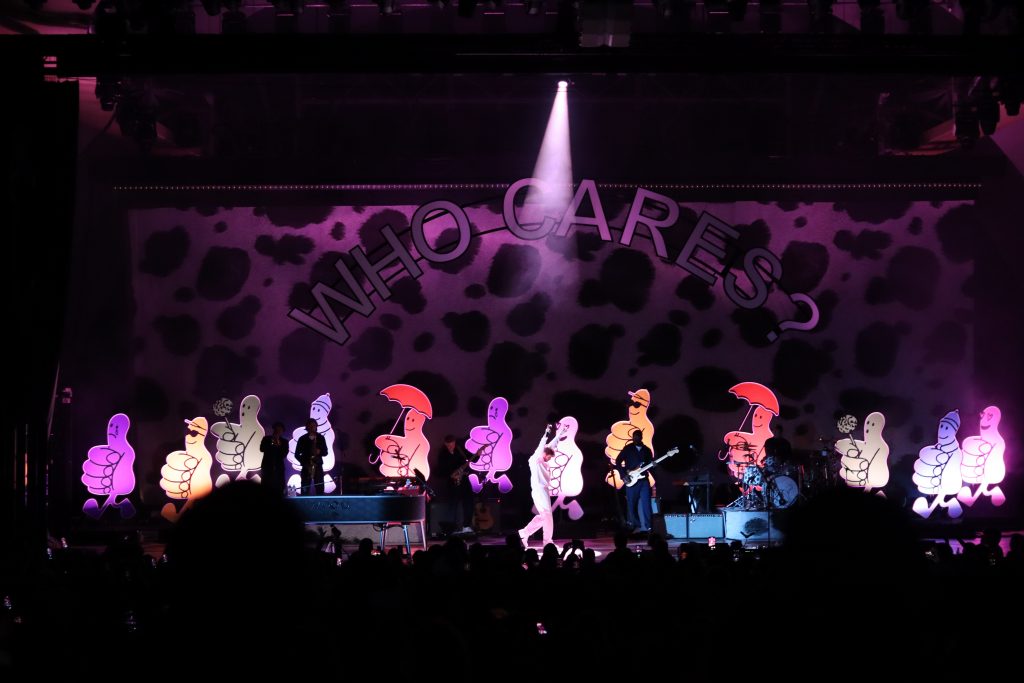 My first, somewhat facetious thought when I got to Hollywood Bowl was that I felt like I was at a One Direction Concert. This was a reaction to many stimuli, beginning with the fact that the sold-out venue, which seats 18,000 people, was by far the largest concert I had been to since the start of the pandemic. The lengthy lines for the merch also wrapped around the venue, reminiscent of a line I waited in for hours in sixth grade, when One Direction opened a pop-up shop in Barcelona (no, they were not there. Yes, I waited anyway).
Inside the bowl, the audience, which tended towards the younger side but included fans of all ages, was abuzz. I asked Jen, "Wait, does Rex Orange County have stans?"–the answer to which, if this concert is any indication, is a resounding yes.
Rex Orange County is the stage name of 24 year old Alex O'Connor, who hails from Surrey, England; Orange County refers to a nickname he had as a kid: "the OC," based on his last name. This show was a part of the "Who Cares?" tour, named after his fourth studio album.
For his Los Angeles stop, Rex was joined by longtime collaborator Benny Sings, who came on stage energetic, happy, and dressed not unlike a suburban Dad doing yard work. Benny attempted to warm up the crowd, and though his breezy yacht rock melodies were easy to listen to, the performance was not very memorable, and left the crowd a little sleepy.
This was quite the contrast to the crowd's reaction to curtains on stage opening up, which was met with a scream I imagined my roommates back in Westwood were also able to hear. There was Rex in front of a colorful set, full of neon sculptures of thumbs-up characters and a massive "WHO CARES?" sign. He opened the show with three string-saturated songs off his new album: the brief "MAKING TIME", and the album's two singles "AMAZING" and "KEEP IT UP." These two, somewhat similar songs are both upbeat and optimistic odes, and set the tone for what was to come. Before starting the last, Rex asked us to "do me a favor and sing this shit with me," a command that the passionate audience had absolutely no problem following.
After playing one more song off of Who Cares?, the elegant "ONE IN A MILLION", which is built around the circle of fourth and fifths, Rex launched into "Television/So Far So Good," from his 2017 album Apricot Princess. This song is notable for going through many transitions of genre and pace, and was a lot of fun to hear live, providing a good break from the songs off his new album.
Rex continued with the catchy "10/10", the lead single off of his album, Pony. Rex then posed the question, "When did you guys wake up today?", to which the crowd knew to answer "7 am!", giving him a cute segue into "7AM" and "THE SHADE", two more songs off his new album.
Following a cover of Minnie Ripperton's "Lovin' You" and more selects from Apricot Princess, Rex admitted to us that this is the largest show he has ever played. He also remarked that the show sold out in a day, "which means you motherfuckers are crazy." Then (to apparently celebrate our craziness) in one of the most charming actions I have ever seen at a show, Rex asked if he could play a song in the back of the venue.
After a frantic run escorted by his security guard and aided by the tunnels running underneath the Hollywood Bowl, Rex adorably announced "I'm here!", and then performed the lone offering on his setlist from his debut mixtape Bcos U Will Never B Free, "Corduroy Dreams." Though his change of scenery seemed to throw off the venue's videographer, who now was able to only capture film of Rex's back, the attention and appreciation Rex shared with his audience really stood out for me. Also, this only strengthened my One Direction extended metaphor–everyone knows a stadium tour involves multiple stages.
As Rex commuted back to the main stage, the curtains opened once again, to another magnificent set, trading the neon thumbs-ups signs for huge flower cut outs with disco balls in the center. Rex once again instructed us to "sing this shit" and performed "OPEN A WINDOW," trading Tyler the Creator's verse for brass solos by Johnny Woodham and Michael Underwood on trumpet and saxophone, which was a brilliant choice.
At this point, Rex started to ask us to up the energy, which felt somewhat unnecessary given that everyone around me was on hour two of karaoke-ing. Rex repeated this request for "IF YOU WANT IT," "Never Enough," and "Sunflower;" the audience tried to match his energy, but I began to wonder what more he could want from a crowd that was already going hoarse.
Two fan favorites, "Best Friend" and "Loving is Easy," followed. For the latter, Benny Sings came back to stage once again. Watching the two of them together was a delight–Rex has sung the praises of Benny time and time again, and you can tell the two enjoy working together. Rex finished out his "planned set" with "WHO CARES,", coupled with an unconvincing goodbye.
As he exited the stage, no one moved an inch, of course. We all knew there was one song he had yet to perform, and for those of us who didn't, the eager chant of "PLUTO! PLUTO! PLUTO!" made it clear what the song would be.
Ever gracious, Rex acquiesced to the chant, and took to the stage once more to perform the cinematic "Pluto Projector." Once more, phone flashlights lit up the Hollywood Bowl, accompanied by an impressive display of pyrotechnics and fireworks.
Overall, I felt the same way about this concert as I did about the album it was supporting: though it was easy and fun to listen to, it didn't quite live up to my expectations. The show certainly had its highlights, and Rex proved that he is a very talented musician and performer with loyal fans. However, taken as a whole, the setlist lacked variation and left me asking for more.