Quinn Christopherson w/ THAO and Black Belt Eagle Scout @ The Teragram [05/06/21]
Photos by Hope Phahla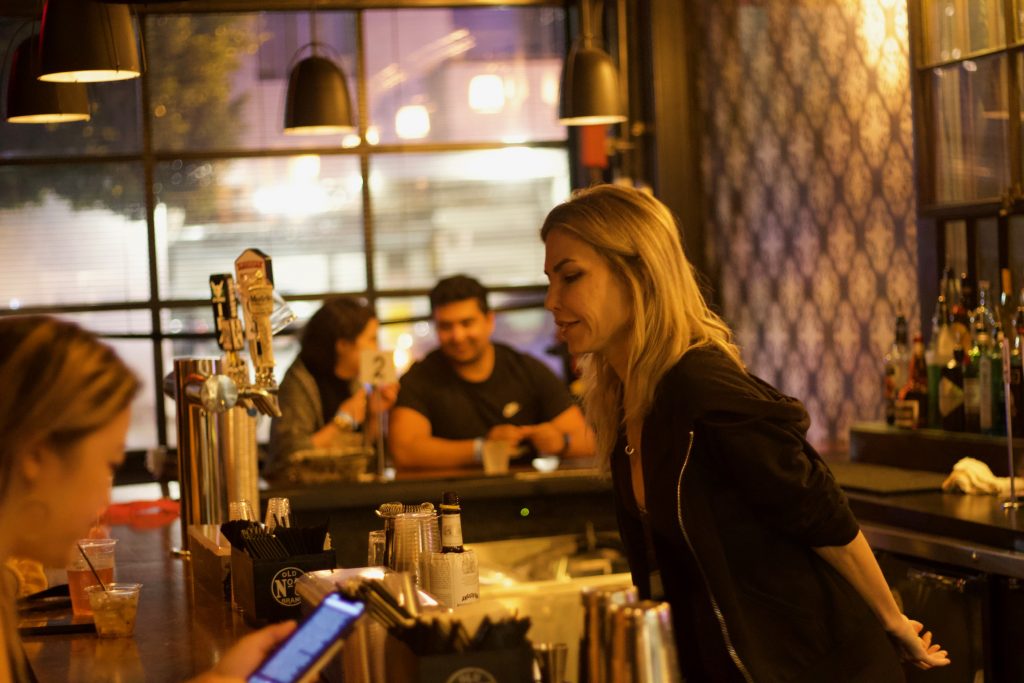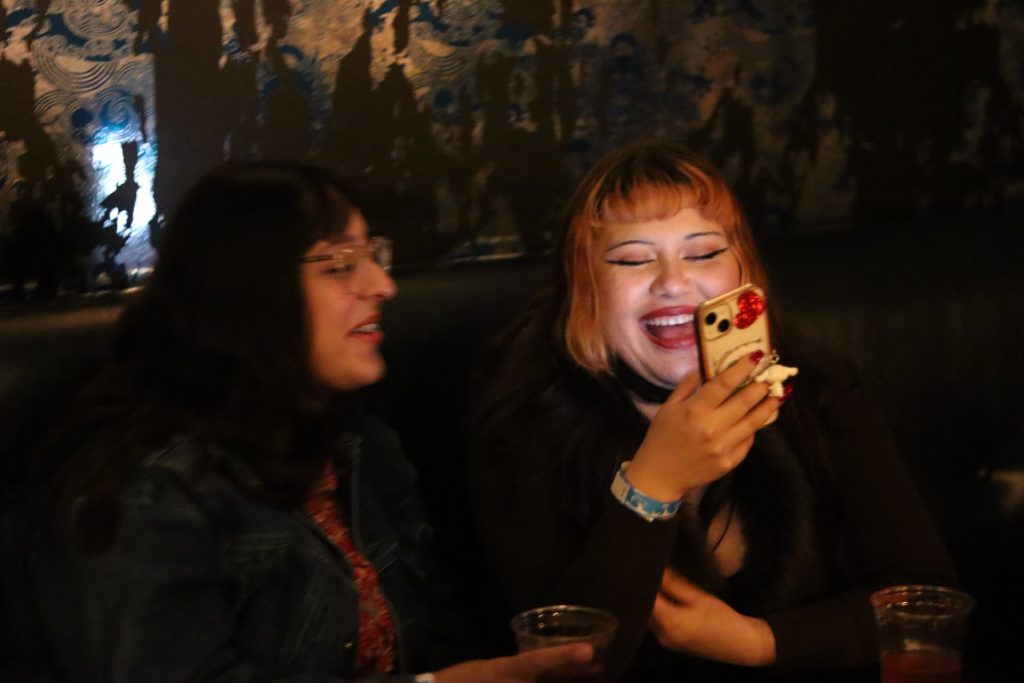 Sitting in the corner booth of the bar and restaurant tucked inside the Teragram Ballroom, I smile observing my surroundings: couples laughing, friends sharing drinks, bartenders dressed in all black matching the casually hip aura of those they served. Millennials dominated the room with a few Gen Z's scattered throughout, many of whom were queer, indigineous, or both. Mellow and intimate pop into my head, words that I discover ring true for the night in its entirety. The space also feels safe, the caution accompanying our entrance as two teenage girls into a foreign L.A. environment quickly replaced by excitement. I could let my guard down and immerse myself alongside the audience members into the unique atmosphere fostered in anticipation of Quinn Christopherson, Black Belt Eagle Scout, and THAO.
The merge of these three artists initially confounded me. Quinn Christopherson is a songwriter in his 20s based in Anchorage, Alaska with slower, more lyrically focused indie music. Black Belt Eagle Scout, the musician moniker for Katherine Paul, is a 33 year old singer-songwriter and multi-instrumentalist based in Portland, Oregon, who combines post and alternative rock with traditional Native American music. Thao Nguyen is a 38 year old singer-songwriter who produces indie music influenced by folk, country, and hip hop. From a glimpse their narratives failed to intertwine but further research uncovered potential insight into their introduction to each other and decision to perform together. NPR was the most noticeable commonality between all three artists—while Christopherson won the Tiny Desk Concert in 2019, THAO was featured on the concert contest in both 2009 and 2020, and Black Belt Eagle Scout received multiple spotlights by NPR around the same time period. Each artist is queer, and both Katherine Paul and Quinn Christopherson share Iñupiaq lineage (though Paul is also Swinomish and Christopherson is also Ahtna Athabascan), whereas THAO is the daughter of Vietnamese refugees. I knew these facts entering into the night, curious to see how these similarities and differences would unfold live.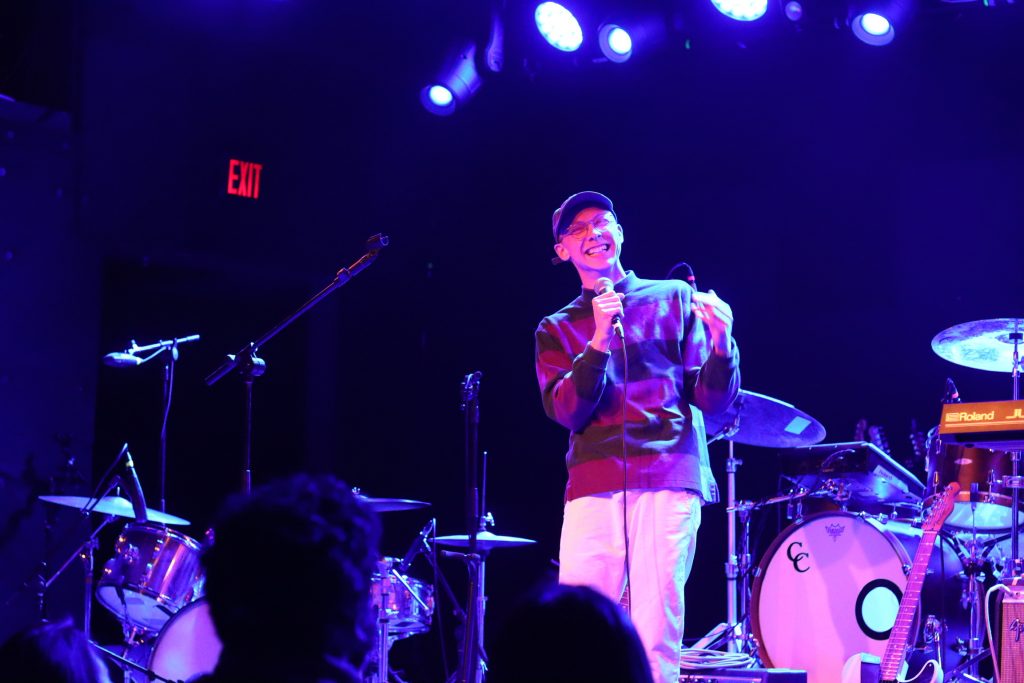 Around 8:40 Christopherson subtly snuck on stage and began singing a slowed, acoustic version of "Bubblegum" in an informal, non disruptive way, inviting conversations to continue or halt at their will. Some meandered their way towards the stage while many remained in their spot, unaffected by the start of his performance. This reaction—or lack thereof—immediately exposed the allegiances of the audience, majority of whom attended as loyal fans of either THAO or Black Belt Eagle Scout. Christopherson and his performance partner Nick Carpenter were almost admirably unfazed by this lack of engagement—not in a careless, unaware sense but more in a I'm going to shamelessly jam out because this music is for me and anyone who wants to listen sense. Confident in his awkwardness, comfortable in his shyness, Christopherson didn't necessarily command the stage but surely paid it a respectful visit, offering a pleasant surprise to those who chose to tune in.
"Bubblegum" is a nostalgic coming of age song with cogent lines in the verses—"I am alcohol/I'm a line in the bathroom stall" and "I'm turning into my father/I'm treating women badly"—and a chorus that repeats "I don't know who I am"—a line inspiring either relatability or reminiscence depending on the age of the listener. This twofold receival of Christopherson applied to his performance as a whole as he tugged at the hearts of a handful of fellow lost teenagers while encouraging the older crowd members to revisit the insecurity and ambiguity tacked onto entering early adulthood.
"Bubblegum" is a perfect opener because it introduces Christopherson as an artist in both song structure and lyrical themes. Meaningful, personal prose in verses woven together by repetitive, simple choruses. An acoustic backdrop that furthers the urge to hone in on the lyrics themselves. A balance of light-hearted and serious approaches to themes of growing up, family, alcohol and drug abuse, and navigating new privileges and relationships as a transgender man.
After the final "I don't know who I am" wrapping up the song, Christopherson introduced himself in the form of a response to the song lyric: "Actually, I'm Quinn Christopherson" to which playful cheers and laughter erupted. "So, you do know," his partner Nick joked back. "Oh, yea, I figured it out," Christopherson sarcastically responded. The quick exchange solidified the two's natural chemistry hinted at during their performance, bridging the gap with the audience through their endearing connection. In a casual outfit drawing most attention to his feet (provocative birkenstocks and socks, a bold fashion statement indeed), Christopherson knows who he is, at least enough to stand with unwavering confidence before a crowd of older adults relatively unfamiliar to both him and his music.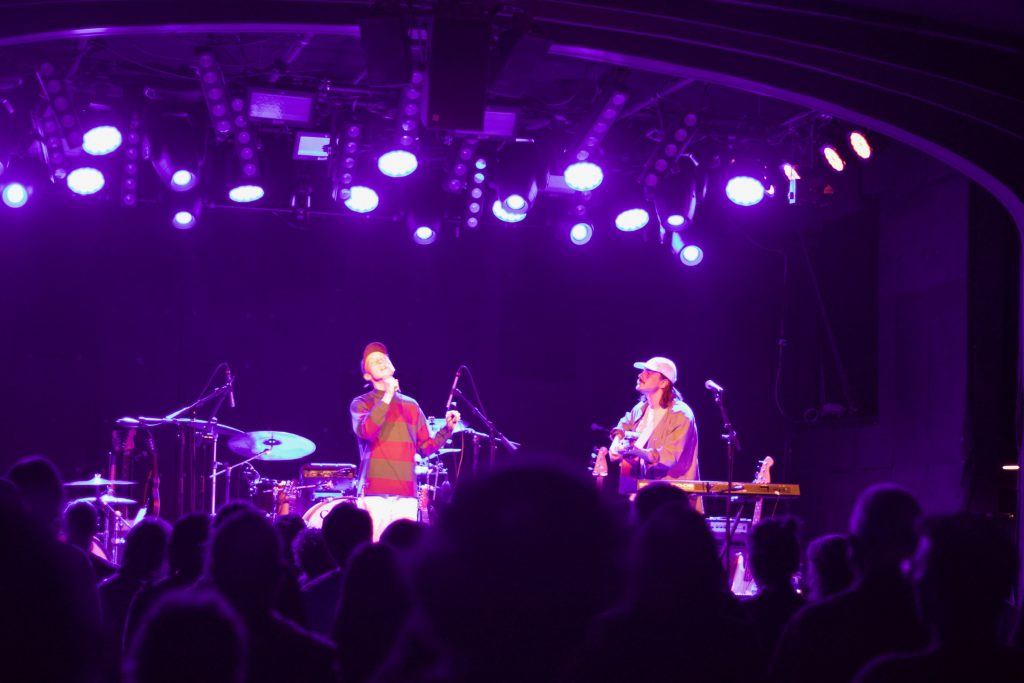 Next, Christopherson played "2005", a coming of age song. Playful one liners with simple rhymes like "Mad cow disease/Avril Lavigne" juxtaposed the desperation creeping into his voice during the repetitive chorus: "Ya I wanna go back/to simpler times".
Christopherson's performance of "2005" underscored the irony of his focus on age and development as an artist given the age misalignment of the crowd. When he asked the audience "Do you remember 2005?", I mumbled to myself "yes, I was two years old", not intending for anyone to hear, but an older adult close by laughed and added, "That's what I'm saying, he must've been four or something. I'm like I was doing the same shit bro." I noticed other older members of the crowd almost smirking at the lyrics, implying that his youthful ignorance has yet to confront the true pain of life (or make peace with it).
It's clear Christopherson has yet to reach the stage of his career in which his concerts are long-awaited by fans but more an opportunity to attract fans themselves. Despite this, those seeking out this concert clearly hold a genuine appreciation for music that transcends their personal irrelevance to Christopherson's songs. Though his vulnerable, raw lyrics may not have related to many of those before him, they entered a safe, introspective space nonetheless. The crowd's involvement reminded me of a collection of parents watching their child perform for the first time, protective of their feelings and personally invested in their potential.
Christopherson finished with his most well-known songs "Raedeen" and "Erase Me", the latter accounting for his rise in popularity after he won NPR's 2019 Tiny Desk Concert for the song's earnest lyrics about confronting the new power of his voice after his transition ("I got a voice now/I got power/and I can't stand it").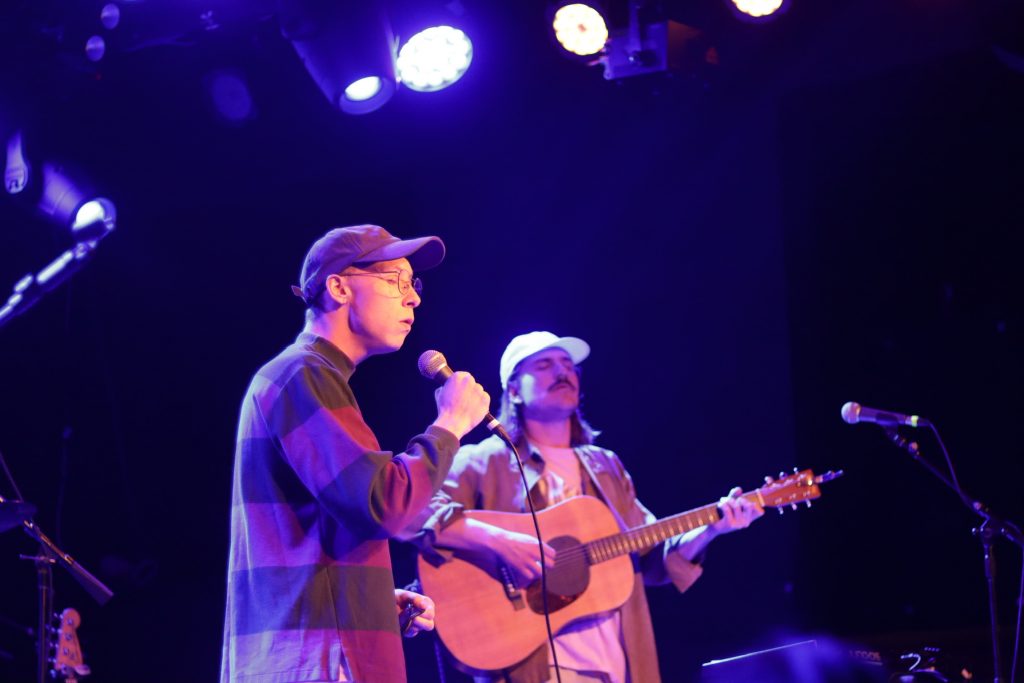 Black Belt Eagle Scout came on soon after Christopherson. Instead of shouting out L.A., she accredited the land to the local indigineous Tongva tribe. She also dedicated a song "to all the Native American queer people in the audience." She was more mellow than I expected, drinking tea on stage, and an impressive guitarist.
Last but not least, THAO, the main attraction of the night, entered the stage wearing flashy, shimmering clothing and impressively switched off playing the banjo, mandolin, and guitar. She briefly mentioned the recent Roe V. Wade controversy, prefacing "Phenom" with "this is for all the women, no government is gonna tell us what we do with our bodies". She engaged frequently and intimately with the audience, instructing us to sing verses, demonstrating a comfort with her fans and confidence in their knowledge of her music. She dedicated songs to her grandmother, mother, and wife, and thanked Quinn Christophersen and Black Belt Eagle Scout for joining her to perform.
I wonder about the interactions between the three artists—to what extent they interpersonally connect or more professionally communicate for the sake of the show. Regardless, the presentation of their music side by side illustrates the changing landscape of music and Hollywood as a whole. They understood how they could support each other as artists despite their differences, and they succeeded. The night was an unofficial indigeneous queer celebration—the intersection of some of the most erased, silenced, and oppressed groups finding self-expression and advocacy through the medium of music, planting pride in their audience through their performances and establishing that a space for indigenous queer voices is a space for Hollywood alike.