Cover photo credit: Jamal Eid
Amid LA's summer heat, Hard Summer 2023 delivered on its promise and did indeed go hard.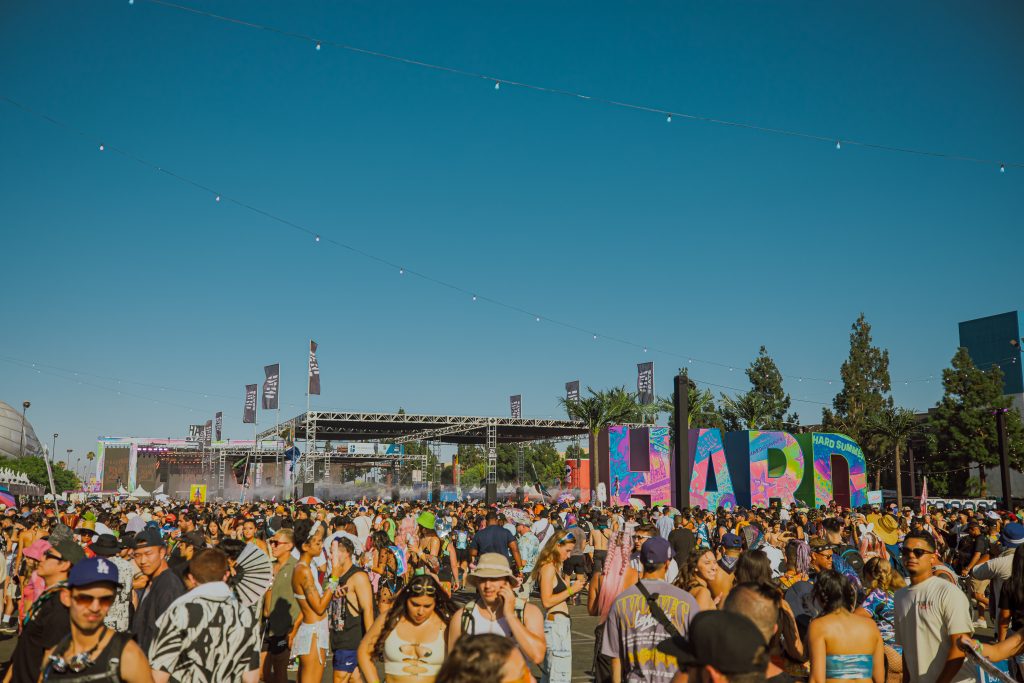 Hard Summer takes place in Los Angeles' Exposition Park, LA Memorial Coliseum, and BMO Stadium. 
Credit: Keiki-Lani Knudsen
[Day 1]
After a long and arduous process retrieving my partner's wristband from Will Call, we finally get ready to enter Hard Summer. Upon entrance to the festival, it becomes overwhelmingly clear that the "hardest" part of the fest may be navigating through the densely populated walkways. However, we do eventually make it to our destination.
The first artist on our list is throwback rapper, Fat Joe. Fat Joe is set to perform on the Harder Stage, the farthest stage from the entrance. Fat Joe wastes no time getting started, even coming out early for his set, something I've probably never seen at a festival ever. He has a tremendous energy about him and it's clear that he's happy to be here. He treats us to his mega-hit "What's Luv?" early in the show. As Fat Joe begins to cook up a delicious set, all the worries of how crowded the walkways were slowly melt away. It is a music festival after all, and the music here is incredible.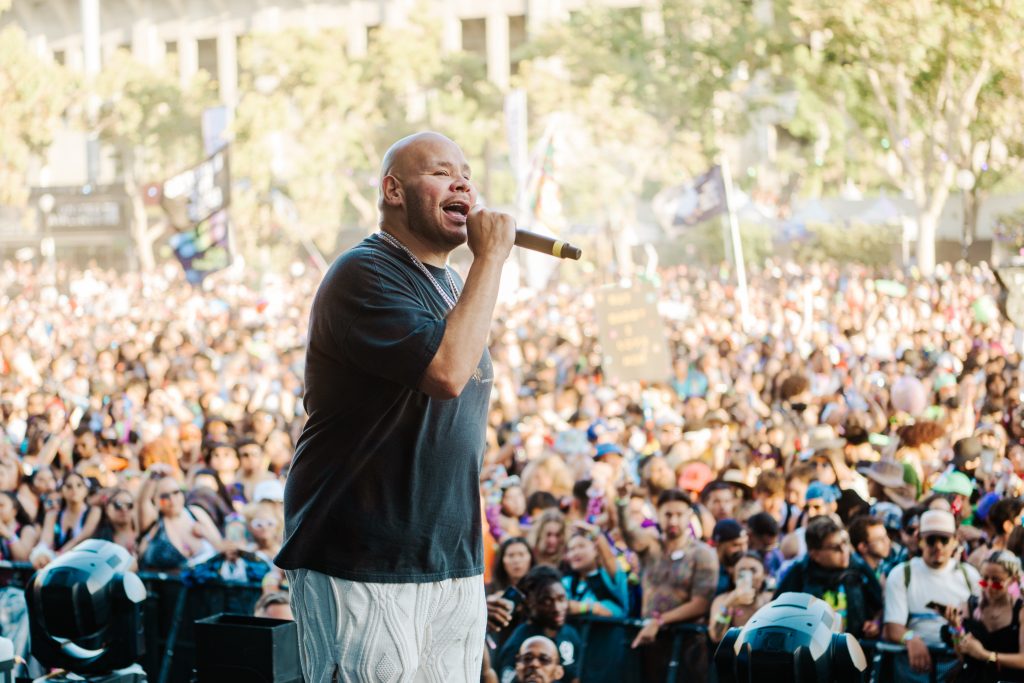 Fat Joe
Credit: Skylar Greene
After some quick and meaty $20 chicken quesadillas, we're ready for some bass. Hard Summer has five unique stages, one of which is solely dedicated to bass music, dubbed the "Green Stage." Walking down to the Green Stage within the Coliseum is a magical experience. It's like going down some sort of fantastical rabbit hole – if that rabbit hole blared heavy-hitting bass music. The stage fits so well within the Coliseum and the design is a marvel. SAYMYNITTI drop some absolutely nasty bass while fireworks ignite around the stadium. Their remix of "Barbie Girl" wows the crowd and keeps the dancefloor bumping.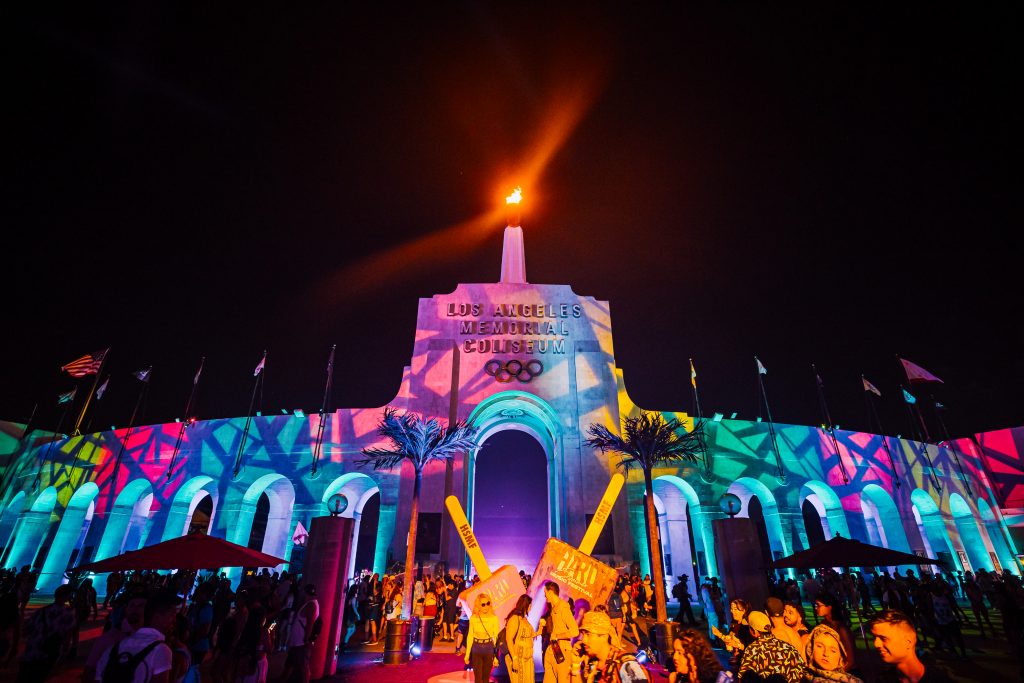 LA Memorial Coliseum
Credit: Keiki-Lani Knudsen
But, alas, the primary reason we find ourselves at the Green Stage is to catch a glimpse of the big man himself, Shaquille O'Neal. DJ Diesel (Shaq) comes out to enormous fanfare. The stage is dark, but it's easy to tell it's him based on his giant silhouette. He loudly announces on the mic, "I'm home!" Then he only has one question for us, "Where's my mosh pit?!" We have no choice but to answer him in the crowd; a mosh pit suddenly forms behind me. After Shaq drops some dirty bass, the mosh pit comes to life. Shaq is an incredible amount of fun, but we have to duck out before the set ends in order to catch another anticipated act of ours, 21 Savage.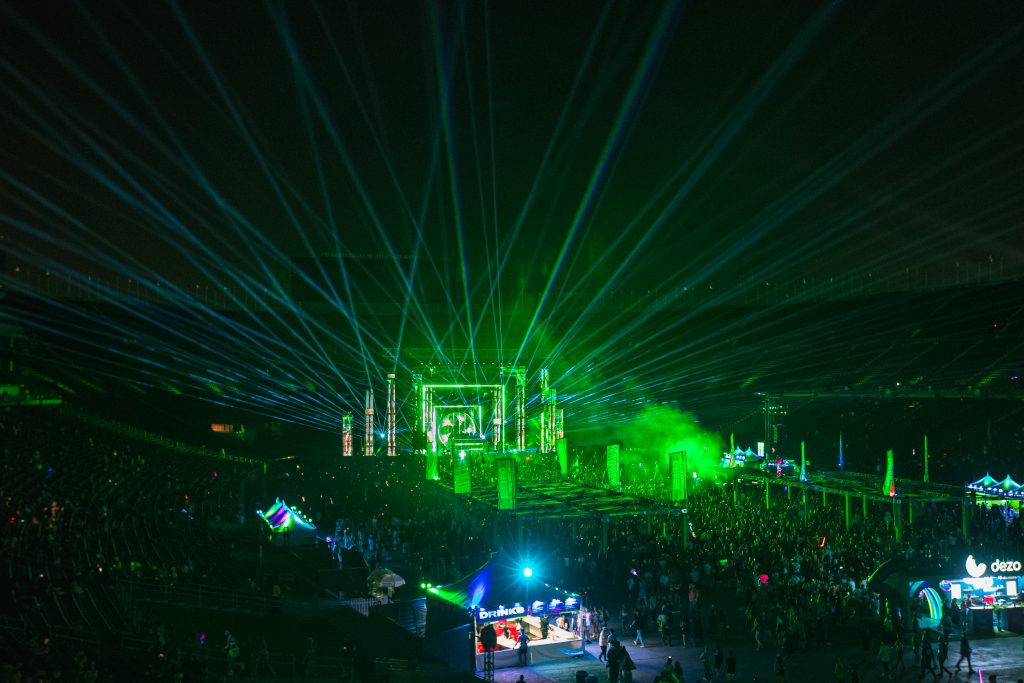 The Green Stage
Credit: Jason Fenmore
As a long time fan of 21 Savage, I'm excited for his set, but it was admittedly very hard to leave the high-thrill antics of DJ Diesel. 21 doesn't mess around with his 45 minute set, he gets straight to the bangers. "10 Freaky Girls" and "X" go especially hard. The crowd is very into the show and the cheers are enormous. I personally go feral as he plays my favorite hit of his, "Bank Account." 21 closes with his latest hit, "Rich Flex," while we repeatedly tell him to "do your thing 21, do your thing."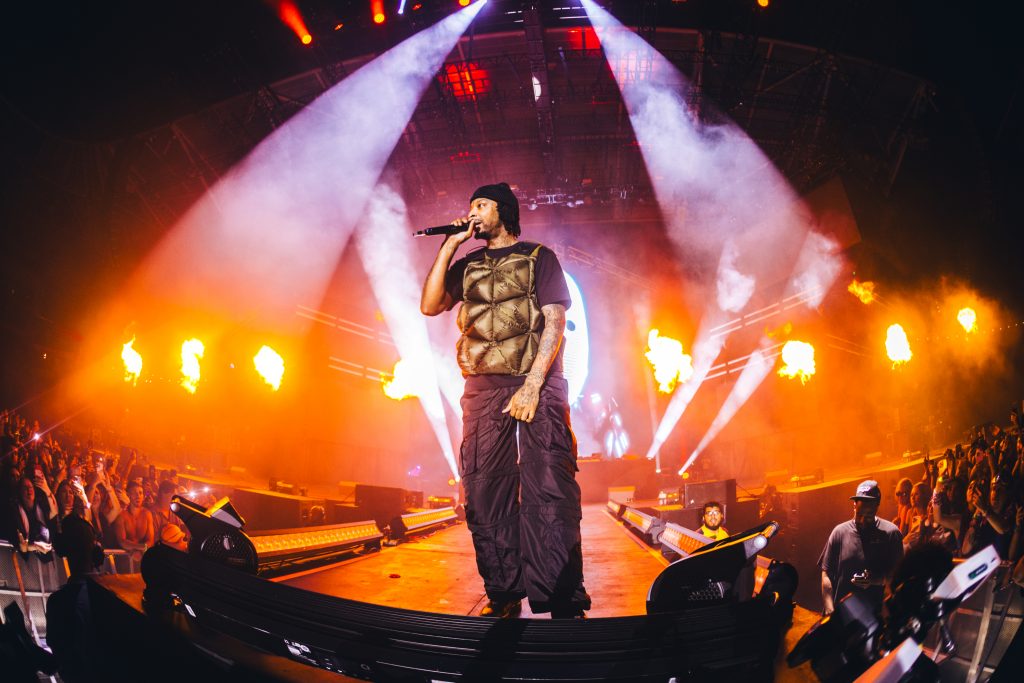 21 Savage
Credit: Matt Winkelmeyer
[Day 2]
Hard Summer seems to have greatly improved the walkway traffic overnight. Paths are much more obvious and I no longer find myself being repeatedly stuck in massive crowds. However, once again, I'm here for the music and boy oh boy, today is stacked!
We once again find ourselves at the Harder stage, this time for another millennial throwback rapper, Ludacris. Ludacris is visibly very happy to be here. He tells us how just this morning, he received a star on the Hollywood Walk of Fame. He's all smiles and ready to bring the party. He also is very impressed by the size of the crowd, acting like it might be the biggest crowd he's ever performed for. Ludacris does not disappoint, his setlist is full of bangers. He plays hits such as "All I Do Is Win," Yeah!" and even performs his iconic verse from Justin Bieber's "Baby." The crowd absolutely adores his set.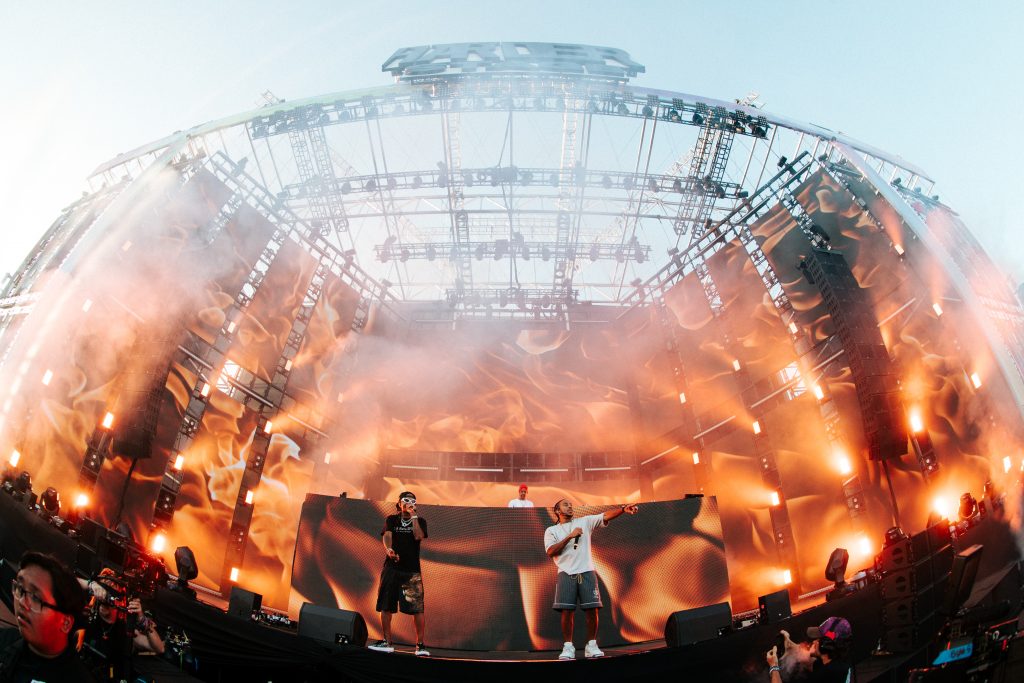 Ludacris
Credit: Gina Joy
Next stop is London tech-house phenom, Pawsa. Going into Pawsa, my partner, Kelly, and I are looking forward to hearing one song and song only: "The Groovy Cat." "The Groovy Cat" is a fantastic house track which features a sample of the Pink Panther theme song. Kelly and I are a few beverages deep at this point, so Pawsa's set hits especially hard. I have Four Loko coursing through my veins, so you know I'm having a blast. Pawsa is an incredible DJ and sustains a constant, groovy house beat. Much to our delight, he drops an excellent remix of Frank Ocean's "Pyramids" early into his set. He keeps the vibes going and later plays an amped house remix of Travis Scott's "Goosebumps. Overall, Pawsa smashes the set.
Soon after Pawsa, we make our way over to the main stage; it is absolutely packed! Skrillex and Four Tet command a massive, energetic crowd. Their mixing and mashups are all stellar and they make the crowd lose their minds. They are two legends at this point and everytime they perform it's a set for the ages. Unfortunately my bladder can't keep up with me for the whole set, so we decide to leave early, use the facilities, and catch the end of another highly anticipated set, Kid Cudi.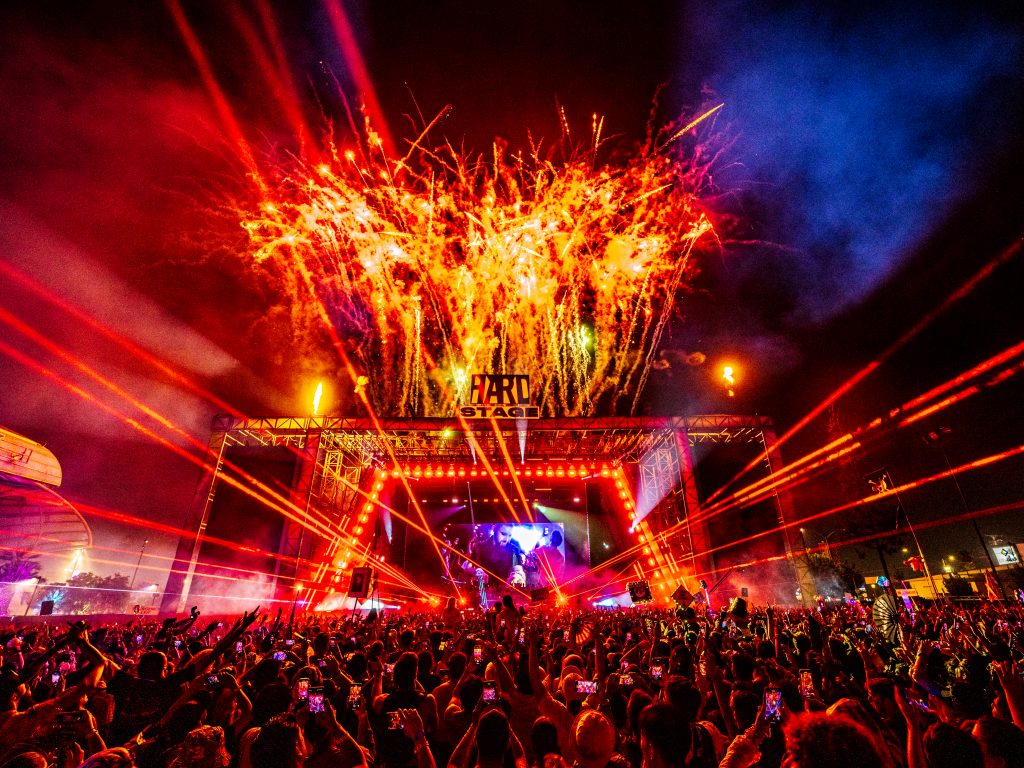 Skrillex and Four Tet
Credit: Skylar Greene
Just as we enter the Purple Stage at BMO Stadium, Cudi is performing his fantastic song, "Mr Rager." Kid Cudi is very smiley and is great at hyping up the crowd. He saves "Pursuit of Happiness" for the end of his set and the song is pure bliss. I dance around rabidly and even manage to break my backpack strap. It was worth it for the memories. Kid Cudi provided the perfect ending to a very spectacular festival.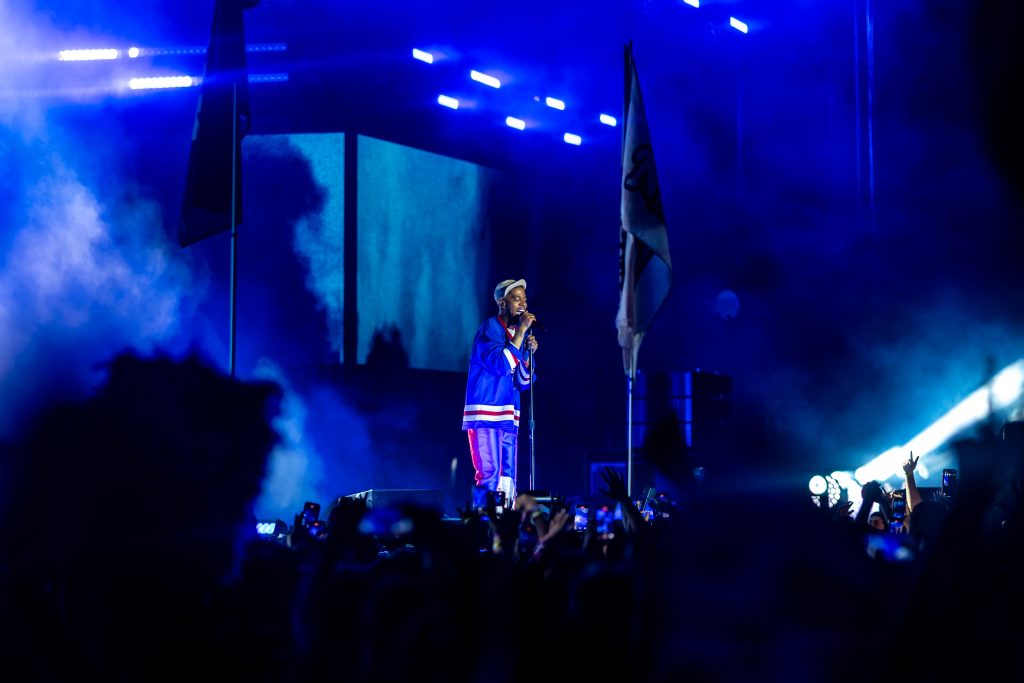 Kid Cudi
Credit: Shea Flynn
All in all, Hard Summer was a blast and a festival that I hope continues to give Angelenos an epic, edm-fueled weekend for years to come.