As I walked from my car, parked in a classic dingy downtown LA lot, my friend Kamilla and I made our way over to L.A Live. I thought to myself, "Wow. There truly is nothing better than a concert downtown on a Wednesday- no traffic, cheap parking, and way fewer people selling bootlegged t-shirts of the artist you're about to see". While I would have loved a new piece to walk into the Syd concert with, I would have to do without.
It was my first time at The Novo, and I was ecstatic to see Syd and Destin Conrad during Pride Month for their last stop of the Broken Hearts Club tour. The frontwoman of the R&B group, The Internet, and the former Vine star came together to perform in 22 cities prior. With just over two thousand capacity, the venue was smaller than most, providing the intimate experience lacking from stadium shows.
The stage was decorated to recreate the cover of her long-awaited April release, Broken Hearts Club, her first album since Fin dropped back in 2017. As the crowd waited for Conrad's performance, I enjoyed my daily dose of people-watching. Syd's fans were beautifully diverse (and surprisingly quite short), rocking everything from afros and crochet tops to locs and ankle-length skirts. Couples swayed together to neo-soul in embraces that radiated comforting energy the whole show. Whoever was on aux during the pre-show knew what they were doing, as a group karaoke session to Snoh Aalegra, Jazmine Sullivan, and the likes killed the time.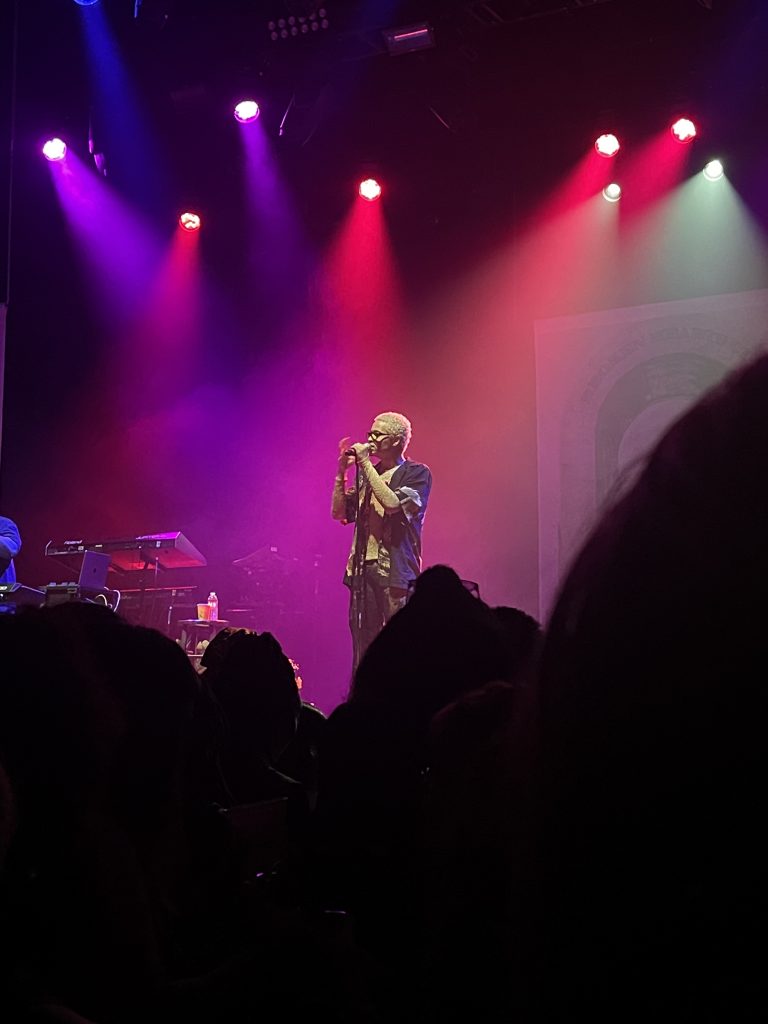 At 8:17 p.m., the crowd's murmurs and hums crescendoed to applause as Conrad hit the stage in a form-fitting gold top and baggy jeans. As I set a reminder to DM him for outfit deets, he opened the show with his song "Lazy," from his EP COLORWAY. My head began to sway rhythmically to the beat as I too agreed that "these bitches lazy." Despite this being Conrad's first time on tour, he certainly was a natural, as he joked and engaged with the audience between every song. If the sensation of coasting down PCH with your friends right before sunset was packaged and distributed, it would look and sound like Conrad's music. The rhythmic kicks of a snare meet with piano keys as his voice reverberates on each track. His lyrics are simple, but still manage to pack a punch as he sings "How you Dior-ed down and still stay with your mama, baby?" in "BILL$." He closed out his set by serenading us with his top song "IN THE AIR" before thanking us and vanishing behind the curtain.
If you went into Webster's dictionary right now and somehow found the definition of BDE printed on one of its pages, I guarantee you that Syd Bennett's face would be printed right next to it. From the first moment the LA native took the stage, the audience knew they were there to party. Simone, Syd's partner, brought out wine in solo cups, which was rightfully met with woops and applause from the audience. Before the first track began, Syd prepared a toast, red solo in hand. "To all of you who decided to spend your night with me, thank you." She continued to acknowledge the money and time we spent to be here and expressed her gratitude.
With the formalities out of the way, Syd brought us back to 2017 with the song "Insecurities" from her debut album Fin. Her moves were dipped in what could only be described as swagger, gliding effortlessly across the stage with a huge grin plastered across her face. Syd uses a more delicate R&B voice rather than a soulful belt, which compliments her demeanor- soft but still confident. She expresses this dichotomy within herself with the lyrics "You know I love you, girl/ Maybe more than I love myself…But in a perfect world/I would be with somebody else." The absence of background dancers allowed the audience to focus on the verses rather than what they saw, fully immersing themselves in the music. Syd was only accompanied by her bass player and pianist, allowing her vocals to guide the show without fear of being overshadowed by percussion.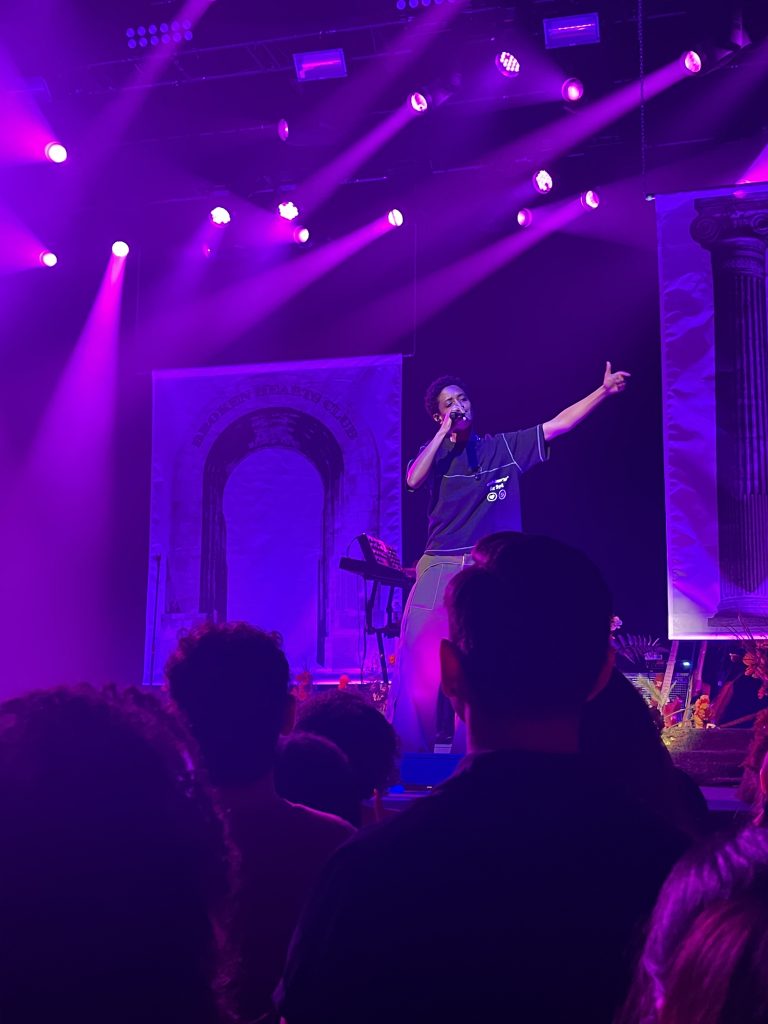 I looked around to admire the entranced audience, eyes closed and feet rhythmically two-stepping to the vibrations emitting from the speakers. As a fellow earth sign myself, I could tell that Syd's energy manifests in her performance- mellow and grounded, but with upbeat energy to even it out. Shortly after, an iconic R&B bassline was strummed by Syd's bassist for us to transition into The Internet's "Special Affair," a highly streamed track from their album, Ego Death.
Even with her album's somber backstory and progression, Syd maintained upbeat energy throughout the show, radiating love despite previous heartbreak. She asked us if it was okay that she took us through her experience, from the happy beginnings to the regretful end. "Broken Hearts Club is based on a true story. It is what it is," she told us, and for the next hour and fifteen minutes, we learned how she dealt with it.
"Tie the Knot" was the first song from Broken Hearts Club performed, transporting the audience into a lovey-dovey honeymoon phase. Hand and body movements represented the east and west coasts in her lyrics, painting a picture of the long-distance situationship that Bennett was in at the time. Although liking someone enough that you consider eloping (despite living on separate coasts) should be red flag number one, it's clear that Syd's rose-colored goggles took control at this point in her life.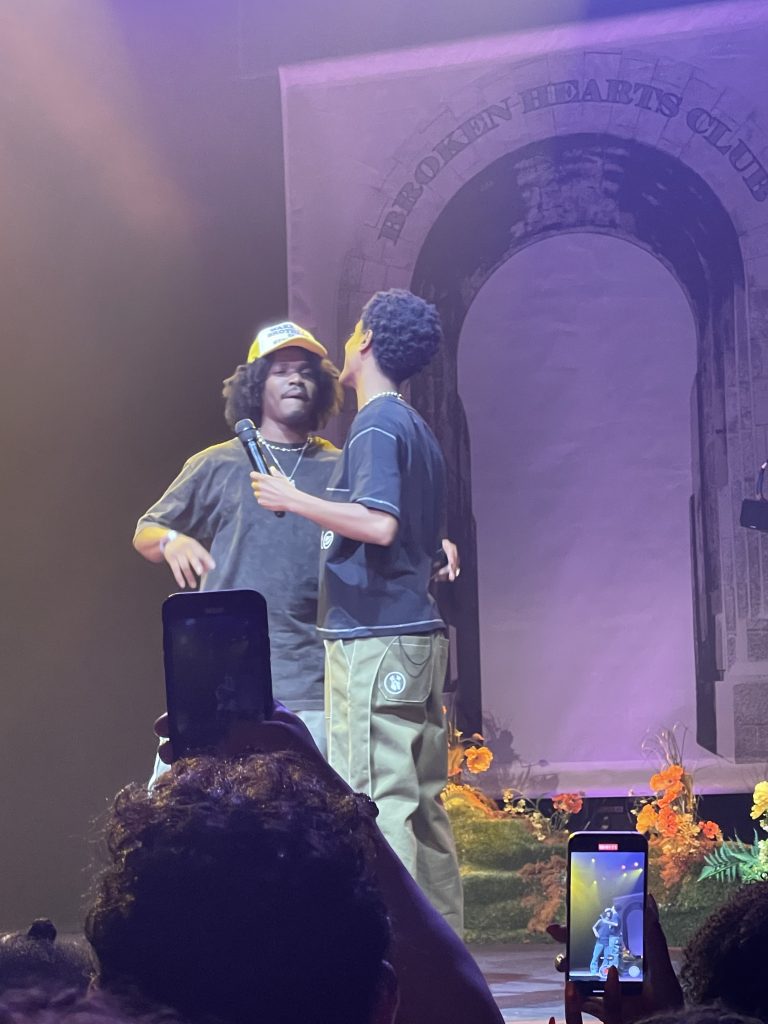 Distance aside, they felt like they were on the "Right Track" to begin a serious relationship. Syd told us exactly how she felt with this song and surprise support from Smino, a feature on the track. The party energy continued as the crowd, clearly surprised by this guest appearance, screamed and stretched their arms towards the stage in hopes of a connection. After making sure my eyes had returned to their sockets, I was ready for the rest of the show (Smino if you see this, HMU). The rest of her setlist was an amalgamation of past hits and new pieces. Tracks such as KAYTRANADA collabs "YOU'RE THE ONE" and "Girl," along with "Out Loud" and "CYBAH" (featuring Kehlani and Lucky Daye respectively), helped close out the final night of the tour.
Despite her initial toast at the start of the concert, Syd admitted to us in between songs that she used to do music for herself and herself only. Referring to herself best as an "oxygen mask first ass bitch," she explained how transitioning her purpose in the music world was not an easy journey. With the right people in her life to ground her, she was finally able to extend the care she had for herself to us as fans, but also family.
Syd told us the story of Broken Hearts Club, showcasing her fair share of relationship insecurities and how she grew to confidently say "you're missing out." Her concert experience transcends beyond just music and is a learning lesson for anyone dating. Syd created a space both on tour and within her album where hearts in need of mending can finally rest.