Fleet Foxes @ The Greek [7/8/22]
Photos by Lucas Chen
---
I.
In our first English class, we learn about tenses: past, present, and future. Robin Pecknold challenges this arrangement of time into a triptych with Shore, Fleet Foxes's 2020 album.
"I wanted the album to exist in a liminal space outside of time, inhabiting both the future and the past, accessing something spiritual or personal that is untouched by whatever the state of the world may be at a given moment, whatever our season," the band's frontman wrote in Shore's official press release.
But Fleet Foxes, in classic folk fashion, has always skirted around our modern world. A listen through their eponymous debut album evokes imagery of running barefoot through the woods and ruminating near babbling brooks, with lines such as "Come down from the mountain, you have been gone too long/The spring is upon us, follow my only song," from "Ragged Wood." The Seattle band, formed in 2006, rooted themselves in the indie-folk scene with their now-signature soaring harmonies and esoteric allusions. Tonight, they're playing at The Greek for the Shore Tour. 
In the Lyft, Lucas, the photographer, and I trade Fleet-Foxes-origin stories. He first got into the band through his old boss while interning at KCRW. I share how my middle school best friend showed their songs. A subtle pang hits when I realize I haven't spoken to that friend in years. Is it too early in the evening for some nostalgia?
Upon our arrival, we hear the final guitar chords of Tim Bernardes, the opener. Unfortunately, we've missed his set, but a later Spotify listen of the Brazilian songwriter's work reveals that his quietly tender music pairs well, both sonically and thematically, with that of Fleet Foxes's.
Lucas goes looking for his photo pass and we part ways. I survey the field; as someone who has only attended Gen-Z-heavy concerts up until now, I'm not sure what to make of all these millennial, mustached men clad in their wire-rimmed glasses and patterned button-ups. But I'm barely one to talk – my commitment to the Anthropologie-core aesthetic that patterns Fleet Foxes's demographic bites me back when the buckles of my Birkenstocks set off security's metal detectors. I'm only slightly embarrassed as I scurry past the guards.
---
II.
There are no striking cues when the Greek's lights dim around 9 PM. Robin Pecknold strolls on stage with the casualness of a guitarist about to nestle into his living room couch and play for his dog. Still, the crowd gives an enthusiastic cheer.
The rest of the band takes their place and Pecknold begins to play the gently swaying chords to "Wading in Waist-High Water." Shore's opening track transforms the amphitheater into a large canoe, lulling the audience into a trance-like state as they rock back and forth to the rhythm. Pecknold's baritenor voice carries a wavering warmth as he closes the song, like the feeling of heat radiating off of a campfire.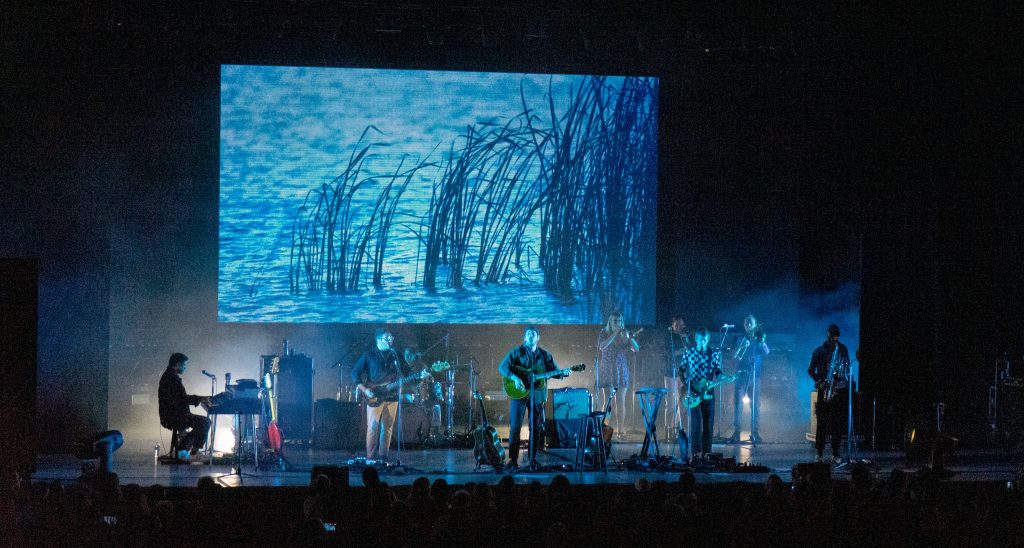 The audience's meditative state continues as the band flows through each song. While each member plays their respective instrument, many of them also harmonize with Pecknold, their voices carving out contours to his leading vocals. A standout is the brass section, comprised of three-fourths of the Westerlies, a Seattle-based quartet. The trio adds a new element of lushness to each song's texture, especially shining on "Phoenix," a collaboration with Big Red Machine.
"This is already my favorite show we've ever played," Pecknold says, one of his many sentiments of appreciation throughout the show. Tonight, he's decked out in a beanie, a heavyweight flannel, and yes, Birkenstocks ("I'm committed to wearing them," he says unashamedly. I feel a strange kinship to this man.). Pecknold is utterly endearing as he interacts with the crowd, shouting out his parents in the audience, disclosing the contents of his tea thermos ("Throat Coat and ginger crystal packets"), and giving special appreciation to the folks in the back of the theater, all with an air of humility.
I'm taken aback when he replies "Slay, king," to someone in the front row.
"We're now aging millennials, but the younger crew teaches us stuff so we can relate. it's pretty based"— he pauses, lets the audience soak in the slang– "It's also pretty cringe."
Despite his ironically youthful vernacular, Pecknold's musical evolution reveals that he's a man well aware of his age. While writing the lyrics to Shore, he asked himself, "How much am I living in the past? How much can I leave behind? How much of my identity is wrapped up in memories?"
His sentiment manifests in the setlist; a balance between the band's latest album and their previous works, it evokes nostalgia with each temporal shift. Performances of older songs like "Ragged Wood" boast a youthful, soaring tune with their bright melodies and pacing rhythm, while newer tracks like "I'm Not My Season" carry the nuanced, mellowed-out wisdom of experience. It's a steady push-and-pull between the past and present, akin to sitting on the shore and watching the waves lap, building just as much as they break.
This smearing of time is most achingly present in Pecknold's performance of "Mykonos." Rumored to be about former bandmate Josh Tillman's (better known as Father John Misty) struggles with addiction, the song's harmonies have only grown more haunting with age; Tillman and the band had a less-than-amicable split in 2012, four years after the song's release. During the repeating lines of the outro, Pecknold's vocal tone changes from a desperate pleading to an airy whisper, the speaker giving way to a reluctant acceptance of his subject's decisions. The lyrics linger around the amphitheater like the ending of a Greek tragedy, bounded by their self-fulfilling prophecy.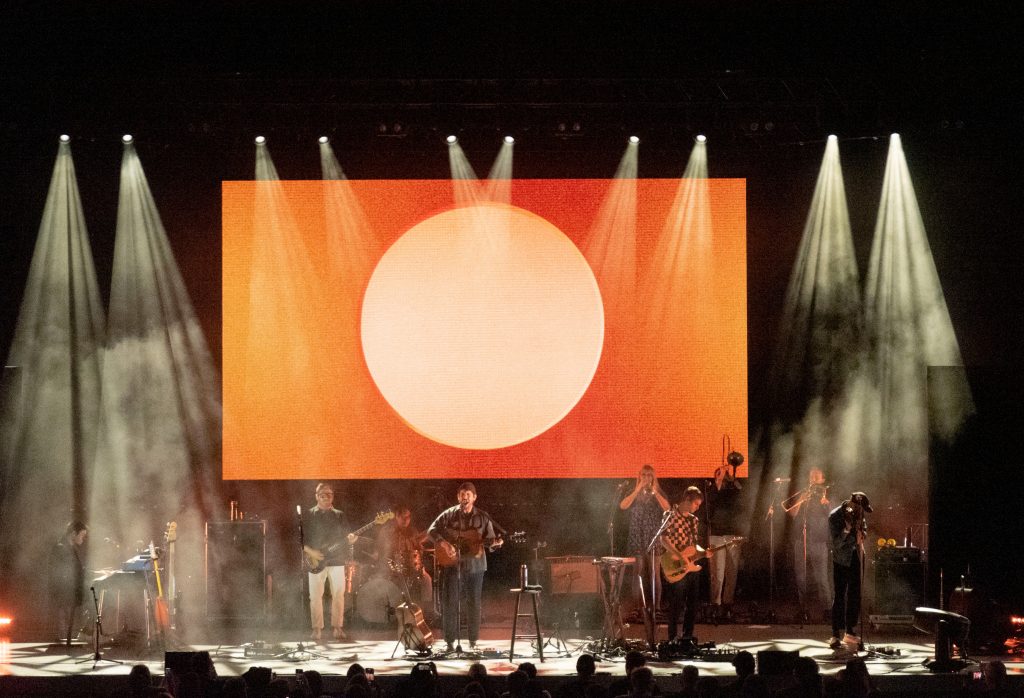 I wonder what it's like for Pecknold to tell these stories, once full of life, now inhabited by ghosts.
I wonder if the distance between back then and tonight is enough to fade scars, or if the old freshness of healed wounds continues to creep back into the skin like muscle memory.
---
III.
The rest of the night reads like falling action after the emotional climax of "Mykonos;" While not offering clean resolutions, the remaining songs carry an unwavering sense of hope. During the encore, Tim Bernardes returns to sing the outro of "Going-to-the-Sun-Road," his soft voice reassuring: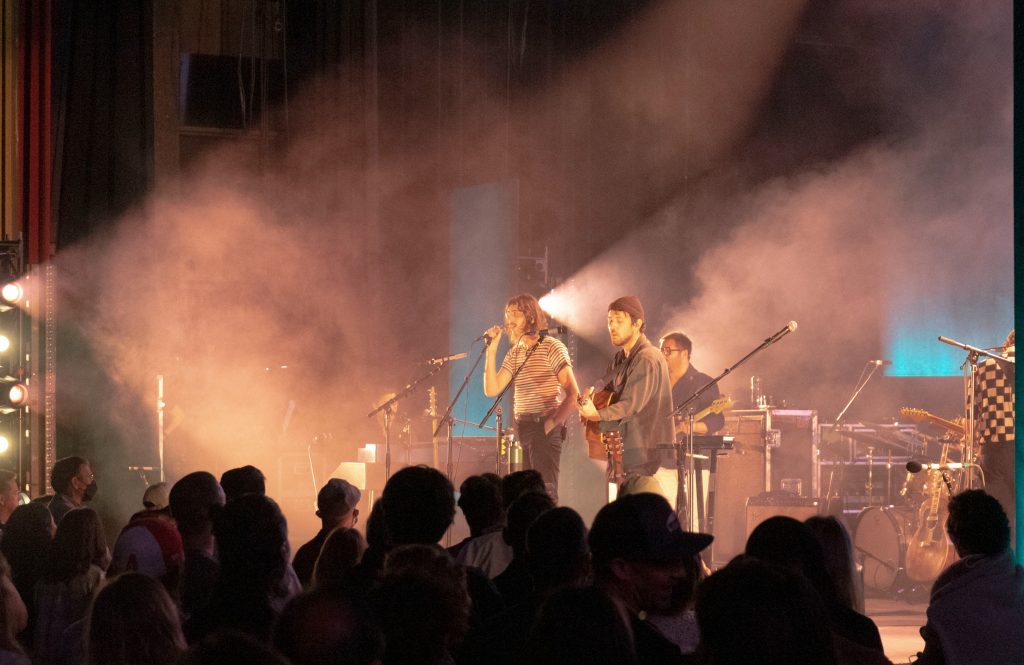 Afterward, Lucas and I head to the sound station to snag a setlist. Successfully secured, we're about to leave before catching the attention of a lady and her daughter.
"Excuse me, is that a setlist?" she asks, unable to hide her excitement. "Do you mind if I take a photo of it?"
We oblige, then strike up a conversation. Suzy and her daughter, Olivia, fell in love with Fleet Foxes after Olivia's sister found them on Youtube, a little before their 2017 album Crack-Up. "We were just… enamored with them," she gushes.
When I ask them their thoughts on Shore as opposed to Fleet Foxes' previous works, Olivia tells me she enjoys their first few albums the most because of her nostalgic connection to them. "They had a really fantasy-like sound, while [Shore] feels more 'real-life,' if that makes sense."
"We're kinda nostalgic, those songs were like magic," Suzy adds on.
There's that word again, nostalgia, its three syllables echoing like a leitmotif.
Curious, I ask Suzy if there's anyone she's missing right now, if there's anything she'd like to say to them. She pauses, then shares:
"A very good friend of mine passed away recently, and we used to be in a band together. He was a great, great guitarist and kept that band going for such a long time." There's so much warmth in her intonation.
"I'd like to tell him, 'thank you so much for letting me a part of the band, to sing the harmonies and just… to have the joy of making music together.'"
For Suzy and Olivia, for Pecknold, for me, and for many others, Fleet Foxes's concert was a night steeped in the past: who we used to be, the dreams we used to have, the people we used to love. But in between all the longing, Pecknold's music finds hope amidst hurt and growth amidst grief. A poem by W.S. Merwin comes to mind:
"Your absence has gone through me
Like thread through a needle.
Everything I do is stitched with its color."
The stories are filled with loss, they always are. Yet what keeps them moving forward are the tapestries we weave to honor that loss: some beautiful, some intricate, some garish, but always in the most vibrant of colors.
---
Back in Westwood, I'm about to head home before remembering I had promised friends to stop by their party.
The theme is "childhood dream job." Inside the apartment, there are super spies and cosmonauts and pop stars, and now there's a college-radio-music journalist in the mix as well. I pour myself a drink and sit in the corner.
One sip in and suddenly I start missing everyone I've ever known. I know it's overly sentimental, but I can't help myself. Before I try to call someone whose number I don't even have anymore, I shift my attention outwards to the people present, these lively people dressed as future visions of their childhood selves, existing in the liminal space that Shore sought to capture so closely. Years away from the dreamers they once were, yet still finding joy within those pasts, even if only for the night. They are avidly bouncing ping-pong balls on tables, sloppily talking to one another, and shining in camera-flash sheen.
If Robin Pecknold was sitting beside me right now, I think he'd call them untouchable.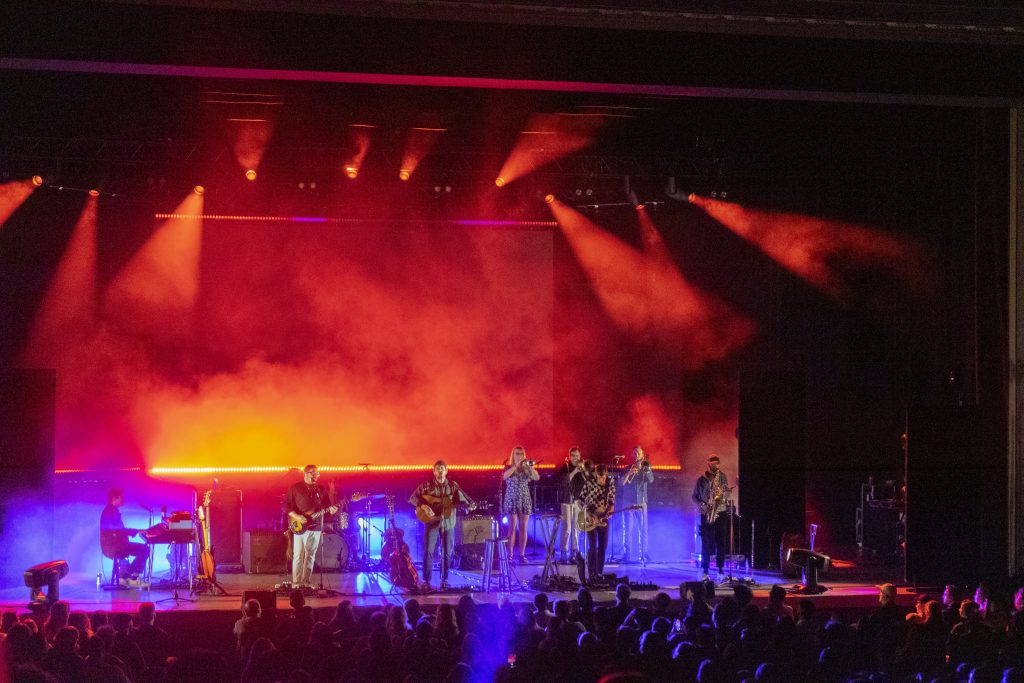 ---
Lead Vocalist, Guitar: Robin Pecknold
Pianist: Casey Wescott
Bass Guitar: Skyler Skjelset
Guitar: Christian Wargo
Bass, Flute, Tambourine: Morgan Henderson
Drummer: Christopher Icasiano
Trumpet: Chloe Rowlands
Trombone: Andy Clausen and Willem De Koch