Photos by Michelle Le
Pinch me, I think I'm dreaming. When Laufey took the stage, with her crooning voice to her songs for the hopeless romantics, I found myself in a trance.
Laufey opened for Ricky Montgomery, resident artist for those in love, out of love, and somewhere in between. Montgomery's performance was nothing short of brilliant in the way that he completely captured the crowd and brought out every nuance and gradation that comes with loving and losing. Accompanied by his band, he took the stage and opened with a fan favorite and one of his singles, "Line Without A Hook". Playing songs off his discography, new and old, the heartache and true feelings of love made themselves apparent and my heart swelled with emotion. Songs such as "Talk To You", "Cali", and "Get Used to It" brought an infectious, lively spirit to the crowd, which began to jump and dance to match Montgomery's energy.
Midway through his performance, Montgomery prefaces the rest of his set: "all the songs for the rest of the night are going to be sad".
Excited to ache, the crowd readily answered Montgomery's declaration with a roar of approval. "Sorry for Me", "Out Like a Light" (previous work from Montgomery's past group), and "This December" accompanied the repertoire of promised sad songs and brought out feelings of longing, ache, and loving someone so much that you could burst. As Montogomery played his final song, "Mr. Loverman", one that I've listened to countless times on my own, I found myself in awe.
"I've shattered now, I'm spilling out, upon this linoleum ground (Mr. Loverman)… Oh what am I supposed to do without you?" His lyricism had me aching from previous heartbreaks and endings, and yet feeling this pain and emotion didn't necessarily make me feel alone. I was hurting alongside Montgomery and a crowd who understood. Montgomery was unique in his ability to bring people together and make them feel whole and unalone in their heartache.
Montgomery's ability to share the pain and raw emotion that went into writing Mr. Loverman and that continues to go into his current work, made this live performance unforgettable. I couldn't believe I was witness to such a beautiful talent.
With a setlist that ranged from the feeling of being completely enamored by love to the crush of the breakup and losing 'the one', Montgomery shows his deep, true understanding of the human heart. In singing about the thrill of falling in love and the fear of falling out of it, Montgomery's music turns the emotion that many fear into something beautiful and universally human.
In contrast to Montgomery's set, Laufey's was one full of hope to find a true match, the beauty of life, and new beginnings. Prior to the concert, I'd only known Laufey from her TikToks that shared snippets of her songwriting and classical training. Tonight she took the stage donning a cherry red electric guitar, exchanging the cello central to her online presence for the six-stringed instrument. Though she was the only one on the stage, her presence took up the entire space with ease. She opened with her first ever single, "Street by Street" and her warm, honeyed voice filled the venue, silencing the crowd and brought a feeling of familiarity and comfort. With her '40s and '50s jazz influence and romantic outlook on life, Laufey holds to be timeless in our era of modern music.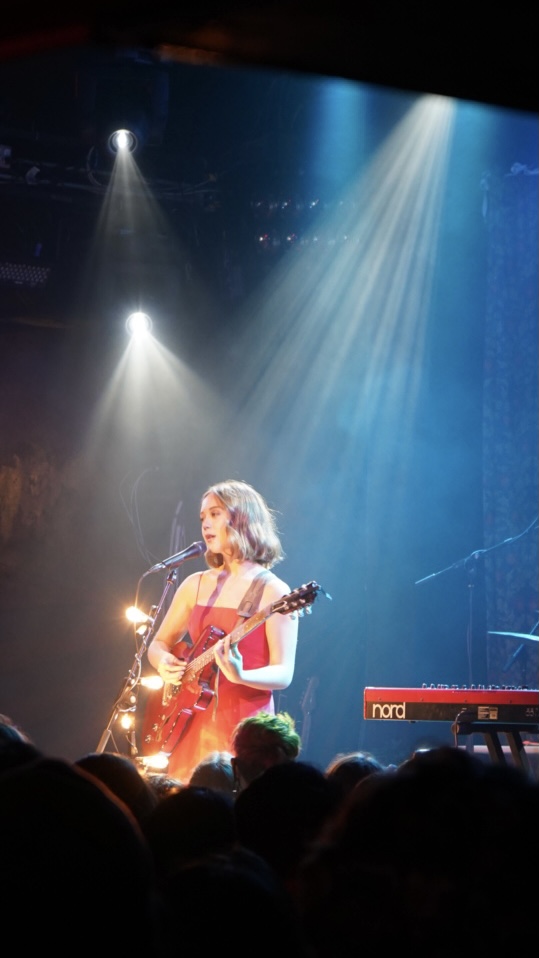 Through her set, Laufey effortlessly switches between her electric guitar, acoustic guitar, and keyboard, displaying her expansive musical training. Her performance shows the exact beauty and sound that is typically seen in her recorded work.
Laufey's charm radiates in the way she makes a point to introduce her songs before each performance. As she goes on to perform songs from her EP, Typical of Me, like "Magnolia", "Best Friend", and an unreleased song, "Dear Soulmate", she dedicates each song to her inspirations: beautiful girls that don't know how truly beautiful they are, her sister, and her future soulmate. All of whom have played a role in shaping her music's purpose and drive. Funnily enough, she comments that she sings a lot about love for someone that doesn't know what real romantic love is, evoking a chuckle from everyone at the venue. However, her love songs wouldn't show that at all. She adds that because of this inexperience, she sings about the love that she does know and receives from her sister and loved ones.

Even as she sings about the mishaps and heartaches of dating, in songs such as "James", one telling the story about an unfortunate date with a guy that simply was not 'the one' and clearly missed that mark, the audience laughs along clearly able to relate to Laufey. In her performance of "Falling Behind", Laufey draws out the lyric:
"Everybody's falling in love and I'm falling behind".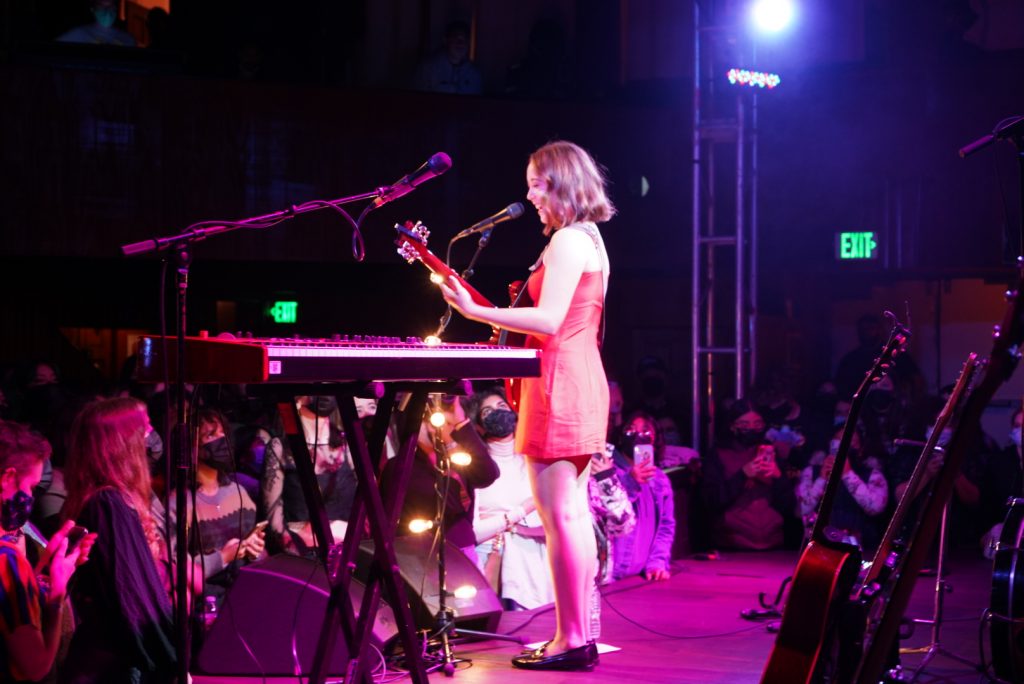 These words carry a sentiment that is well understood by anyone that's ever wanted to find their person, their epic romance. As someone that has long known herself to be a hopeless romantic, I fully saw myself in her music. It was obvious that this was the case for many others in the audience as the crowd watched her, eyes-wide in awed silence, or sang along with their entire hearts. Her music encapsulates all the feelings that come with being hopelessly, or hopefully, in love with love shine in her songs: ones of wanting, wishing, and patiently waiting for "the one" while everyone else seems to have found theirs. Laufey approaches these complex feelings of heartache and wishing with understanding, humor, and lightheartedness. Her ability to make anyone listening feel understood and seen is remarkable.
Laufey's songs are for the hopeless romantics, the ones who have fallen in love with life, and the ones who are on the way there. When thinking of dancing in the kitchen with the love of your life or even imagining the future of doing so, Laufey sets the soundtrack.