Photos by Sonja Stott
I wish I had worn my nightgown. Or would that have been too embarrassing? I mean that would be cool, right? I just don't want to seem like a nerd or weird or something, you know?
These are the sort of flustered thoughts inspired by the band Wet Leg, whom I went to see at The Echo last Monday. I pounced on the opportunity to cover them— their first show in LA! But what would I wear?
I started listening to Wet Leg a few months ago, though I don't remember how I found their music. I don't have TikTok (thanks, yes, I do have a hard time fitting my head through doorways), but many fans found them through that platform. Whether it was due to a friend's recommendation or the mysterious workings of the Spotify algorithm, I was hooked after hearing their first two singles, "Chaise Longue" and "Wet Dream." Speaking of algorithms, their music does seem tailor-made for my tastes. I mean, they have a song titled chaise longue and they drive around in a Mercedes 280 SL wearing bonnets and lobster claws for godsake. One of the comments under the "Chaise Longue" music video reads, "This song is so effortlessly cool I'd be too nervous to talk to it at a party." Hence my outfit-planning anxiety. As I contemplated seeing these internet phenoms in real life, I hoped that their appeal could bridge the digital divide and that their music could withstand a live performance.
Opening the show that night was Fake Fruit, an indie-punk quartet from Oakland. Their sound is characterized by pummeling drumming, unintelligible lyrics, and thrashing, looping rhythms that appeal to my baser instincts (instincts that involve pushing and shoving in claustrophobic knots of strangers). Most of their songs were indistinguishable from one another, except for one: "Milkman." The spoken-word style of this song was a refreshing break from the sing-shouting (mostly shouting) of their other songs, and reminiscent of Wet Leg's own singing. The lyrics themselves also stood out, abstract and odd, yet visually resonant: "I'm milking into what you just came to, the wholesome reign of the American milkman." The entire song reminded me of a distorted version of something you might hear in Scooby Doo. It's a little funky, a little spooky, and a little off kilter.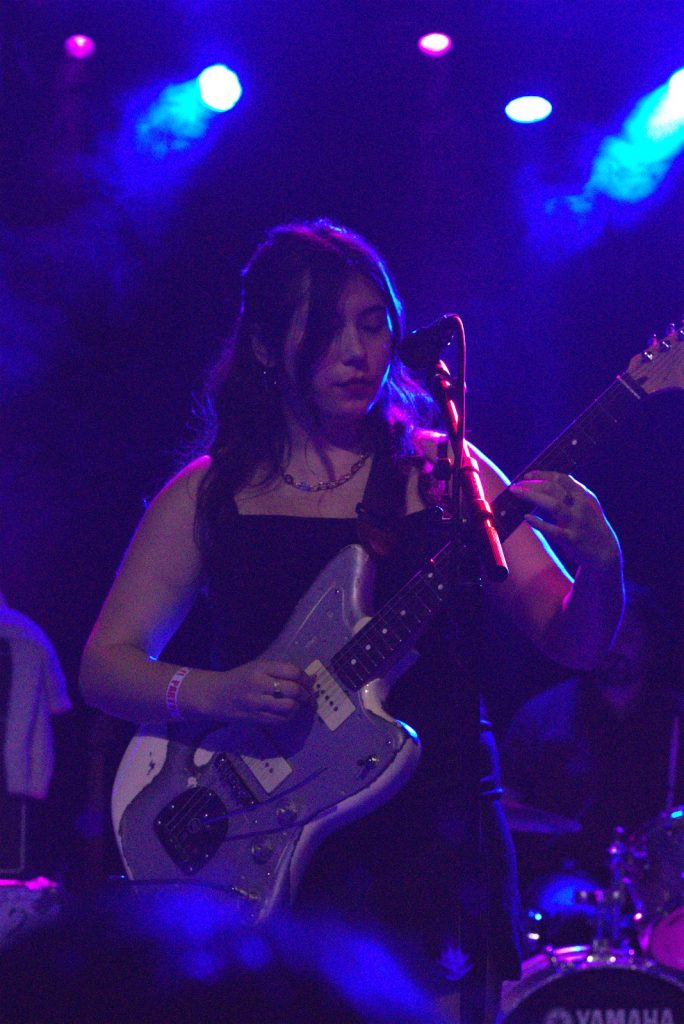 After Fake Fruit finished their set, a green neon sign spelling "Wet Leg" in dripping, Goosebumps font buzzed to life behind the drum kit. Wet Leg mounted the stage as the ghostly flutes of "Concerning Hobbits" from the The Lord of the Rings soundtrack fluttered through the speakers. The fanciful melody of the shire was replaced by a synthesized whooshing sound— a cross somewhere between space-ship ascension and wind blowing through a forest of bare trees— as the band transitioned into their opening song, "Too Late Now."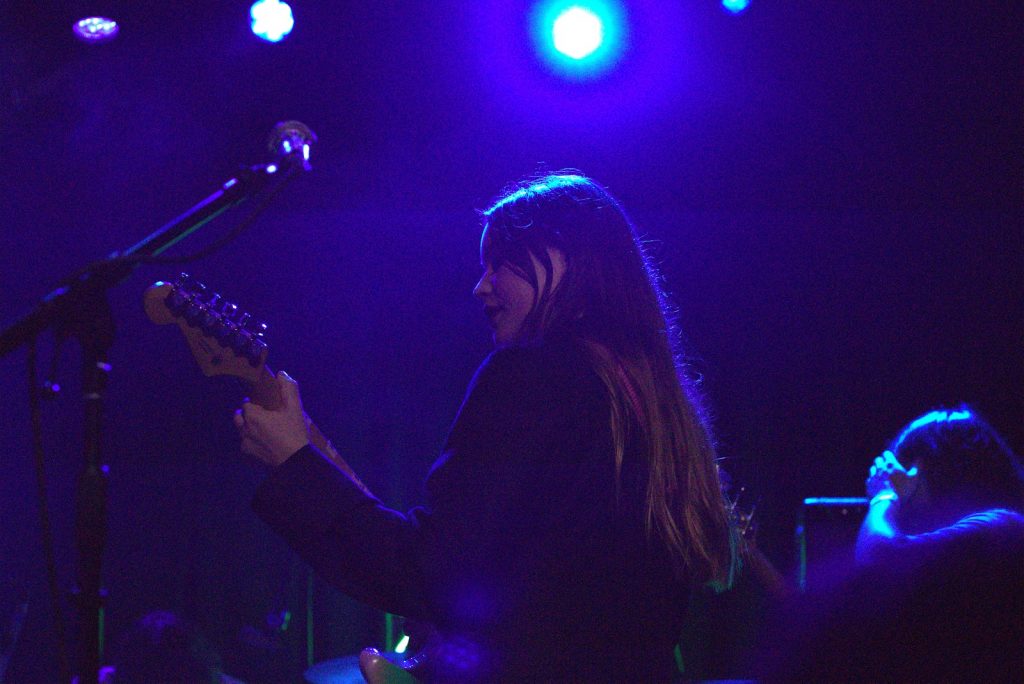 It was probably for the best that I decided against the nightgown. The band wasn't dressed in full cottagecore regalia as I had expected. Rhian Teasdale, lead vocalist, was wearing a black blazer and black slacks, loose and elegant. Hester Chambers, the second half of Wet Leg, wore a black baby doll dress. Heavy rings decorated all twenty of their fingers. Though their music videos had caused me to anticipate costumes of the woodland nymph persuasion, this darker style suited them well. They looked poised, confident. Aside from their musical talent, the band is especially skilled in image and aesthetic curation. In fact, before starting Wet Leg, Teasdale had worked as a wardrobe assistant for music videos. This background would explain the professionalism of their own music videos, of unusually high production value given their relative obscurity.
But how unknown is Wet Leg, really? The performance of their first song "Too Late Now" (one of four songs on Spotify) was met with immediate recognition by the audience. Though the sound was a bit unbalanced— their voices barely audible above the blaring instruments— the crowd knew every cue and beat drop. Their sudden popularity and successes— signing with Domino, their North American tour and performing on "Late Night"— have generated questions about their origins. On a recent Instagram post, they captioned a tour photo, "OH CRUMBS!! Our first ever US tour starts in New York tonight. How did this happen? Anyone else getting industry plant vibes." Whether this is an admission or rebuttal remains ambiguous.
Throughout their set, Teasdale and Chambers would exchange sidelong glances of incredulity. Their cheeks were flushed, which could have been due to the uncomfortable warmth of The Echo or their excitement at such a turn-out. Teasdale sheepishly acknowledged her surprise at being known in Los Angeles; her lovely English lilt instantly charmed the crowd. Some members of the audience bantered back, with a familiarity that made me wonder how many Isle of Wight transplants had followed the band to The Echo. Not quite sure how to react to some of these exchanges, Teasdale said, "Do you remember when you were in school and someone would say something and you wouldn't come up with a good comeback until later? That's how I feel about the chat in between." The keyboardist offered, "Well, that's a pretty good in-betweenie!" which drew bubbles of laughter from the band and the audience.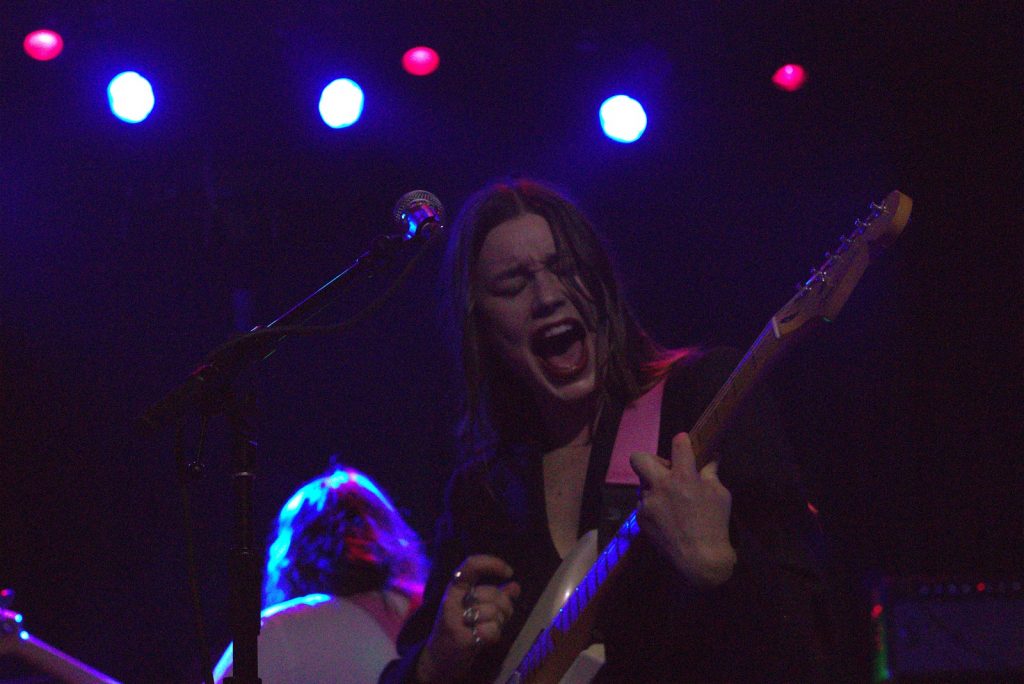 Their music makes everyone feel a little giddy. During "Wet Dream," Teasdale sang, "You've climbed onto the bonnet and you're licking the windscreen, I've never seen anything so obscene," bouncing her guitar on her hip as she rolled her body to the beat. Their songs have an undeniably catchy rhythm and cheeky lyrics. Their voices are expressive and versatile, singing in tones which fluctuate from Bjork and Barbie girl to the baritone strains of David Byrne.
Though they might be too cool to talk to at a party, their music doesn't take itself too seriously. In "Too Late Now," Teasdale sings, "I don't need no radio, no MTV, no BBC, I just need a bubble bath to set me on a higher path." But don't think that Wet Leg lacks substance. Rather, they are creating a juxtaposition between themes of frivolous femininity in their lyrics and their harsh, jangling punk sound.
Wet Leg manages to write relevant, almost prosaic lyrics without being preachy or on-the-nose. Their song "Oh No" is about social media, but doesn't over-enforce its message (an admirable feat). Here's an example: "3 a.m. I feel zen, fucking zen, oh no! Sucked the life from my eyes, it feels ni-ice, I'm scrolling, I'm scrolling!" The writing is almost stream-of-consciousness, capturing the chaotic looping that is the inside of my brain (side note: is quitting social media as a new year's resolution the 2021 equivalent of buying a gym membership?).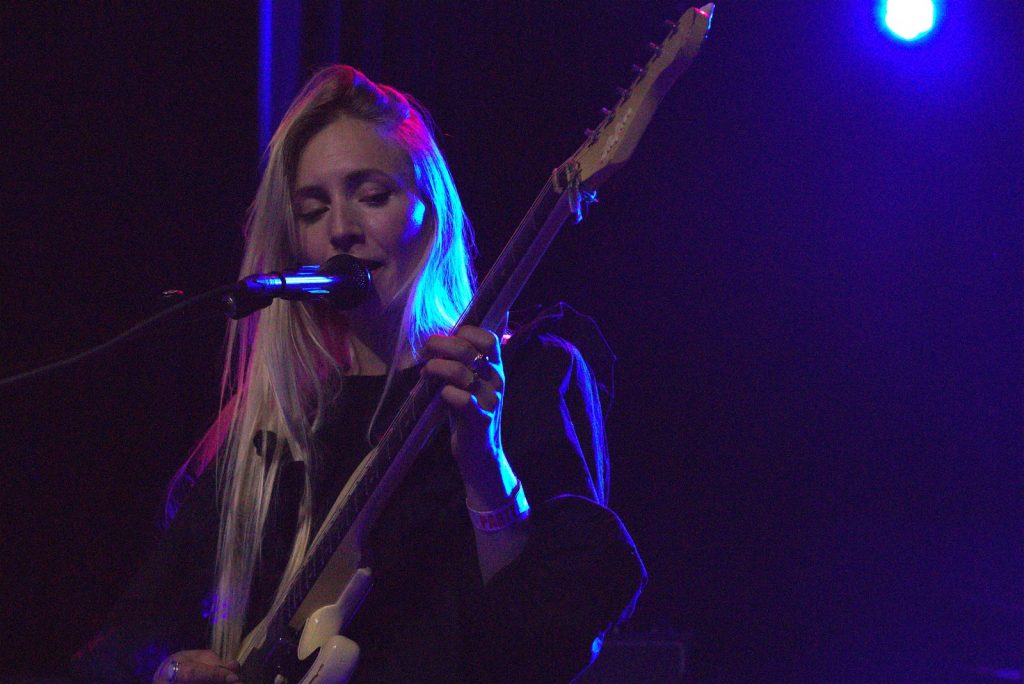 When a band claims to not take itself too seriously, it's easy to slide into gimmick purgatory. But Wet Leg has shown its versatility. During the performance of an unreleased song, Teasdale sang soulfully, revealing the rich range of her actual singing voice. The song was slow and haunting. Teasdale and Chambers harmonized together in a sweet blend. This gave us a chance to hear the singing voice of Chambers more, who usually just chimes in with occasional asides in the other songs.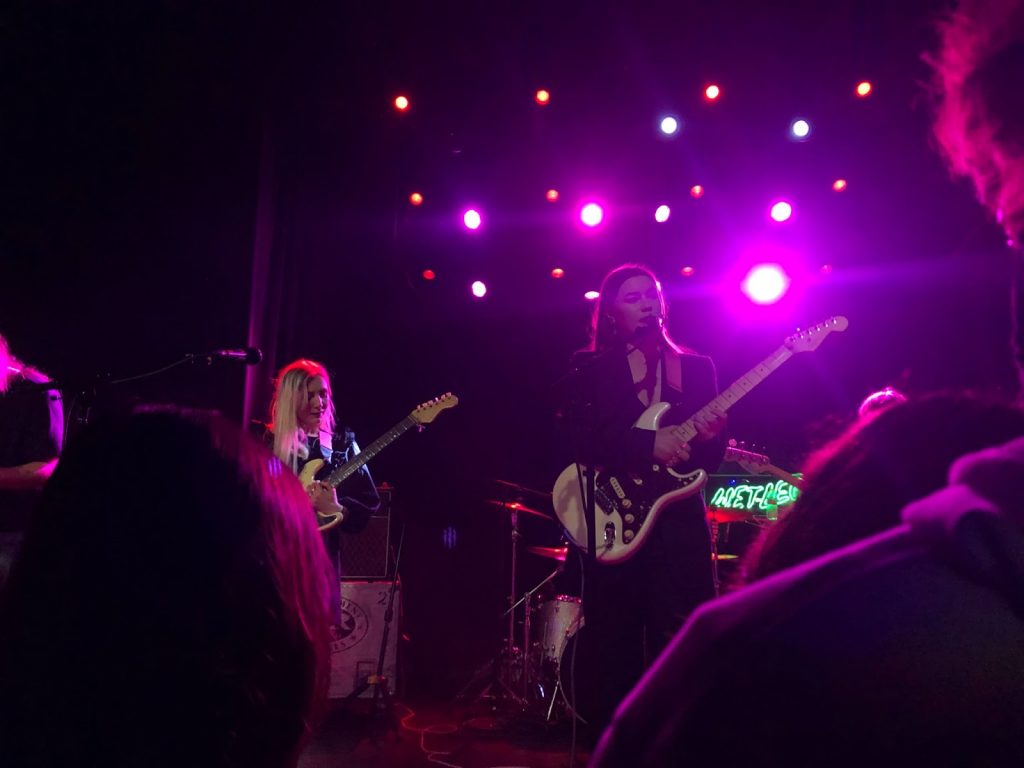 Their set ended with, of course, "Chaise Longue." We had been waiting for it all evening, and the band delivered with a raucous performance. They bounded around on stage while we grooved on the floor. The performers and audience were in sync, engaged in a playful call and response. Every time Teasdale sang, "Excuse me?", the reply rang back, "What?"
Wet Leg's eponymous first album doesn't release until April, but for now, four songs on Spotify and three music videos on YouTube will have to suffice. Now, where can I buy myself a chaise longue?