Omar Apollo @ Shrine Expo Hall [4/30/22]
As I got off the Expo line and walked up Jefferson Boulevard, I was met with the long queue of fans long before the Shrine came into view. Even though doors were not set to open for almost another hour, hundreds of people had already arrived, eager to see Omar Apollo's sold out stop on the Desvelado tour.
This tour, his first since 2019, has been a long time in the making, pushed back by both a pandemic and a scrapped album. But this Friday night, Apollo proved that good things come to those who wait.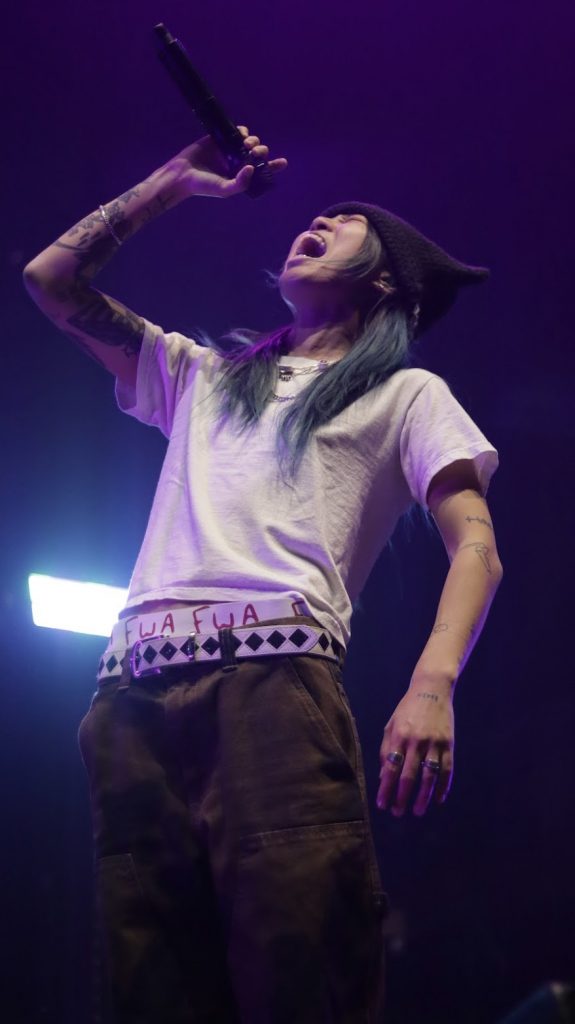 Apollo was joined on tour by Tora-i, a London-based R&B artist whose smooth vocals on "Call Your Name" captivated the audience and complemented the warm hall. Also supporting was the contagiously energetic Deb Never, who flew around the stage as she sang songs from her magnetic EP Where Have All the Flowers Gone. Never warmed up the crowd well for Apollo, asking us to hold up our flashlights and sway for the lingering "Someone Else", and closing her set with her catchy new single "Crutches", a nostalgic punk tune that feels primed for a coming of age movie.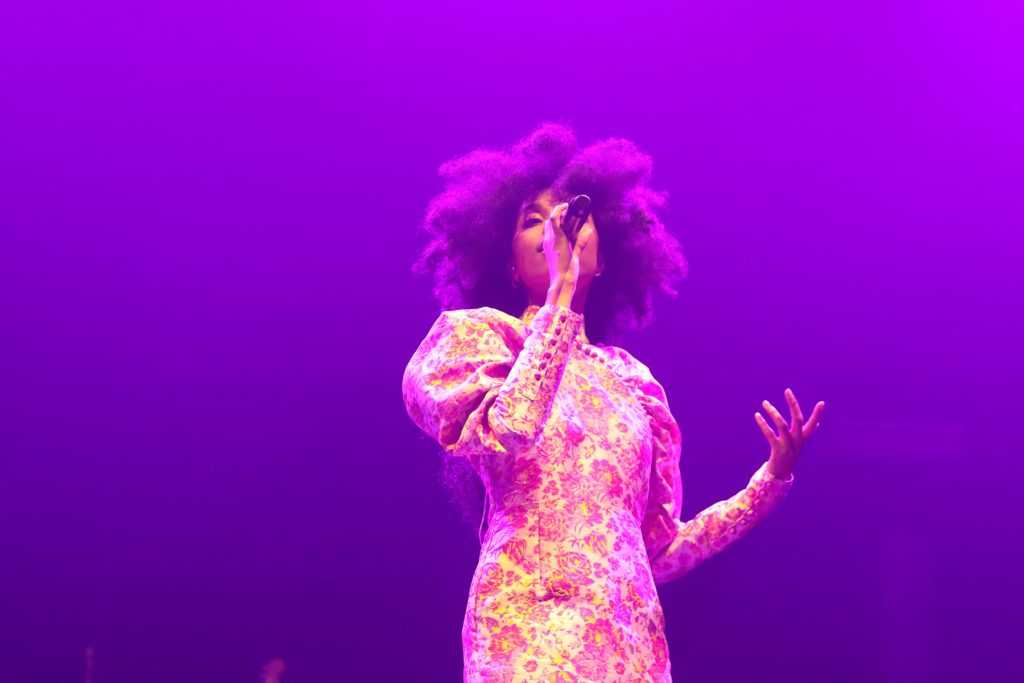 While we waited for Apollo to come on, I spoke to some of the fans who had managed to make it to the front row of the five thousand standing capacity venue. They came decked out in homemade merch and armed with signs, having gotten there at 5pm, almost six hours before Apollo was set to come on.
Their screams joined those that filled the hall as the guitar strums of his opener "Talk" came on, and Apollo burst onto the stage in a matching oversized deep red pants and jacket set. Fresh off the release of his first studio album, Ivory, the Mexican-American singer performed a carefully selected setlist that paid homage to his bedroom pop days and to his newer, more produced projects.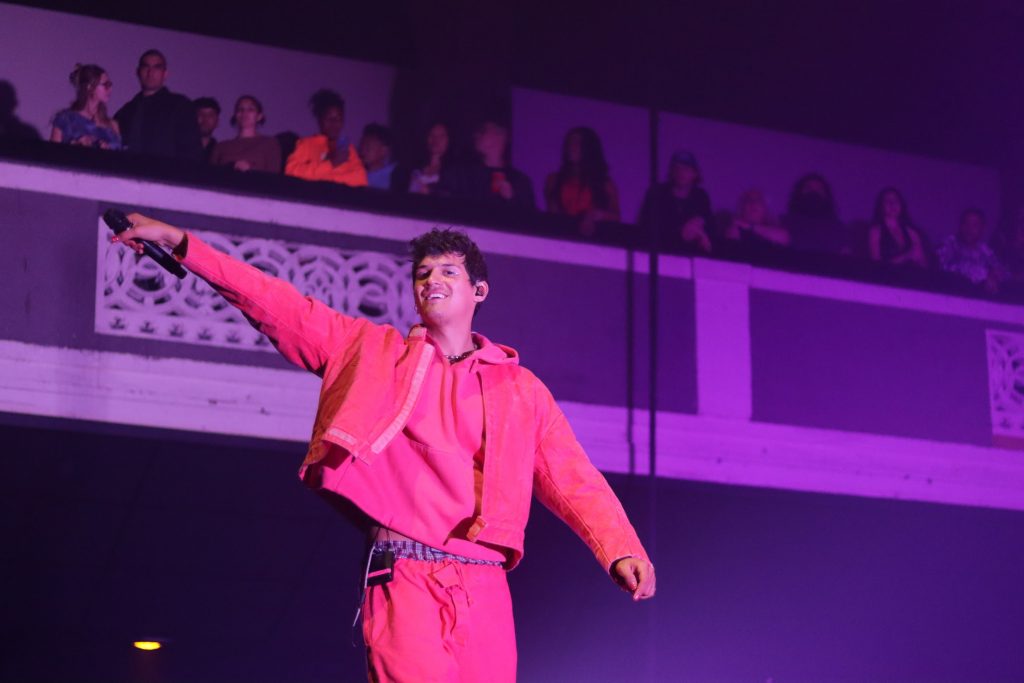 From "Talk" he transitioned into "Useless", a Strokes esque tune off of his 2020 Mixtape Apolonio, and grabbed his guitar to perform songs from his earlier EP "Stereo", including "Erase" and the DIY track that launched his career overnight, "Ugotme".
Apollo then jumped into material from his new album, first letting the crowd know that we were "gonna get real sexy on this next joint" before playing the bilingual "Killing Me". This mood was kept up by the ebullient "No Good Reason" which he matched with plenty of twirling and hip thrusting.
Midway through his set, Apollo proclaimed that it was time to "get into our real Mexican shit," and that he had brought something special for the Los Angeles show. Suddenly, an all-female mariachi band materialized onto the stage for Apollo's corrido "En El Olvido", undoubtedly the highlight of the night. The addition of trumpets and strings, blended with Apollo's warm vocals, added depth to the track that the studio version lacks, and proved that language was not a barrier for this crowd, who held onto his every word.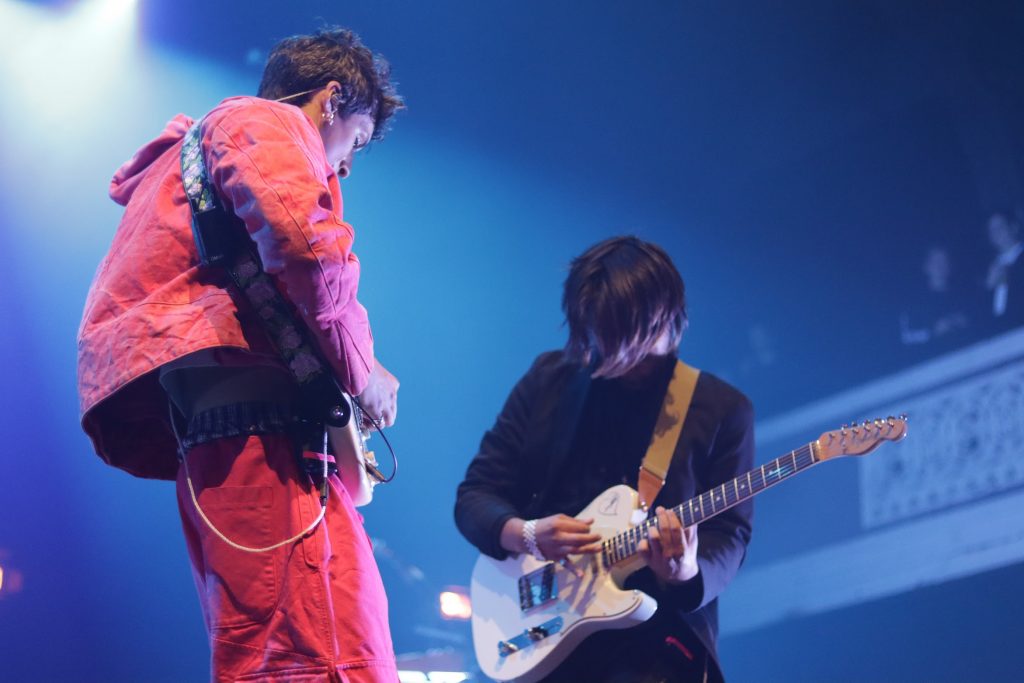 Throughout the rest of the concert, Apollo continued to mix tracks from his various EPs, which, while slightly whiplash inducing, made for a set that kept us on our toes. Other standouts from the night include the sweeping "Evergreen", and the Neptunes-produced "Tamagotchi". As the latter began, Apollo's friends and tourmates mobbed the stage and flew around plenty of Mexican flags, bringing the already high energy in the Shrine all the way up.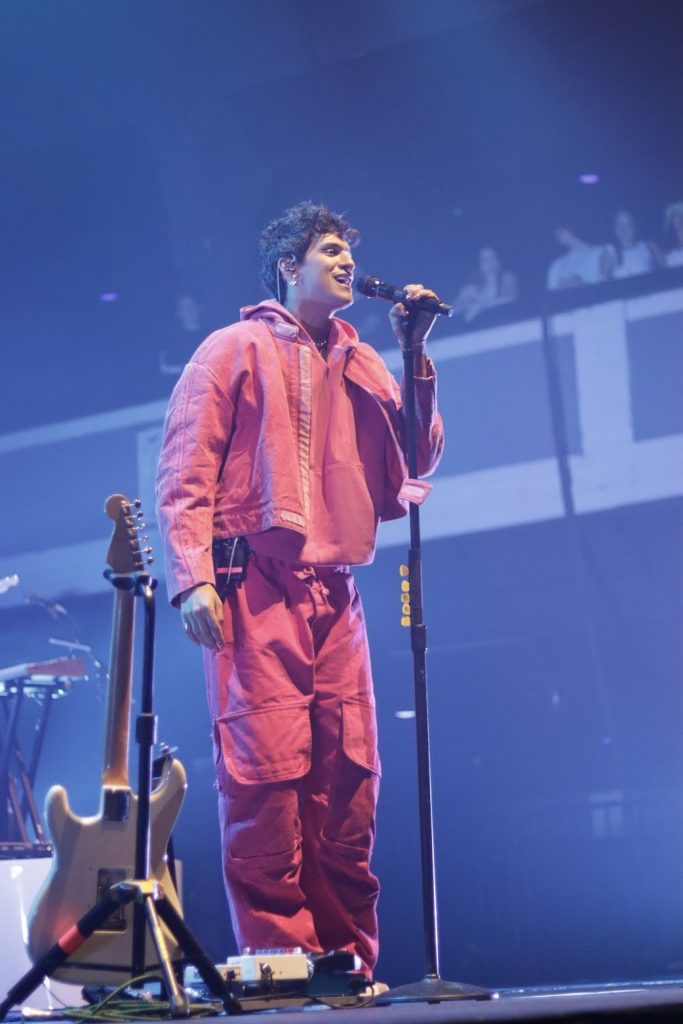 Apollo also played some of his collaborative songs, like "Invincible", "Hit Me Up", and "Want U Around". In lieu of covering the other artist's verses, Apollo and his team chose to have the other artists' voices run through the speakers. Though at times this made for a somewhat awkward effect, it worked well on his two songs with Kali Uchis, "Hey Boy" and the aching single, "Bad Life".
For his encore, Apollo performed the intoxicatingly catchy "Go Away", the meditative "Bi Fren", and couldn't help but run "Tamagotchi" back one more time with his friends beside him on stage.
As a performer, Apollo was captivating, and managed to make what he said was "biggest show I've ever played" feel intimate. During his set, he took the time to sing "Cumpleaños Feliz" to a fan celebrating their birthday, read and pointed out the signs that had been brought, and continuously expressed his gratitude for the energy Angelenos had brought to the Shrine. You can tell that this tour is a labor of love, and Apollo's constant grace and immense talent made me feel lucky to be in the room. As confetti rained down, I walked out of the back doors feeling fulfilled, and, after a 24 song set that lasted till 12:30am, just a little sleepy.