Crumb @ The Mayan [4/20/22]
Photos by Garrett Kukier
"You're so damn cool!"
A single voice yells it from the audience, but the immediate swell of cheers the moment after makes it clear that the feeling is widespread. Lila Ramani, the cool person in question, pauses and looks up from her pedalboard, flashing a sly grin that seems to say "I know I am; isn't it awesome?". Then, without hesitation, she signals to keyboardist Bri Aronow at her side; as he begins to play, wafting a series of lush, jazzy chords into the spacious hall, the crowd releases a collective sigh and drifts back into their psychedelic daydream.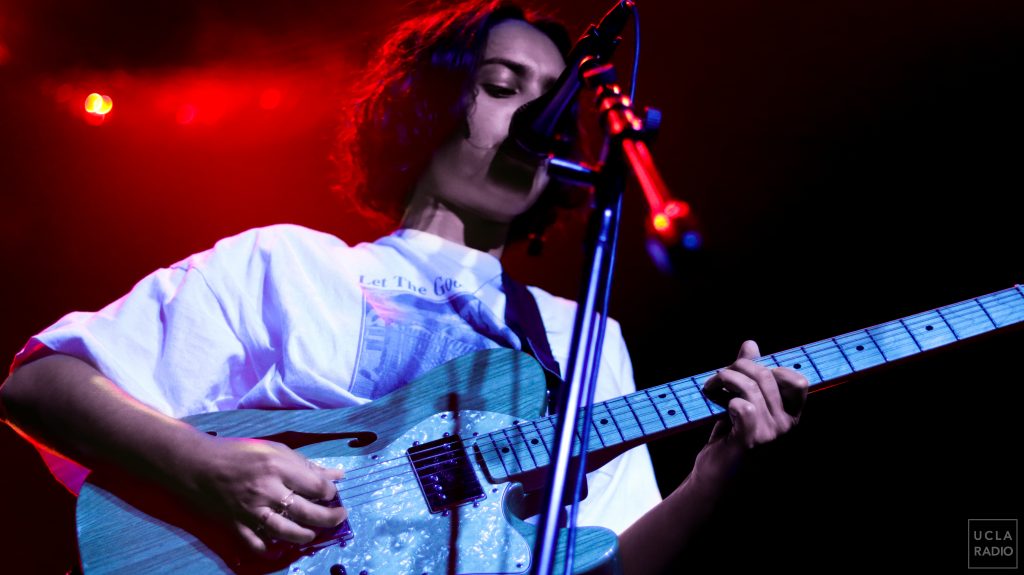 Ramani (her Coolness) is here tonight as the lead singer-guitarist of the trippy indie-rock group Crumb, touring to support their second full-length album Ice Melt. Crumb is a quintessential product of the college indie scene, having met and begun playing together while in school at Tufts. Although they've clearly matured since their days of playing college parties, they still maintain a feeling of offbeat authenticity that belies their breakout success since the release of their Locket EP in 2017. Since then, they've moved toward a more dancy, synth-based, almost trip-hop sound, distancing themselves from the more straightforward psychedelia of earlier projects like Locket.
Tonight, on this most auspicious of dates (4/20, confirmed from the scent you can smell wafting out the venue's doors from a block away), they're headlining at the Mayan, a DTLA venue with a storied past: first a musical theater showplace, then a porno theater, now an everything-goes concert hall that occasionally hosts Mexican wrestling matches. Carved stone heads adorn the walls, and an elaborate lighting setup replete with a gigantic crystal ball hovering over the stage promises an amazing trip; it's only 8:30, but everyone in the crowd is already stoned or well on their way.
Before Crumb, though, we have a band that's curiously opposite to the headliners: Mannequin Pussy. This provocatively-named Philadelphia act straddles the line between indie rock and hardcore. Tonight, they lean into their more aggressive side, with pretty much every song sending the crowd careening into a frenzied mass of flying limbs; the elevated energy level draws a sharp contrast to the laid-back indie psychedelia that's tonight's main attraction, but nobody seems to mind the potential stylistic mismatch. Because the all-ages pit is right up next to the stage, the scrum skews younger than normal, and I can't help but feel a bit old and jaded as I watch a kid who can't be more than 14 shove his way into the frenzy.
Despite the raging mosh taking place below her, the singer seems somewhat unimpressed with the energy in the audience: "You're a very polite crowd", she remarks at one point, sending the crowd into even wilder thrashing in a ferocious attempt to prove her wrong. The energy level is high throughout their set, but it shoots through the roof when the bass player takes over lead vocals for "Pigs is Pigs". Jumping around the stage, he howls into the mic while the band backs him up with a proper punk track, crescendoing until it seems like the audience will explode from the sheer amount of sound coming off the stage. After they finish their set, the crowd blinks blearily as their hearing begins to return and the lights turn on. After a brief interlude (during which, inexplicably, the venue decides to play "Last Christmas" by Wham!; why, we'll never know), the overheads dim and everyone readies themselves for the main event.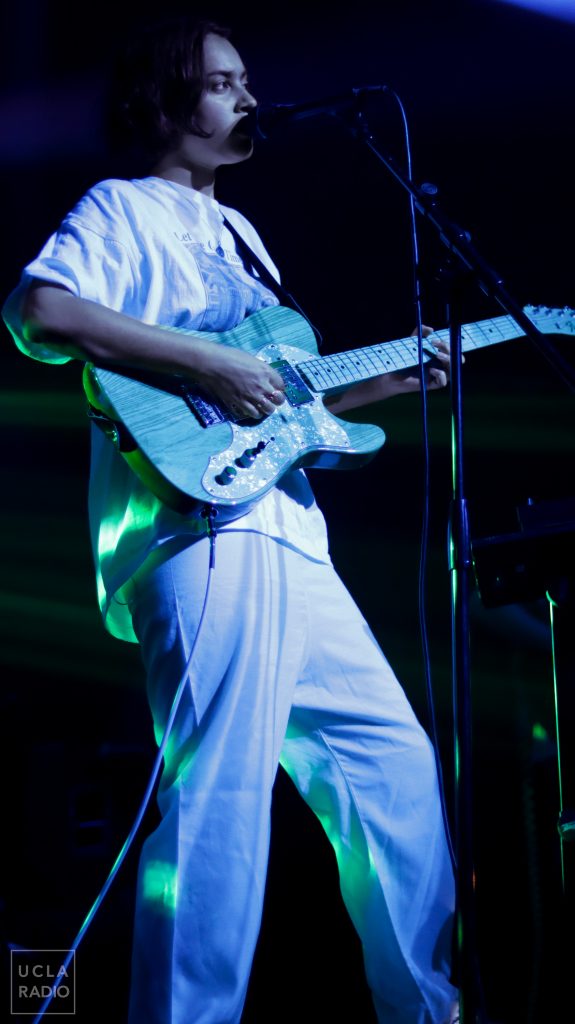 As Crumb takes the stage, it's hard not to wonder how they'll possibly compete with the energy that the opener brought to the show. As they launch into their first song ("Part III", a slinky tune from their 2019 album Jinx), however, I realize that it was never a competition. We already know that Crumb has that little unidentifiable something about them that makes them cool; what separates them from other bands is that, in all of their music but particularly at this concert, they make you feel like you're cool too. They don't need to impress anyone: they're just here to have fun. This feeling infuses their entire set with such a relaxed vibe that you could almost imagine you've stumbled across them playing five years ago at a late-night jam session in some college backyard.
Moving seamlessly into "BNR" and "Up & Down" from their new album, Ice Melt, the band leans into their rhythm-forward sound, hypnotizing the audience into swaying back and forth to the music. While Ramani provides lead vocals and occasional guitar solos, most songs are driven by the rock-solid drumbeats of Jonathan Gilad and the bouncy, melodic basslines of bassist Jesse Brotter. Out of the whole band, Brotter wins the prize for stage presence, jerking around to the beat and snarling cheekily at the audience while laying down the harmonic foundation for the keyboardist Aronow to layer his synth pads and melodies on top of. An early highlight of the set is Aronow's saxophone solo on the track "Cracking". Although the song is usually a slower, more relaxed one, the live version dials up the intensity as the reverb-drenched saxophone thunders atop shimmering guitar chords and pounding bass.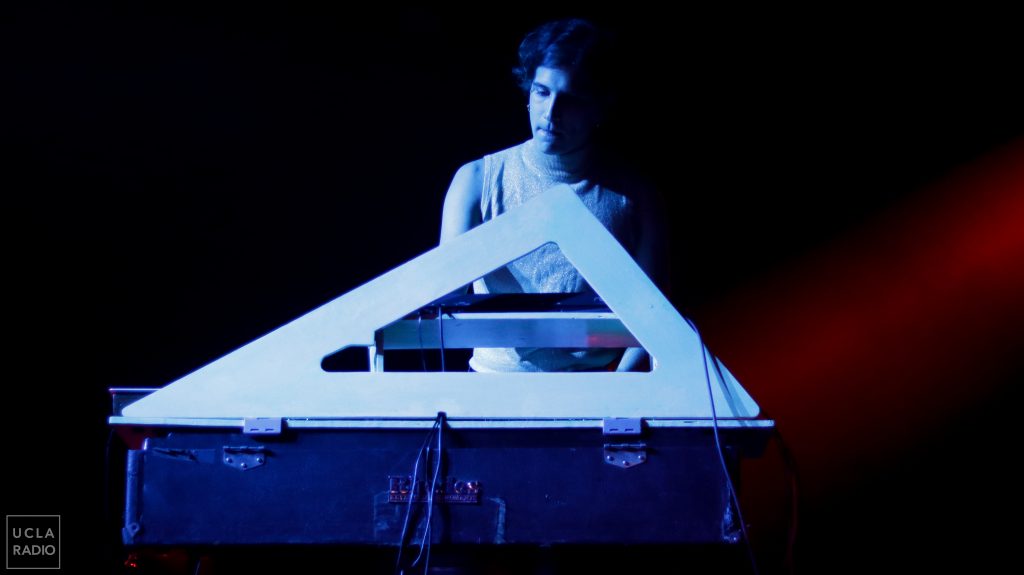 As the set moves on, Ramani relies less on her guitar (leaving it out entirely for some songs) and begins to move around the stage more. This switch-up infuses more energy into some of their newer, synth-driven songs like "Balloon", where she bounds around the stage before bending over a miniature synthesizer to take a distorted 8-bit solo over the driving rhythm section. The band then brings the intensity down for "Ice Melt", with all the members sitting down and the audience swaying as the chorus-heavy keys fade away into the hall. Another peak of the night is an incredible mashup of "Ghostride" and "Retreat!", two very different songs that somehow fuse together thanks to a magnificent bass solo from Brotter, who manages to thread a remarkable needle between melodic soloing and rhythmic propulsion to keep things moving. The set concludes with the fan favorite "Locket", the band's earliest (and, to this day, biggest) hit; it's tough to find a single person in the audience who doesn't know every word. For the encore, they pull out "Nina", a driving cut from 2019's Jinx, and Ramani leaves the stage during an instrumental finale that builds and builds before crashing down into a cacophony of screeching dissonance. At last, it dies out and Ramani comes back onstage to give a final bow with the band.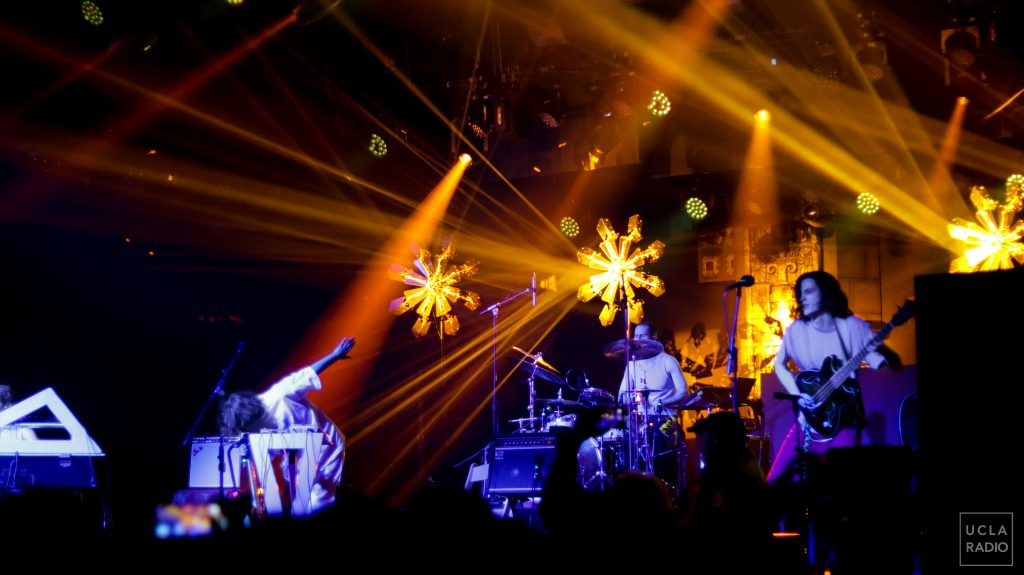 In many ways, Crumb's set reflects how they've changed as a band over the years. They've moved away from the straight psych-rock that defined their earliest work toward a more danceable sound, but they've done so in a way that allows them to still bring out the old classics (like "Locket") without them sounding out of place among their newer work. It's also eminently clear that they haven't lost an ounce of the joy that performing brings to them. The way that they flash grins at each other when someone kills a solo or hits a particularly sweet lick unmistakably evokes their start as a backyard jam band. Crumb has a unique and undefinable way of making you feel like you just stumbled across a special, secret band that only you know about, even as you're at a concert full of other fans. If they can maintain that level of intimacy and connection with their audience as they rise through the music industry, they'll deserve to be more than just indie famous.