It is no secret that crochet is back in style. Over the past 2 years, the influx of crochet content across platforms such as Instagram and TikTok has skyrocketed. From cute farm animal plushies to extravagant Harry Styles inspired cardigans, young adults are finding brighter ways to express themselves online. One of my favorite creators who is putting put her own twist on this ongoing movement is none other than UCLA third year Sofia Chang – more commonly known as Shleggo on social media.
The nickname 'Shleggo' comes from Sofia's affinity for eggs – a combination of the letter 's' and the word egg. After changing her social media usernames to Shleggo in high school, the nickname stuck throughout her time in college. So it was no surprise to Sofia's friends and peers that when she started selling some of her work, she decided to christen her brand Shleggwear. The name lends itself tremendously well to the aesthetic of the brand – both immensely personal to Sofia while being unapologetically playful.  As an art student, Sofia finds herself creating pieces that inadvertently have a deeper meaning, such as her impressive recent piece "Extraction A" which she shared on both her personal Instagram account and her brand's Instagram account (@shleggwear). The piece consists of a white fabric married with cream crochet contours along "points that carry energy along (Sofia's) physical body," allowing Sofia to explore herself – she describes it as a "personal healing space, an extension of (herself)." With Shleggwear, though, Sofia taps into her lighthearted side to create art that isn't meant to be taken too seriously. By curating a juxtaposition of pieces in her portfolio, it is clear to those following Shleggwear that Sofia is a well-versed artist, able to express herself through various media. Sofia's brand is sure to bring a smile to people looking for a shimmer of positivity in a sea of dark discourse, something much needed in today's climate.
Grabbing inspiration from the art community at UCLA which Sofia calls home, she is able to blend outside creativity with her own innovation to create the playful portfolio that defines Shleggwear. Sofia explains to me that by living with five other art students, she is inspired by the constant innovation around her. Beyond her home and local community, Sofia finds social media an important tool in constructing new ideas as she is able to connect with artists all over the globe. By experiencing art from a variety of cultures and individuals, Sofia is able to expand upon what she has learned thus far from her friends and from school to curate a unique array of pieces. Much of her initial imagination finds itself buried in the pages of her sketchbook before it finally comes to fruition. One of Sofia's favorite products to make, The Rashad Hat, is inspired by her beloved dinosaur Squishmallow. She can't help smiling as she describes the parallel of constructing the hats while sitting on her bed next to her plush. A pattern that is clear when talking to Sofia about her brand – she creates pieces that truly make her happy, with the intention of making others happy too. 
When scrolling through the brand's Instagram or website, customers can instantly recognize that Sofia has found her niche in hats – from bucket hats to lamb-inspired balaclavas to helmet style headwear. When discussing the potential of branching out further into other wearable items, Sofia emphasizes that she is content with where she's at now, elaborating to me that she "just likes seeing people in fun hats." The playfulness of her hats neatly round off her collection as Sofia finds the balance between her works that allude to a deeper meaning as well as her love for high-spirited pieces. And from her popularity it is clear that her customers appreciate her efforts – after all, who doesn't love a statement hat?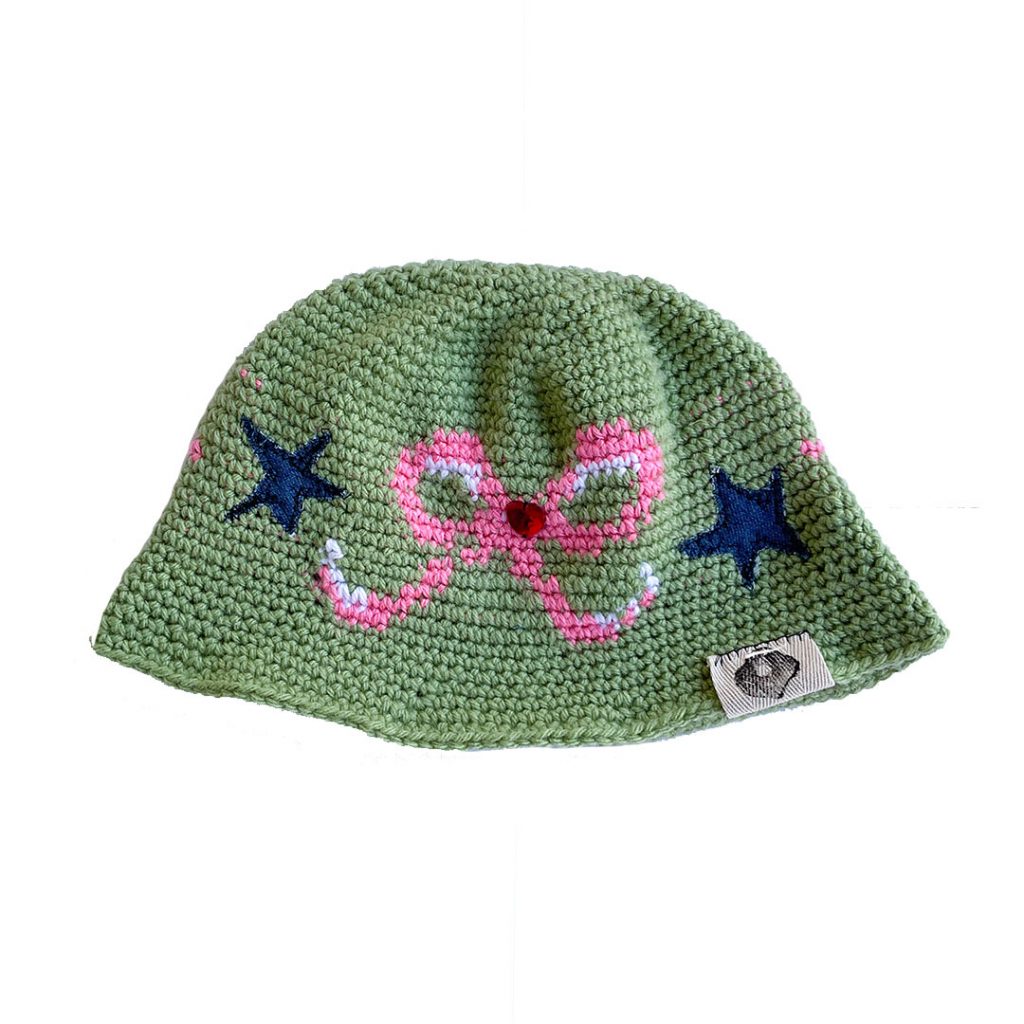 As someone who had been following Sofia, I was intrigued by the launch of Shleggwear back in October. The first drop was a colorful range of items, from hats to masks to keychains. (I even tried to snag a froggy keychain, but was unfortunately too slow). One notable item from this first drop was the "Peepeepoopoo hat", a gorgeous closely woven moss green hat with a cotton candy bow delicately outstretched on the front of it. As someone who knows little to nothing about crochet, I was curious how a design as intricate as this would be constructed. Sofia explains that this type of crochet is highly enjoyable, but takes an abundance of time. In order to construct a clean image, she must create stitches painstakingly close together, where each row is a completely different pattern. To complicate matters even further, there are a myriad of color changes that Sofia must undergo as she navigates between green and pink stitches. For some of her more popular designs, such as the Bun Buns hat and Helmet hat, Sofia has created base patterns which she extrapolates from with every piece. By using vintage, deadstock, or secondhand yarn, Sofia is able to vary the colors and texture of her hats, creating a unique product every time.
Although I was already a fan of Shleggwear right after the first drop, the brand gained a paramount following after Sofia posted a TikTok back in early January. The brief video features Sofia's dad modelling a few of her items. As a former photographer, he has the knack for catching good lighting and creating high quality images. The professionalism of these photos makes them extremely eye-catching, and as Sofia iterates, her dad is a pretty great model. Over the next few days, the TikTok had gone viral. Now with over 7 million views, the video is responsible for much of Sofia's popularity. Shleggwear pieces had already been selling out since the first drop, primarily among members of the UCLA community. Now that Sofia's TikTok account (@shleggo) has garnered so much attention, business is no longer confined to our Westwood bubble. Sofia is shipping orders to a wide variety of locations, and her drops sell out within minutes. With this increased interest in her products, Sofia turned from selling purely by direct message on Instagram to her website, shleggwear.com. The site also acts as a platform for Sofia to create a portfolio of her work for Shleggwear, as well as streamline her purchasing process so she no longer has to DM disappointed customers that someone acted faster to claim their desired product.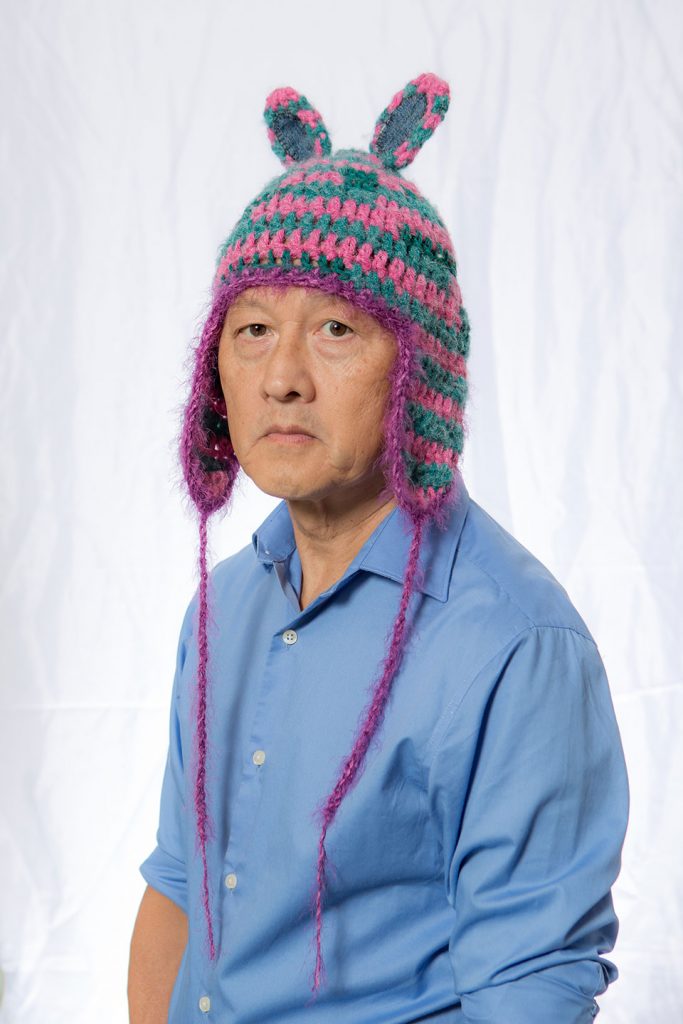 As Shleggwear grows to impressive new heights, Sofia has had to learn how to deal with perhaps the most arduous part of running a business – dealing with clients. Sofia explains that the influx of Instagram DMs has been a growing challenge. As a full time student, Sofia is already producing to her max – yet she has to deal with a large number of requests begging for customs. To help her out, Sofia created an FAQ highlight on her Instagram, as well as an FAQ page on her website that she hopes people will turn to before badgering her for unrealistic requests. Unfortunately with this surge in popularity comes the negativity. Sofia recalls her first time encountering hate. Her friend had sent her a Reddit thread, consisting of catty comments about Sofia's viral TikTok claiming that her hats were ugly. This thread was no doubt upsetting, helping Sofia realize that this would be an issue that she would have to deal with as her brand got more and more exposure. Amidst the hate, though, is an immense amount of love that Sofia has been receiving for her brand, and love that I know will continue as she grows her client-base and portfolio.
Looking forward, Sofia plans to grow Shleggwear further, creating more of her best-sellers with unique yarns, as well as innovating new designs. She is also currently working on creating pattern pieces to share with her audience, a nice touch that will allow her bold creativity to flourish through new means. The amount of potential for Shleggwear's future is infinite, and I cannot wait to see where Sofia takes the brand as it gains more and more traction.