Earl Sweatshirt, Action Bronson, Boldy James, and The Alchemist @ Palladium [1/30/22]
Photos by Temo Sandoval
A fast-moving line of fans snaked around the block of the Hollywood Palladium. Stepping into its half-ballroom, half-roller-rink interior was a tonic to the cold. Inside, sixteen-year-olds wearing tour merch over their t-shirts stood on tiptoes to see the stage through groups of bearded, Dodgers-cap-sporting thirty-somethings. The Alchemist's boom-bap beats and the sweet musk of blunt smoke cloud the air. He warms up the crowd up for Boldy James, who promptly steps onstage with his signature phrase "where we at with it?" and cooly rhymes for forty minutes.
Although The Alchemist and Boldy are the openers, they are also the oldest of the four at 44 and 39, respectively. If their joint omission from the marquis wasn't merely a matter of space, it is a testament to their prioritization of craft over crowds. Boldy's free hand lightly gestures with his adroit flow as he strolls around the stage. His angular wordplay chronicles growing up poor on Detroit's westside, battered by gang violence. The Alchemist, who has produced three of Boldy's projects in the last three years, is engrossed in his soundboard. On "Illegal Search & Seizure," the duo is bone-chilling. Hip-hop veterans who find success without chasing fame don't need flashiness to impress an audience.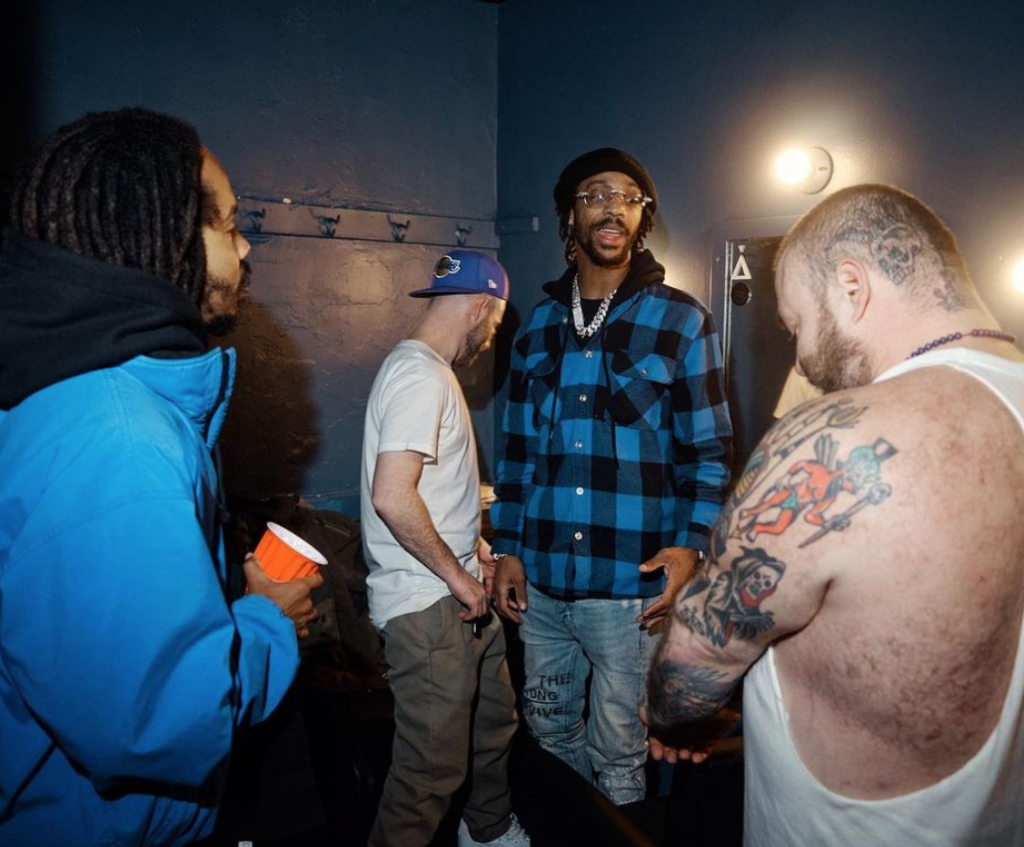 Not ten minutes pass between sets before Action Bronson emerges, wearing a tour t-shirt with cut sleeves. He's built like a strongman. Bronson's sailor tattoos glisten in the light and I instantly spot the mosque tatted on the back of his shaved head, my longtime favorite. He flashes constant grins between his verses. Bronson is a disco ball, reflecting far across the room. One moment he's jumping with the crowd, another he's admitting he's on shrooms, another he's striking a bodybuilder pose for twenty unflinching seconds.
"This is a museum exhibit, just watch me. It's performance art."
For Bronson, an author, chef, and television personality, rap is merely one of his many creative avenues. He paints his own album covers. He sells artisanal Italian olive oil with Grove and Vine. It's no surprise he commands the audience with such facility. As he traverses through his hit songs, exploring the edges of the bowed-out stage, his longevity as an artist becomes abundantly clear. Bronson's set was a delight akin to eating at a fancy restaurant. After he walked off to "Easy Rider," the final course of our sumptuous meal remained.
At the DJ stand now is Black Noi$e, Earl Sweatshirt's sole labelmate and the producer of four of SICK!'s tracks. Earl released SICK! on January 14th of this year to acclaim, and at 24 minutes it's his shortest LP yet. Earl's brevity is unique for an artist of his fame and impact. He has trouble moving on from a song before it is finished. He's dedicated to the truth. Before making SICK!, he scrapped a nineteen-track album because it didn't feel authentic. Reclusive from the public eye, his reemergence is an act of modest, immutable honesty.
"Eaaarrlll," several audience members bellow before he appears. I find myself stepping forward as the crowd condenses, burning with expectancy. It's striking that he's headlining a tour in which the next youngest headliner is over a decade older than him. At 27, he's a father now, both to his newborn son and a rap movement.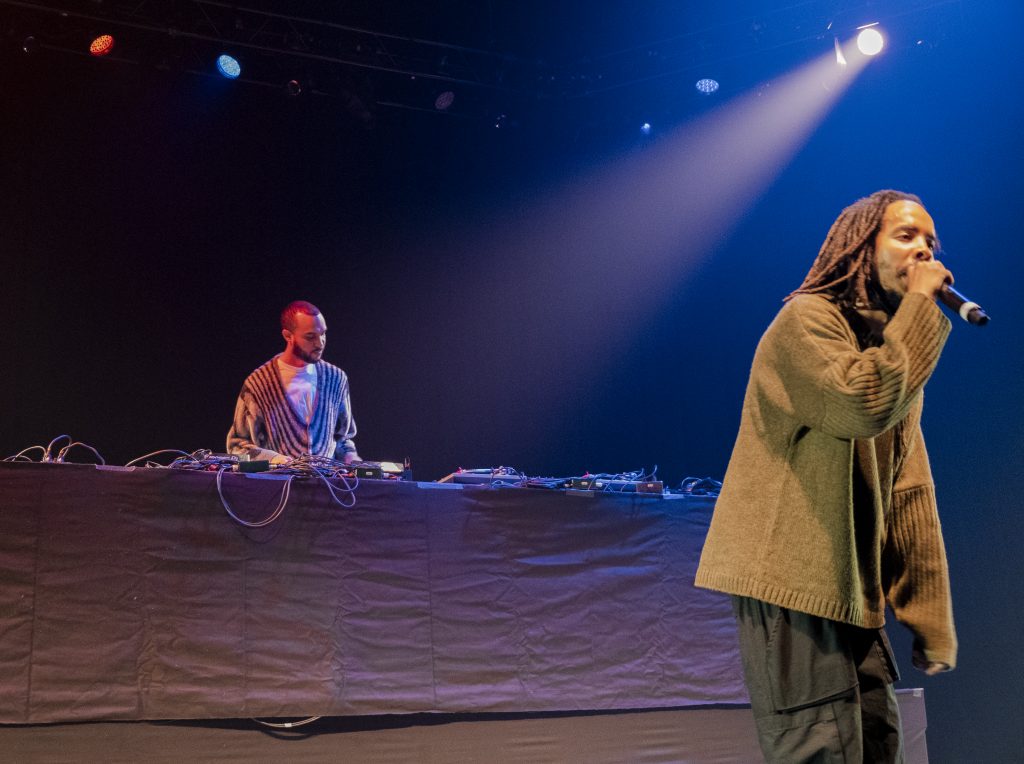 Earl opens with "E. Coli," a track by The Alchemist, nodding to the culture of collaboration in which he's thrived for his whole career. In fact, the touring artists met in 2012 at The Alchemist's house for "rap camp," a series of intensive studio sessions. All have verses on each other's tracks.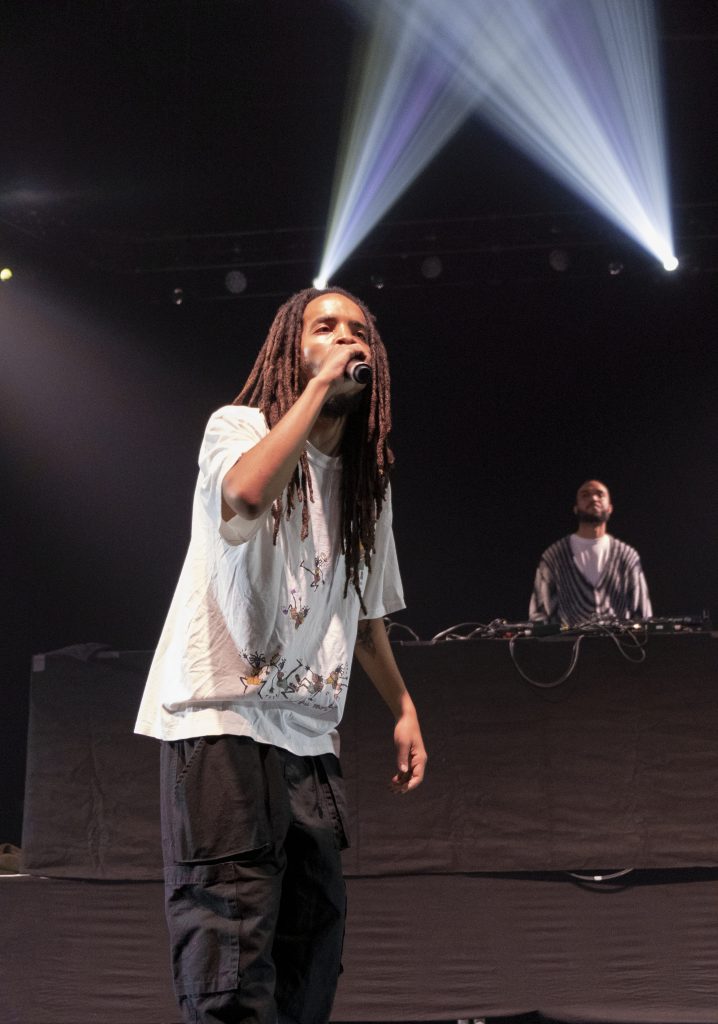 Earl weaves between his B-sides and feature verses. Curtained in his dreads and clothed in a forest green sweater fit for a seventy-year-old, he raps with his signature dryness. I didn't need him to play his breakout Doris hits from a decade ago, and his setlist didn't have to be a crash course. Hearing his deeper cuts live forced me to make immediate emotional space for them outside the margins of his albums. Macabre lines of older tracks blend with pointed pangs of the new. All heads nodded as the self-assured poet shared his work. Live performance, to Earl, is yet another exercise in boundary pushing. His intentionality challenged me to mull over his every choice.
"Round of applause for yourself, Los Angeles, you're doing great! I'm about to do… other songs"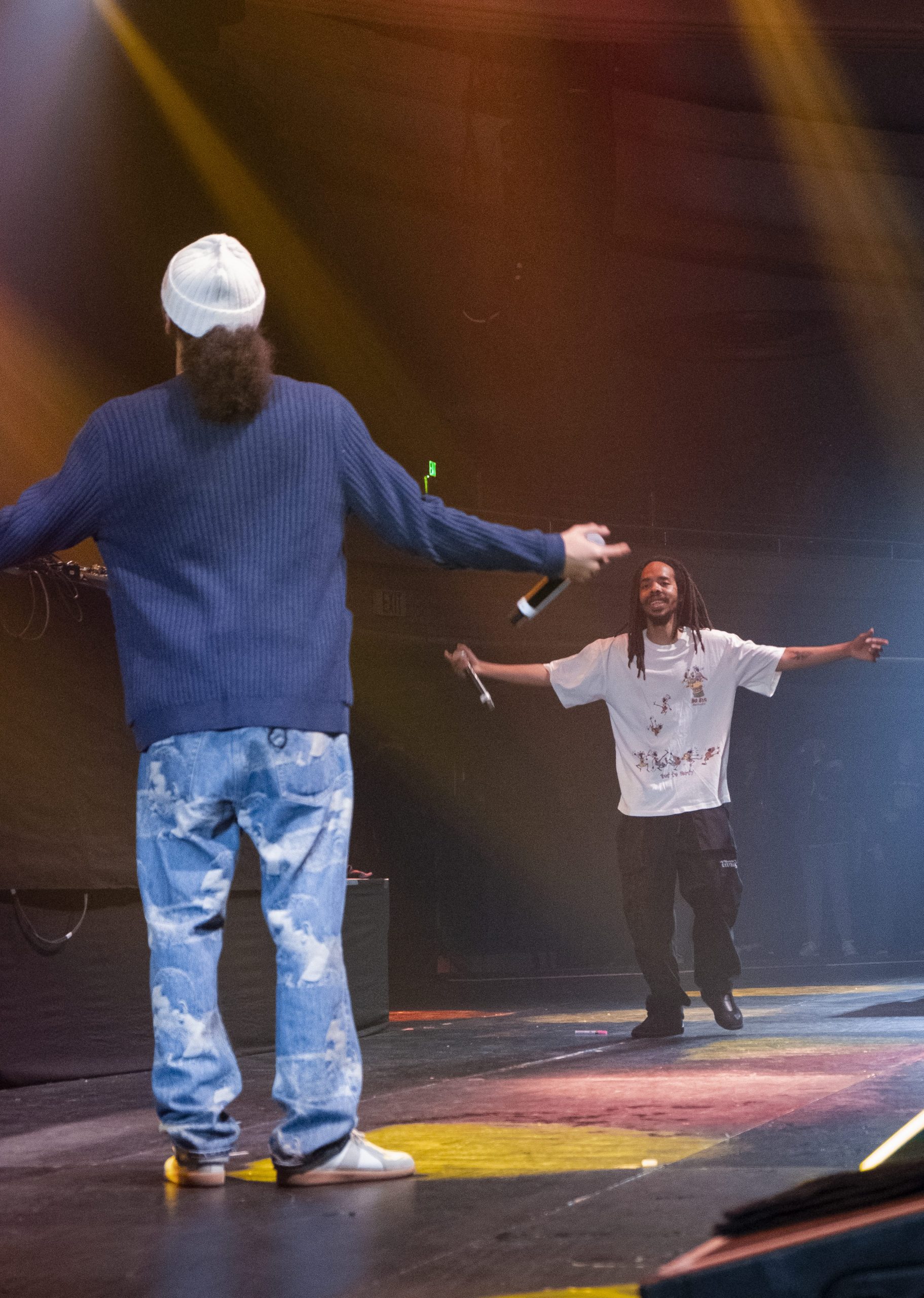 It's a tacit hope that touring artists bring out a friend at a significant location, and this time Earl brought out hometown collaborators Navy Blue and Na-Kel Smith. As they step onstage, the atmosphere becomes candid. Earl and Navy perform "The Mint," a standout from 2018's Some Rap Songs.
Some Rap Songs has aged gracefully. Earl's rejection of traditional structure, utilization of eclectic sample loops, and grainy mix rendered it a polarizing project among fans and critics. Within a year of its release, though, it became clear that Earl had helped birth an artistic movement around his soundscape and delivery. A new crop of prominent rappers, including Navy, have since found major recognition in this lane of hip-hop. It's a movement beyond generalization, too pluralistic and dawning to be boxed in.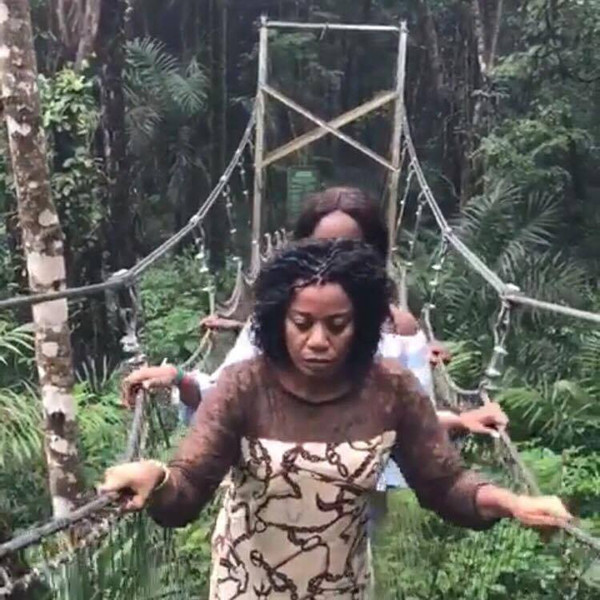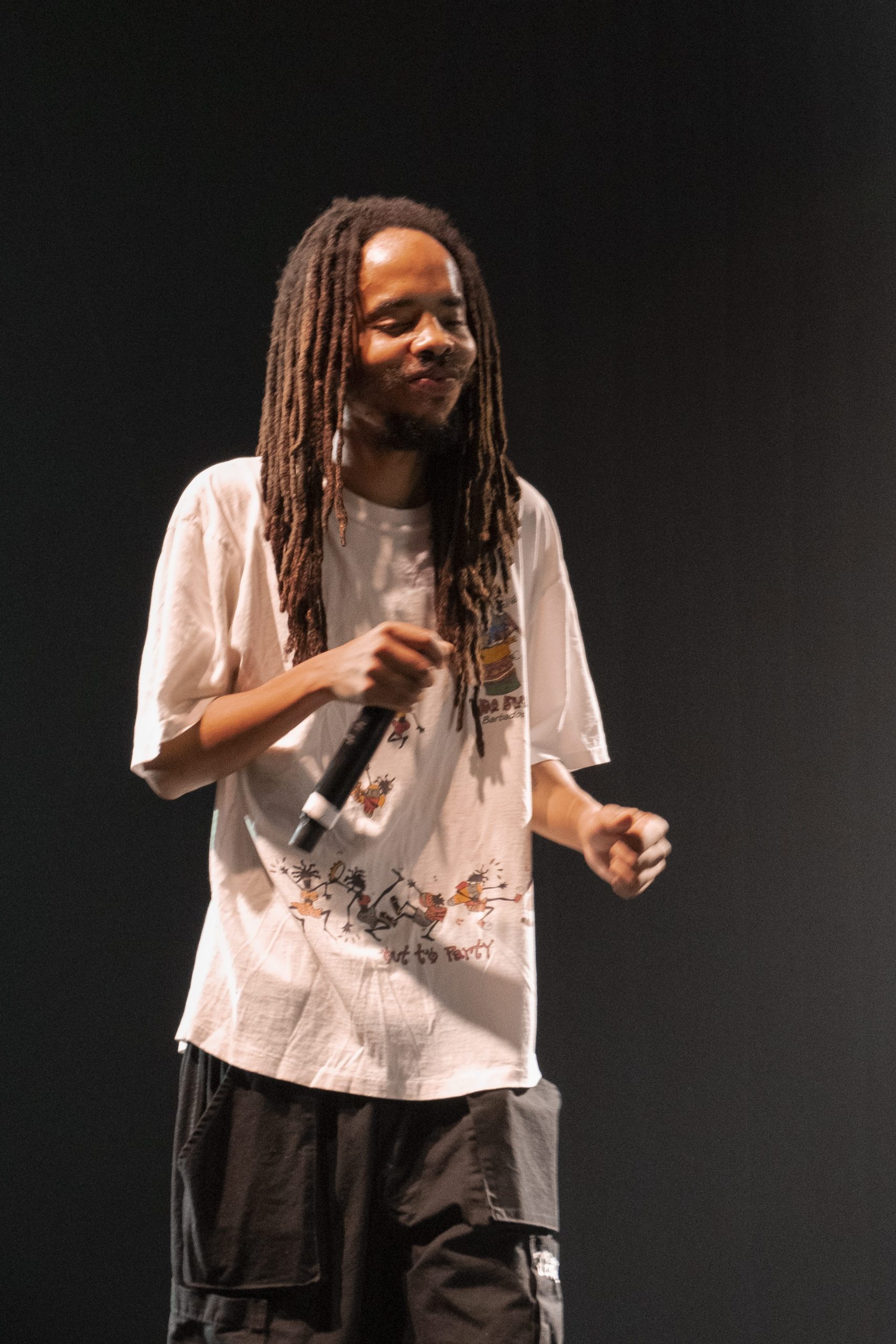 Over the punchy bass and twitchy 808s of "Titanic," a SICK! single, Earl leans into his near rhymes and Na-Kel fills the gaps with ad-libs. Relishing in the change of pace, the audience abandons its swaying and head nodding to jump with the beat. Their light mosh accentuates Earl's deviation from his previous work. His newfound sound palate betrays the formula he knows to be lucrative. Rather than repeating a notable remark in the continuous conversation of hip-hop, Earl chose to bring something new to the table. How much reverence must it take to become the face of an artistic movement, then refuse to settle into its conventions?
His voice retains the youthful snark it had a decade ago, revealing its timbre when he's playfully talking between tracks. He hugs both Navy and Na-Kel after their cameos, beaming ear to ear. Both hang out behind the DJ stand and silently mouth along to several of his verses.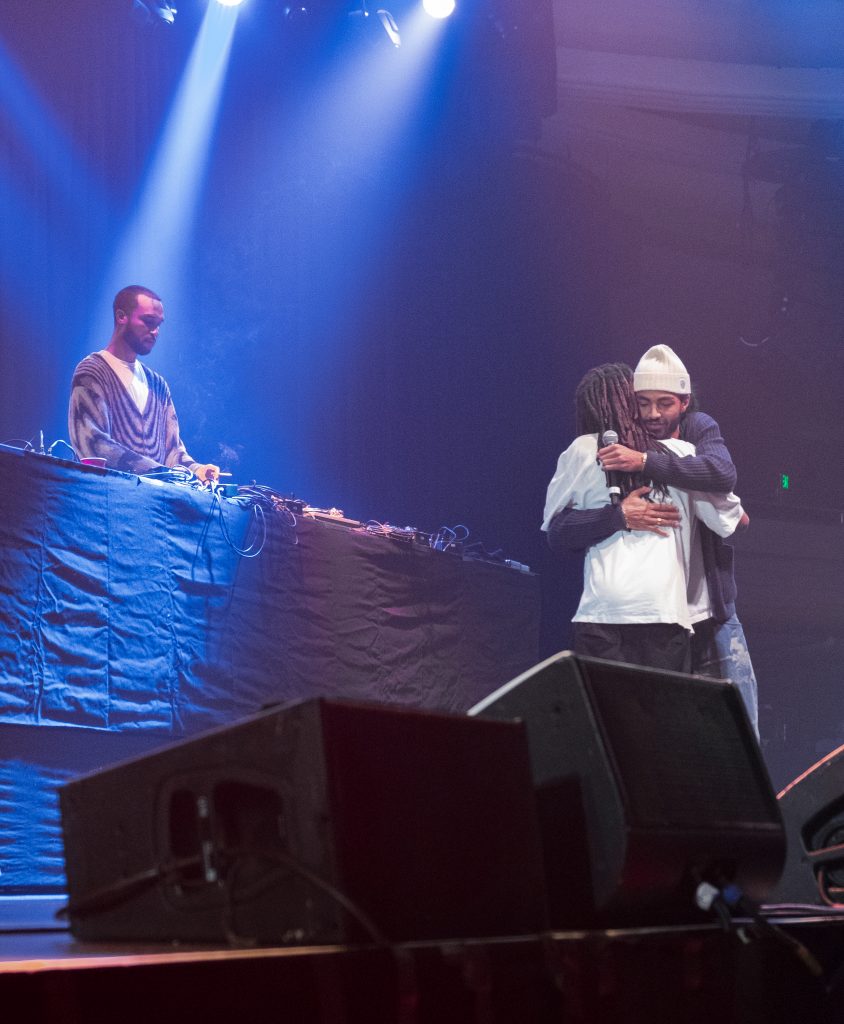 Each track presents itself as a tight knot, and it's a treat when he lets them fully unfurl, like he does on SICK!'s closer, "Fire in the Hole," which he ends his set with. As its meandering piano steadily wraps up, Earl calls out everyone on and off stage. In place of an encore, he dances with Navy and Na-Kel to "Break it off" by PinkPantheress.
"Give it up for your motherfuckin' selves! And like that, I'm gettin out this bitch, man I'm gone, goodbye, be safe."
Clocking in at almost three hours, the ÑBA Leather tour is an invitation to witness the tangle of shared history that has shaped each of its artists. Seasoned by over a decade of creation, they reach into their past just long enough to remind the audience where they came from, returning just as quickly to display their present prowess. "Still got it!" each seems to declare.