You're 16 and you're gazing out at the sky. Your retinas are met with the glimmering lights of a magnificent Southeast Asian metropolis, contrasted by the subdued darkness of the night. As the average high schooler within this big city, you exist within a bubble of linear algebra, sneaking into 18+ horror movies & going downtown to get Lebanese food with your friends. Life is simple and fulfilling but for some reason you feel a tug at your heart, a longing for more.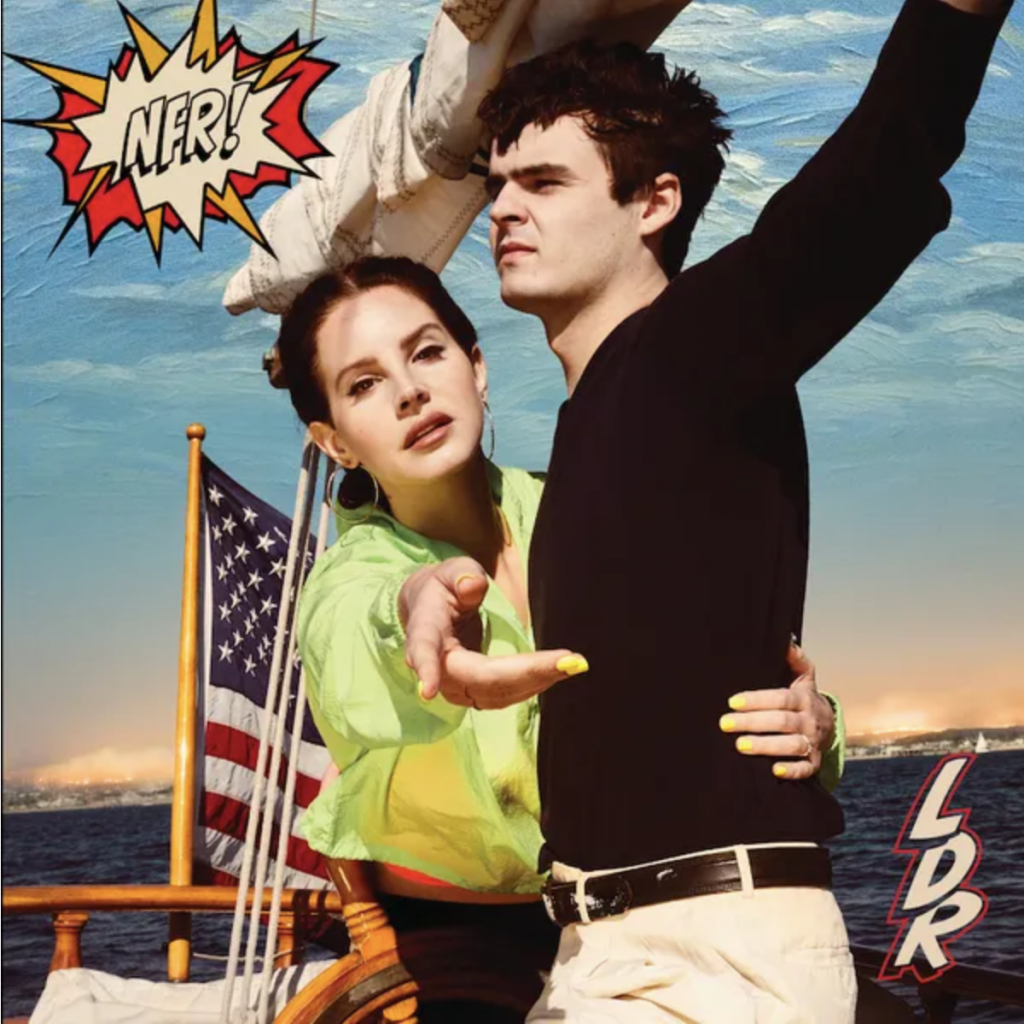 In a vibrant neon-yellow jacket, Lana Del Rey reaches out to the camera with her sunny nails pointed towards you. She stands on a boat with the model grandson of Jack Nicholson. As she grips him for balance on the unstable Pacific Ocean, the American flag gently waves from the back. The cover stares back at your teenage self — almost calling out, inviting you to live within the glamour and allure of the West Coast. Your neuroplastic, still-developing brain finds a comfort in the incredible range of Del Rey's vocals and poeticism. 
An encapsulation of California, Norman Fucking Rockwell guides the listener through an experience of life in one of the most iconic cities in the world – Los Angeles. Del Rey, the iconic musical persona of Elizabeth Grant, walks with you through the journey as a fellow well-settled transplant herself. Her soothing vocals combined with rich violins and eclectic saxophones create a liquid, tangible ethereality around the grittiness of LA— putting on metaphorical rose-tinted glasses over the listener's perception of the city.
Reflecting on my past fear of a freshman experience so far away, I remember how I found comfort in NFR and its lyrical windows into life in this city. The album marked a 3-year-anniversary of its release in August 2022, and in those 3 years you've grown and evolved with this album as a backing track to your life. The last summer I spent at home was filled with California dreaming— how I would decorate my room, the places I would go & the picturesque Pinterest board life I would live in LA. And then I came here.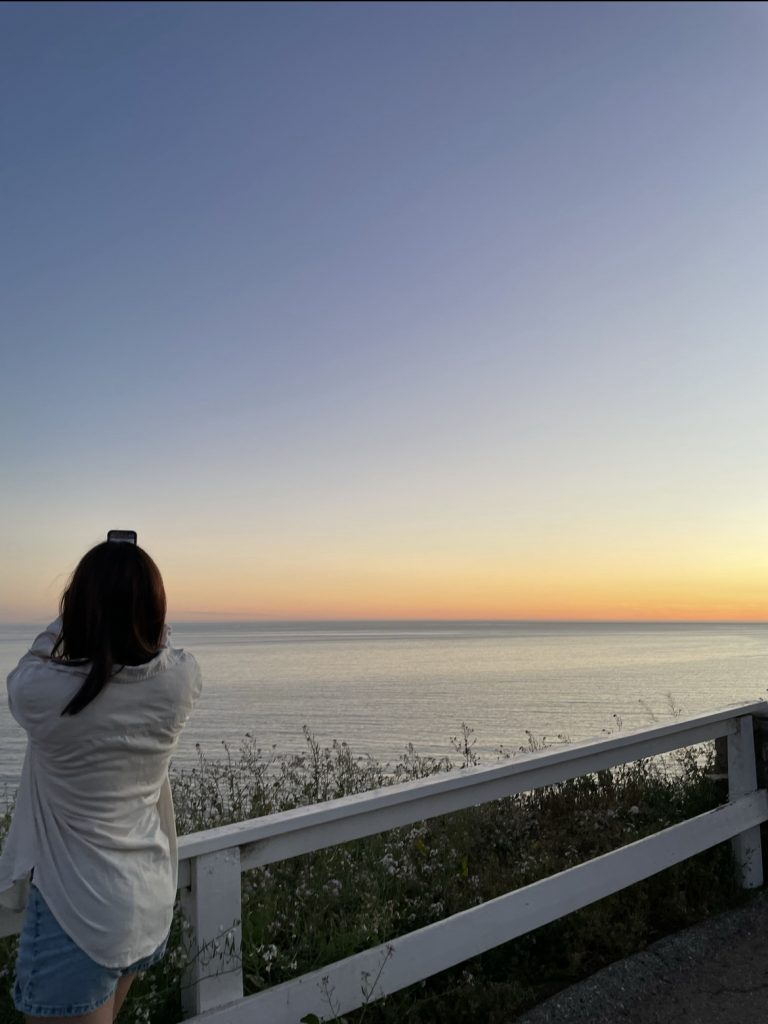 "I moved to California but it's just a state of mind" murmurs Lana in a singsong whisper during Fuck it I love you. "It turns out everywhere you go, you take yourself, that's not a lie." Fuck it deals with the ideations that many people have dealt with thinking that if they disappear from their old lives and environment, their problems would disappear too. But it's never that simple. The sapphire blue waves of the Pacific are beautiful to observe, but they can't change the person admiring their rhythmic motion. The song serves as a reminder that California is truly a state of mind—bubbling with incredible opportunity & diversity, this place can become your place if you want it to. But to succeed, you can't forget the person you were before you came here.
When I first moved here as a disgruntled and out-of-place international student, I found myself thinking that California was simply an overhyped, well-marketed facade. "LA is in flames, it's getting hot" Del Rey sings in The greatest, almost as a lullaby. As a naive transplant, I was not used to the culture or the lack of public transportation. I was overwhelmed by the slightest loud noises and fearful of stepping off campus due an overconsumption of negative news about the US. The city has faced a spike in rates of crime & homelessness alongside looming fears of gentrification as a result of the pandemic. The metaphorical flames of fear were slowly burning away at your perceptions of the city.
But I soon came to learn that the spirit of LA is embodied by the sheer diversity of the city and its neighborhoods. At Sawtelle, college students flock to Killer Noodle for delicious ramen and Japanese-style ice cream. One Big-Blue-Bus ride away sits Santa Monica Pier, the end of America's famed Route 66 and an iconic first-date spot for many couples. Downtown, some of the best tacos can be found at random food trucks in overpriced city-center parking lots. A quaint authentic Portuguese restaurant sits next to one of the many vintage thrift stores in Sherman Oaks. These observations and experiences have slowly built up over a year of living in LA, visible below the surface-level perceptions of this city. It could mean driving on PCH with new-found friendships and then cruising through Malibu with those same friends half a year later.. With the right group of people by your side, you will find the beauty in the complexities of what is Los Angeles.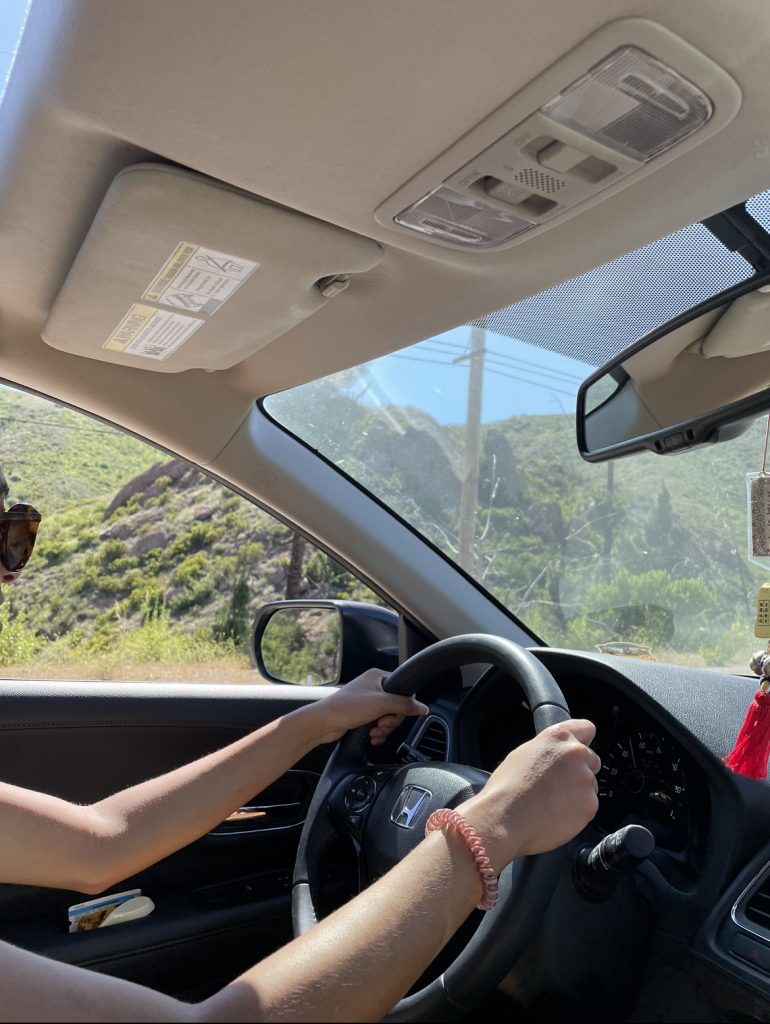 I found that LA also teaches you about existing as a human being. As my roommate Bailey always mentions, human beings are social creatures and we crave belonging and validation. But humans are also imperfect by nature. At college I have learnt that people can (and probably will) make dumb mistakes. On Mariners Apartment Complex, Del Rey serenades you with a second chance – "And who I am is a big time believer, that people can change, that you don't have to leave her". Making mistakes is a key characteristic of being human, and learning from them is a key point to growing as a person. You were often too harsh on yourself over small and insignificant circumstances. But over the course of the past year, you've learnt (and Lana has as well) to never abandon yourself.
Present Day (Late 2022)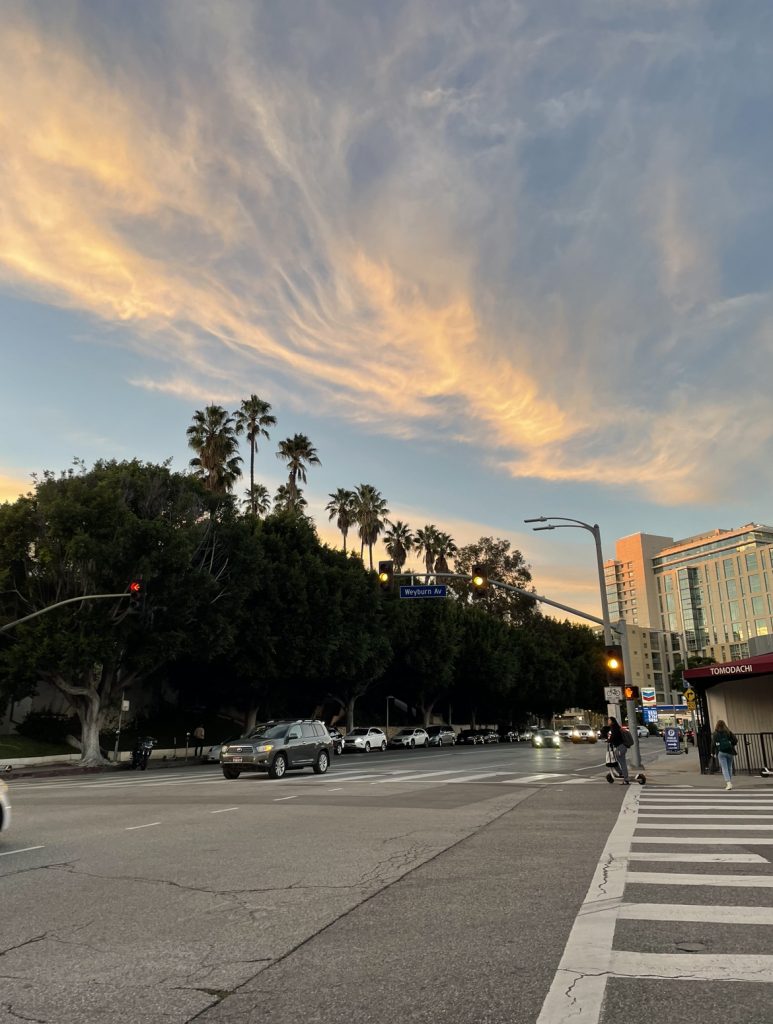 Now it's November, and the sun goes to sleep early at 5:04 PM in LA. In an apartment on Landfair, your friend Marissa grabs the mic and asks Amazon Alexa to pull up a karaoke for How to disappear. You and your friends belt out the build-up to the chorus.
"I watch the guys getting high as they fight
For the things that they hold dear
To forget the things they fear"
It's the weekend, and you have a break from the hectic, organized chaos of the work week. You and your roommate pay $7 for overpriced matcha and miniature tables at a coffee shop in Westwood. You gather with your friends to learn how to operate a grill, to tame the hunger building up since lunch. You cook burgers and forget about the worries of life, focused on the char of the sizzling patties. Experiences like these may seem small, but I've grown to appreciate their simplicity.
After a year and some more in this complicated city, I have learnt that the one constant in life is change. "You hate the heat, you've got the blues, changing like the weather that's so like you" Lana croons to an emotionally unavailable lover in California. Every facet of life is subject to change – your identity, your relationships, your environment. Change can be scary, but it can also evolve you for the better. The only thing you can do is accept the non-linearity of life because change will happen. Once you come to accept this, you learn to appreciate the beautiful moments intricately woven between the memories of being young in California.
"There's somethin' that I never knew−
I wanted,
We play the Eagles down in Malibu
And I want it"
– The Next Best American Record