Photos by Jackie Pierce
In the dreamy haze of the Moroccan Lounge, the band walks on stage, clad in Western suits and bolo ties. Immediately, they are met with cheers from the sold-out crowd: the stage is set for Wallice in her first ever headliner show.
CARR, the opening act, has already primed the audience for excitement with her set of songs that perfectly blend tongue-in-cheek lyrics with memorable power pop melodies.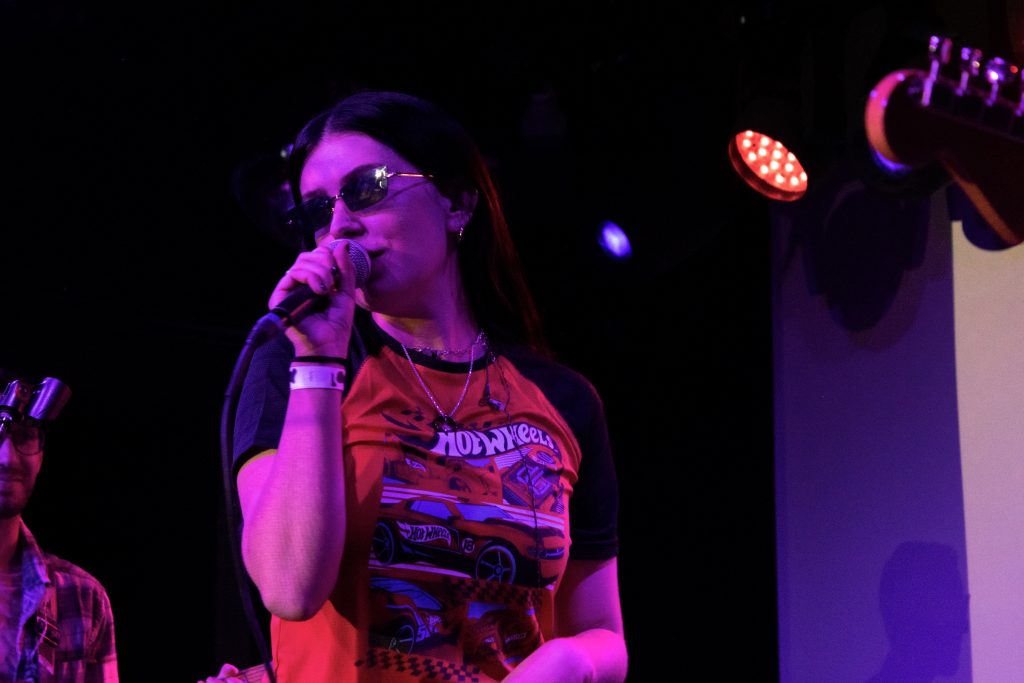 Equal parts punk and indie rock, CARR rages and ruminates about past relationships. She explains to us that she always seems to find herself in relationships with the person that would die first in a horror movie, before performing what I thought was her best song of the night, "Scary Movie". Here, she expands on that notion with an irresistible hook:
"'Cause you're handsome, but you're stupid / Off camera, you're pretty useless / When they find you in the bushes / Plot twist, you're dead and I did it"
CARR's songs are made to sing-scream in your car, driving full speed with the windows down, the perfect release for me on the Tuesday of finals week. Her energy is infectious and lights up the room, perfectly setting up for the main act.
Without delay, Wallice, the Los Angeles native (full name Wallice Hana Watanabe), strides on stage in an all teal Western ensemble complete with a cowboy hat and boots.
She opens with the angst-filled anthem, "23", a song that tackles dropping out of jazz school at 21, missing being the age to use her fake ID, and the anxieties of anyone's early twenties. The buzzing title track off her latest EP, "Off the Rails" follows; a catchy song about acting out, including using the "five finger discount", or shoplifting, at Erewhon, a call-out to the L.A. health food institution known for stocking green juice and organic produce to the health and wellness fanatic Angelenos. The chorus is undeniably appealing, and we all sing it with her:
"Take me downtown I don't know where to go / I can't find my phone so I'll play the radio / My life's a mess but I don't give a shit / Never try my best I learn to live with it"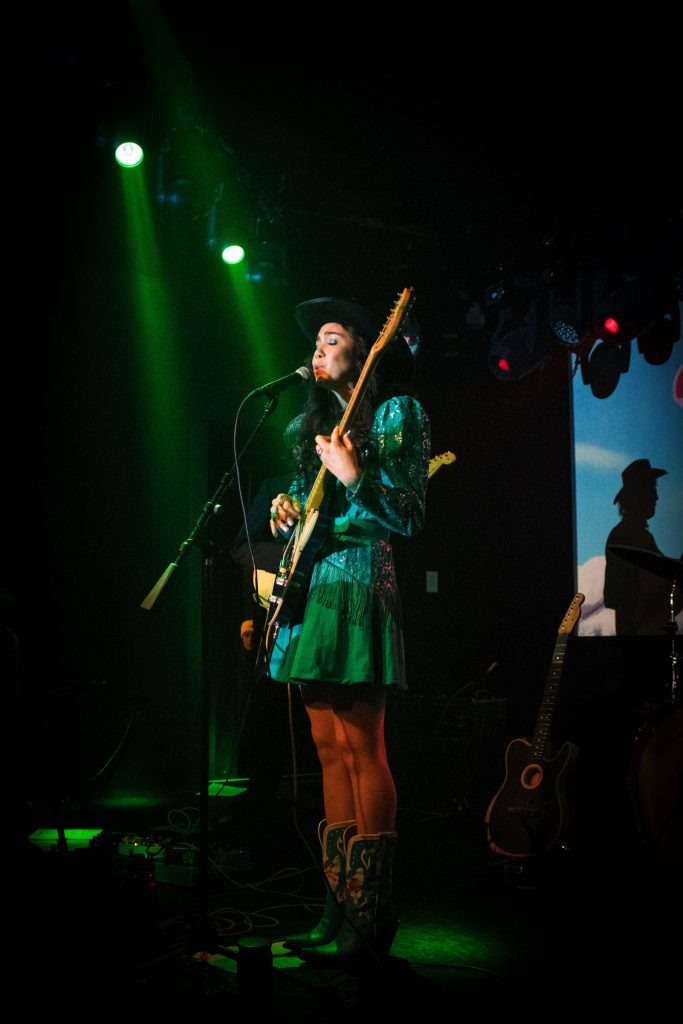 Effortlessly navigating a technical issue with her guitar amp, after performing "Dramamine" (a song that eloquently tells a past lover that being with them made the use of the motion sickness drug feel necessary), Wallice addresses the crowd for the first time, looking out in awe and thanking us for coming to her first headline, and coincidentally, hometown show. We are, admittedly, enamored with her–which can be seen through the many cries of "I love you", and a fan gifting a handmade painting of the musician in a desert scene, which is adorably and graciously accepted.
After this, Wallice takes us on a trip through the surreality of young adulthood, debuting a set of unreleased songs as well as fan favorites like "Punching Bag" and her new single "Wisdom Tooth". Though she sings largely about love, she sprinkles in details in her lyrics that seem mundane but make them easily relatable, like leaving a hydro flask in the back of a friend's car for weeks.
Wallice has voiced her desire to keep developing her sound, which is in the midst of a transition from indie pop to something more in the indie rock realm. This is evident from the ways her and her band's fingers fly up and down their guitars, playing songs that are rougher but still evoke the same sense of charm in all of Wallice's discography. It is clear that she and her band love to work together–their constant smiles and dancing make me wish I was on stage with them.
Meanwhile, the audience hangs on to Wallice's every note, singing along to songs they know, attempting to sing the ones they don't and giving their best effort at a mosh pit spurred on by Wallice's bassist. Wallice, in her careful and masterful lyricism, invites listeners to experience the ennui of coming-of-age. Though she is still a relative newcomer to the industry, it is clear that many people here have been following Wallice for a while; that they see themselves reflected in her words.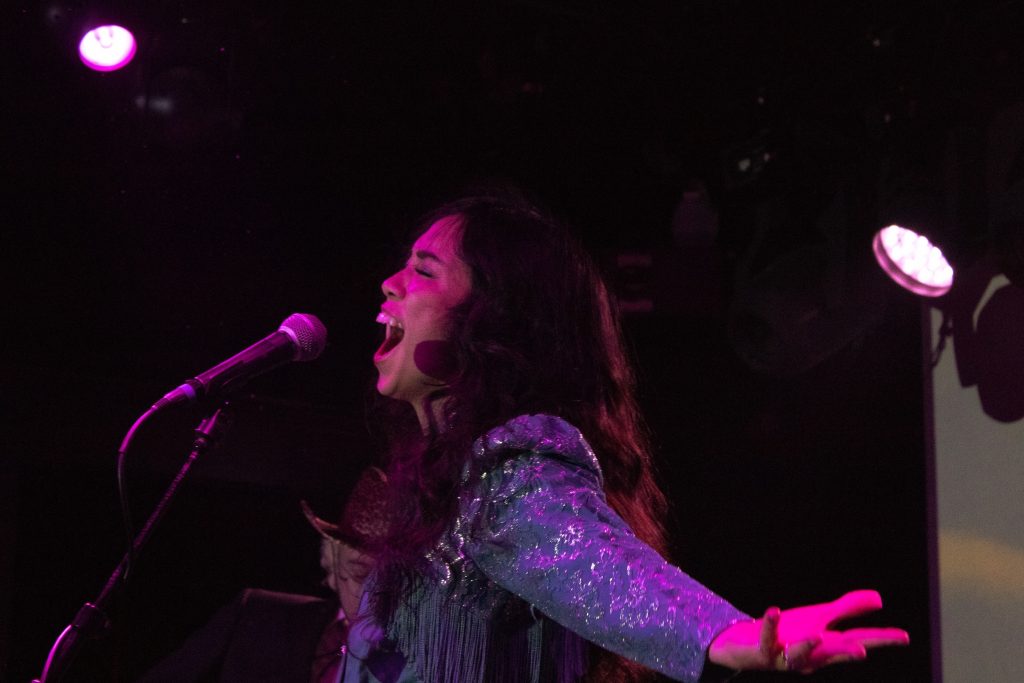 Giving her band a break and slowing things down after "Punching Bag," Wallice switches to an acoustic guitar to play a cover of "Exit Music (For A Film)" by Radiohead, a band cited as one of her influences growing up, along with Weezer and Dr. Dog. Despite revealing that she only decided to perform this cover the night before at 1 AM, her warm vocals pervade through the venue, delivering a beautiful rendition to the song about star-crossed lovers.
Wallice admits that she doesn't perform encores, to an audible sigh of disappointment For what it's worth, this author personally respects the admission; combined with this being the first concert I have ever attended in LA where the concert started on time, Wallice and her team's straightforwardness amazed.
However, this is made up through one last surprise: the entrance of marinelli (David Marinelli), her childhood friend, fellow musician, and current producer/co-writer.
Seemingly coming from nowhere, marinelli leaps onto the stage in white overalls, a Wallice t-shirt and, obviously, a cowboy hat. Grabbing a microphone, the two launch into their electric, revenge anthem "Hey Michael". The song, one of her most popular, speaks to the trials of encountering self-absorbed and manipulative men, and the crowd accordingly sings along as it builds up to the climax:
"I think I wanna start a fight / Which one is your girlfriend?"
marinelli's smoky sound is an ideal contrast to Wallice's, an upbeat and unbeatable way to end the night.
After Wallice blows kisses to the crowd to say goodbye, the crowd lingers, some waiting to see if she meant it about the encore. Most want to hold on to the feeling of the night, just for a moment longer.
Though this was her first headlining show, Wallice's easy navigation of instruments, vocals, and interactions with her fans made the concert experience feel like a veteran act, polished yet personal, and still evolving.