Photos by Ruthie Glauber
In the war between prep and punk, I choose prep every time. What can I say? I prefer a delicate penny loafer to a chunky combat boot, polite twists of the hip to head-banging and steel-toe kicking. And yet, this past Thursday, I found myself at The Lodge Room, caught in a whirlpool of enthusiastic moshers, the soles of my shoes sticking to a beer-stained floor, as the post-adolescent wailings of the band Wavves surged around me.
But, I didn't throw myself into the crush immediately. In fact, at first, there was no crush to be thrown into. In order to reach the room of The Lodge Room, we had to slither through a labyrinth of dim passageways, guarded by bullish bouncers. Anticipation built with each new bestowal of a paper bracelet (green for ticket, blue for press, checkered for 21+), as the dulled screech of guitars pounded through the thick cement walls.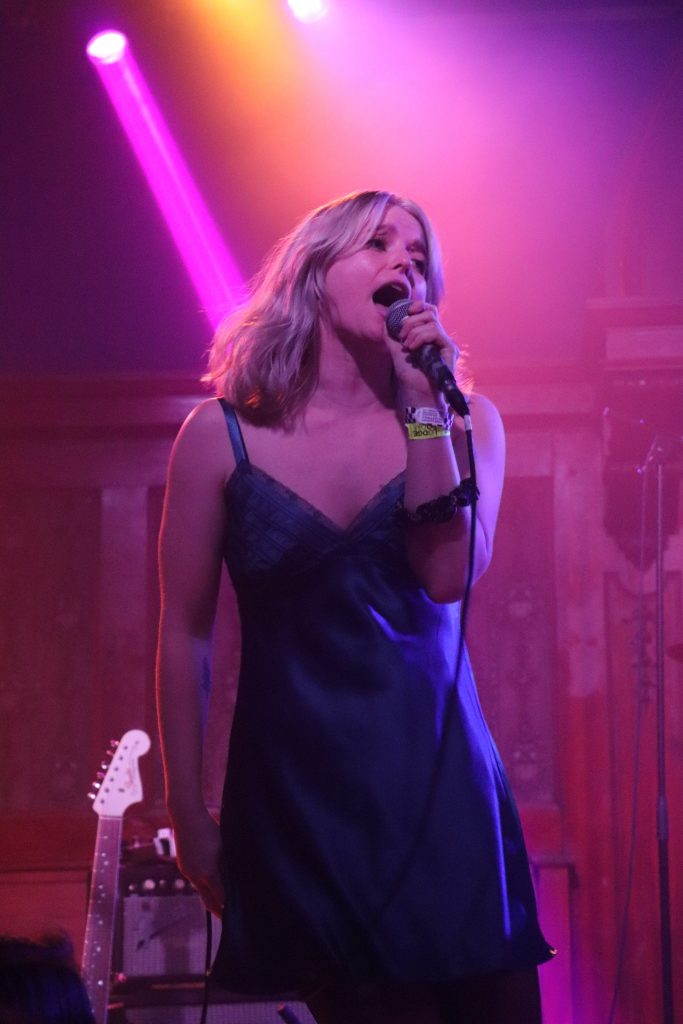 Yet when we finally gained access to the inner sanctum, the first opener, Cuffed Up, was performing to a sparse and ambivalent audience. The show had drawn a mixed crowd- hard core punkers with chopped and dyed locks, as well as Eagle Rock hipsters clutching their $15 craft shots. There was even one zany character, evidently so inspired by the screams and shouts of the performers, who turned to us and went "Aaaaaghhh!!!!" right in our face, as cheerfully as if he were saying hello.
Despite the aesthetic (dare I say ideological?) differences between the audience members, they did share one thing: a bored attitude. This didn't seem to bother Cuffed Up, though. They performed with admirable charisma and energy. The lead singer, Sapphire, was particularly engaging, stomping around the stage and snarling into her mic.
Next up was the second opener: Harmless. Their name says it all. Nacho, lead singer and guitarist, engaged the crowd in silly, nice-guy banter, making derpy faces as he sang dreamy, bedroom poppy songs asking girls not to leave him, begging baby not to go, etc etc. But I closed my eyes and grooved along all the same. Again, what can I say? Sometimes all I want is to be wrapped up in a warm blanket of unintelligible and mopey lyrics sung by a grown-up version of Boy Pablo!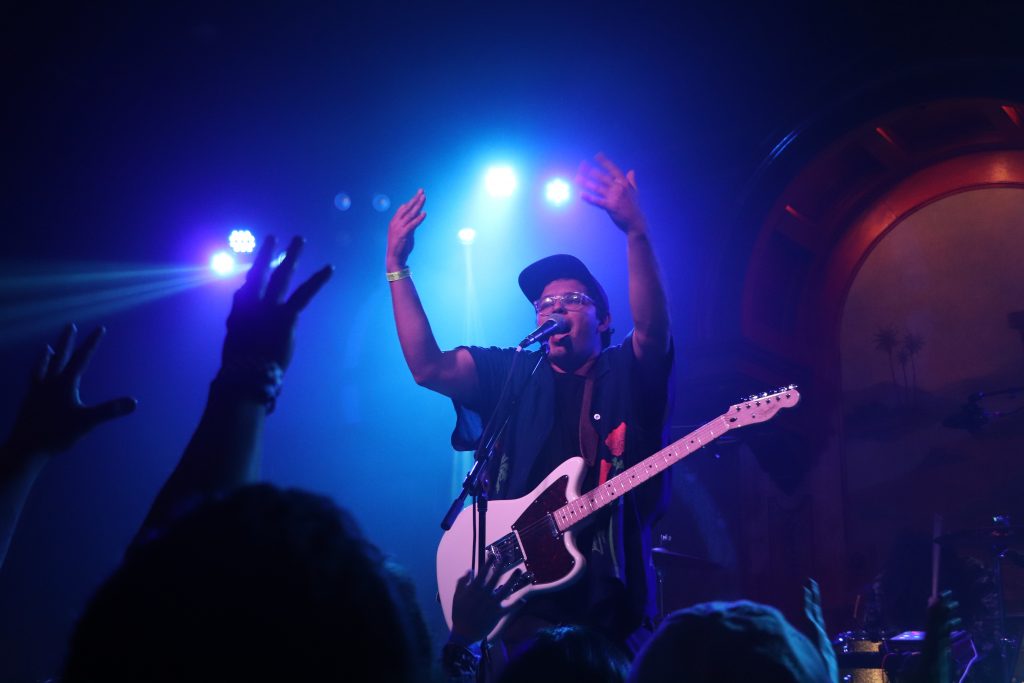 A little after 10:30, Wavves finally took the stage. Immediately, the crowd swelled to the front of the stage and a soft mosh began. The pent-up energy of the audience, having not found an outlet in Cuffed Up or Harmless, was ready to release. Wavves opened with "The Idiot," off of their 2010 album. This opening felt like an homage to the crowd, an acknowledgement to their devoted base. Everyone knew the lyrics and all the cues to start pushing and shoving. As an outsider, though, it all felt a little anticlimactic. The fans sang the decade-old songs with an almost forced vehemence, a determination to capture the past. But their familiarity with the songs felt tired, like frustration at a favorite song heard too many times before.
Similarly, I sensed more than a hint of exhaustion in the performance of Nathan Williams, frontman and lead for the band. After completing their first song, Williams impatiently called offstage to demand a cup with ice. When a roadie appeared with the ice and a bottle of wine, Williams cried "Oh yeahh, Nathan's bar and grill is now opennn." Between gulps of wine, Williams explained that they've been on an eight week tour and that he was thrilled to be out of the Midwest. This elicited laughs from the crowd, except from one fan who protested that she had come from Cleveland to see them.
Having quenched their thirst and sufficiently warmed up the audience with the oft-heard refrain, "Man, I'm so happy to be back in LA," they resumed playing with "My Head Hurts," "Afraid of Heights," and "King of the Beach." The songs end abruptly, yet each one bleeds into the next. The emotions and energy of each song go unresolved- and the next song swoops in before the crowd has time to catch their breath, scooping them into another aural storm of angst and torment.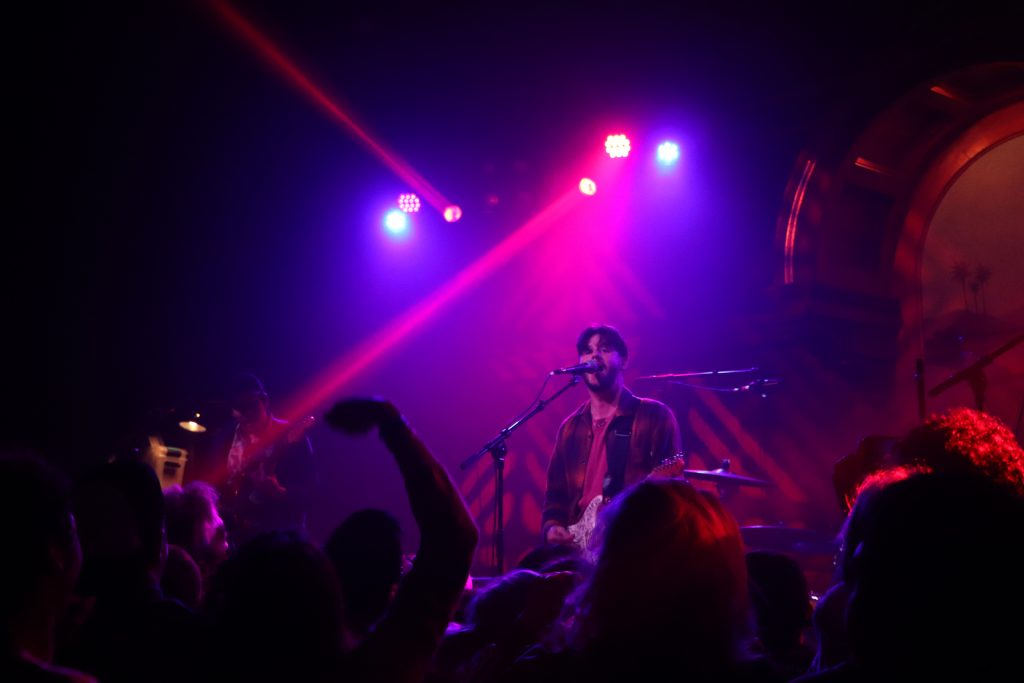 Wavves plays with finesse. Williams' voice is even and confident. He carries himself with a self-assured attitude, befitting the thirty-five year old punker. Such skill extends beyond the frontman; collectively, the technical playing of the band is practiced, seasoned. Their music may be emotionally raw but they themselves are not. However, the sophistication of their performance is at odds with the immaturity of their lyrics.
There's something that just doesn't click when a crew of over-thirty-somethings sing lines like "I can't concentrate/ My brain's damaged over you/ I'm saying stupid things/ I bet she doesn't know my name." It all reads a little too much like the furiously-scribbled diary entries of a boy who's mad at his mom. But I've already clued you in to my anti-punk tendencies.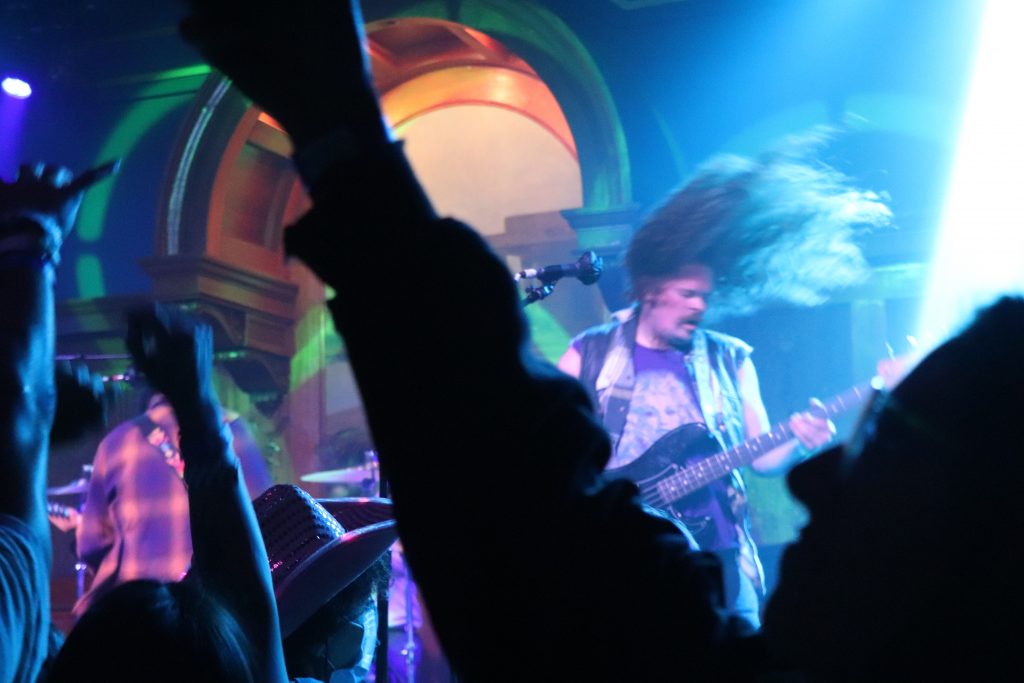 A couple standout performances were "Sinking Feeling" and "Caviar" (both from Wavves' 2021 album, "Hideaways"). The brighter, surf-rocky strumming on "Sinking Feeling" offered a nice respite from the angrier sounds of their earlier albums "V" and "King of the Beach." Now this was something I could politely shake my hips to!
By the end of the show, as the stage lights faded, so did my skepticism. Wavves has the power to draw a crowd of diverse ages and backgrounds and ignite them with decade-old songs, along with their new material. Lyrically, they are simplistic; but it makes their message all the more relatable. Getting drunk alone…eternal solitude…existential dread- these are universal themes here! The appeal of Wavves lies in the …permissiveness of their music. They give you permission to unleash your inner angry teen, to exorcise yourself of your inexplicable angst. And it worked on me. During the last song, Williams opened the pit with godlike superiority, controlling the rabble with simple motions of his hand; I threw myself into the throng. Like all the others, I sought release— even though there wasn't anything I necessarily needed to be released from.