Rina Sawayama @ The Hollywood Palladium [11/23/22]
It is the day before Thanksgiving, and everyone and their mother has gathered to give thanks to Japanese-British Royalty, the venerated Rina Sawayama.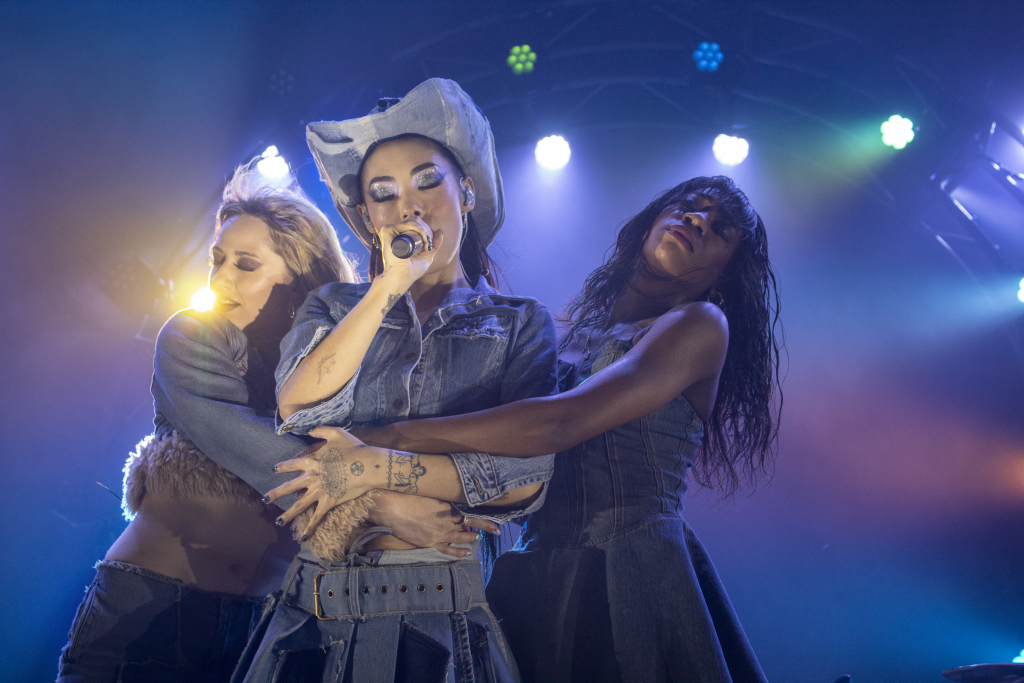 DJ Alex Chapman warms up the audience with a setlist filled to the brim with songs that make the audience go crazy. From Azealia Banks to Fall Out Boy, there are no skips. The crowd knows the words and every song change brings out shocked joy. Alex plays the songs we didn't know we needed. It is adorable seeing each friend group, from young adults to millennials all having an energetic time together. There is a great sense of community in the palladium. A great beauty of people. As I look out in the audience, I feel as though I know everyone here.
Alex makes little quips here and there as his set continues. He thanks Rina for having him as an opener, that he is thankful for the queer community he is performing for. The transitions between songs are whiplash in the best way—like when you stand up too quickly and feel dizzy. The lights of the venue are beautiful, filling the venue with warmth. It is bright and he often asks for the house lights to be brought on to see the entire audience. The colors complement the music and the transitions between songs wonderfully. It is a photographer's paradise.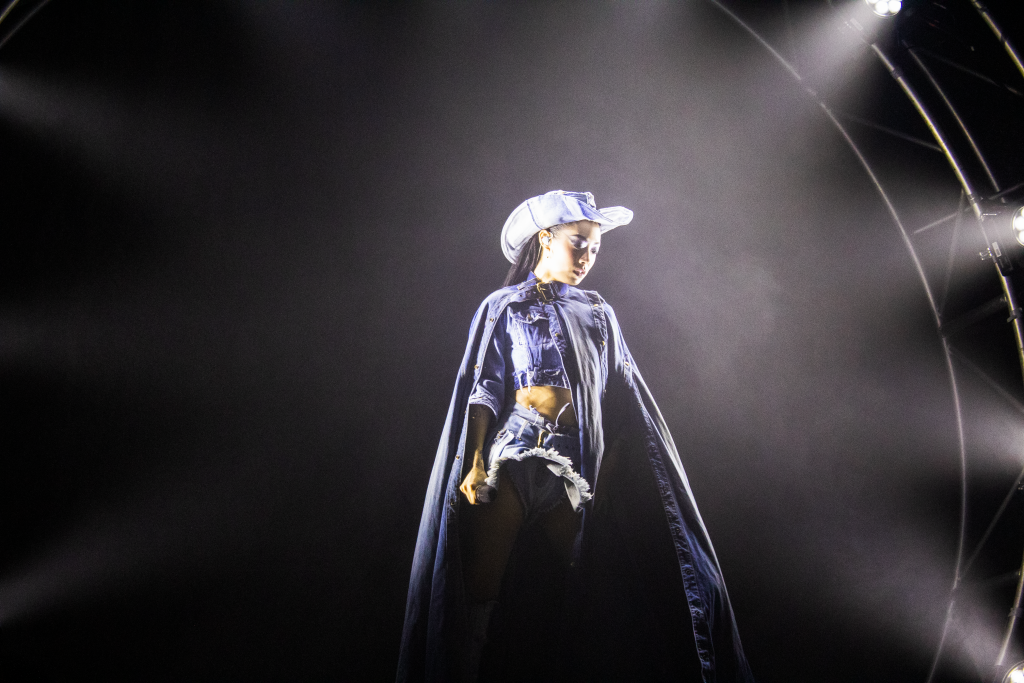 When Rina came on, time stopped. Her presence was like a crisp breeze across still waters. for music so energetic, she commanded the stage with grace. She was joined by a guitarist (Emily Rosenfield) and drummer (Simone Odaranile) as well as two backup dancers (Shola B Riley & Summer Jay Jones). She promises all types of moods and genres. She wanted the audience to feel these shifts as they came. From industrial nu-metal to country, her music has a presence that exists outside of genres. Rina Sawayama is the sea salt taffy bowl on a modern glass coffee table strewn with jewelry and even lines of coke. She is whimsy, melodrama and grit all in vogue couture. Beginning in denim cutoffs, she changed into a rouge body mod dress and then to a white flowy dress she declared "couture jellyfish" and finally ending in an outfit as shiny and mesmerizing as a disco ball.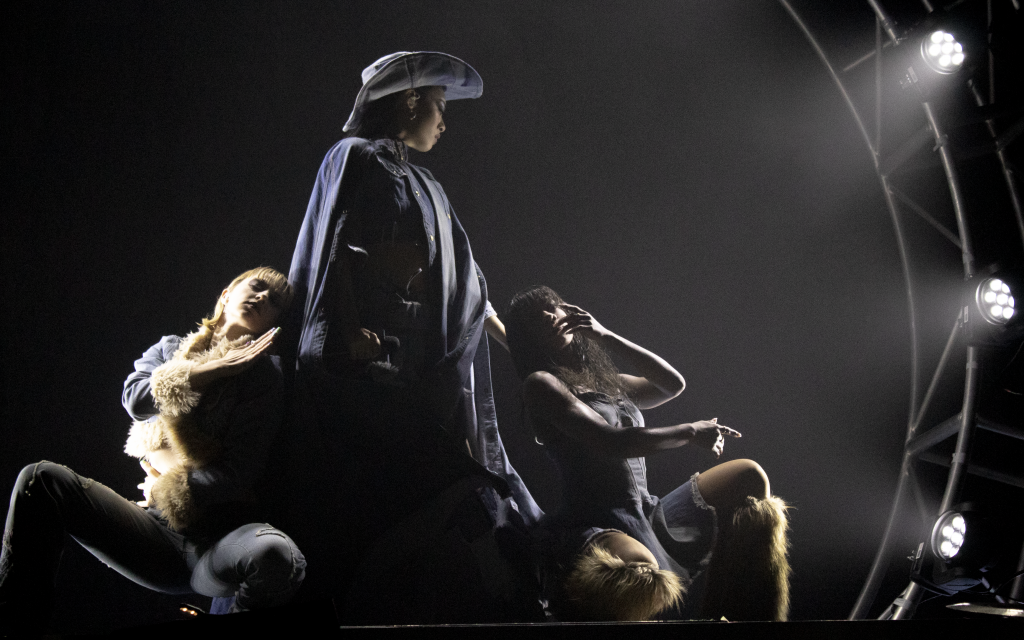 Rina is so human and so ethereal in the same breath. She speaks to the audience like each and every person was an old friend, welcoming them and thanking them for coming, confiding in us some confession about her work. Traveling the world to tour for her album, Hold the Girl, she speaks about her work as therapy praxis. She apologizes for the album's intensity but explains that it is as intense as the therapy it took to make it—this album is her reckoning with her childhood as an adult. When Rina turned 30 in 2020, she felt her adulthood come into focus. She began therapy, to get better, to heal. Hold The Girl came about as an extension of the therapeutic approach of reparenting one's self. She is giving care to herself–holding herself in a loving embrace–in a way she didn't have but needed as a child. Rina becomes quite candid, explaining that there are people in the audience who are going through tough times. Both in the wake of recent mass-shootings, and general life. She is quite frustrated that everyone has apologies deserved, that none shall receive. Despite it all, she believes that these tough times will heal.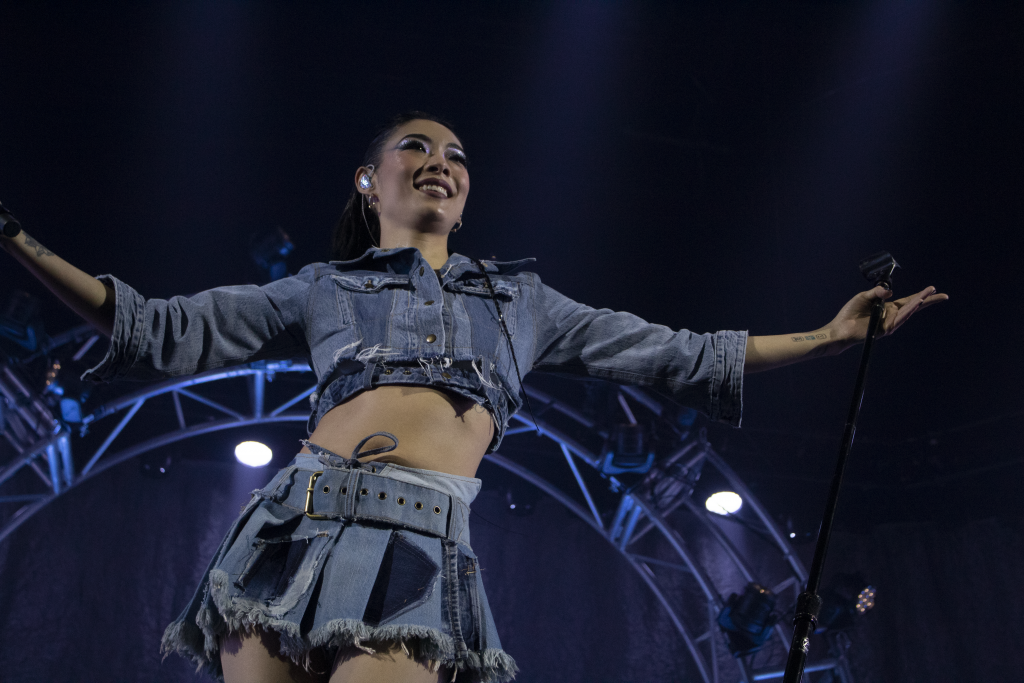 She wrote the next song, "Send My Love to John", by putting herself in her parents' shoes because she thought everyone needs apologies from their parents. She sits in an angelic white dress, playing her guitar.
However, this is a song we don't end up hearing all the way through.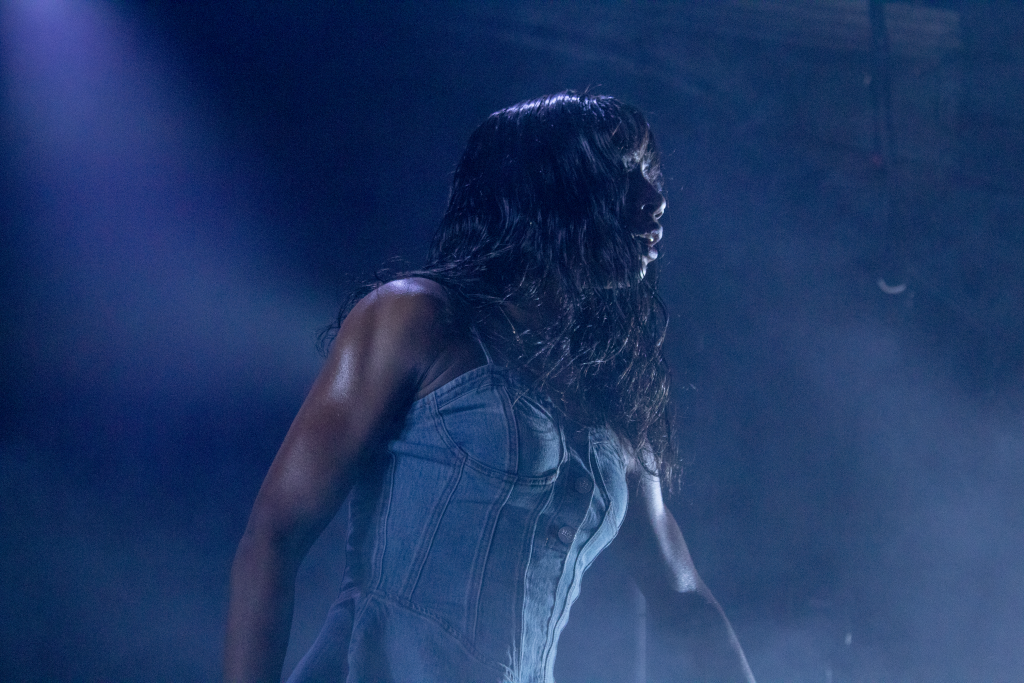 Someone collapses in the crowd and Rina abruptly stops the show. She was calm but there was genuine worry in her voice. The show stood still for five minutes as Rina and her staff worked with the Palladium security to get the person safe and water to audience members. She urged audience members to back up and to give space to the front that was packed in like sardines.
There was an attempt to start "Send My Love to John" once more, but it was interrupted by another person in the crowd collapsing. The show came to a complete halt for more than 10 minutes. House lights were brought up and all the people in the audience were tended to by staff members with water bottles. While not an ideal moment to happen during a concert, there was a sincerity to Rina's care that made it a part of my concert experience that I wouldn't omit.
The audience shouted its love countless times to Rina during this impromptu intermission, both when she was on stage and off stage. There was no frustration, no heckling to continue the show. The pause for community care was the real heart of the concert, album and tour itself. We were all there to heal: a part of healing is taking the time you need.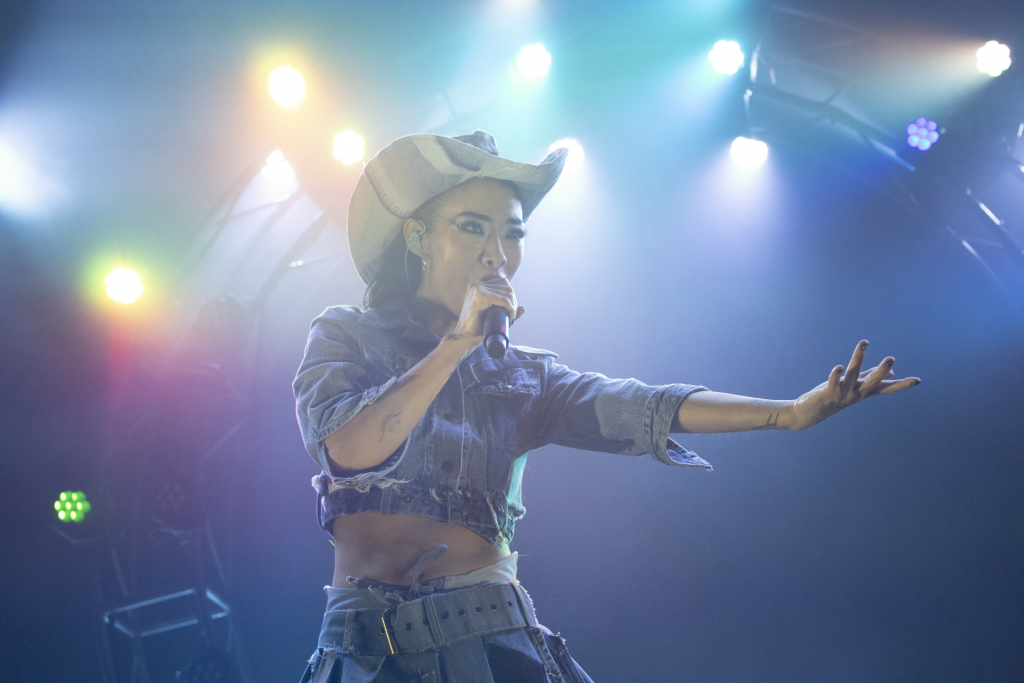 From this moment, the show began once more with a spoken word sampled audio and flickering spotlights on the disco ball towards the doors of the palladium. It was a stark darkness, a tense listening as we waited for Rina to come back on stage, but when she did return, the brake lines were gone.
From quick song transitions between "Phantom", "To Be Alive", and "LUCID" to make up for the lost time, the energy of the Palladium returned to a more energetic state than before the intermission.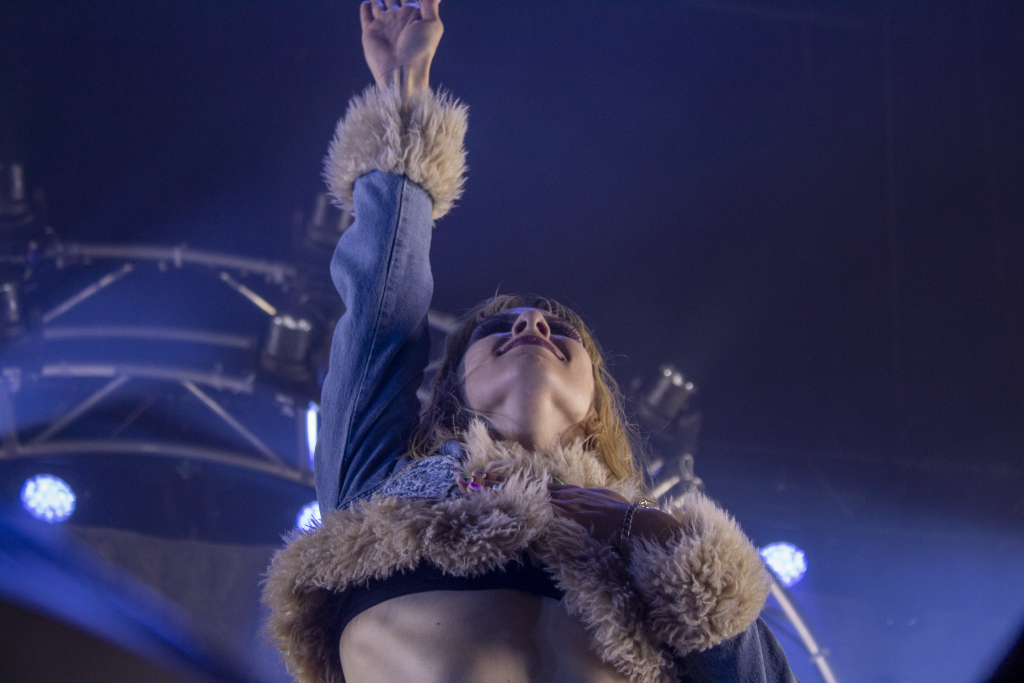 The end of the concert was hit after hit, with crowd pleasers like Charli XCX's "Beg For You" as well as "Commes Des Garçons (Like The Boys)" and "XS" from her debut album SAWAYAMA rounding out the show. These songs live in their purest form when performed live.
"This Hell" was the encore treat, the Palladium bathed in bright red light as Rina started a contest between the divided halves of the audience. Assigned parts of the chorus, the sides were instructed by Sawayama to parrot the lines back and forth. The competitive air of this filled the concert hall with the heat of hell.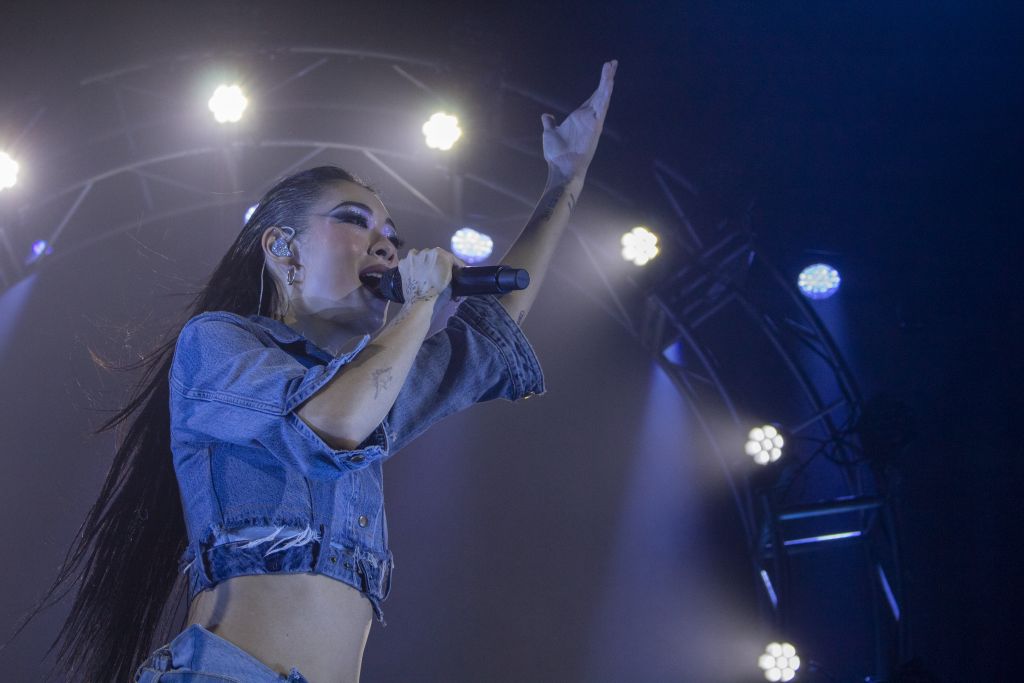 When the song is done and the audience is gasping for air, Rina gives thanks to her fellow performers, crew members and audience themselves. She is earnest in wishing us a good thanksgiving and bids us farewell to the tune of Shania Twain's "Man! I Feel Like A Woman".
Rina's embrace was the Thanksgiving celebration everyone needed this year.